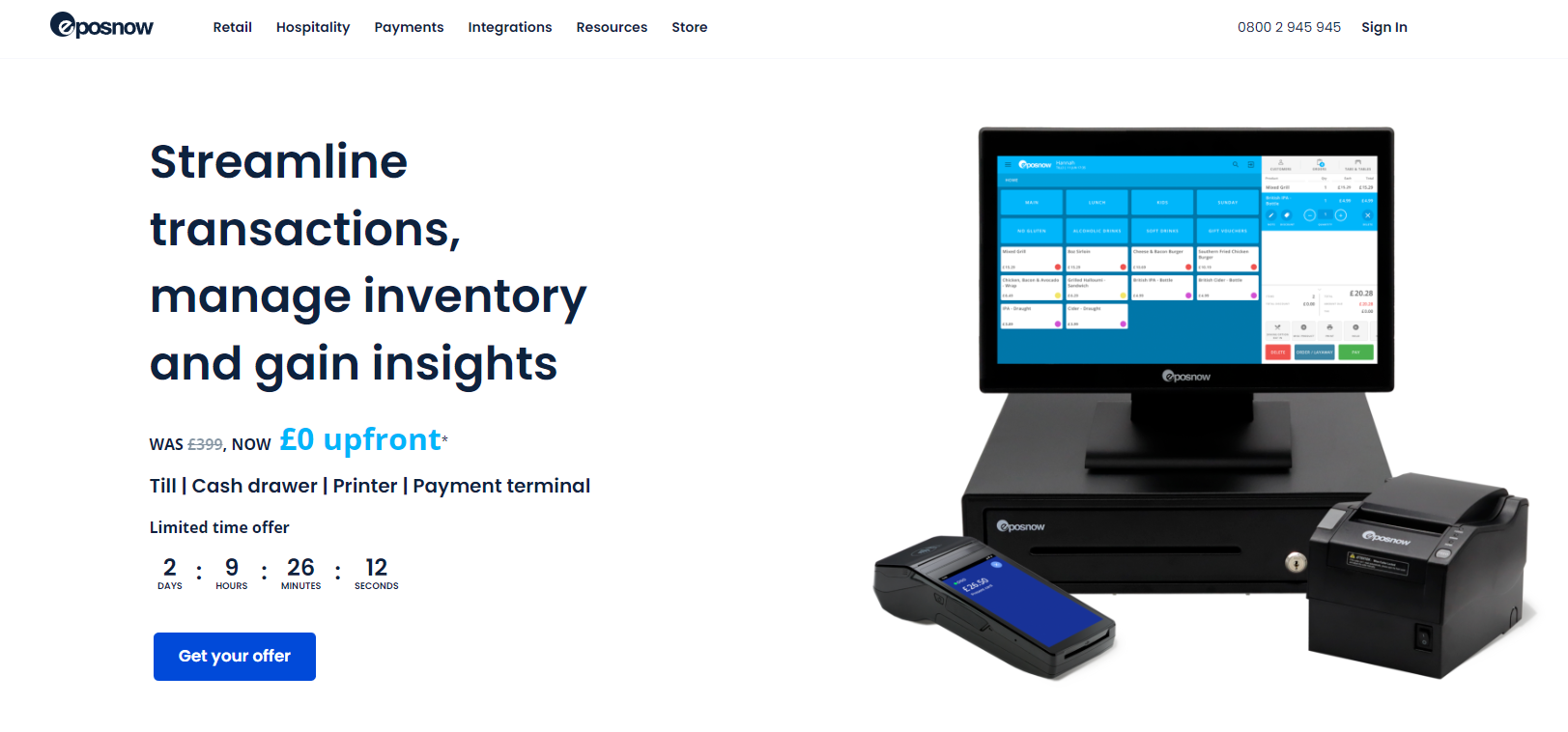 Epos Now is a UK-based company that specialises in designing and manufacturing electronic point-of-sale systems (often called EPOS). Today, more than 30,000 businesses use their services.
Despite being incorporated in the UK, Epos Now caters to international users. Their services have reached more than 70 countries so far.
The company offers complete software and hardware solutions, from hand-held devices to kitchen displays.
The company caters mainly to retailers and hospitality businesses from various industry sub-branches.
Price/Fees
Epos Now offers a free demo 30-day period, allowing users to try their product before committing.
Unfortunately, the company doesn't offer an overview of fees and prices. To find out the details about the price of each service and product, fill out the form on the website and make an inquiry.
Product/Service Overview

Epos Now offers products and services tailored to the needs of different businesses.
Retail: The Complete EPOS System
Epos Now EPOS system helps retailers set up their shops, manage their staff, and sell more while working less.
The system consists of hardware and software solutions forming a comprehensive POS together.
The following section outlines the main benefits of why retailers choose the Epos Now EPOS system.
Online Presence
Thanks to a seamless integration process, Epos Now makes multichannel trading easier than ever.
Retailers can quickly and easily launch their online store using a highly reliable and multifunctional e-commerce platform. They can also offer their customers the "Click and Collect" service to ensure plenty of choices, safety, and convenience. In addition, by syncing customers' profiles and loyalty systems, retailers can significantly improve and optimise the user experience for their buyers.
Epos Now cutting-edge technical solutions also allow retailers to track their online orders and physical store purchases in one place, making management much more straightforward.
Finally, retailers can provide payment solutions of any type on their websites. Offering a wide range of payment options caters to a larger audience and increases the chances of converting site visitors to buyers.
Reporting and Analytics
Thanks to real-time intelligent sales insights of the analytics tool utilised by Epos Now, retailers have an opportunity to create accurate forecasts and make better decisions for their businesses.
The Cloud-based technology allows users to access their reports and data anytime, anywhere.
Not only can the system reveal the best-performing products, but it can also provide information on the non-selling items, best profit margins, peak sales times, best-performing employees, and trending products.
By utilising time-comparison reports and promotional reports, retailers can create strong, influential campaigns and raise awareness for their products and special offers.
Inventory Management
Epos Now EPOS solution enables retailers to manage a diverse inventory in physical and online shops.
The barcode management feature makes importing, updating, and managing any number of products twice as fast as any other inventory management method.
Searching an inventory matrix is very convenient, as it's possible to search by size, brand, colour, or product features. Furthermore, adding and editing products or joining them into bundles takes only a few clicks.
Finally, retailers can prevent running out of stock for any product by simply turning on automatic purchase orders.
Building Customer Relationships
By leveraging smart insights and understanding customers' behaviours, preferences, and shopping habits, retailers may eliminate guesswork and cultivate stronger relationships with their customers.
Epos Now nurtures a customer-centric approach and helps retailers create and maintain customers' profiles tailored to their habits and interests. The profiles update with each purchase, which helps create a personalised interaction and improves the customer's shopping experience.
By launching loyalty programs and promotions such as exclusive rewards, discounts, or privileges, retailers give customers another reason to spend money at their stores. In turn, this helps drive repeat purchases and nurtures long-term customer relationships.
Moreover, by scheduling follow-ups and abandoned cart notifications, retailers can reengage undecided customers and increase the likelihood of conversion.
Payment Flexibility
Epos Now Payments offers seamless integration with all leading payment providers, simplifying the acceptance of diverse card types through our consolidated processing rate. Businesses benefit from a consistent transaction fee on every payment regardless of the card utilised.
The whole payment system is designed as user-friendly, quick, and safe. Epos Now guarantees a smooth and secure payment experience for all retailers and their customers.
Retail EPOS Starter Kit
The retailer's EPOS kit consists of the following elements:
Epos Now Pro-C15W terminal with a waterproof touch screen and a solid-state drive

Epos Now Software tailored for the needs of retailers

Epos Now GX Thermal Receipt Printer, 80mm

Cash drawer (high security, all-metal)

Assistance with installation and configuration

Staff training
Specialised Solutions
Along with "general" retail product solutions, Epos Now also offers specialised hardware and software solutions for retailers from various industries. The following list includes businesses that can count on products tailored specifically for them.
Vape store

Bookshop

Clothing store

Bike shop

Electronics store

Garden centre

Barbershop

Car wash

Convenience shop

Flower shop

Gift shop

Grocery shop
Hospitality: Epos Now POS
Working in hospitality often feels like being all over the place, as the job is such that it requires a lot of flexibility and multitasking.
To address this, Epos Now has created an all-in-one EPOS system that can be used in a pub, restaurant, cafe, or for takeaway orders.
The following section presents an overview of Epos Now features that can benefit different hospitality businesses.
Restaurant
Epos Now offers a comprehensive restaurant POS system that can streamline order management, allowing staff to take and customise orders easily while ensuring accurate and timely processing.
Advanced automated inventory management tools optimise stock levels, minimise waste, and ensure menu availability so the kitchen will never remain out of stock.
Table management facilitates efficient seating and order transfers, improving table turnover rates. Epos Now's reporting and analytics provide real-time sales data and insights, aiding informed decision-making and strategic planning.
Integrated payment processing simplifies transactions, improving the checkout process.
Overall, Epos Now empowers restaurants with efficient order management, inventory control, table management, data analysis, and seamless payment processing, leading to improved operations, resourced optimisation, and exceptional dining experiences.
Pub and Bar
The Epos Now bar and pub system allows businesses to create branded profiles on their mobile ordering platform, enabling customers to search, order, and make payments conveniently from their phones.
It accepts various payment methods, including chips and pins, contactless payments, and remote payments from major bank and credit card providers, significantly improving customer experience.
The onboarding process is straightforward, with transparent pricing and 24/7 support available.
With dynamic menu options, bartenders can track inventory in real-time, apply happy hour discounts, and manage special offers effortlessly.
Payment authorisation ensures guests have sufficient funds, and bartenders can take notes to personalise service based on customers' preferred drinks.
The highly resilient, water-proof equipment is designed to withstand challenging environments, eliminating concerns about drink spills.
 Additionally, the system includes a digital feature for creating free drink chips, fostering customer loyalty.
Overall, the Epos Now bar and pub system offers streamlined mobile ordering, efficient payment processing, inventory management, and personalised customer experiences in a reliable and user-friendly manner.
Cafe
Epos Now provides a solution to alleviate the time-consuming administrative tasks that burden cafe owners, allowing them to streamline operations and prioritise customer service.
The Epos Now EPOS System for cafes presents a user-friendly one-touch ordering system, enabling efficient order processing within seconds.
Its integrated inventory-tracking feature simplifies stock management and reduces the time required from hours to minutes. Automated stock orders guarantee that cafes always have the necessary ingredients readily available for their customers' favourite beverages.
Furthermore, Epos Now facilitates streamlined cafe management by seamlessly integrating with popular apps like Xero and Quickbooks for accounting, Deliveroo and Epos Now Delivery for delivery services, and Mailchimp and Hopt for marketing purposes. These integrations simplify administrative tasks, loyalty programs, and customer outreach.
Lastly, Epos Now supports diverse payment methods, including contactless payments, online payments, debit cards, and credit cards, ensuring seamless transactions for cafes and their customers.
Hotel
The Epos Now hotel EPOS system enables seamless management of reservations and bookings. Hotel staff can easily view room availability, create and modify bookings, and efficiently manage guest check-ins and check-outs. This streamlines the front desk operations, reducing wait times and enhancing guest experiences.
The system also provides integrated payment processing of various payment methods with maximum security and the highest efficiency.
Reporting and analytics tools help hotel owners and managers access real-time data on room occupancy, revenue, and guest preferences. These insights can help them optimise their pricing strategies, discover trends among guests, and deliver a personalised service.
Inventory management tools ensure that hotels can track and manage their in-room amenities, mini-bars, and other operational supplies in real-time.
Moreover, the hotel POS system integrates with key hotel management systems, such as property management systems (PMS) and customer relationship management (CRM) software. Seamless data synchronisation enables accurate and up-to-date information across all hotel departments.
Epos Now Hardware
Complete System
The Epos Now Complete System is a versatile point-of-sale (POS) solution designed for businesses across various industries.
It combines hardware and software components to streamline operations and boost efficiency.
The system includes a touchscreen terminal, cash drawer, receipt printer, and barcode scanner, providing the necessary tools for smooth transactions and sales management.
The user-friendly software offers inventory management, automated stock tracking and reordering features.
Real-time reporting and analytics deliver insights into sales performance and customer behaviour.
Thanks to the high degree of system flexibility, it is possible to meet the unique needs of various industries through customisation, with support for integrations with popular third-party apps and services such as accounting software and payment processors. 
Order and Pay
A user-friendly interface and straightforward setup make it accessible with little training. 
The Epos Now Complete System gives businesses the power to enhance operational efficiency, improve inventory management, gain valuable insights, and provide a top-notch customer experience.
Pro
Pro is the POS mobile card machine that allows businesses to take card payments wherever their customers are. It's portable, with a straightforward touchscreen system, and allows for plenty of flexibility thanks to its robust Wi-Fi connectivity, a built-in printer, and powerful battery.
Pro +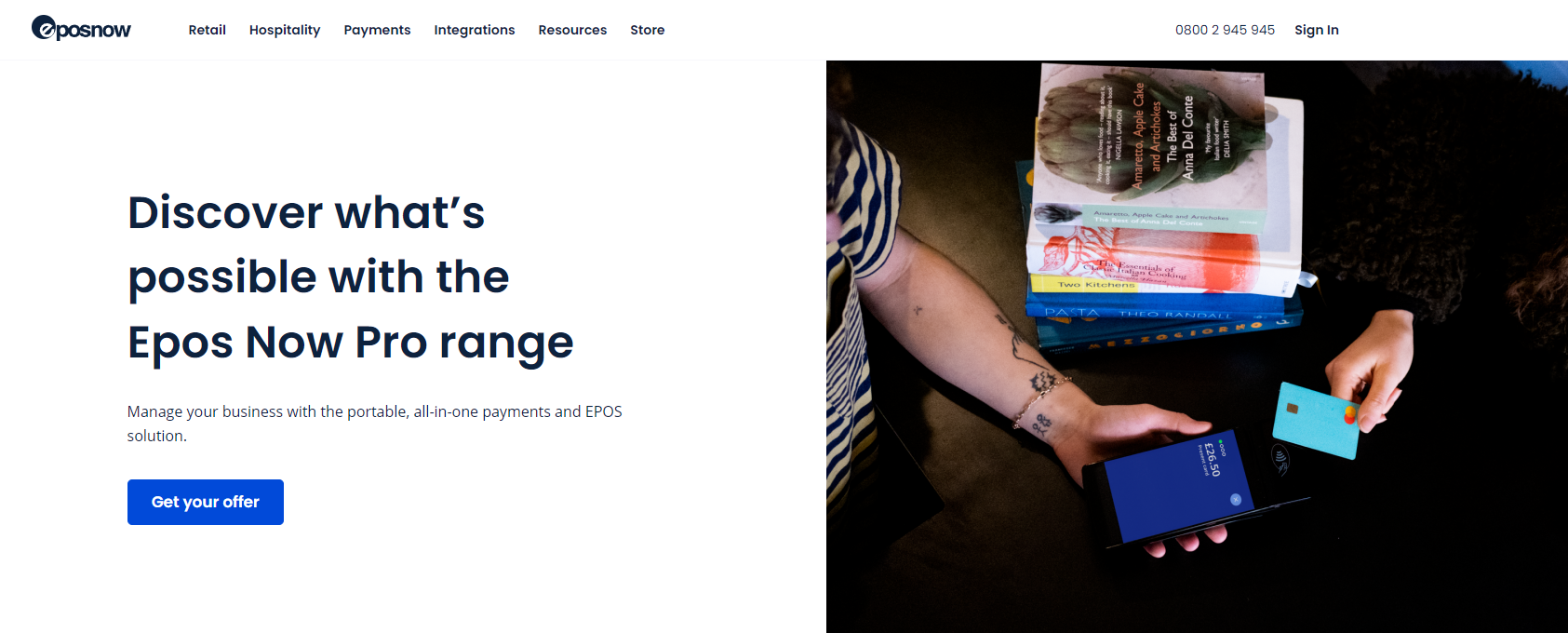 Pro + is one of the latest and award-winning Epos Now solutions: a portable card machine with integrated EPOS software and a built-in receipt printer.
Pro + comes with ground-breaking features such as the reactive touch screen, network connectivity flexibility (works with 3G, 4G, and WiFi), and ideal power (it can make more than 650 transactions on a single charge).
The software automatically collects and stores relevant sales data, which is then converted into reports that business owners can use to improve their companies' efficiency, productivity, and overall success.
Epos Now Pro+ card machine helps increase the speed and accuracy of orders because it allows for directly sending orders to the kitchen. It increases table turnover with efficient floor plan management and tracking of customers' time at the table.
KDS

Epos Now Kitchen Display System is designed to help synchronise all the work through one touchscreen kitchen screen compatible with POS with built-in audio order alerts, order groupings, and multiple station views.
KDS is packed with a number of valuable tools that help reduce order mistakes, speed up service, reduce waste, and eliminate friction from the whole process.
Even if something unthinkable goes wrong, Epos Now KDS has their clients' backs:
In case of needing a replacement device, the shipping cost is capped;

The costs of fixing up to 2 accidental breakages in 2.5 years are covered;

The self-updating cloud-based system makes the data accessible even in case of broken hardware.
Accessories
On the Epos Now website, businesses can find plenty of other products designed to help them power up their POS. Some accessories they can purchase are receipt printers, staff swipe cards, Averry Berkel scales, Pro Till Rolls, Pro Cash Drawerr, Pro Customer Display Pole, Barcode Labels, Pro Magnetic Swipe Card Readers, and many others.
Epos Now Apps
The Order and Pay app is designed to improve customer experience and streamline the ordering process for businesses in hospitality and retail alike.
The app allows customers to browse menus, place orders, and make payments, all from the convenience of their phones and tablets.
The app can easily integrate with Epos Now POS and is highly customisable to each business's needs.
Website Builder
To help businesses build their online presence, Epos Now has created a simple, intuitive, user-friendly website builder.
The builder offers a wide range of modern templates optimised for all screen sizes, an extensive suite of widgets such as scheduling and reservations, social media, menus, pop-ups, a free SSL certificate, an SEO tool for enhanced website visibility, support in 55+ languages, and drag-and-drop functionality.
It also has built-in tools for image editing, design, more than 100 fonts, and many other features that can help businesses appear online as unique.
Delivery
Epos Now also offers an app designed to streamline and optimise delivery operations for businesses in different branches. The most important features of this app include order management in terms of processing delivery orders, assigning and tracking drivers, accurate delivery updates to customers, and seamless integration with the Epos Now POS system.
Business Operations
In addition to several products designed to increase business efficiency and help businesses focus on what matters – customer relationship and product development, Epos Now goes a step further. The company also engages in business operations that make them stand out.
#GetOnline
#GetOnline is an initiative by Epos Now to help small businesses move to the digital space and start making sales through online channels.
These tools enable businesses to launch their branded websites quickly and easily with integrated e-commerce functionality, enabling them to sell directly through their website.
Overall, by leveraging the Epos Now tools from the #GetOnline initiative, businesses can establish their online presence, build their online identity, and significantly boost their sales.
Company Background
Founded in 2011, Epos Now quickly became a globally-accepted payment and cloud-based software provider.
The company mainly focuses on medium and small retail, hospitality, and personal care businesses. They specialise in designing and manufacturing electronic point-of-sale systems and integrated payment solutions.
Epos Now has offices in the UK, Ireland, the US, Canada, Australia, New Zealand, Spain, and Mexico.
They have received numerous awards, including the Queen's Award for Innovation.
User Reviews From Around the Web
Here is what Epos Now users say about this company and their products.
Trust Pilot: 4.5/5 (13,138 total reviews)

GetApp: 3.5/5 (236 total reviews)

Software Advice: 3.52/5 (321 total reviews)

Product Review: 1/5 (27 total reviews)

Featured Customers: 4.5/5 (1,245 total reviews)

G2.com: 4/5 (10 total reviews)
EPOS Now User Reviews
Review Summary
0.0 out of 5 stars (based on 0 reviews)
Recent Reviews
There are no reviews yet. Be the first one to write one.
Submit a Review