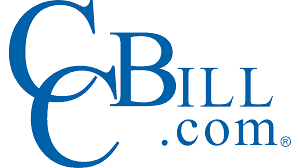 CCBill offers merchants an integrated payment gateway and merchant account for eCommerce websites. The company is known for offering their services to high risk clients and non-profit organisations. CCBill processes more than $1 billion in transactions annually through its 30,000+ merchants.
CCBill Credit Card Processing & Payment Services
CCBill Payments
CCBill has a range of payment solutions for accepting payments online and accepts all major credit cards from around the globe. CCBill accepts a range of payments types in over 6 currencies (CAD, USD, AUD, JPY, EUR, GBP):
Visa
MasterCard
JCB
Carte Bleue
Diners Club
Discover cards
ACH online cheques
EU Debit
GiroPay
iDEAL
Maestro
Switch
Delta Visa
CCBill Pricing & Fees
CCBill lists its various packages on its website. Each package comes with access to hundreds of including features to assist eCommerce businesses. CCBill doesn't charge a setup or monthly fee. There is also no minimum monthly requirement.
Chargebacks – $25 each for all pricing plans
No separate gateway fee
5% rolling reserve for 8 – 26 weeks
Complete – US., Canadian, EU., and UK merchants only
9% + $0.55 per transaction
For non-high risk eCommerce businesses
2% surcharge on recurring transactions
Payout – weekly
Date – US., Canadian, EU., and UK merchants only
9% + $0.55 per transaction
Online dating sites
Payout – weekly
Donate – US Non-profit Organisations
9% + $0.55
Payout – weekly
Blue – US., Canadian, EU., and UK merchants only
Adult content allowed
For high risk businesses
8% to 14.5%
Volume discounts – five available
Annual high-risk registration fee – $1,000 US/Canada and $500 EU/UK
Payout – weekly
Direct – All available countries
9% + $0.55 per transaction
Debit cards only
Payout – weekly
Source: CCBill Pricing
To see how that compares have a look at: UK Merchant Account and Credit Card Processing Fee Comparison.
CCBill Features
Easy set up
No credit check
Advanced fraud screening and protection
24/7 billing and password support
Customer service for orders
Customer service languages – English and Spanish (12 languages for Direct Package)
Integration support
14 shopping page languages
10 Payment page languages
Integrated subscription management
Membership management
Shopping cart integration
Marketing tools
Cross-sells with other CCBill merchants
Dynamic pricing
Self-help CCBill Support Centre and CCBill Knowledgebase
Integration with Google Analytics and Google Adwords for detailed analytics
Extensive real-time reporting on all aspects of your sales
Company Background
CCBill is a privately owned company started by Mr Ron Cadwell as a payment processing company offering its services to the 'adult' industry. Mr. Cadwell's story is an interesting one which can be read on LinkedIn.
CCBill is one of the largest third-party payment processors and celebrates 20 years of success in 2018. The CCBill senior management team has over 100 years of experience in payment processing. The company's American headquarters is in Tempe, AZ. In 2002, CCBill EU was established, with its main office in Malta. Since then CCBill EU has opened offices in Amsterdam, Novi Sad and Belgrade. CCBill and CCBill EU form part of CWIE LLC, which is based in Phoenix, Arizona.
In September 2017, CCBill intergrated with Weebly, the global website and eCommerce service. Weebly has an international community of more than 45 million merchants, developers and designers which can now use CCBill checkout experience for their businesses. Mr. Cadwell says he gets five or six acquisition requests a month for the company, but he's not interested. He says, "We still have stuff to do. There are many things we want to achieve."
CCBill Pros & Cons
There are very few reviews of CCBill online. Their website contains some positive reviews plus a link to a couple of YouTube videos. Most of the negative reviews online are actually from customers of CCBill merchants which should have been directed at the merchants, not CCBill. One mustn't forget that this company deals with high-risk merchants.
CCBill Reviews
Trustpilot: 3.3 out of 5 based on 5 reviews
Cardstream Merchant Machine score is 3.3 out of 5 
Website: www.ccbill.com