Established in 1999, Nochex is a payment processing provider that supports multiple payment methods and currencies and helps Europe and UK-based companies to accept payments online. Because the firm doesn't offer any items that can be purchased in-store and used for in-person transactions, the only way it can assist traditional companies is by acting as an add-on service for online shopping.
With Nochex, clients are able to make payments to you even without creating an account. Moreover, there are personalized check-out options and protection against advanced forms of fraud.
Payment interfaces, billing and memberships, MOTO and MPOS, as well as payments for tournaments and charities are all included in the online processing services that they provide.
Prices/Fees
Nochex provides competitive rates, so let's explore the costs in more detail.
1. Commercial Transaction Rates
The rate for Commercial Transactions is 2.9% plus 20 pence for a payment gateway and a merchant account all in one.
What you get:
Easy setup

A page for processing payments that's completely customisable

Personal account manager headquartered in the United Kingdom

Obtaining the assistance of a technology integration specialist

Assistance with PCI compliance, free of charge

Protection against advanced forms of fraud

Bulk special offers
2. Charity Account Rates
The rate that applies to Charitable Accounts is 1.9% + 20p.
What you get:
A straightforward method for donating that accepts payments from major credit cards, including Visa and MasterCard.

Automatic Collection of Gift Aid. All Gift Aid collections are subject to a 15% administrative charge.

Complimentary website hosting platform with your organisation's logo and personal information.

Personal Account Manager headquartered in the United Kingdom.

A page for processing payments that's completely customisable.

Obtaining the assistance of a Technical Integration Specialist.

The charity receives 100% of all donations.

Payment Gateway and Merchant Account rolled into one.

Assistance with PCI Compliance, free of charge.

Protection against advanced forms of fraud.

Easy and simple setup.
Nochex make it possible for entrepreneurs and small companies to take payments via credit and debit cards in a safe and secure manner. In addition to providing companies with a low-cost alternative to PayPal, it also offers access to a variety of features, services, and a dedicated account manager to assist in the expansion of their enterprises.
Following is an image from their website that demonstrates how Nochex compares to other similar payment methods: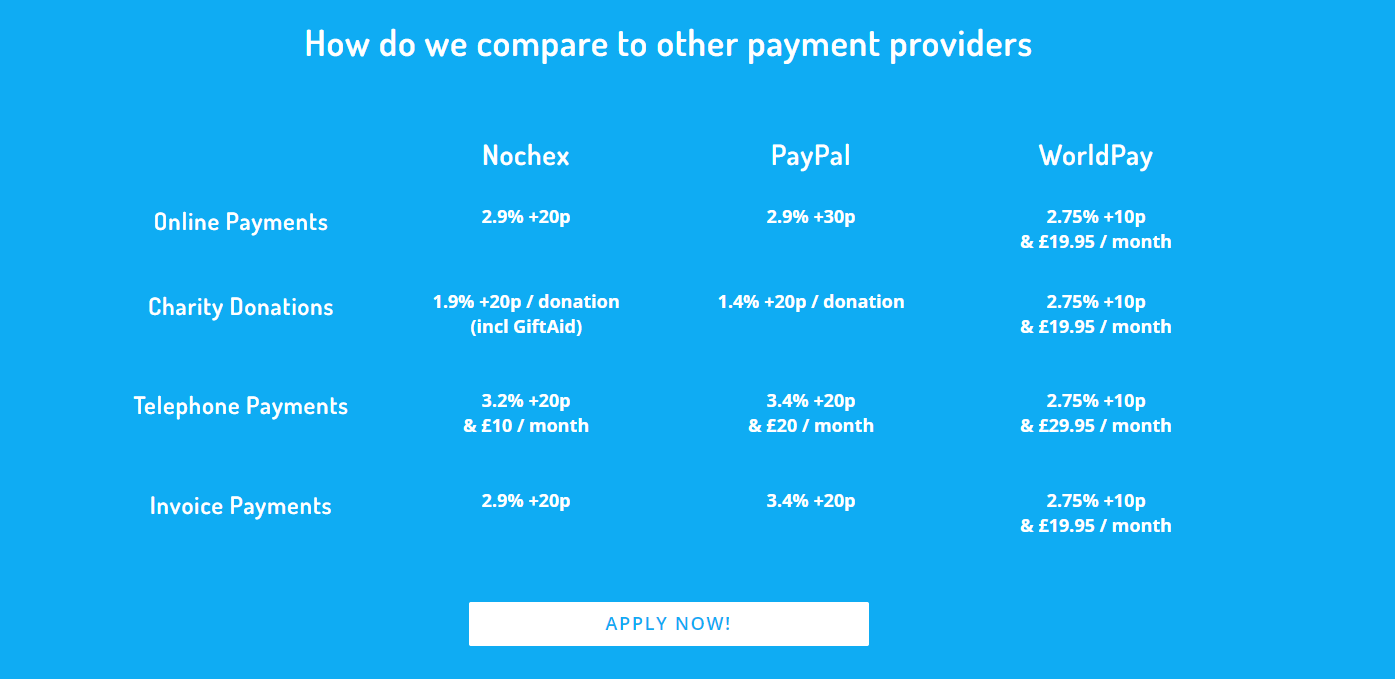 Services
Fraud Protection
Nochex's ability to maintain a reliable and protected payment processing system is an important component of its success. All of its merchants and traders have access to anti-fraud measures, which lowers the amount of risk they take on and the amount of potential money they stand to lose.
Merchant Account 
To receive money online, merchants require a merchant account, a payment gateway, and a method to process payments. This account is where you store the funds that result from your customers' transactions. 
A Nochex Internet Merchant Account is all that's required for you to use any of their payment processing services, made online or over the phone, as well as create invoices, manage subscriptions, and handle individual payments. 
Nochex takes your payment information and deposits the funds directly into your bank account. In the event of a transaction involving e-commerce, your payments are deposited in your online merchant account. 
In the image below, we can see all Merchant Account features. For more details, click on the following link.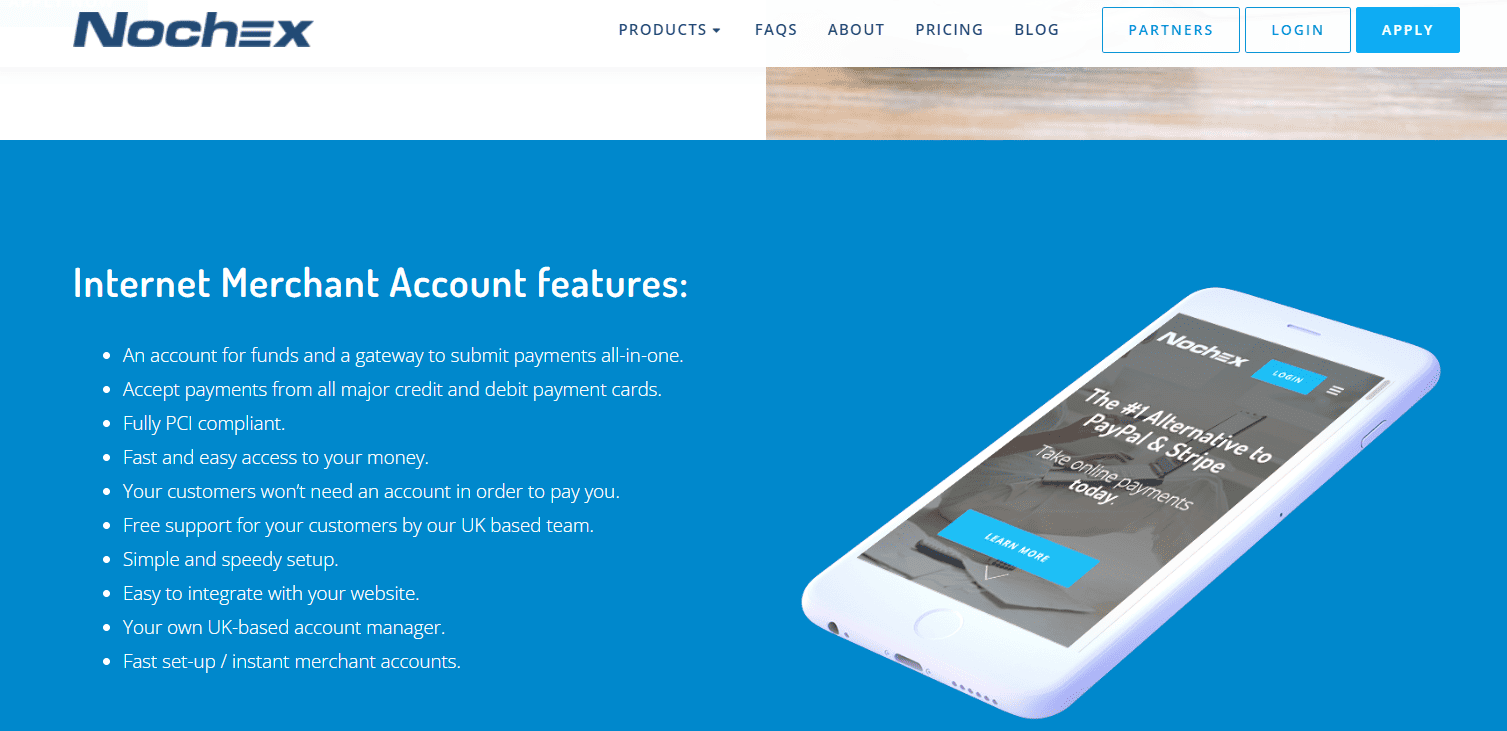 Takeaway Merchant Account
The Nochex online ordering service provides a number of benefits for restaurants and takeaway services, including cost-free help and the assignment of a personal account manager based in the United Kingdom. Other advantages include the following:
One convenient bundle including everything you require to start accepting payments

Allow purchases to be made using the most popular credit and debit cards

Payment plans for delivery restaurants with a personal touch

Your clients can purchase from you without opening an account

Quick and uncomplicated access to your financial resources

There is no restriction placed on the number of users

Simple to include into the website you already have

Simple and quick setup

100% compliant with PCI standards
Click here to learn more about Nochex Takeaway Merchant Account.
Nochex For Charities

Nochex For Charities is a low-cost fundraising platform that keeps the cost of online donating as low as is practically possible. They offer charitable organisations a page dedicated to donations, gift assistance, and fundraising entirely for free.
Charities can receive donations through multiple payment methods, like debit and credit cards, PayPal, and bank transfers, and offers more features and services that make both managing and giving donations simple and easy.
Click here to learn more.
Nochex Plans 
Nochex provides a method of accepting payments that are mobile, safe, and dependable for a company. You can select one of three plans as seen in the image below, and receive a price quote upon request.
Other Services
Merchants get an account manager based in the UK. 

All of the big eCommerce sites can use it.

Safety against fraud.

People can pay using Nochex even if they don't have an account.

Nochex works as a substitute for PayPal and Stripe.

Nochex has online payment services for nonprofits.

Nochex has made payment gateway options for many different types of businesses.

Merchants can take funds online or over the phone.
Nochex Partners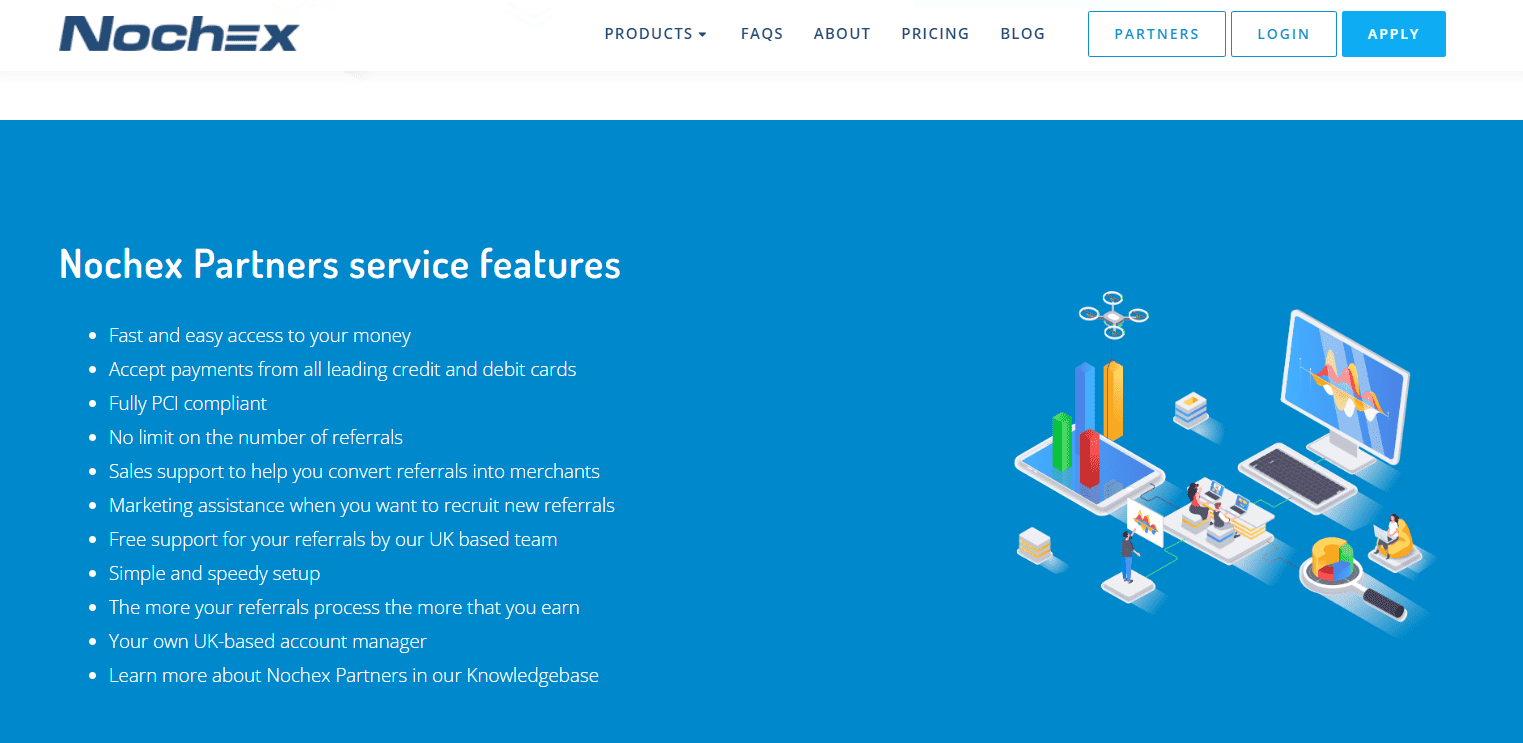 Nochex Partners are website creators who connect their customers with high-quality payment service providers based in the United Kingdom and people through referrals from individuals who work in specific industries, such as restaurants, vendors, and shops. In the image above, we can see all features of Nochex Partners' service.
Click here to become a Nochex Partner and earn commission by referral. 
Extra Care On Customer Support
On the following link, you can search the Nochex database regarding any questions you have, or request a callback and you will be contacted by one of their customer support specialists. 
Company History

Nochex launched in late 1999 and by 2001 had established itself as a trustworthy e-payment service. Over that period, they have built a solid reputation and consumer network.
Nochex was the first alternative payment option in the United Kingdom on eBay when it launched. After purchasing PayPal in 2003, eBay eventually prevented its merchants from utilising the service. Even after eBay reversed its judgement, Nochex could never again enjoy the same level of success on the platform.
Due to their setback, Nochex had to start courting customers elsewhere. They came up with a novel approach to accepting payments online, catering specifically to merchants that run their online stores. The technology provided by Nochex negated the need for SMBs to open a costly bank merchant account.
In 2011, Nochex introduced a partner programme that offers commission on sales and product usage to those who bring in new customers. When it comes to mobile phone payments, Nochex was an early adopter.
Both Visa and MasterCard turned to Nochex in 2013 to spearhead the introduction of their respective e-wallet services.
Click here to read the full Nochex company history.
User Reviews
Nochex user ratings are as follows:
The average score for Nochex from the above-listed sites is 3.1 out of 5 stars.
User Reviews
Review Summary
0.0 out of 5 stars (based on 0 reviews)
Recent Reviews
There are no reviews yet. Be the first one to write one.
Submit a Review