Founded in 2007, Axcess is a UK-based company focused on offering merchant services to SMBs around the world. 
The company focuses on tailored solutions for merchant services for growing companies, offering specific tools for these small, growing brands. Axcess utilises its fluid nature and offers a range of solutions including eCommerce payment solutions, telephone and virtual terminals and point of sale solutions. 
Merchants looking to learn more about Axcess Merchant Services, including the products, services and user reviews, can check out everything you need to about the company below. 
Prices/Fees
Due to the tailored nature of the service offered by Axcess Merchant Services, the pricing of the products is not published online.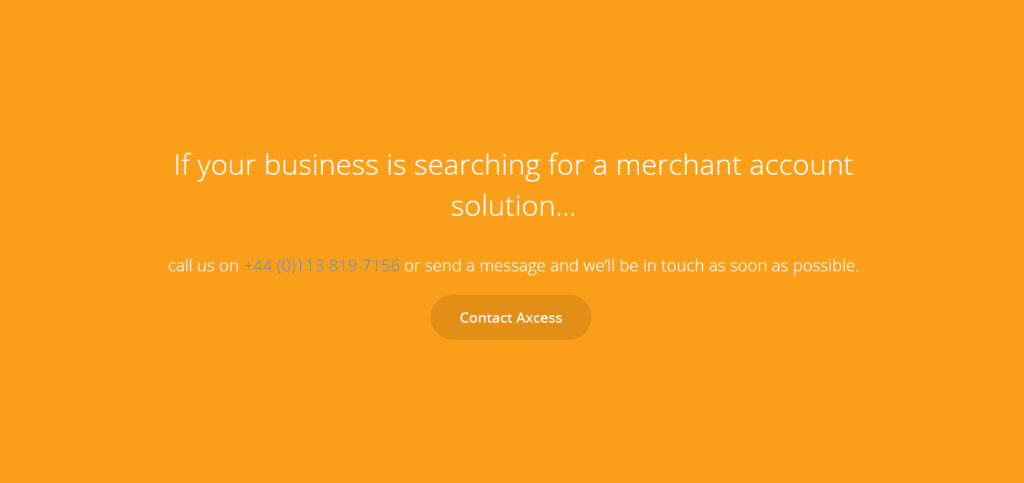 Merchants looking for an accurate quote for specific business requirements are able to contact the company to discuss a merchant solution. 
Product/Service Overview
Axcess Merchant Services offers a long list of both payment solutions and features that merchants can benefit from. 
Payment solutions 
Payment solutions, including eCommerce payment solutions, telephone and virtual terminals, point of sale solutions and payment gateway services are all offered by Axcess. A brief overview of each of these payment solutions can be found below. 
eCommerce payment solutions 
The main services offered to merchants looking to Axcess Merchant Services are related to eCommerce. 
Axcess provides merchants with a bespoke solution, allowing for payments to be accepted online from their own business websites. There are several PCI level 1 Gateways that customers are able to use to process their payments. 
The majority of card brands can be accepted by Axcess Merchant Services with more than 390 different connected banks covered. Visa, MasterCard, American Express, Diners Club, Maestro, and CUP can all be accepted online through the online gateway. Chargeback administration is also catered for, offering solutions for disputes. 
In addition to the ability to accept these online payments, merchants can also benefit from advanced analytics and reporting. With data available in real-time, businesses can gain real insights that offer genuine value to businesses. 
Telephone and virtual terminal 
Despite the rise of eCommerce, mail orders and telephone orders are responsible for a significant chunk of payments made. 
The Axcess virtual terminal offers a quick and easy solution for accepting both mail and telephone payments. There's no integration required when merchants are looking to implement the MO/TO (Mail Order / Telephone Order) payments. 
Businesses are simply able to log in with a username and password combination to start accepting payments. In addition to the ease of use, merchants can specify multi-level access, determining the individual privileges with payments, payments and refunds, or data only available to be altered. 
Customers and businesses alike are also protected with the virtual terminal with increased fraud protection. This avoids disputes, chargebacks and damages to the image of a company by protecting the customer.
Point of sale solutions 
A range of point of sale solutions is also available from Axcess Merchant services, offering a tailored plan for businesses that take in-person payments. 
The company offers merchants the choice of a range of brands including Pax, Castle and Ingenico. Each of the terminals has unique benefits and is best suited to different brick-and-mortar business environments. 
The POS solutions offered by Axcess Merchant Solutions allow businesses to accept AMEX, Apple Pay, Google Pay, and more. The terminal options include portable, mobile, and fixed terminals that can be used in numerous settings. 
For a full breakdown of the POS systems offered, merchants should reach out to Axcess for a personal solution.
Payment gateway services 
Axcess Merchant Services currently offers two PCI level 1 payment gateways that can be effortlessly integrated with a copy and pay system. 
The payment gateway allows merchants to benefit from advanced analytics and reporting with more than 60 different risk settings, ensuring the safety and security of all payments made. 
For merchants that are searching for a direct integration method, Axcess offers a direct integration solution. This is great for offering the maximum levels of customisation, forming a unique payment gateway that is carefully tailored to the individual business needs. 
Features
Alongside the selection of payment solutions offered, merchants are also able to benefit from several features that overlap the services offered.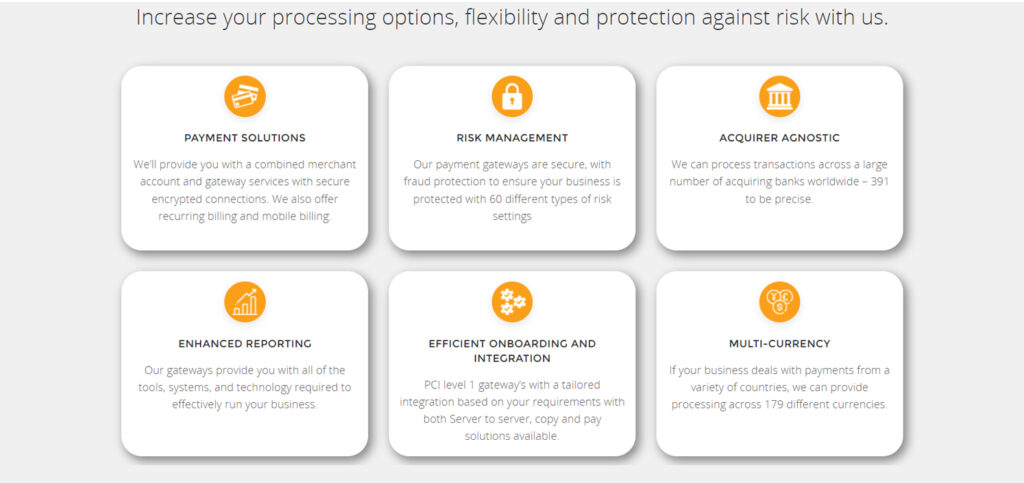 Available features highlighted by Axcess Merchant Services include merchant accounts, fraud and risk management, recurring billing, mobile billing, and multi-currency processing. A brief overview of each of these features can be found below. 
Merchant accounts 
The first of the impressive features offered by Axcess Merchant Services is merchant accounts.
With a fully tailored service, Axcess works with merchants to identify and open the best possible merchant banking account. The team works to ensure that businesses are getting the best possible deals, preventing any new customer offers from clouding the long-term benefits of a good merchant account.
Everything can be accessed and signed digitally, preventing the need for trips to traditional brick-and-mortar banks with the best possible deals highlighted. 
Fraud and risk management 
Fraud is one of the biggest sticking points that merchants find when selling online.
Axcess Merchant Services aims to reduce the risks associated with fraud entirely with a range of fraud and risk management services. The systems are fully bespoke, simple to manage, easy to integrate and dynamic. 
A large portion of the fraud monitoring is completed in-house by Axcess Merchant Services with both continuing chargebacks, fraud alert data aggregation and analysis all utilised. 
Recurring billing 
Merchants that are looking to include some form of recurring billing in their business model can do so with the subscription services offered by Axcess. 
Recurring payments can be scheduled at the optimum time, allowing the most success when charging payment cards for services. This is a great tool that merchants can use to maximise their cash flow with the aid of consistent customer payments. 
Axcess Merchant Services allow businesses to store customer card information as either a hosted solution or as a Merchant hosted service, depending on the preference of the merchant. 
Mobile billing 
With more than 60% of all transactions processed via a mobile device, the mobile billing solutions offered by Axcess Merchant Services are one of the most in-demand features of the company. 
The mobile billing options offered by Axcess give customers a payment page that is not only adapted to fit their device but their service provider, too. For a full breakdown of the mobile services offered by Axcess, merchants should head over to the site and contact the sales team. 
Multi-currency processing
At the time of writing, Axcess Merchant Services offers support for a total of 179 different currencies.
For businesses that already deal with multiple currencies, and for those that are looking to break into the global market, multi-currency processing is a necessity. With a bespoke solution, Axcess ensures that merchants don't fall short of the high currency exchange rates that are charged by the majority of banks.
The ability to allow international customers to pay in their local currencies and with local payment solutions is a prime method to ensure business growth. This not only increases the trust between the customer and merchant but is also likely to improve the conversion rate. 
Company background
Founded in 2007, Axcess Merchant Services was created with a clear goal in mind – to provide online businesses with effective payment solutions.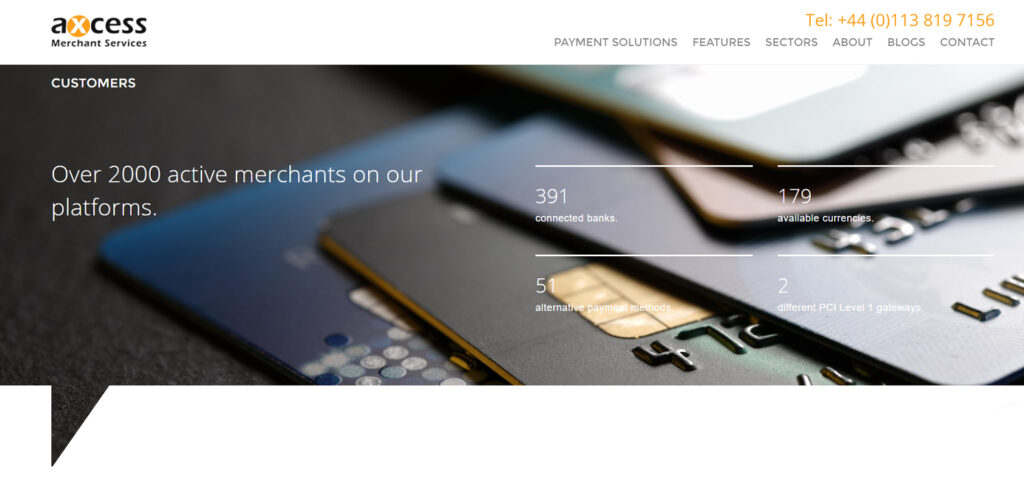 With more than a decade-and-a-half in experience, Axcess Merchant Services boasts connectivity to more than 391 banks with over 50 alternative payment methods, 179 different currencies and 2 different PCI Level 1 gateways available. 
The company focuses on growing SMBs, creating tailored solutions for individual business needs. Based in the UK, Axcess provide some of the most reliable and effective payment solutions for businesses not just within the country, but on a global scale. 
User reviews from around the web 
At the time of writing, Axcess Merchant Services has not yet been reviewed at any of the top independent review sites. 
Once an existing customer using the merchant services offered by the brand publishes an online review we will be sure to update this section.
User Reviews
Review Summary
0.0 out of 5 stars (based on 0 reviews)
Recent Reviews
There are no reviews yet. Be the first one to write one.
Submit a Review