The Bank of Ireland UK has teamed up with EVO Payments International to offer merchants an alternative solution to accepting card payments in the UK. 
The two companies, trading together as BOI UK Payment Acceptance (BOIPA), are focused on allowing businesses to grow by accepting card payments and adding additional payment choices for customers. There's an easy sign-up process and with three fixed plan pricing options available, BOI UK is fully transparent with its offer of services. 
With a team of specialist technicians and engineers, merchants can have peace of mind that their terminals and their team are performing at the best of their ability. 
Prices/Fees
There are three ready-made packages that businesses are able to choose when signing up with BOI UK Payment Acceptance with a fixed price offering for all packages.
Each of the fixed price offers include the pricing of terminal rental1 authorisation fees alongside all transaction charges for the month.
Ready-Made 2000 (Starting at £39.99) – A package including all costs for monthly transactions made by a business up to the value of £2,000. 

Ready-Made 4000 (Starting at £56.99) – A package including all costs for monthly transactions made by a business up to the value of £4,000. 

Ready-Made 8000 (Starting at £89.99) – A package including all costs for monthly transactions made by a business up to the value of £8,000. 
Businesses that have a monthly card spend of more than £8,000 are not able to use one of the ready-made pricing packages and are instead able to request a quote for a tailored plan with BOI UK. 
The payment terminal of choice, whether that be a portable, Bluetooth, fully mobile or fixed terminal, are installed with no additional fees by specialist technicians. Merchants that surpass the number of transactions permitted in a ready-made package are subject to a nominal and transparent fee.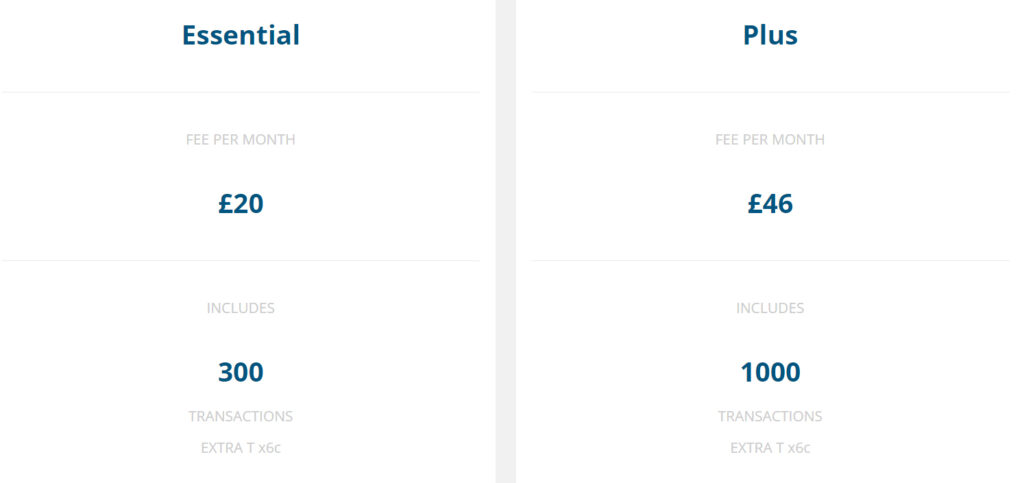 Merchants should note that there is currently no ready-made offer available for eCommerce businesses to claim. Instead, online businesses have the choice of two pricing options for small to medium-size businesses to choose from: 
Essential (£20 per month): Includes 300 transactions 

Plus (£46 per month): Includes 1,000 transactions
Bespoke pricing options can be offered to online businesses completing more than 1,000 monthly transactions. 
The pricing of BOIPA ProPay is also completely transparent with a single pricing model under the name of "essential". The service costs just £6 per month and allows for payments to be accepted without any additional hardware.
Product/Service Overview
The products and services offered by BOI UK Payment Acceptance can be split into three main categories: in-store, on the go and online.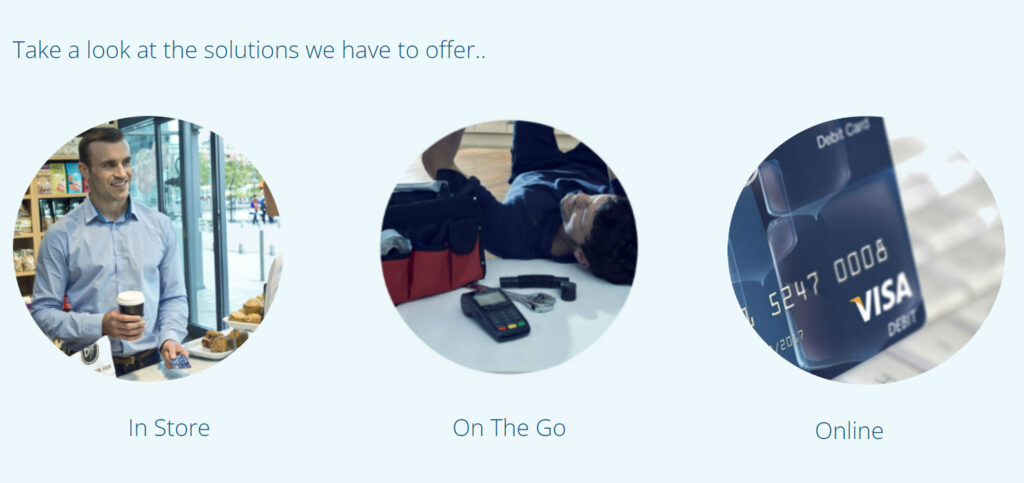 The company offers a range of different solutions for each type of business, ultimately aiming to offer a simple and streamlined process for UK businesses.
In-store 
Merchants of all sizes are able to accept card payments in-store with BOI UK Payment Acceptance with a range of different payment terminals offered. 
The latest Ingenico card machines are used by the company, giving merchants access to the maximum number of payment methods available. Customers are able to pay their way, whether that's a simple chip and pin payment or via Apple Pay and Android Pay. 
A full list of the Ingenico terminals that can be used in-store can be found in the customer support section of the BOIPA website. 
On the go 
Similar to the fixed terminals, BOI UK Payment Acceptance also offers a range of on the go terminals that can be used with ultimate freedom. 
With GPRS card machines, merchants can take payments from wherever they may be. Powered by Ingenico, the mobile terminals are able to connect to the internet and process payments when merchants are out and about – not just in a single fixed location. 
Again, a full range of the different card terminals and support for the on the go options can be found online at the customer support section of the BOIPA website. 
Online
Alongside the traditional brick-and-mortar businesses, BOIPA also supports online businesses with a range of merchant products allowing payments to be accepted.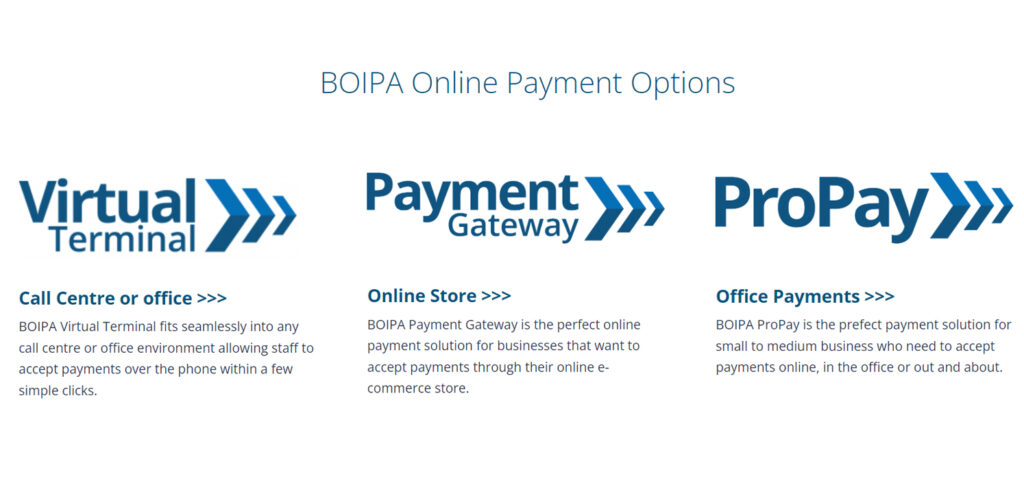 Virtual terminal
A virtual terminal is the first of the services offered to online merchants and allows for payments to be accepted over the phone, as well as online. 
The virtual terminal does not require any additional specialist hardware and can instead simply be accessed from the internet browser of any device. This can then be used to accept telephone or email payments and includes fraud prevention, halting the chance of chargebacks to an account. 
Payment gateway 
The BOIPA payment gateway allows for eCommerce businesses to accept payments and complete transactions from their own business site. 
The payment gateway is level 1 PCI compliant, ensuring that all payments, regardless of how they are taken, meet all of the PCI compliance required. A fraud toolbox is also included in the payment gateway offering, ensuring that unsafe transactions are prevented with the dynamic 3D secure technology.  
With integration to more than 20 different shopping platforms including Shopgate, Magneto, WooCommerce and PrestaShop, it's easy for merchants to get set up and accept payments online quickly. 
In addition to offering the ability to complete transactions, businesses are also granted access to the Transaction Admin Manager. This can be accessed via desktop, mobile and tablet and gives merchants insights and real-time reports of exactly how their online store is performing.
ProPay
The ProPay service offered by BOI UK Payment Acceptance allows for businesses to take credit and/or debit card information over the phone in just a few seconds. 
The service allows for merchants to open the ProPay site on their browser before entering the customer's email address, amount of purchase and their payment card details. This can be completed from anywhere on any device without the need for any additional hardware. 
Additionally, ProPay allows users to view the transaction history alongside a database of customers. With the ability to add additional details, if the customer is willing to supply, ProPay can be used as an analytics tool as well as a payment acceptance tool. 
Company background
BOI UK Payment Acceptance was forged with a partnership of the Bank of Ireland UK and Evo Payments International. 
The partnership was formed with three main aims. The first is to make payment acceptance easier for businesses. The second is to offer both simple and transparent pricing to merchants. The third is to make all payment acceptance both available and attractive to merchants and businesses of all different shapes and sizes. 
The company is currently small, but growing with brands such as ToyTown, HopHouse and Dreams all utilising their services.
User reviews from around the web 
There are very few user reviews available on the web for BOI UK Payment Acceptance with just a small number of customers turning online to share their thoughts.
With just 3 reviews available from Trustpilot, BOI UK scores 2.8/ 5 although, with so few customers to compare, this is somewhat unreliable as a rating. 
However, taking a look at EVO Payments UK, one half of the partnership that forms BOI UK Payment Acceptance, we can find a Trustpilot rating of 4.6 / 5 from 430 reviews. This gives a much clearer picture of the service expected from the payment company. 
User Reviews
Review Summary
0.0 out of 5 stars (based on 0 reviews)
Recent Reviews
There are no reviews yet. Be the first one to write one.
Submit a Review