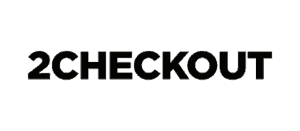 2Checkout is leading global payment platform which allows companies to receive online and mobile payments from buyers around the globe.
2Checkout was started in 1999 by Alan Homewood. The company was started in Mr. Homewood's home and now has over 50,000 merchants and provides a service in over 200 markets worldwide.
2Checkout Credit Card Processing & Payment Services
2Checkout accepts all major global debit and credit cards and accepts payments in 87 currencies.
Visa
Mastercard
American Express
JCB
Diners
Discover cards
2Checkout Pricing & Fees
All prices are stated in US dollars no matter which country you are trading from. 2CO also state that prices may vary depending on your industry and business model.
Basic Payment Processing Price
2.4% + 30¢ per transaction
Possible discount for merchants who process over $50,000
5% fee for payments accepted from outside the UK
$25 chargeback fee
Currency conversion – conversion to sterling incurs an average fee of 2-3% above the daily bank exchange rate
No monthly fees
No set up costs
No charge for fraud protection
No extra charge for recurring payments
Source:  www.2checkout.com
To see how that compares have a look at: UK Merchant Account and Credit Card Processing Fee Comparison.
2Checkout Features
PCI compliance
PCI Level 1 certified
Three-tier defence strategy to identify fraudulent activity
Assesses more than 300 variables in under 3 seconds to identify markers of fraud
Large global reach – 87 currencies and 15 languages
Hosted checkout – Standard or Inline
Payment API
Partners with most popular shopping carts and invoicing systems
Monday to Friday customer service
Company Background
2Checkout is an American company which was started in the home of Alan Homewood in 1999. The company started trading in 2000 and now has over 50,000 merchants worldwide.  Mr Homewood is still part of 2Checkout.
In March 2017, Avangate acquired 2Checkout. Avangate is the global eCommerce and subscription billing platform for software, SaaS, and digital solutions. The joining of these two companies promises to bring a comprehensive product and service suite in the subscription billing and eCommerce field.
The combined corporation will use 2Checkout's name and the CEO of 2Checkout will still be on the board.
Ken Benvenuto, the former CEO of 2Checkout said, "Joining the 2Checkout payment service provider and gateway capabilities with Avangate's subscription management and merchant of record services will position the company for significant growth in attractive markets around the world. By coming together, we can lead the eCommerce and subscription management space, accelerate our payment offerings, and expand our footprint worldwide."
2Checkout Pros & Cons
The following pros and cons are based on reviews from Trustpilot, Sitejabber and Review Centre.
Pros:
No set up fee
No monthly charges
Ease of set up
No cancellation fee
Multiple currencies
Cons:
Poor customer service
Sudden account suspensions with no explanation
Holding on to funds
Refuse account for totally invalid reasons
Overcharging
2Checkout Reviews
Trustpilot: 2.2 out of 10 based on 36 reviews
Sitejabber: 1.1 out of 5 based on 19 reviews
Review Centre: 1.4 out of 5 based on 63 reviews
2Checkout
Merchant Machine
Score:
2.4 out of 10
(average of sites above)
Website: https://www.2checkout.com
How Does 2Checkout Compare?
2Checkout publishes its rates online so it's relatively simple to compare it to other payment gateways. Overall, they are not the cheapest nor the most expensive option out there. You can also read more on our merchant account comparison page.
Disclaimer we have an affiliate agreement with 2Checkout. This means we will get a small commission if you purchase via our link. However, you will not pay anymore for the service than you would going direct.