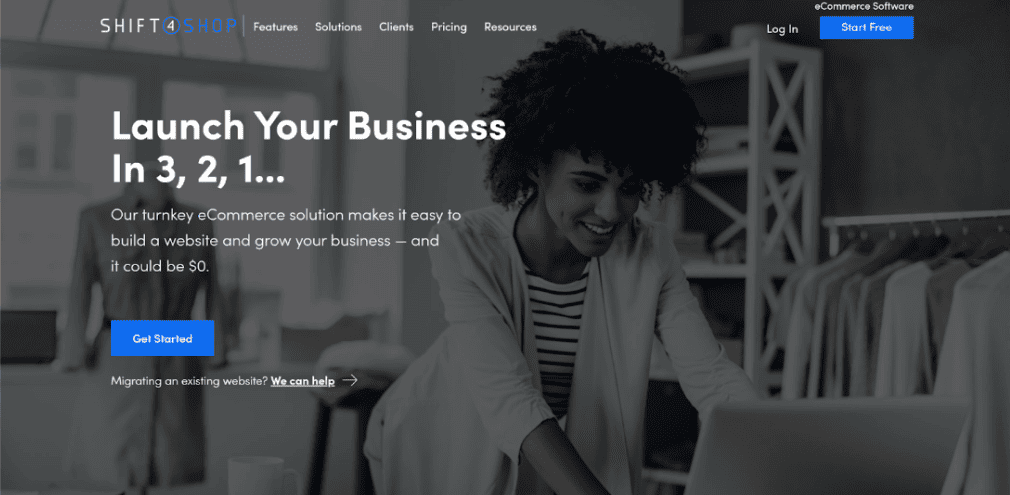 Shift4Shop is a site-building platform that equips businesses of all sizes with the tools and features they need to succeed in the digital marketplace.
Without a doubt, the biggest strength of this platform is that it offers all of the essential tools and features eCommerce shops need entirely for free. 
By creating an account, you'll be able to use all of the marketing, design, and product tools immediately without having to pay a cent. That being said, once you pass $10 million in annual profits, you will be charged $1,999 a month, but at that point, you'll be able to afford it, so it's still a great deal.
The one negative thing we have to say about Shift4Shop is, ironically, the design of their own site. There are too many tabs and too much information, and while this might sound like a strange grievance, it still makes it difficult to find out what the platform offers if you need to get through a wall of text.
That's why we've taken what we consider to be the most vital info from the site and condensed it into the most concise points, so let's start with our review.
Features
Shift4Shop comes with a ton of different features that allow you to do everything from changing the layout of the site to implementing different payment options that your customers can use.
Design
Themes – You get dozens of themes that you can choose from. You'll be able to find themes that perfectly fit any type of business, including arts and crafts shops, hardware stores, clothing boutiques, and much more.
All of the themes are designed to automatically adjust to the dimensions of the screen they're being viewed on. This ensures that your site visitors have the same quality of experience regardless if they're viewing your site on their desktops, phones, or tablets.
The themes are also designed to prioritise vital data transfer. This essentially means that the most important parts of the page will be delivered to your customer first so that the site can load at a quicker rate.
Additionally, the Google AMP feature also provides instantaneous page loading on mobile devices, ensuring that not even slow internet hampers the performance of your site.
On top of all of that, the themes are also customizable to an incredible degree. The Core Theme Editor will allow you to make basic changes, like switching the colour or the font to something that's more suitable to your branding.
If you want to have a bit more control over the elements of the theme, you can also access the code and make direct changes to the site layout. Just keep in mind that you'll need to know at least a bit of HTML and CSS to implement any changes to the code directly without breaking something on the page.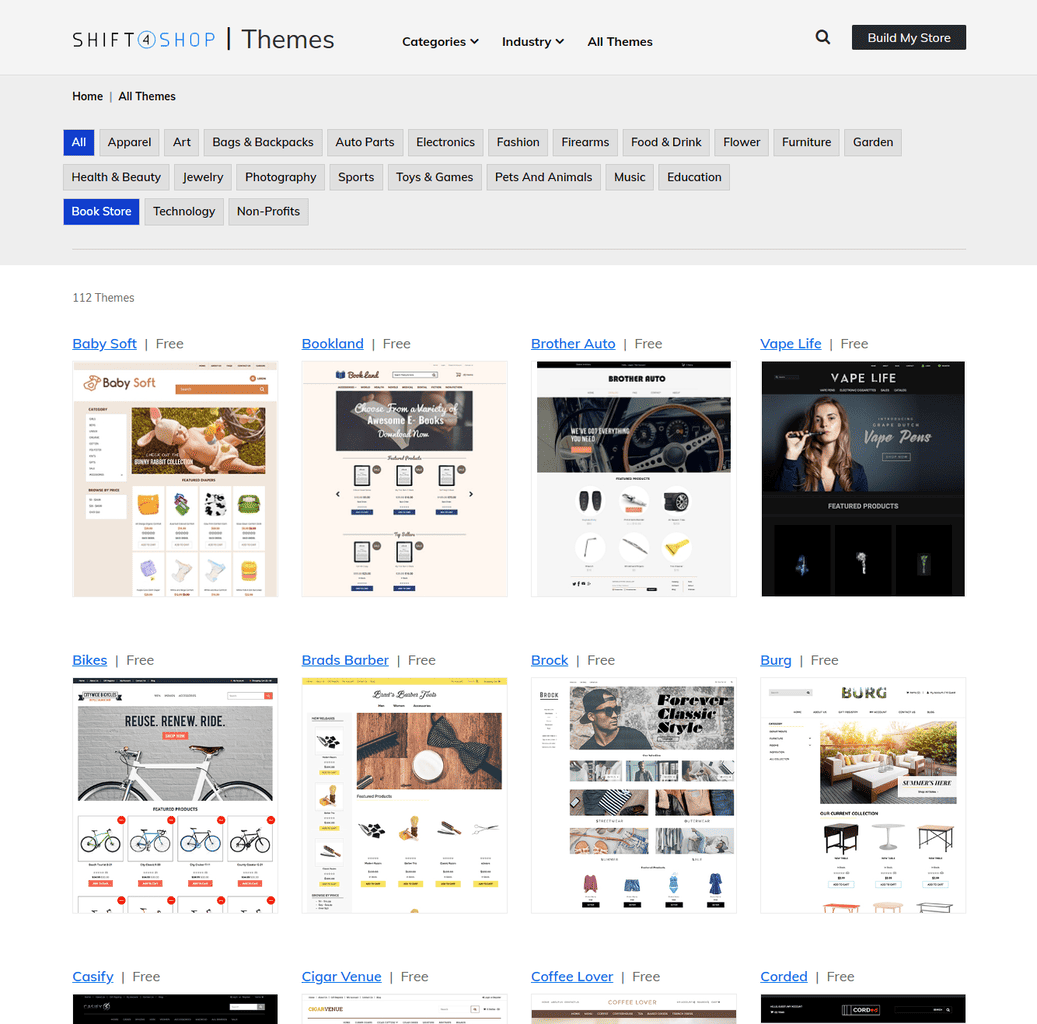 CMS – A content management system is simply a tool that allows you to edit any elements on your site. You can add or remove elements from your pages with a simple click of a button, and you can choose from pre-made templates as well. There are example layouts that you can view for several types of websites, and you can either use them as inspiration or copy them entirely for your layout.
Language and Font – You can pick between several different languages that you can implement on your site. You'll also be able to change a lot more aspects of the text on your page outside of choosing the font.
Enlarging or shrinking the letters, changing the colour of the text, and adding different styles and effects are just some of the features that you can use to draw emphasis towards special products or their descriptions.
Add Pages – You can add as many pages to your site as you want and customise each of them individually. You'll also naturally have the tools to interlink all of your sites through tabs and highlighted text scattered throughout the pages themselves.
Hire Experts – If you don't know much about modifying site code or aren't quite sure about how to design the layout of your site, you can always get some help from their professionals. Shift4Shop has a team of programmers that specialise in building sites on this particular platform, and you can get them to design the ideal online shop for you.
You'll obviously have complete control over the final product, but the job will be completed in a fraction of the time that it would take you, and the site will look and work a lot better than if you handle things yourself.
Customer Support – Shift4Shop has a team of highly skilled professionals available 27/7 to answer any questions you might have and solve any site issues you might be experiencing.
Additionally, you can also peruse the support forums and check to see what other users are complaining about to learn about any potential pitfalls and learn from their mistakes.
If that wasn't enough, you can also visit their YouTube page and check out the step-by-step instructions that tell you how to solve common issues on the platform, how to organise certain business layouts and much more.
Security – This platform uses various security measures to ensure that all of the data on your site can't be touched. These measures include secure level 1 PCI hosting, IP blocking security features, monthly upgrades, daily site data backups, and much more.
Products
Unlimited Products – You can add as many products as you want to your site without having to pay any additional charge. The same goes for the images you use since you can add as many as you want for each product. However, we'd still recommend only sticking to a handful of images since the more you add the more data needs to be transferred, and the longer your customers will have to wait for the pages to finish loading.
No Limit on Products – You can advertise and sell any type of product on your site. Physical items are naturally included in this, but you can also sell electronic items like music, art, videos, and so on.
Subscriptions – This goes hand in hand with the previous feature as most electronic products will require a subscription service. With this feature, you can implement a regular payment option on your site that will allow your customers to gain access to all of the videos, music, and other products you have available online. You'll especially need subscriptions if you're planning on selling online courses or instructional videos.
Easier Order Management – The platform comes with several product sorting tools that are incredibly useful. You can sort your orders by price, date, and several other categories, and they're all automatically archived and stored for future review.
The orders are also automatically generated once a purchase is made so you or your employees simply need to either approve them manually or set approval conditions that will be checked automatically.
Labels – To speed up the shipping process, you'll be able to automatically print out labels for each product you ship. This will save you from having to call the shipping service and have them create the labels for you. 
Autoship – Customers who already have their address and payment info in the system will be able to set up a shipping subscription. As long as they keep up with the monthly payments, they'll receive any products they order on a regular basis each month. The shipping frequency can be adjusted depending on the needs of the customers.
This is ideal for B2B transactions since a steady shipment of certain products can be sent over without your customers having to manually place orders each time.
Pre-orders – If a certain item is out of stock but you know you'll be getting a new shipment soon, you can offer a pre-order option on the product in question. This way, the customers will be able to buy the product before it gets to the shop and it'll be shipped to them as soon as possible.
Returns – Product returns are always a pain to process, however, the Shift4Shop automatic returns processing feature will handle everything for you. All of the return requests that were filled out and sent in will automatically be processed and sent to a dashboard where you can approve or deny them individually.
Product Tracking – Customers will automatically be informed via email once their purchase has been approved and the product has been shipped, as well as the estimated time of arrival for each item.
Manual Orders – If you're looking for something that can give your customers more of a personal touch, then you can always set up a manual order system where they need to call in to order your services or products. This is a lifesaver if you offer very specific products and it would be easier to just have people call in rather than have them fill out multi-page questionnaires. 
Add to Cart – All of the products that the customer wants to check out can be added to the on-site purchase list with a single click of a button. The items will stay on the list that's connected to the customer account until they're removed, so your customers can check out the products whenever they want.
Checkout – You can add either a single page or a 3-page checkout to your site. Both options ask for the same information – customer info, shipping method, and payment method. The only difference between the two methods is that the info on the single-page checkout is all filled out on the same page whereas the 3-page option splits things over 3 pages.
Both methods get the same information and process the products quickly and effectively, and the choice of which one would be better for the site entirely depends on your preference. Still, it's great that you have a choice even over the most intricate features on the site.
Marketing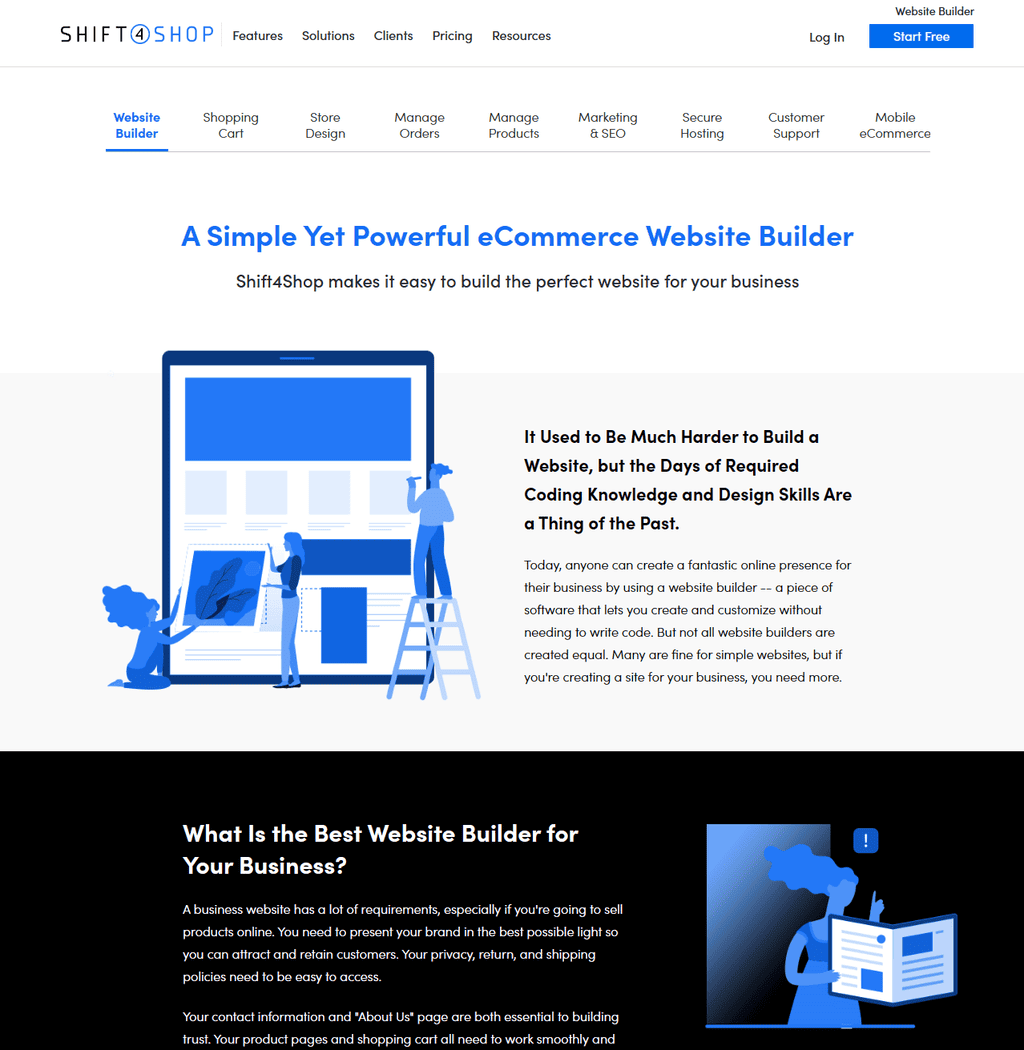 SEO Tools – Search Engine Optimization is a large part of any online business as it helps the site grow and expand. Among the numerous SEO tools that Shift4Shop offers, some of the more notable ones are free domain name registration, breadcrumb links, as well as customizable meta tags, page titles, and H1 headings. You also have customizable image ALT tags, URLs structured for SEO, and dynamic XML sitemap generation.
Customer Accounts – Allowing your customers to create an account on your page is the best way to make things more convenient for return visitors. All of the shipping and payment details will be saved once they've been input once, and all of the products that the customer might be interested in buying will permanently remain in their cart.
They'll be able to create an account at any time, but you can also implement a checkout question that asks them whether or not they'd like to have their info saved before they make their first purchase.
Blog – The built-in blog allows you to add a page to your site that can help you with content marketing. This blog page is where you can upload your own articles to attract more visitors. You have full control over what you post, and even small articles can help you with your search engine ranking if you optimise them with the right keywords.
Social Media – You can add social media links to your site and drive your followers to your shop. You can add as many social media sites as you want, as long as you already have an account you can link to.
Customer Assistance – You'll be able to generate group deals that your customers can send to their friends so they can take advantage of the low prices as well. You'll also be able to start affiliate programs that you can add your customers to. Regardless of the method you choose, you can benefit from the goodwill and interest of your customers in several ways.
Email Marketing and Newsletters – If a customer has signed up to your site, then you already have their email address through the account they created. You can now use that same email address to send out emails that contain promotional info on any special deals, discounts, or events.
Crafting a newsletter template is the best way to go about email marketing since it allows you to easily craft messages by simply copying everything but the variable information. All you need to do is change the dates, prices, and item names, and you can group send the newsletter to any customer on your email list.
Abandoned Cart – The abandoned cart feature activates once a customer has logged out of your site while they still have items in their virtual checkout cart. After a certain amount of time has passed (as determined by you), an email will automatically be sent to that customer, reminding them that they still have products they might have forgotten about. You can also set the email to repeatedly be sent at certain intervals until the customer either comes back to buy or remove the product from the cart.
Coupons and Discounts – You can create any sort of coupon or discount rate that you want and either advertise it through your email service or post a banner right on the products themselves. You can also change the font of the coupons, the size, the letter colour, and other details.
Loyalty and Subscription Programs – While coupons are a nice incentive to get new site visitors interested in your offers, the loyalty programs are the best way to get repeat customers to stick around. These subscription services can provide them with certain perks like lower prices on every product or access to products that other visitors don't have access to.
Prices/Fees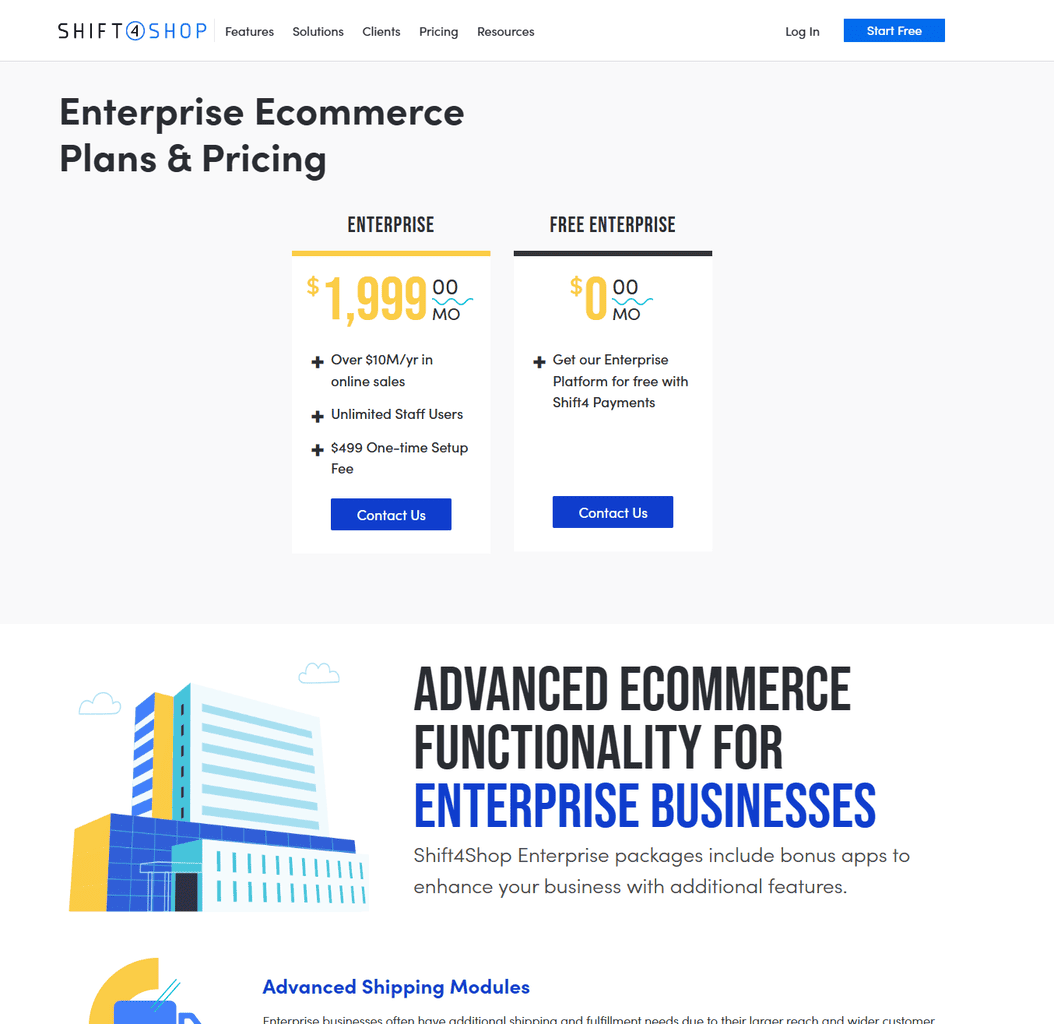 eCommerce
Shift4Shop doesn't actually have any payment plans for basic eCommerce shops and all of the features we've listed above are available for free. This includes all of the marketing tools, product options, 100+ customizable themes, and everything else.
However, there is a condition that you need to process a minimum of $500 per month for the platform to be completely free, otherwise, the price is $29 a month. Luckily, this is a very lenient minimum payment condition and even the smallest online shops should easily be able to generate well over that amount even in their first month.
Enterprise
According to Shift4Shop, an eCommerce shop turns into an enterprise once it starts pulling in more than $10 million a year. At this point, the platform will start charging you $1,999 a month in order to manage all of the products and traffic that you have on your site, and you'll also need to pay a one-time setup fee of $499.
This is more than fair since any company that makes that much money on an annual basis will need a lot more support than an average store.
Additionally, you also get a lot of features for free that would be hidden behind a paywall on most other site-building platforms.
The features in question include:
The option to add multiple distributors

Address verification software

Restrictive shipping notifications

Custom product emails that explain how certain items work

Autoship functionality through subscription services

Time to pre-order reminders

And all of the features that we mentioned above
You also get access to an unlimited number of staff accounts that you can create. These will allow you to grant site authorization to your employees so they can make modifications to the layout, themes, and other elements.
The one strange thing about this is that the eCommerce plan doesn't mention staff accounts as far as we could find, so either the site owner is the only person that can make changes to the site, or there is a certain number of staff accounts available, but they aren't mentioned.
Payment Options
This platform uses Shift4Shop Payments – a custom payment option for sites that were created through this site-creation tool.
Your customers will be able to use credit cards, debit cards, digital wallets, gift cards, and several other payment options as well. Popular services like Google Pay and Apple Pay are also available, in addition to services like WeChat Pay and Alipay for any overseas transactions.
The service uses powerful encryptions to protect the security of any customer that makes a purchase, and all of the data is scrambled to make sure that no one has access to it.
Shift4Shop Payments also comes with analysis software that calculates a number of important factors and presents you with all of the information you might need. You'll be able to see overall payment sums over certain periods of time, the number of payments done through a specific method, and other important information. 
You also have the option to add buy-now-pay-later features to your site, as well as several point-of-sale spots in your physical shops, and the service is also available on mobile.
The one negative point about Shift4Shop Payments is that the payment charges aren't listed. You'll need to contact the company directly if you want to learn how much the service is charging for each transaction.
Additionally, you can integrate several other payment systems into your site. These methods include Stripe, Square, Payline, and many others. While Shift4Shop Payments is specifically designed for Shift4Shop sites, all of the other payment gateways are easy to add and integrate seamlessly.
Company Background
Gonzalo Gil started a company called 3dcart in Tamarac, Florida, all the way back in 1997. The company was later acquired by Shift4Shop Payments and it was renamed to Shift4Shop at some point in November of 2020.
The company has been running for well over 2 decades at this point, and during that time it has helped more than 22 thousand people create their own sites.
User Reviews
Forbes gives Shift4Shop a 4.6 out of 5-star rating, and the most impressive features they mention are the built-in CRM, the upsell and cross-sell features, and the fact that the eCommerce plan is entirely free.
eCommerce CEO gives the platform a slightly less flattering 3.5 out of 5 but still points out the many integrations and the blog as impressive features.
User Reviews
Review Summary
0.0 out of 5 stars (based on 0 reviews)
Recent Reviews
There are no reviews yet. Be the first one to write one.
Submit a Review