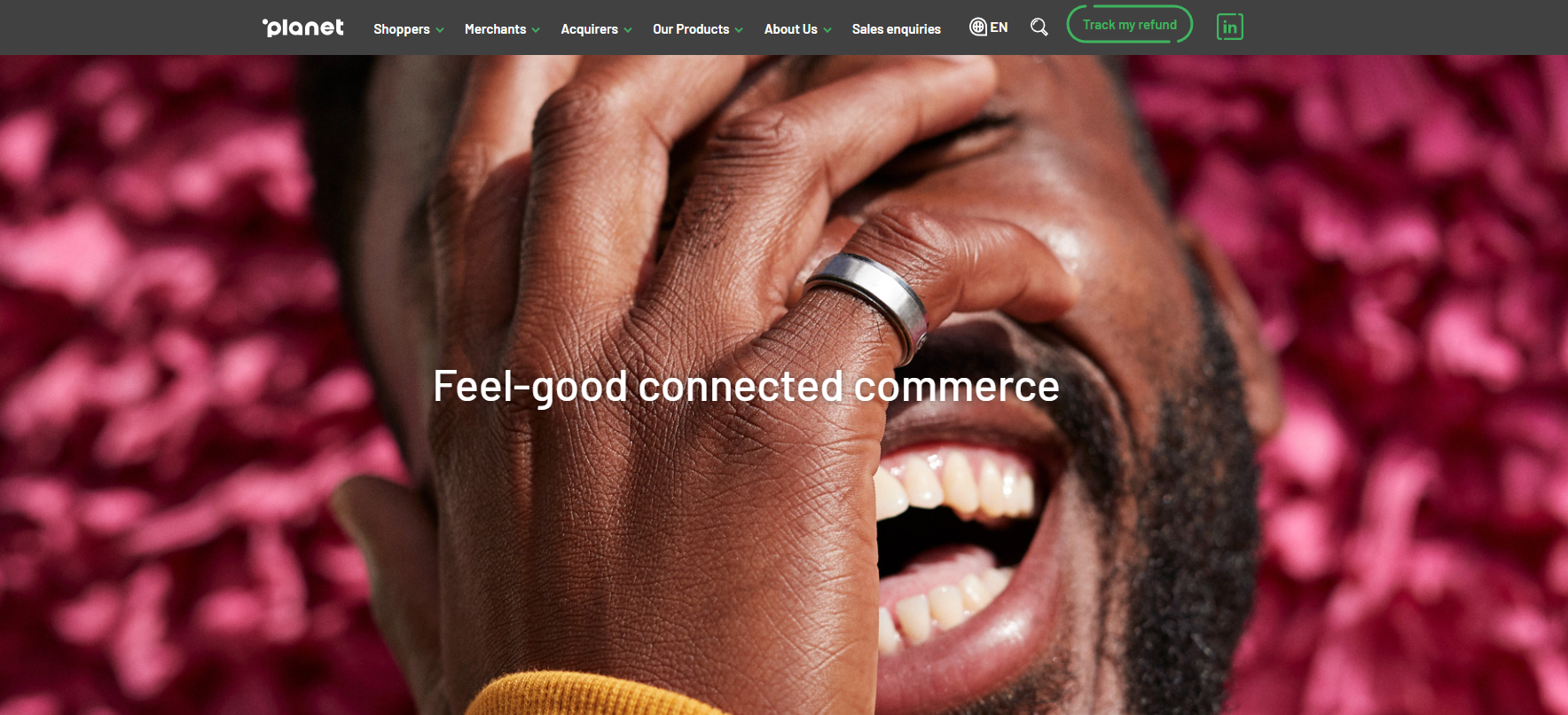 Previously known as Fintrax and Premier Tax-Free, Planet Payment provides financial services to individuals, multinational retail organisations, hotels, and financial institutions all around the world. 
The company specialises in:
Processing of multicurrency payments

Handling of VAT refunds for visitors 

Hospitality and retail software
Planet Payment enables consumers to shop, make payments, request chargebacks on their purchases, and pay in the currency of their country of residence. 
Merchants are given the ability to use Planet Payment to enhance the effectiveness of their sales, gain other potential sources of income, and provide a modern shopping experience. In addition, Planet Payment empowers linked acquirers to increase levels of compliance.
Planet Payment is present on five continents and employs more than 1500 people. The company's global headquarters are located in Ireland, and it has regional headquarters in both Paris and London.
Prices/Fees
On its website, Planet Payment does not mention any of its fees or pricing; in order to access this information, you will need to contact the firm personally.
Services
Acquiring and Processing

You'll be able to streamline the acceptance and processing of payments, open up new income opportunities, and expand your company all with the help of Planet's Acquiring and Processing. 
The payment processing services enable retailers to increase their income, merchants to experience greater conversion rates and sales, and clients to pay using the payment method that is most convenient for them. You can choose a revenue-generating payment partnership by contacting them at the following link.
By accepting more types of payments, businesses see higher conversion rates and more sales since their customers can pay the way they prefer.
Cashless Payments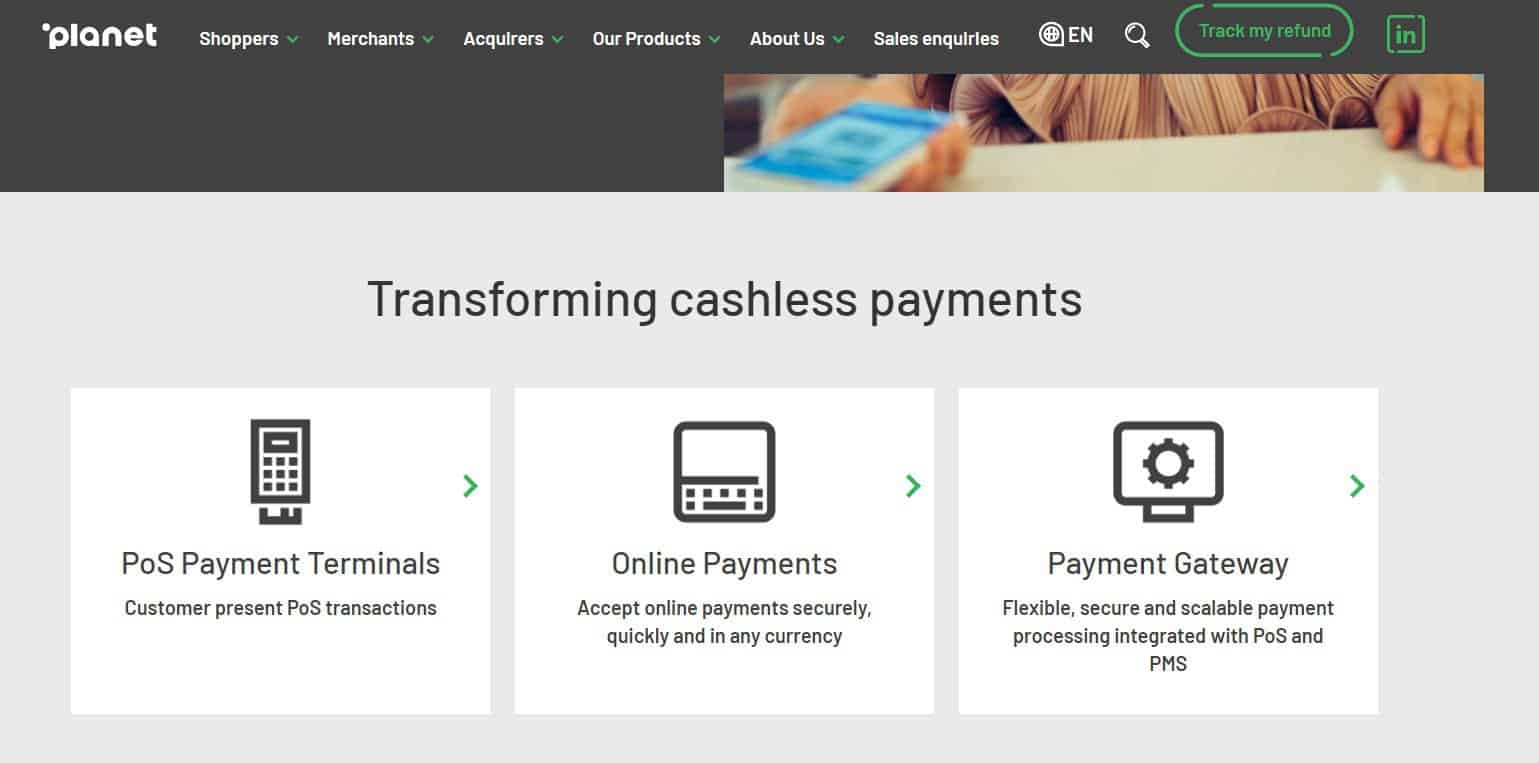 1. PoS Payment Terminals
You are able to select PoS payment solutions with Planet's Point of Sale Payment Terminals, allowing for seamless operational effectiveness. These solutions vary depending on the requirements of your consumers.
There are three types of PoS terminals:
Transactions conducted in front of the customer using the most up-to-date and reliable hardware are handled by

countertop terminals

.

Mobile terminals

that give customers the versatility to pay while they are on the go.

Unattended terminals

, or point-of-sale terminals that are not under supervision, that allow customers to process their own purchases.
Card companies that are supported in this context are:
American Express

Mastercard

Discover

Diners

Visa

JCB
2. Online Payments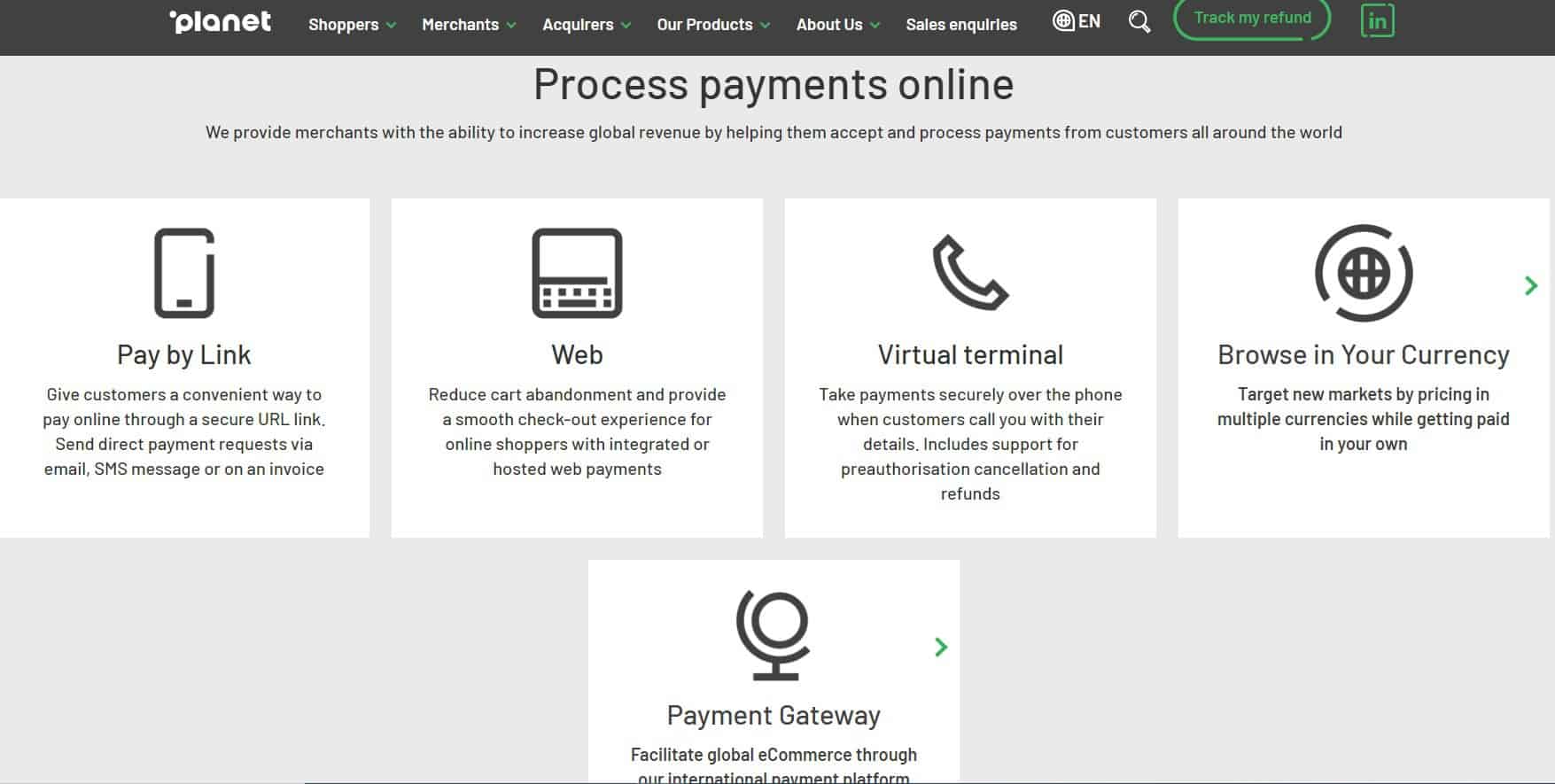 With Planet's Online Payments, you can raise your revenue by receiving payments online in a secure manner, in a short amount of time, and in any denomination supported by the portal. 
You can choose to accept contributions in your consumers' native currency for local purchases via Union Pay, WeChat Pay, Klarna, and Alipay.
As seen in the image above, you can utilise Planet Payment's online payment via pay by link, web, virtual terminal, multiple currencies, and payment gateway.
3. Payment Gateway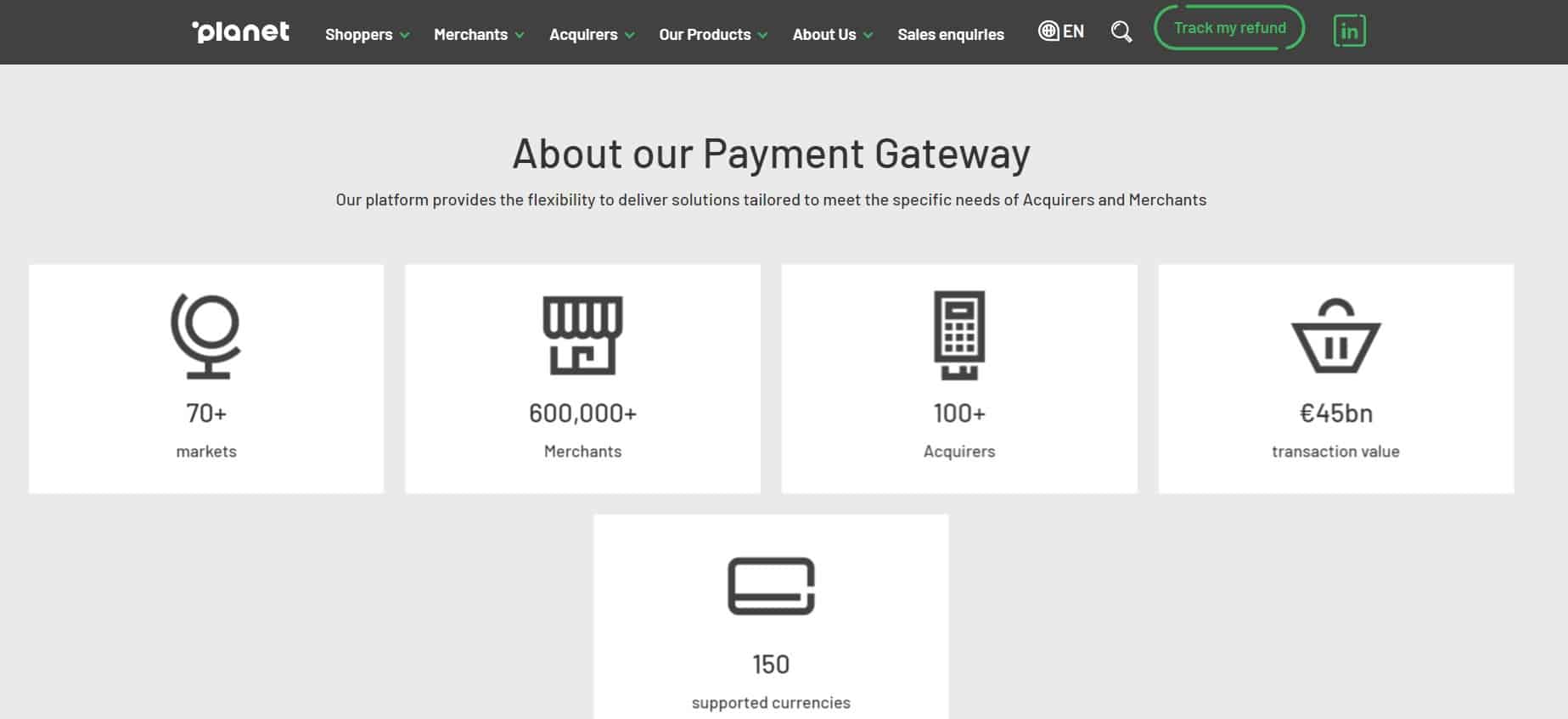 The Planet Payment Gateway is a safe and comprehensive method of payment that supports the processing of a multichannel transaction.
Shopping Online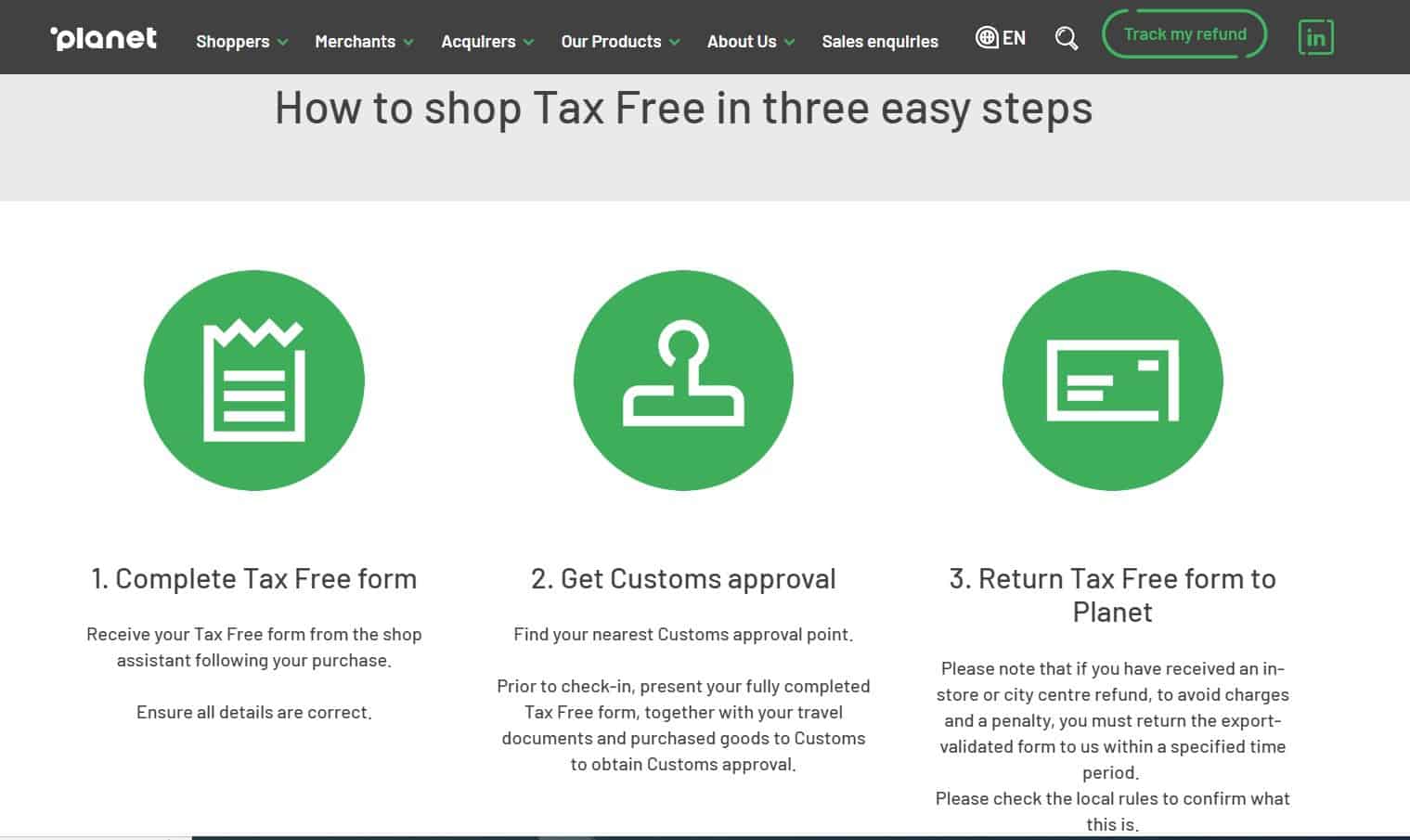 Shoppers can shop tax-free using the three steps illustrated in the image above.
VAT Refunds
Planet's services for the digital return of VAT include:
1. Standalone 
You can print tax-free forms, with no integration requirements.
2. Integration
Integrates with Planet and the retailer database to facilitate a quicker process for tax-free shopping while simultaneously collecting valuable data.
3. Self-Service
Kiosks that offer hassle-free self-service, allowing customers to fill out and print their tax-exempt forms
Intelligence and Data
In order to improve their sales performance, Planet's customers receive assistance from a team of researchers and specialists in understanding key market factors. Planet Payment assists in understanding sales performance statistics, spending tendencies, and Average Transaction Value (ATV).
Click here to learn more.
Sales and Marketing Consulting
Planet Payment will collaborate with merchants to improve in-store attendance, conversion, and spending, as well as customer engagement, by delivering a unified and improved customer experience throughout the entire customer journey.
They provide the following sales and marketing-related services:
Audit of international marketing campaign performance

International customer experience and journey mapping

360-degree international selling workshop

Customised international marketing plan

Sales transformation programme

International mystery shopping
Click and Collect
Planet's Click and Collect allows your consumers access to the entirety of your store's merchandise. Other benefits include:
Available for pick-up or delivery on the same day

Boosts the overall rate of internet conversions

Encourages customers to enter the business and offers possibilities for both cross-selling and up-selling products

VAT reimbursements are now available to international consumers who purchase online
Digital Wallets 
Planet's technology makes it simple for your consumers to pay in any way they prefer, regardless of where they are located. 
Digital wallets that Planet Payment accepts include the following:
Alipay 

Amazon Pay 

Apple Pay 

Giro Pay 

Klarna 

Samsung Pay 

WeChat Pay
Fraud Protection
Protect your platform with the comprehensive security that is incorporated into every component of Planet's software and technology. You can reduce the risk of fraud by utilising their API solutions, which allow you to customise your risk profile under your strategy. 
You will get a specialised surveillance and protection network via the security solutions that they provide. The solutions are tailored to satisfy the requirements of your company by Planet's network of certified fraud protection specialists.
Payouts
When it comes to payouts, Planet Payment provide the following:
They support all currencies, languages, and cards.

Determine bespoke conversion rates for each transaction, taking into account the acquirer, the merchant, the location, and any number of other relevant variables. 

Easy to build up with new acquirers and merchants, which can assist in increasing transaction amounts and entering new markets.

Comply with the Data Security Standards established by the PCI Secure Standard Council to ensure the safety of the cardholder data belonging to its consumers.
Integrations
Because Planet's payment gateway is fully compliant with the most stringent PCI Point-to-Point Encryption (P2PE) security requirements, consumers can shop with complete confidence. By implementing seamless interactions, Planet Payment streamlines complicated payment processes. 
These are the included integrations:
Industry-leading Point of Sale (PoS)

Unattended

Property Management System (PMS)

Various e-commerce platforms
Extra Care On Customer Support
Planet Payment customer service staff is available in the following regions:
Asia Pacific

Europe

Middle East & Africa
Company History
Planet Payment was established in 1999. Fintrax Group completed the acquisition of Planet Payment in December 2017. Fintrax is recognised as one of the most innovative firms in the world for its Dynamic Currency Conversion, Tax-Free Shopping, point-of-sale technologies, and credit card processing.
In addition to its headquarters in New York, Planet Payment now has offices in the following places:
The United Kingdom

New Castle

Hong Kong

Singapore

Shanghai

Delaware

Bermuda

Georgia

Beijing

Atlanta
The company's primary mission is to assist businesses in increasing sales, both domestically and internationally. They do so by providing the following assistance:
Helping merchants to increase the number of goods and services they offer

Assisting banks to attract and retain merchants

Assisting customers by making the shopping experience more enjoyable
User Reviews
We have not been able to find user ratings for Planet Payment, except the Trustpilot rating of 1.5 out of 5 stars.
User Reviews
Review Summary
0.0 out of 5 stars (based on 0 reviews)
Recent Reviews
There are no reviews yet. Be the first one to write one.
Submit a Review