AIB Merchant Services, often referred to as AIBMS, is the largest payment solution provider in Ireland and one of the top acquirers of eCommerce businesses in Europe.
The payment company is operated as a joint venture between Fiserv, one of the largest Fintech companies globally and Ireland's largest bank, Allied Irish Bank (AIB). The brand has more than 40 years of experience in the payment processing sector, offering merchant services to businesses around the world. 
AIBMS specialises in merchant services for SMBs with merchants able to choose from online,
in-store and on-the-go products and services from the company. 
Prices/Fees
AIB Merchant Services does not publish its prices and fees online and requests that merchants reach out to receive an accurate quote.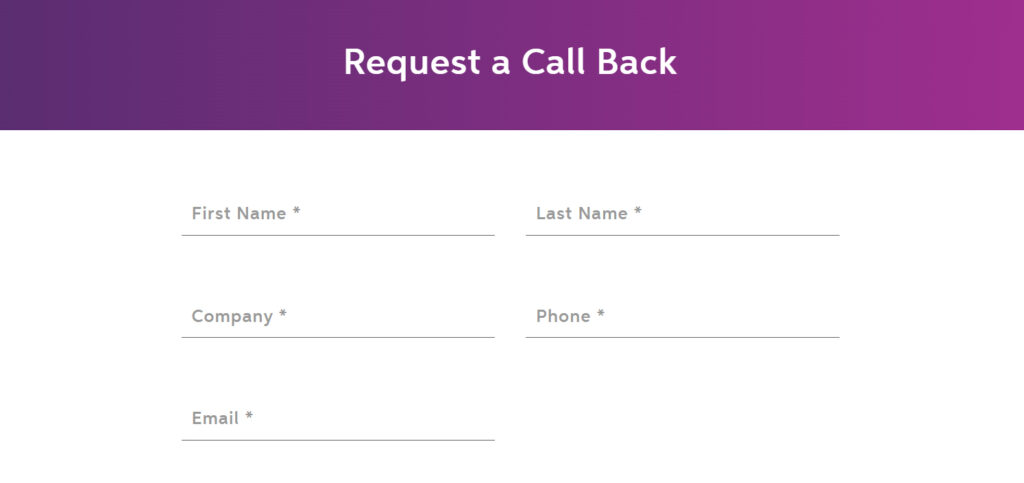 Product/Service Overview
The products and services offered by AIB Merchant Services can be categorised into three main areas: online, in-person and on-the-go.
There are a number of options for merchants in each of these categories with different SMBs requiring different tools to operate efficiently. Below we'll take a close look at the options available in each of these areas from AIBMS.
Online
The online portion of the services offered by AIBMS is one of the most popular products offered by the company. 
AIBMS E-commerce Gateway
Authipay from AIB Merchant Services offers a secure, safe method of accepting online payments and boasts an easy set-up and a super smooth integration.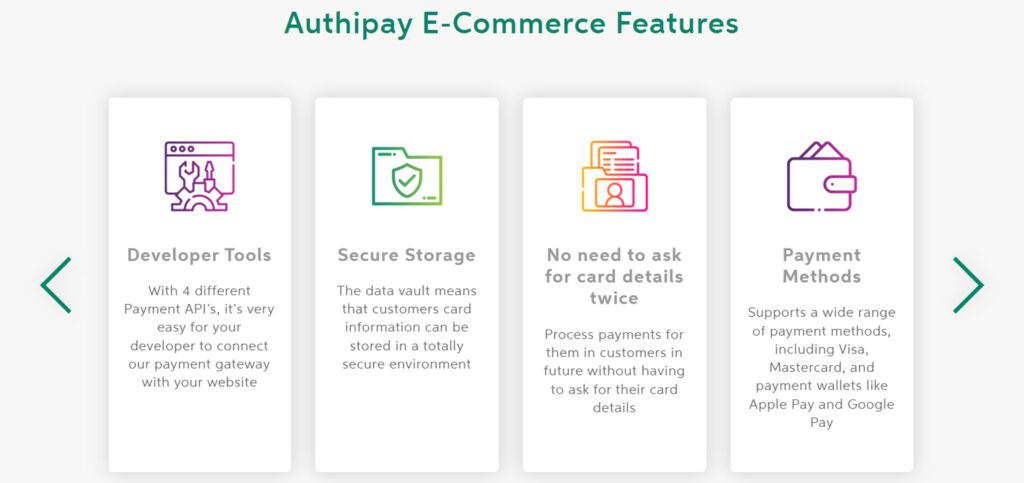 To get started with the e-commerce gateway, businesses are required to set up a merchant account with the company. Next, merchants should head over to their shopping cart, ensuring that it is Authipay-compatible. Once verified, businesses can pair their security certificates before they're able to finally start accepting payments. 
There are plenty of benefits associated with Authipay, the first of which is related to the developer tools offered. There are a total of 4 different payment APIs, making it as easy as possible to connect business websites with the AIBMS payment gateway. 
Secure storage allows for customer cards to be stored in the data vault, preventing customers from needing to fill in their card details multiple times. A wide range of different methods of payment is accepted by AIBMS with Visa, Mastercard, Google Pay and Apple Pay all catered for. 
In addition to the standard payment methods and checkouts, merchants are also able to utilise the pay by link option. This allows merchants to simply send a link that customers can use to make prompt payments online. 
AIBMS Virtual Terminal
The Authipay virtual terminal offered by AIB Merchant Services is a fantastic addition to the services offered by the company. 
A virtual terminal allows businesses to take payments over the phone without the need for any additional hardware. The terminal can simply be accessed online from any PC and used to note and accept payment from customers.
There are no restrictions on the number of users that can be included in the virtual terminal and merchants are able to offer custom privileges to individual users. 
Alternative Gateways
Alongside the Authipay gateway, AIBMS also offers services with a range of alternative gateways.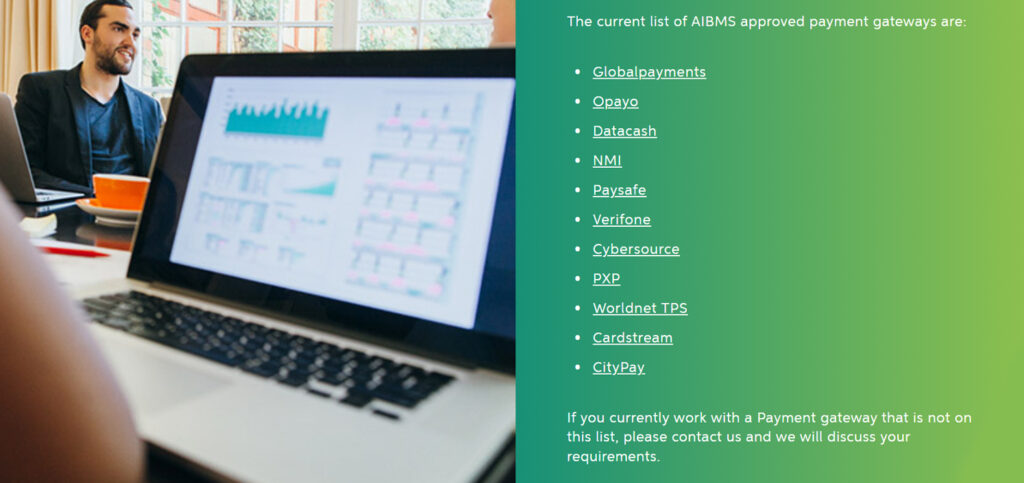 Current approved alternative gateways consist of Globalpayments, Opayo, Datacash, NMI, Paysafe, Verifone, Cybersource, PXP, Worldnet TPS, Cardstream and CityPay. Additional alternative gateways that merchants currently use can be catered for, although merchants should first contact AIB Merchant Services to discuss their requirements.
In-store
AIB Merchant Services offer all of the necessary products and services that businesses need with everything from complete till systems to portable card machines covered. 
There are five main products offered by AIBMS for merchants looking to accept payments in-store with everything from the Clover Flex to the Ingenico Desk 3500 covered. A full list of the available card machines and till systems can be found listed below: 
Clover Flex

Clover Mini

Clover Station Pro

Verifone V200C

Ingenico Desk 3500
The in-store options available vary in size and function. For example, each of the Clover options is designed with specific purposes in mind. The Clover Station Pro offers a full ePOS system that is designed to operate in a dedicated counter space whereas the Clover Flex is created with versatility in mind. 
To check out the full details on each of the products, head over to the AIB Merchant Services site for a full breakdown. 
On-the-go
Alongside the in-store options, AIBMS also allow businesses to accept online payments on the go with a series of hardware products. 
The Clover Flex makes its second appearance as a solution for businesses thanks to its highly versatile nature. A full list of the on-the-go card machines can be found listed below: 
Clover Flex

VeriFone V240M

Ingenico Move 3500
Each of the on-the-go payment solutions offers its own unique selling points, giving countless options for businesses looking to trade without a single location.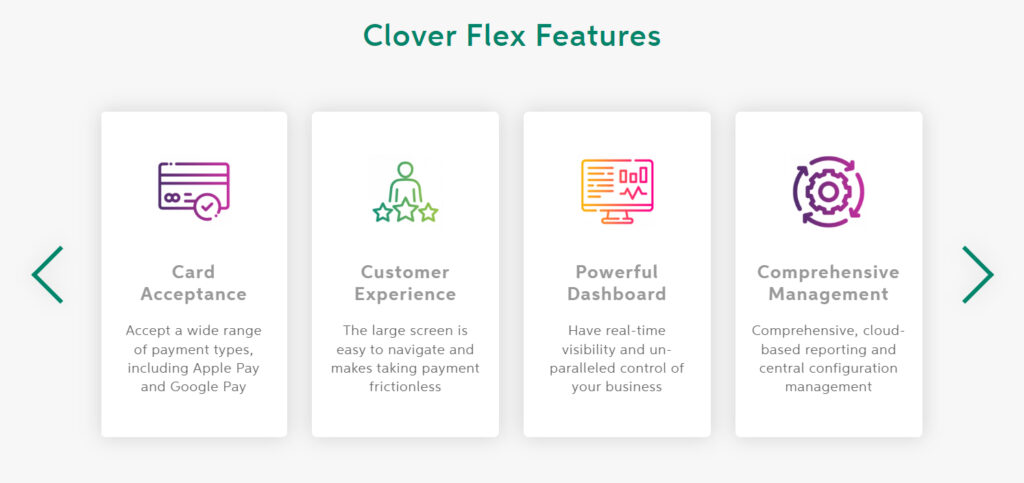 For more information on each of the on-the-go products, head over to the AIB Merchant Services site for a full breakdown. 
Insight
Although the majority of the products offered by AIB Merchant Services can be split into the three main categories – there are additional services available. 
Insight is the name given to the data hub offered AIBMS and gives merchants access to credit and debit card transactions. This allows merchants to view valuable business data with 24/7 access to their records.
Insight is available online so no additional hardware is required for merchants to purchase when using the service. Merchants are able to search for specific transactions, instantly run transaction reports, receive and store electronic documents, view charges and settlements and reconcile card payments with their business bank accounts. 
There are no fees associated with Insight and any AIBMS merchant can use the software for free. 
Main Street Insights
In addition to AIBMS' Insight, merchants are also able to access the Main Street Insights from the homepage of Insight. 
This service allows businesses to take an innovative approach, using transaction data to learn insights about the customer. The tool also allows merchants to learn more about each individual sale and to find information about similar businesses to boost value. 
There is a huge number of features offered by Main Street with everything from comprehensive reporting to goal setting available. Comprehensive reporting allows merchants to gain detailed data on all card spend in-store and can be viewed across varying time periods. This is complemented by the customer insight tool, offering information about the customers including their age, gender, where they live and whether they are a new or returning customer. 
The compare tool gives merchants the ability to view their competition, giving them the choice to view comparable and nearby businesses, offering valuable data on direct competitors. Goals can then be set in the Main Street dashboard with time-focused revenue targets that can be tracked. 
In addition to the business data, merchants are also able to create social media posts and track their social activity via the My Social Media option. This, just like other indicators, can be tracked on the go with the ability to access this information on both mobile and tablet. 
Company background
Founded in 1979, AIB Merchant Services is one of the oldest financial service providers offering its services in the UK and Ireland. 
The company is operated as a joint venture between Ireland's largest bank, Allied Irish Bank (AIB), and Fiserv, one of the largest global operators of Fintech solutions. AIB Merchant Services offers solutions with a large userbase in both Ireland and Britain alongside card processing solutions in continental Europe. 
AIBMS utilises partnerships with innovative companies such as Clover to offer the latest cutting edge hardware and software to companies looking to take in-person payments.
User reviews from around the web 
There are very few user reviews of AIB Merchant Services available online with fewer than 20 offered upon Trustpilot. 
Based on the Trustpilot reviews AIB Merchant Services has scored an overall rating of 2.1 / 5 from a total of 17 reviews. 
User Reviews
Review Summary
0.0 out of 5 stars (based on 0 reviews)
Recent Reviews
There are no reviews yet. Be the first one to write one.
Submit a Review