Formerly known as Sage Pay, Opayo is one of the top payment providers in the UK, acquired by Elavon, a subsidiary of U.S. Bank in 2019. 
With more than 50,000 unique merchants translating to more than £40 billion in card payments each year, Opayo is one of the top-performing payment providers in the UK. The company offers a range of payment services including POS terminals, online payment processing and fraud protection. 
With multiple payment plans catering to different sized businesses, Opayo offers a service that can be used by all SMBs and Enterprises in the UK. 
Prices/Fees
The pricing of Opayo for online payments works on a tiered basis with businesses able to choose from Flex, Plus or Bespoke when opting for a plan from the company.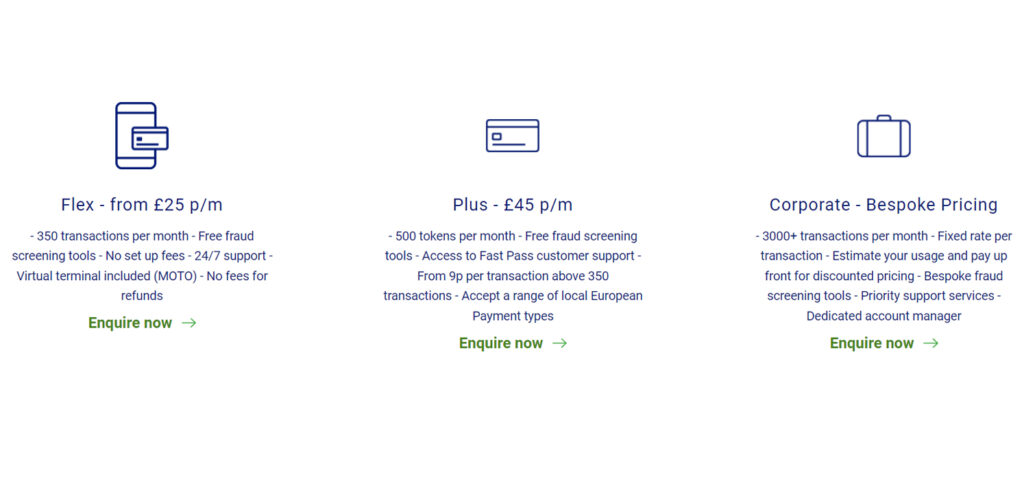 Opayo Flex – from £25 p/m
Opayo Flex is the least expensive option offered to merchants looking to sell online and offers a range of different benefits: 
350 monthly transactions

Free tools for fraud screening

No fees for set-up

24/7 support 

Virtual terminal included (MOTO) 

No fees for any refunds
Opayo Plus – £45 p/m
Opayo Plus takes the Flex package and beefs up the offerings available. Merchants can benefit from a range of local European payment types and gain access to improved customer support with the following benefits:
500 monthly tokens 

Free tools for fraud screening 

Fast Pass access for customer support 

From 9p per transaction (when above 350 transactions)

Accept a wide range of different European Payment methods
Opayo Corporate – Bespoke pricing
For merchants operating on a large scale, Opayo Corporate is the best option with a bespoke plan and pricing system available from the company offering the following benefits: 
3000+ monthly transactions

Fixed-rate per transaction 

Discounted pricing when estimating usage and paying upfront

Bespoke fraud screening tools 

Priority access to support services 

Dedicated customer account manager
Product/Service Overview
The list of products and services offered by Opayo stretches into five main categories with online payments, online invoicing, face-to-face payments, virtual terminal and phone payments and additional services.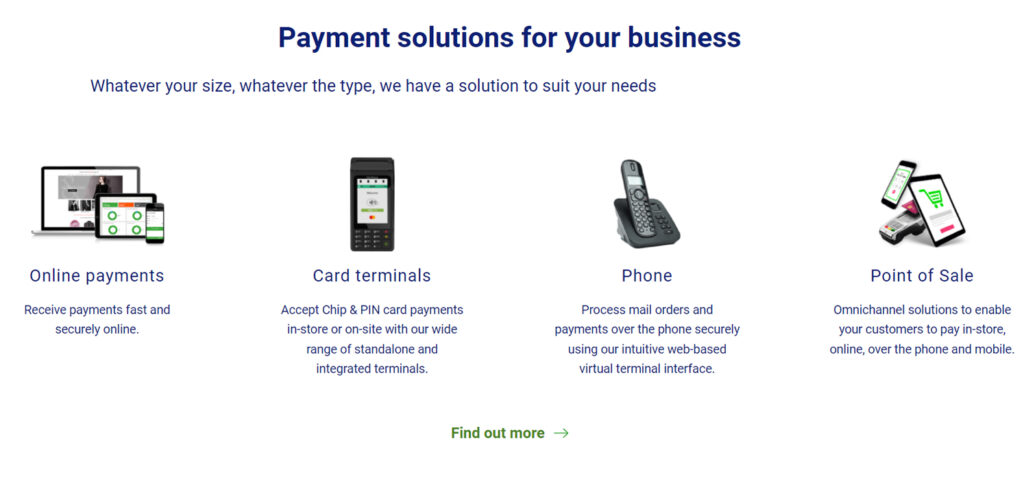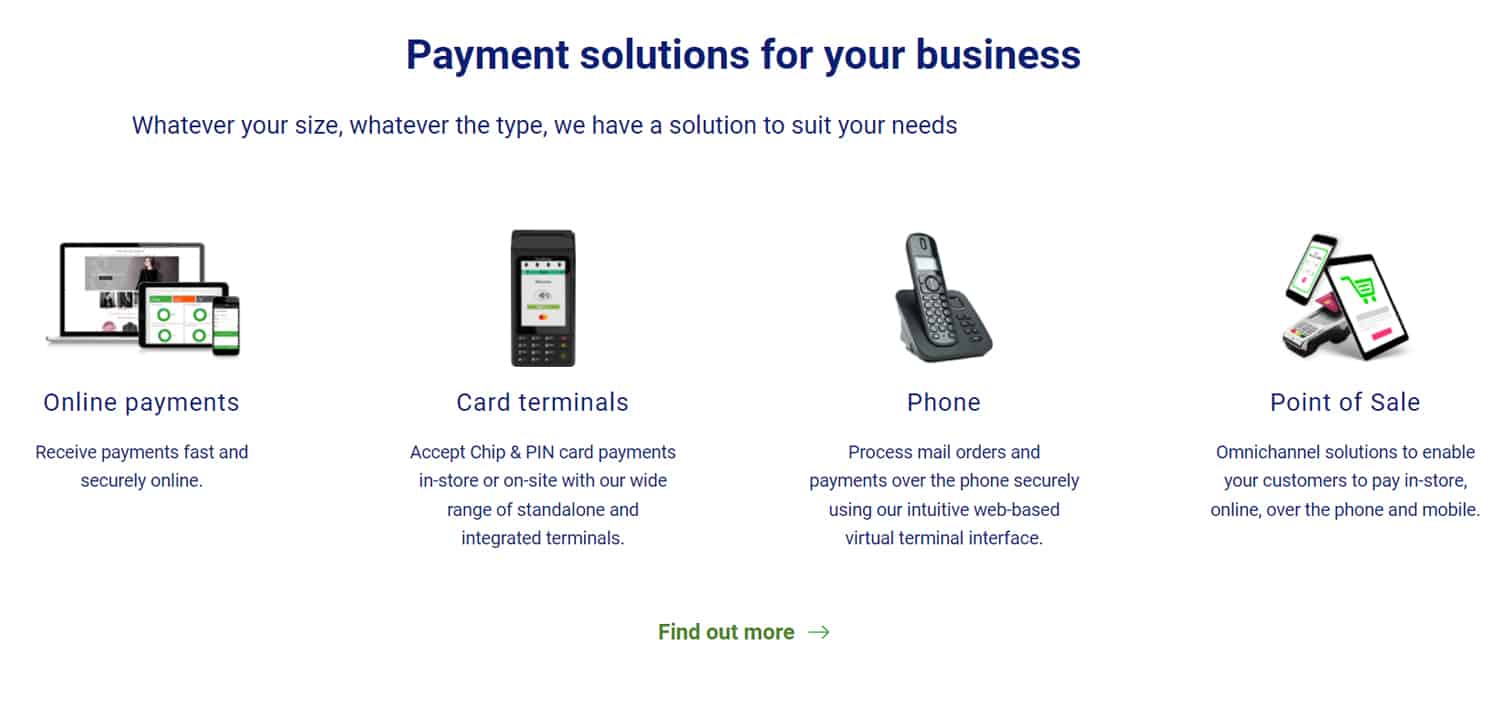 Below we'll take a look in a little more detail at the products and services offered by Opayo.
Online payments 
Opayo is trusted by thousands of online businesses with companies including EasyJet, Krispy Kreme, Europcar and Office using the service to process payments online. 
The pricing of the online payment processing, listed above, is separated into three main merchant types: Flex, Plus and Bespoke. Each account type offers a range of different benefits to merchants of varying sizes and can get companies set up online for as little as £25 per month.
All online payments processed by Opayo are safe and secure, preventing fraud and ensuring that all customer information remains private. In addition to the top security, merchants using Opayo can find partners that can build the best online businesses. 
Reliability is vital in payment processing and Opayo's online payments boast a 99.99% reliability, preventing lost revenue in the case of poor performance. The customer support offered by Opayo is great, too, with a 24/7 around the clock option that's rated 5*. 
Online invoicing 
Painstaking creating, filing and losing track of invoices can be a thing of the past with Opayo's online invoicing tools. 
Opayo gives the right tools to the customers of a business, allowing them to pay invoices efficiently with a single touch of a button. The embedded "Pay Now" button on forms decrease the number of unpaid invoices and increases the speed at which invoices are paid. 
In addition to the ease of payment, businesses are also able to benefit from fewer invoice mistakes with automatic tracking in the accounts software. There are plenty of tools to use in the online invoicing from Opayo. 
Face-to-face payments 
Opayo doesn't just work online, traditional brick-and-mortar businesses that take face-to-face payments can find huge value in Opayo.
There is a range of point of sales terminals alongside an integrated EPOS system that can be used by merchants looking to make the most of their physical locations. 
Point of sale terminals 
The point of sale terminals is offered in two forms from Opayo, the countertop card machines and the portable card machines. 
Countertop card machine 
A countertop card machine is a great solution for businesses looking to take payments from a fixed location e.g. behind a till, reception desk or counter. 
The Engage V400c Plus countertop card machine is the weapon of choice offered by Opayo and offers an easy-to-set-up and use device for all merchants. With fast receipt printing and the ability for customers to pay in a range of different ways, the flow of customers can be strong, capitalising on efficiency. 
The V400c utilises point-to-point encryption, preventing any data leaks, and is PCI compliant, reducing fraud and securely processing all payments. 
Portable card machine 
Merchants looking for something a little smaller and a little more flexible can benefit from using a portable card machine from Opayo.
The Verifone Engage V240m Plus is a fantastic, small and powerful portable card machine that can be used in a variety of different businesses. A 3.5" touchscreen allows for face-to-face payments to be taken easily and with all major credit and debit cards accepted with either contactless or Chip and Pin.
Again, these terminals are offered with point-to-point encryption alongside PDI DSS approval, ensuring that there is no risk to the customer when making payments. 
Integrated EPOS system
The integrated EPOS system is a fantastic tool that allows merchants to take efficient, seamless payments.
The integrated system removes the possibility of human error, automatically entering data into the payments API. Benefits of the EPOS system include the ability to integrate payments and streamline separate business workflows and add multiple payment methods into one overall PED solution. 
Virtual terminal and phone payments 
A virtual terminal is one of the most interesting benefits found by users choosing to join Opayo. 
Opayo Pay by Phone MOTO solutions gives merchants the option of receiving orders, sending deliveries and taking payments via the virtual terminal. There is no fancy or additional hardware required, merchants can simply login on their browser to their virtual terminal to get started. 
This is fantastic for offering customers an additional way to pay with Pay By Phone and allows for real-time reporting on each transaction made in the virtual terminal. Free fraud screening and prevention tools are included with the service, allowing customers to make payments from anywhere at any time. 
Additional services
Alongside the online and face-to-face payment methods, Opayo also offers a range of additional services to UK merchants, as highlighted below.
Payment methods 
Opayo allows customers to pay however they would like, whether that be with Visa, Mastercard, PayPal, American Express and countless other methods.
Additional methods allow for an increase in conversion, permitting payments with the methods that customers trust and frequently use. 
Merchant services
Opayo helps businesses open their merchant account quickly and easily with the ability to open their account from a mobile phone. 
Competitive rates are offered to merchants, allowing for payments to be received without paying over the odds in fees. With 24/7 support and a convenient process, the merchant account at Opayo is one of the top in the UK. 
Fraud protection
Opayo takes fraud seriously and ensures that all payments, made both in-person and online, are checked for suspicious activity. 
The fraud protection offered by Opayo is tailored in real-time to each transaction. Customer data is tracked and further authentication methods can be called upon to prevent fraudulent activity when accepting payments. 
Token payments
Tokenisation can be used by merchants using Opayo to act as an additional layer of security when protecting the card information.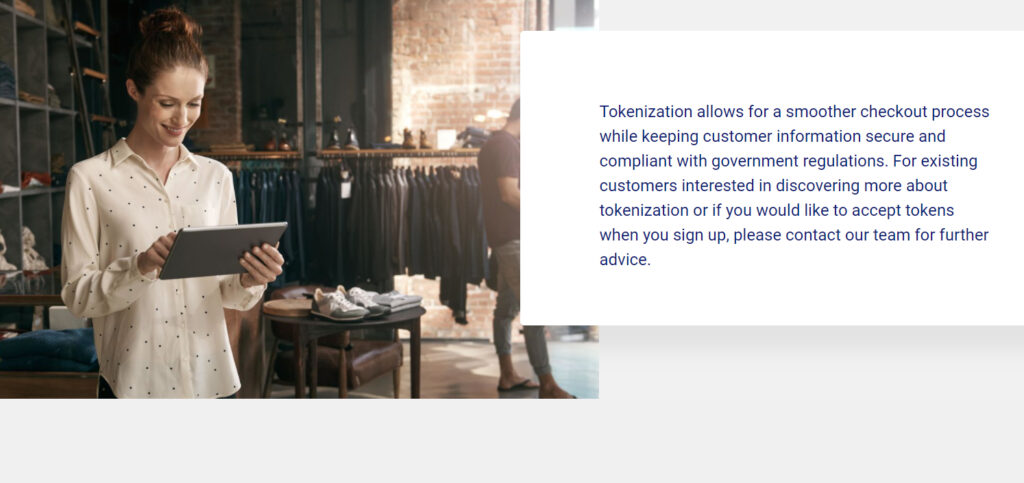 The token system allows for quick, seamless, efficient services that customers can use to make payments faster online. 
Company background
Formerly known as Sage Pay, Opayo was founded in 2001 and operates solely in the UK and Ireland. 
Sage Pay originally started under the name of Protx before the Sage Group purchased the company in 2006. The deal, worth £20 million, allowed Sage to take over Protx's 10,000 customers made up of SMBs. The name of Protx was changed to Sage Pay in 2009.
The largest development in the company's history arrived in 2019 with its sale to Elavon for a total of £232 million. Elavon is a top 6 acquirer in the European marketplace and the 4th largest credit card processor in the US. 
User reviews from around the web 
Opayo has amassed a large number of independent user reviews around the web with the majority of user reviews coming from Trustpilot. 
Trustpilot

  – 4.8 / 5 (based on 3,726 reviews) 

G2

– 4.2 / 5 (based on 35 reviews) 
Taking all of the independent reviews into account, Opayo manages to score an overall score of 4.8 / 5 from a total of 3,761 reviews. 
User Reviews
Review Summary
0.0 out of 5 stars (based on 0 reviews)
Recent Reviews
There are no reviews yet. Be the first one to write one.
Submit a Review