You've just completed a session of online shopping, something that one in three people around the world do. Your digital cart is full of goodies and you're ready to checkout — so how would you like to pay?
Online shopping has taken off in the last twenty years, with an American survey revealing that over half of people prefer to shop digitally. Payment brands have risen to the challenge, and now — whether they're shopping for clothes, electronics or a Friday night takeaway — online shoppers are often presented with a myriad of payment methods to choose from. And if payday is still too far away to cover the cost of a shop, Buy Now, Pay Later (BNPL) options can pick up the tab for your haul to be paid back later — an option that 36% of UK adults have used at some point.
But the payment method you use regularly and without thinking might not be the same one someone uses just down the road. A well-known brand in one country might not even be a thing in another. So what are the most popular online payment options around the world?
Using a data bank that tracks how payments are made on the world's most visited websites, Merchant Machine went in search of the most popular upfront and BNPL payment methods in 133 countries.
What We Did
We used data from BuiltWith, a website that tracks the payment methods used by the top one million most visited websites worldwide, to calculate the market share of upfront and BNPL payment options globally, across continents and in 133 countries.
Key Findings
Visa is the most popular payment option in 67 countries, but PayPal is not far behind (top in 63 countries)
Klarna is the most popular Buy Now, Pay Later (BNPL) option globally, top in 50 countries
PayPal is the most popular payment option on all continents but North and South America, where Visa reigns supreme
Klarna is the most popular BNPL option on every continent but Africa (which uses PayJustNow the most) and Oceania (which prefers Afterpay)
Visa Is the Most Popular Payment Method in the World
When everything from new clothes and gadgets to the weekly food shop can be delivered swiftly and directly to your door, it's easy to see why eight in ten Brits make purchases over the internet. It's not a practice confined to the UK, either — 37% of people all over the world turned to online shopping during the COVID-19 pandemic and continue to do so today.
But a choice must be made at the checkout stage: what payment method would you like to use? Based on data that reflects how shoppers choose to pay on the internet's one million most visited websites, most of the world will choose Visa, the most popular payment method in 67 countries. One such country is the United States, where you'll find one in three of the world's Visa credit cards.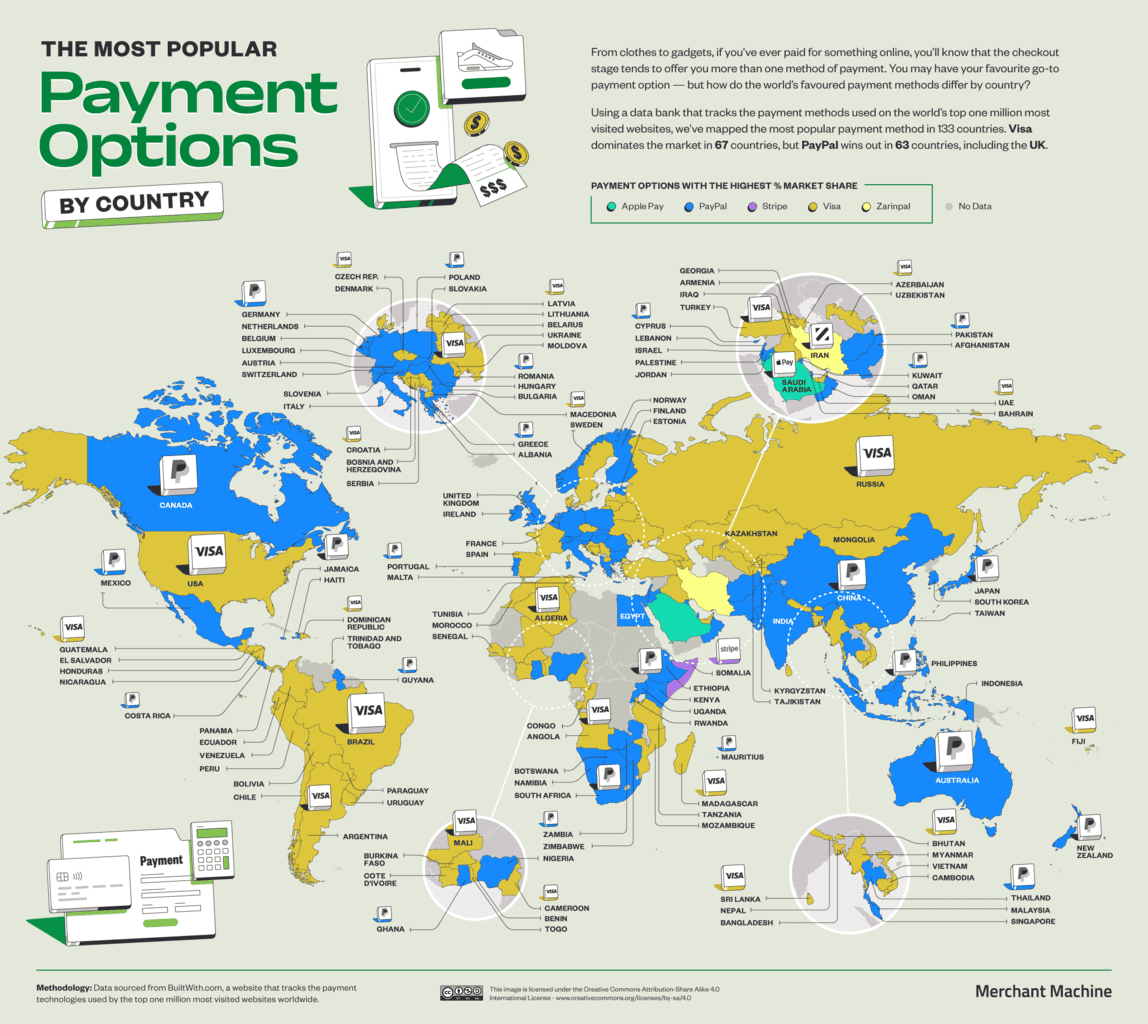 Click here to see the image in full size
Among the other countries where Visa dominates are the UAE, Brazil and a myriad of European countries like France, Spain and Sweden. Not among them, however, is the United Kingdom, where Visa is currently battling lawsuits from 2,300 local claimants.
Instead, the UK belongs to the collection of 63 countries that prefer to pay online with PayPal — in fact, nine in ten online shoppers in the UK used PayPal for at least one transaction between 2020 and 2021. Our Culture magazine writes how PayPal is, in many ways, an ideal payment method for online casinos — and the UK is home to the world's biggest online gambling market.
PayPal Dominates the Market in Four Continents, While North and South America Prefer Visa
Our next graphic displays each continent's top five most popular payment methods online, ranked by each brand's share of the market. PayPal claims the largest slice of the market in Asia (23.75%), Europe (23.14%), Oceania (19.96%) and Africa (25.06%), where only in recent years did PayPal step up its service by partnering with the Nigerian fintech firm Flutterwave.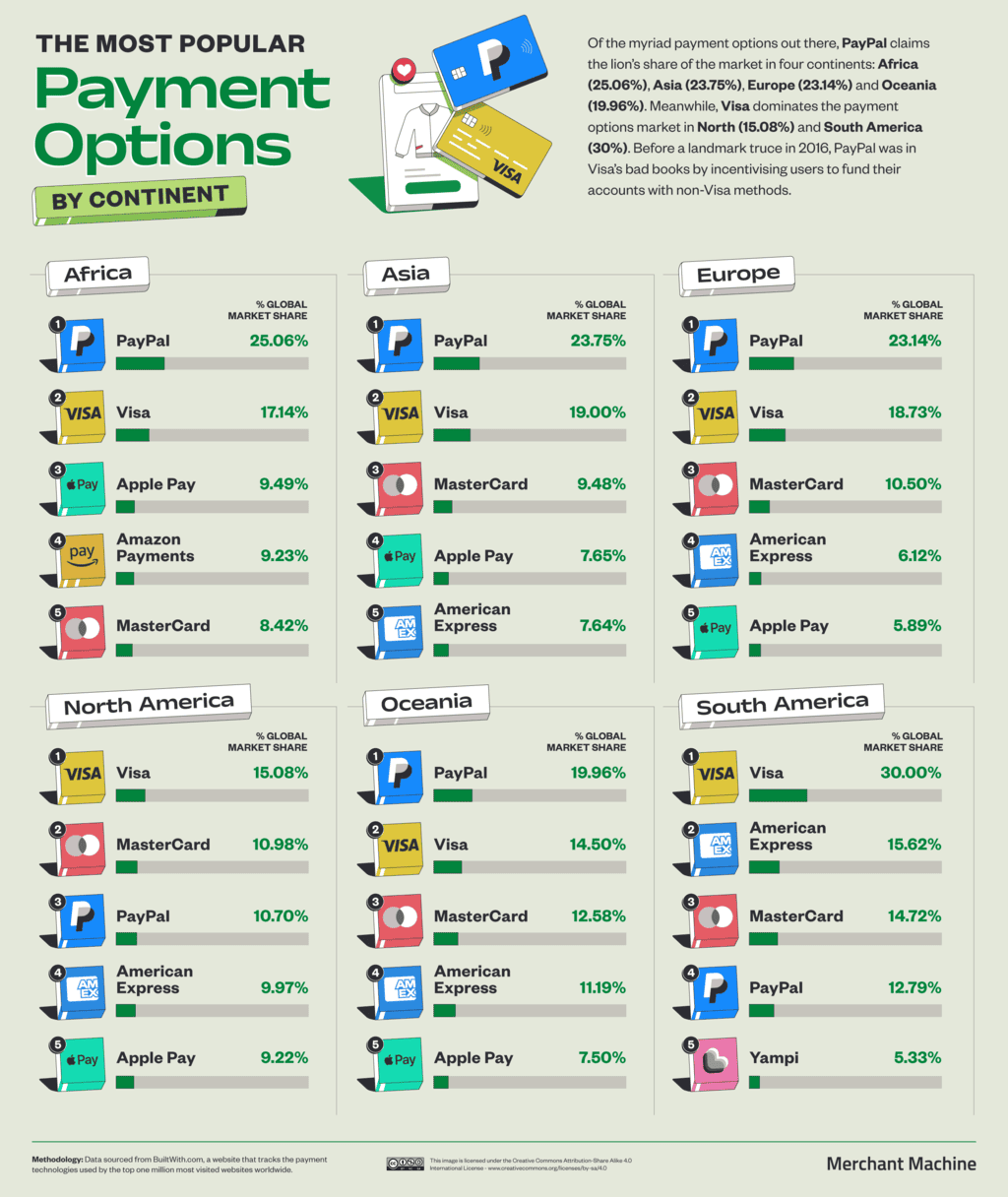 Click here to see the image in full size
But PayPal isn't as powerful in North and South America, where Visa leads with 15.08% and 30% shares of the local market, respectively. Interestingly, on those continents where PayPal does come first, Visa always ranks second — but North and South America's second most popular options, respectively, are MasterCard (which currently counts 293 million credit cards in the U.S. alone) and American Express.
Payment Services of Apple, Amazon and Google Are Among Top Ten Methods Worldwide
Despite their global domination, Visa and PayPal aren't the only payment methods out there. Based on how the world likes to shop on the one million most visited websites, the payment services of tech behemoths Apple (7.37% of the market), Amazon (6.04%) and Google (4.3%) are also used widely, as well as Shopify (5.17%), Stripe (3.89%) and Venmo (2.61%).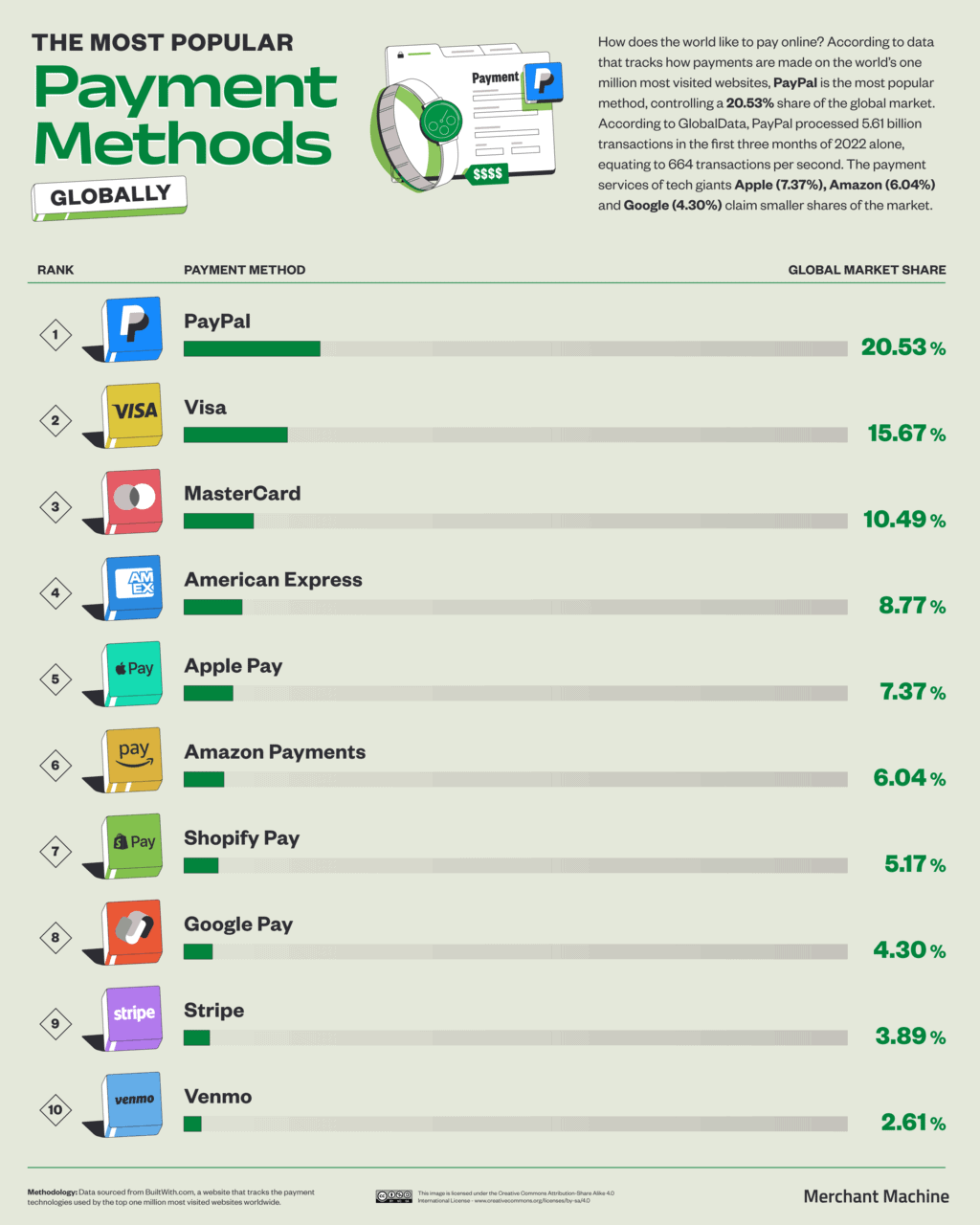 Click here to see the image in full size
But it doesn't look like Apple, Amazon and Google's payment methods will topple the popularity of debit cards and PayPal as payment methods in the UK; a YouGov poll revealed that Brits actually use gift cards more than indulging the payment services of tech giants.
Klarna Is the World's Most Popular Buy Now, Pay Later (BNPL) Method
When funds are short, Buy Now, Pay Later (BNPL) businesses allow consumers to pay for their shopping on credit upfront so that they can pay it back in instalments later (sometimes with no interest added until a deadline is passed).
As a payment method, they're incredibly popular, collectively boasting a market size valued globally at $23.2 billion in 2022 — but it's Swedish company Klarna that controls the largest market share in 50 countries (more than any other brand). In the UK, Klarna's domination has seen it partner with food delivery companies like Deliveroo — so you can pay for a takeaway in instalments — and release a physical card for brick-and-mortar shops.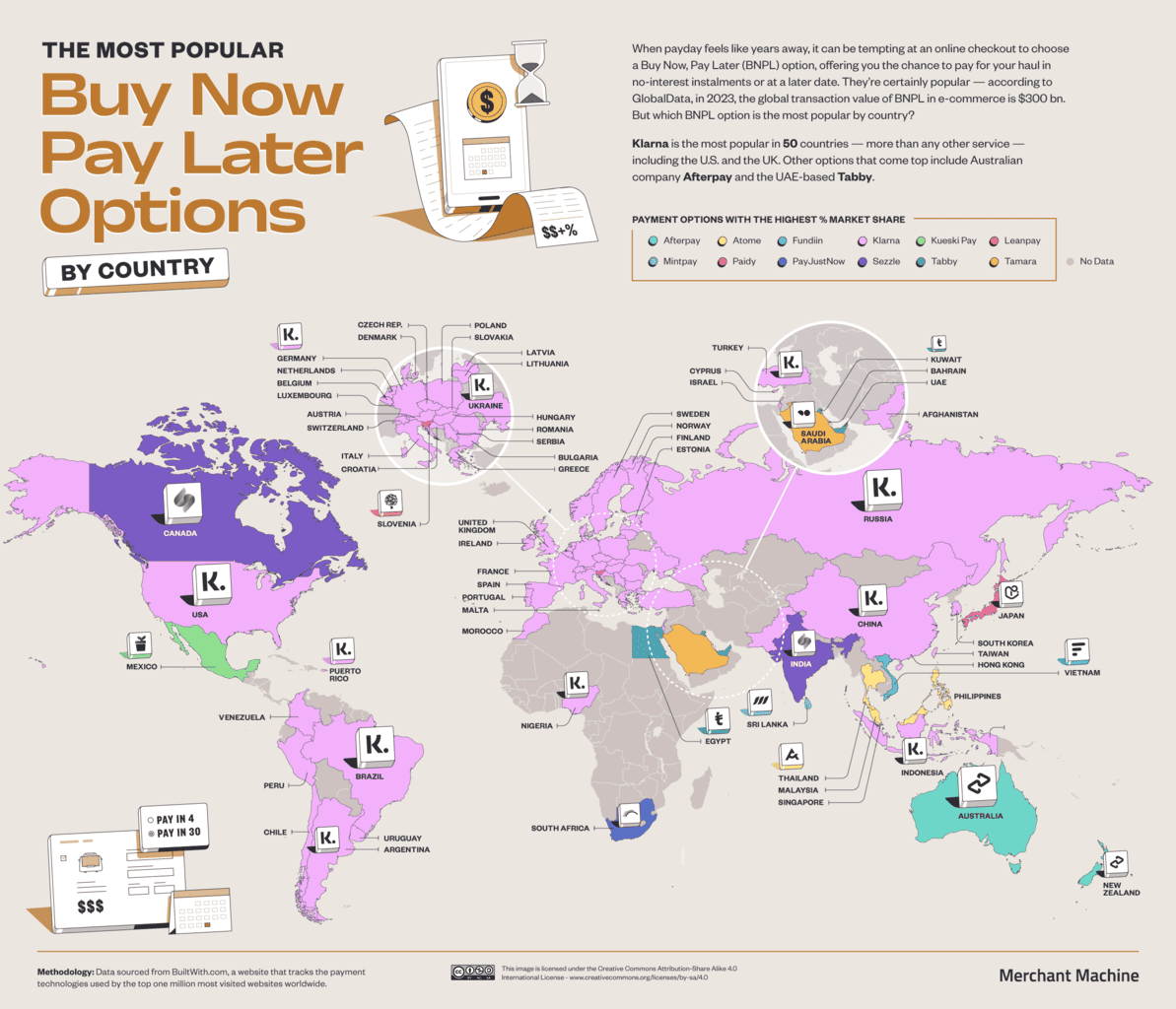 Click here to see the image in full size
But flashy marketing campaigns and a social media presence geared towards Gen Z'ers and millennials (the average age of Klarna's users is 33) have led to widespread concerns about young people getting into financial trouble with quick-fix lenders like Klarna (and its alternatives).
Richard Lane of the UK debt charity Step Change notes that "more and more young people" are approaching the charity with BNPL debt, commenting: "We are incredibly worried that people are taking out credit without necessarily understanding what they're committing to and what the repercussions are if they're unable to pay." At any rate, it's estimated that almost half of Gen Z will use BNPL methods by 2025.
Bucking the Klarna Trend, Africa and Oceania Prefer to Buy Now, Pay Later a Different Way
It's clear that Klarna rules the world, but when broken down on a continental level, we can see that Africa and Oceania prefer locally grown brands to buy now, pay later with. Africa's favourite is PayJustNow, a South African company that claims the lion's share of the market (55.92%), while Oceania's go-to BNPL lender is the Australian brand Afterpay (65.78%).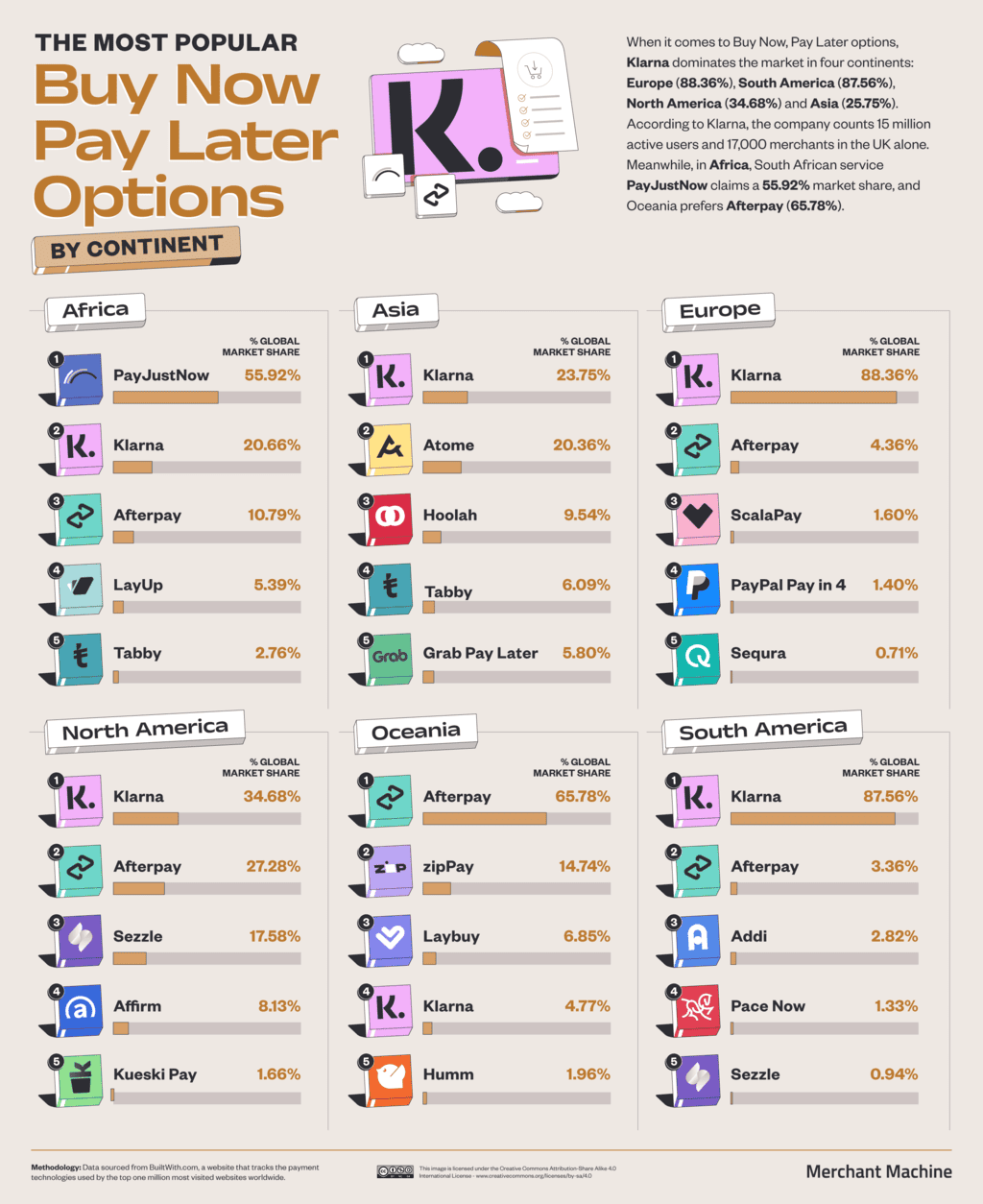 Click here to see the image in full size
Founded in 2014, Afterpay dominates in Australia and New Zealand — where it's estimated that over half of all domains that offer a BNPL option use Afterpay — but it's increasingly popular in the U.S. and the UK too, where a legal dispute means that Brits will know the brand as Clearpay.
Sezzle and Affirm Among the Top Buy Now, Pay Later Players Globally
So Klarna and Afterpay are kind of a big deal — as shown by our next graphic that ranks BNPL brands by their slice of the global market (Klarna controls 53.43%; Afterpay claims 22.45%). But how else does the world like to buy now, pay later? With a 7.28% share of the global market, Sezzle is the next most popular lender, an American brand that boasts more than 47,000 partner retailers (including Target).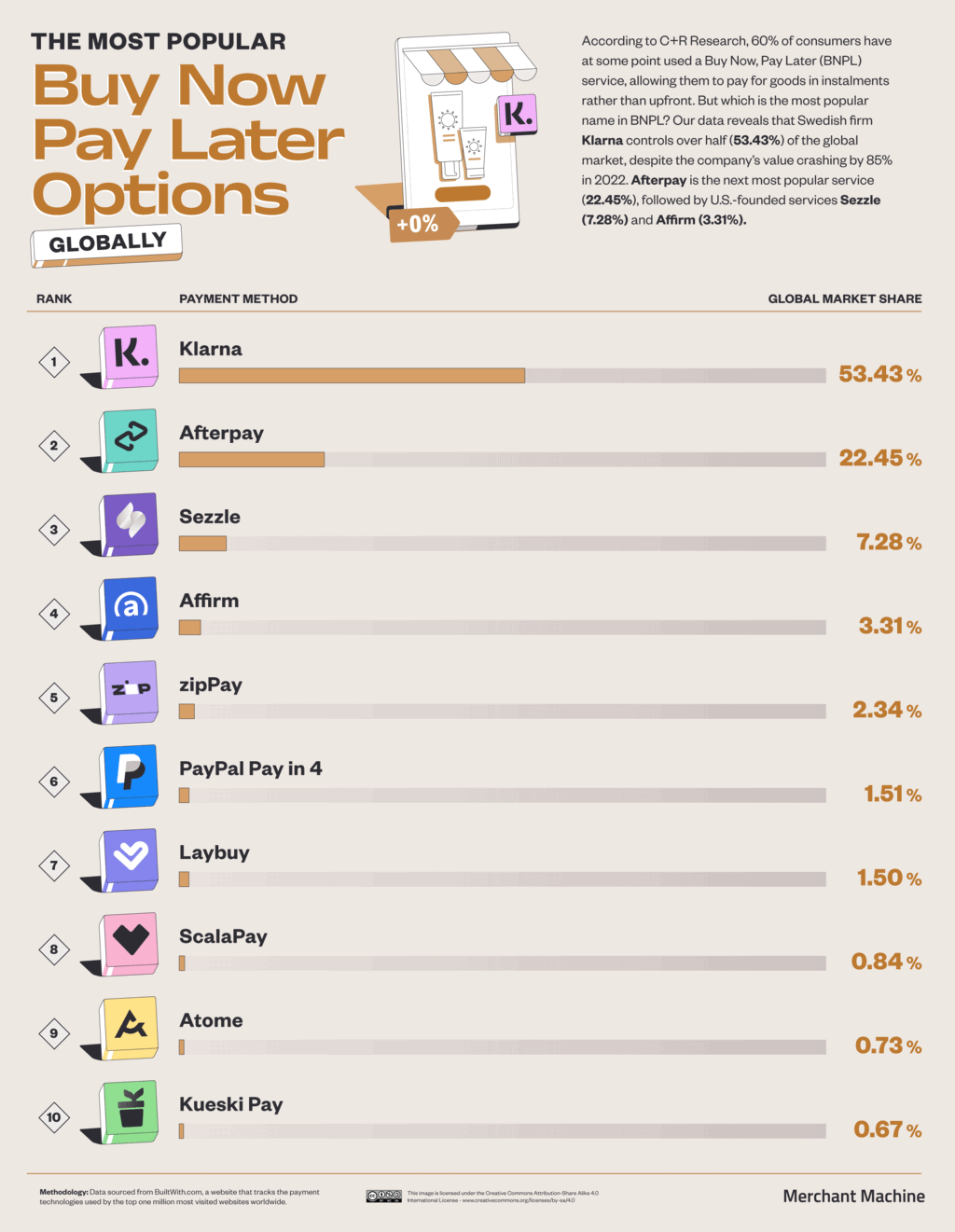 Click here to see the image in full size
Affirm is the next most popular method after that, claiming a 3.31% share of the global market. Founded in 2012 in part by one of PayPal's founders (Max Levchin), Affirm counts some big-name retailers as partners, including Walmart and Amazon U.S. — the biggest online retailer stateside.
Stay Smart About Buy Now, Pay Later Plans
It's not hard to see why Buy Now, Pay Later brands have taken off in recent years. In lieu of credit cards — with all the waiting around before you get approved and high-interest rates awaiting when you finally do — BNPL brands like Klarna and Afterpay (also known as Clearpay) offer a way to pay for your online or real-life shopping haul in no-interest instalments or after a delay. This has proved an especially tempting method of payment in the current cost of living crisis for Brits of all age groups.
But BNPL isn't without its drawbacks. In the UK, for example, the Financial Conduct Authority (FCA) wants to regulate companies like Klarna over concerns that young people are more easily getting into debt (though these plans may be shelved for the time being, according to recent reports). And valid concerns they are, considering that 31% of Brits who have used a BNPL service said it leads to "problem debt." There have been troubling incidents, too, like when a minor with not much in the way of savings was able to buy $300 worth of alcohol using Afterpay.
That's not to say that buying now and paying later should be avoided at all costs — but it does need to be done carefully. Being late to pay an instalment with a BNPL lender can result in fees that can easily stack up over time. An obvious tip is to read any and all agreements with your lender — making sure you understand when you will need to pay an instalment and for how much — and being realistic about what you can afford.
Financial planner Hanna Horvath writes: "BNPL financing may make things that you previously could not afford seem within reach, like that fancy new rug or pricey new computer. It can be easy to view a product as cheaper than it actually is and not forecast how it really fits into your budget."
She adds that saving up for something you really want can be a better option than buying it with a BNPL method. "Oftentimes, these aren't "essential" products, and you won't need them right away — and once you save up and have enough money, you may realize you didn't really want or need it after all."
For more information about what to do if you're struggling with BNPL debt, visit Money Helper.
How We Did It
Using data sourced from BuiltWith, a website that tracks the payment technologies used by the top one million most visited websites worldwide, we calculated the market share of each payment and Buy Now, Pay Later option across various countries.
In order to present a more detailed perspective, we specifically focused on the top 10 payment options and Buy Now, Pay Later options. For these selected options, we went a step further and identified the top five countries where the selected method exhibits the largest market share.
The data is correct as of May 2023.
Our Most Popular Guides