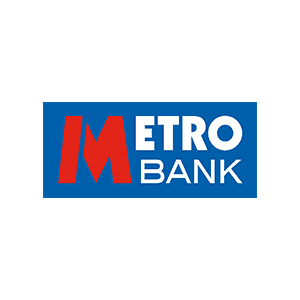 Metro Bank was founded in 2010 and was the first new high street bank in the UK for over 150 years.  The idea behind the bank was to have a financial institution that was always available to its clients.  Metro Bank Merchant Services works closely with acceptcards® to ensure its business clients can accept payments simply and securely, however, clients can use any suitable provider of their choice for merchant services.
Metro Bank Merchant Services Credit Card Processing & Payment Services
Metro Bank Merchant Services Payments
Metro Bank Merchant Services, in conjunction with acceptcards® has a range of payment solutions for accepting payments over the phone, online, via invoice or in person.  Acceptcards can arrange services with payment platforms that support local payment methods from around the world, across all payment channels.
Acceptcards® can arrange acceptance of cards other than those listed below.
Visa
Mastercard
American Express
Contactless
Apple Pay
Android Pay
MasterPass
eWallet
V-pay
Metro Bank Merchant Services Pricing & Fees
Neither Metro Bank Merchant Services nor acceptcards list prices and fees on their websites.
Mobile devices – usually a low upfront cost, no monthly fee and no fixed terms contract
Traditional card machines – usually no upfront cost, fixed monthly fee over 12 to 60 months
EPoS – tailored to individual business needs
MOTO or Telephone Payments – tailored to individual business needs
Metro Bank Merchant Services Features
Metro Bank and acceptcards® recommend the following payment providers: –
AIB Merchant Services
Ingenico Group
Ogone Payments Services
Payatrader
PaymentPlus
Realex Payments
Secure Trading
Security Metrics
Spire Payments
Sage Pay
Valitor
Wirecard
123Send
First Data
Paytek
WTS
Payment Express
Sumup
Face to Face Payments
Mobile devices
Tradition card machines
Up to date terminals – fixed countertop, Wi-Fi portable and GPRS devices
Full suite of secure payment solutions from simple payment pages to fully-integrated online carts
Telephone/Mail Order Payments
Large range of safe, efficient and reliable 'card not present' payment solutions
Industry leading fraud protection
Compliance with strict security standards
General
Quick setup
24/7 days a week London based customer service
Flexible product and pricing options from a range of specialist providers
Secure and compliant with all industry security standards including PCI DSS
Mobile Top-Up option
Cash back option
Dynamic Currency Conversion option
Wide range of reporting tools
Personal relationship manager
Settlement within 3 working days
Company Background
Metro Bank opened in 2010 with the sole purpose of providing a bank which was open every day to assist all customers, but especially entrepreneurs.  The bank is open 7 days a week and customers don't need an appointment to open an account.  Opening an account is so simple that customers walk out of the bank with their account up and running, with their debit card in hand.  Metro Bank believes in transparency and simplicity.
Metro Bank has dedicated sector teams who have years of experience in specific business sectors, such as small businesses, financial services, investment, healthcare, hospitality and leisure, property and charities.  These Metro Bank employees share their extensive knowledge with businesses in order to find the right solution for each one.  Metro Bank Merchant Services partnered with acceptcards® in September 2014 in order to make the experience of finding a merchant services solution simple and convenient for its customers.
Metro Bank is often referred to as the entrepreneur's bank.  Each branch or 'store' is run by a local manager who is able to make lending decisions on an individual case-by case basis.
Metro Bank Merchant Reviews
Trustpilot: 3.9 out of 5 based on 1,470 reviews
Based on the reviews on the above sites, our Merchant Machine score is 3.9 out of 5.
Website: www.metrobank.co.uk