Do you remember that iconic moment when Don Draper snapped his MacBook shut, leaned back with an energy drink and scrolled through the pictures in his iPhone Photos app?
Of course not. Mad Men's 1960s setting saved us from enduring yet another Apple product placement campaign. But if/when Mad Men gets a 1980s-style reboot in a year or two, you can be sure Apple won't stand in the way of AMC filling the offices with a suite of Macintoshes. (Anyway, Draper was a Kodak man.)
Populated with brands that either paid for entry or who were dragged in unwittingly and had to hope for the best, Mad Men breathed new life into a pair of marketing maxims: that all publicity is good publicity and that life, even in its most despairing moments, looks better on-screen.
To this, you can add new research demonstrating that "consumers would prefer to watch a TV program with product placement [rather than] advertising" — and that one in three UK consumers has made a purchase influenced by TV product placement. Ecommerce platform Shopify even has its own guide on how small businesses can embrace product placement, whether in a show or appearing in the glossy video of an online social media influencer.
But which TV shows and movies have brands most commonly chosen to strike a deal with? And which brands and products are we secretly being sold through the silver screen? To understand the marketing phenomenon better, Merchant Machine got out our calculators and found out.
What We Did
Merchant Machine counted how often product placements occur in 2,227 movies and 890 TV shows featured on productplacementblog.com, the internet's top product placement database. We calculated the number of placements that occur every 10 minutes of a movie's runtime and analyzed the figures for brands and products (e.g., Apple, iPhone) to see which have the most placements in film and TV history.
Key Findings
The movie Talladega Nights: The Ballad of Ricky Bobby features 8.24 product placements every 10 minutes — the highest frequency of any feature film.
Apple is the brand with the most product placements on both film and TV; the MacBook is the most placed product of any brand on both film and TV.
Budweiser is the most-placed beer in film, but Miller is the most placed on TV.
Consumer tech brands dominate the top ten brands to be featured as product placement on both film and TV.
Apple and Coca-Cola Make Movie History
Are brands everywhere in movies because they're everywhere in life, or vice versa? Well, it's noticeable that Apple is the most product-placed brand in both film and TV, appearing around three times more often than rival Dell, although Apple only recently overtook Dell's share of the personal computer market.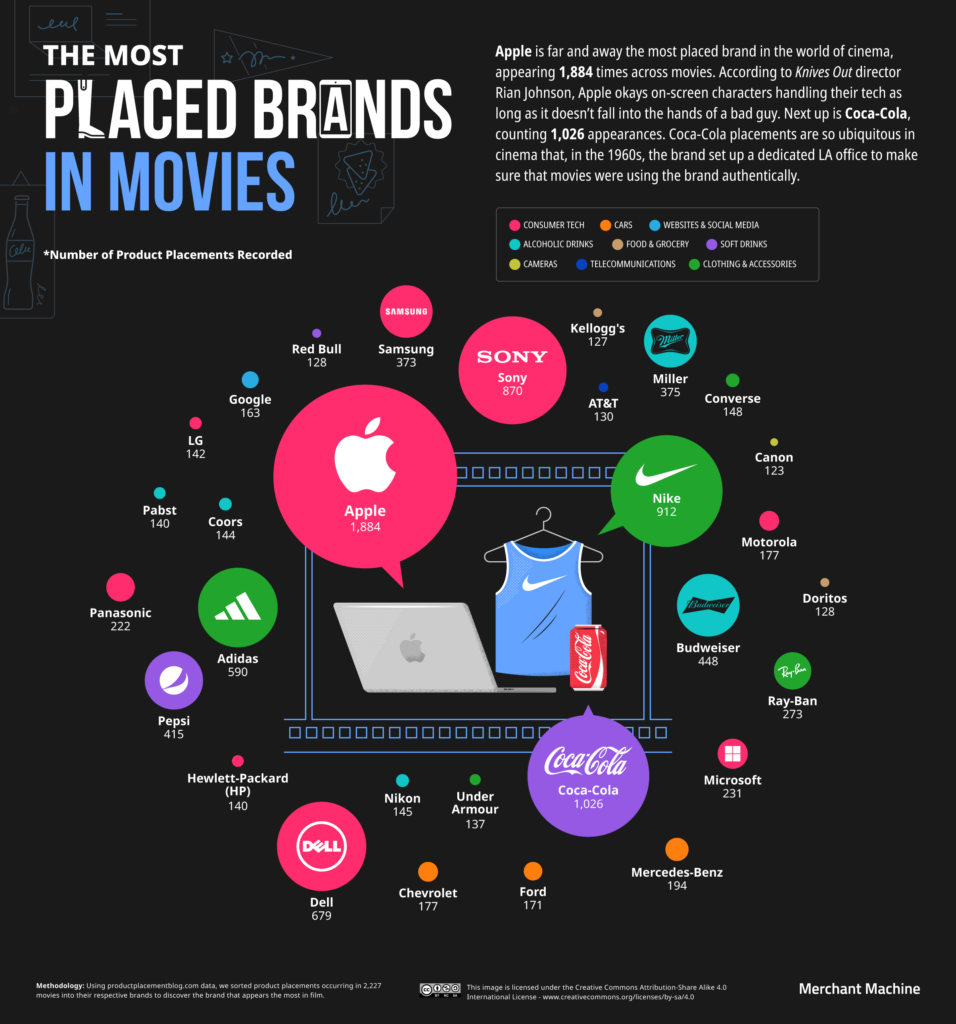 Click here to see the image in full size
Apple has also been product placed 83.6% more often than second-placed Coca-Cola, appearing in almost precisely one-third of U.S. box office number ones since 2001. Coke has a big part to play in cinema culture both on- and off-screen, insists Coca-Cola's head archivist Ted Ryan: "This ubiquitous brand is ingrained in the cultural landscape and in the daily lives of the icons of music, movies and sports to the effect that it's part of their natural surroundings."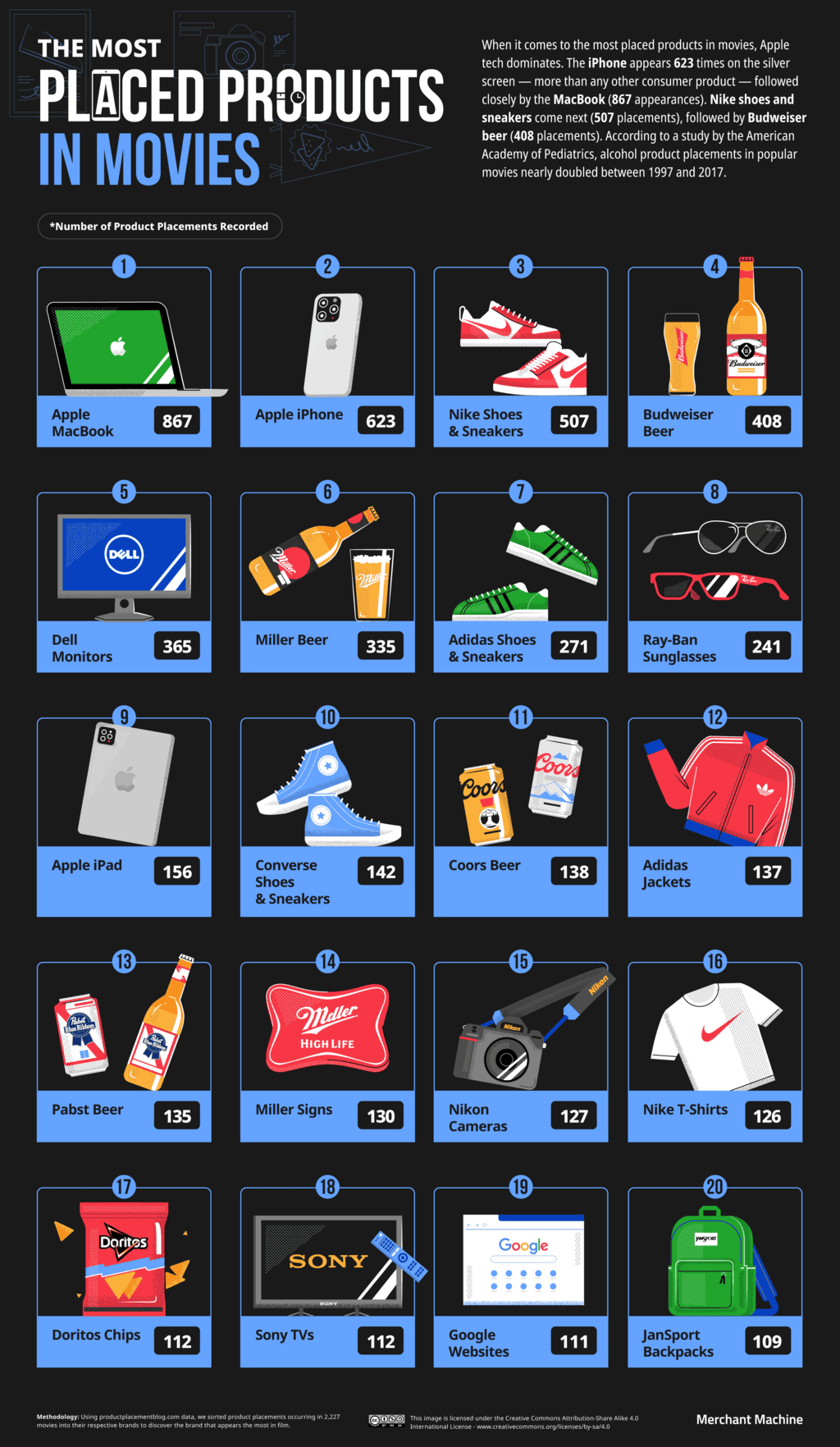 Click here to see the image in full size
Coca-Cola first appeared, on a background billboard, in a 1916 silent movie called The Mystery of the Leaping Fish. Douglas Fairbanks played the main character, Coke Ennyday, although his name actually refers to his cocaine addiction. On the subject of intoxicants, Budweiser is the beer of choice for cinema characters "sponsored" by big brands, while TV characters more commonly drink Miller. Bud is the fourth most common product to be pushed in the cinema but only the 13th on TV.
Talladega Nights is Cinema's Most Product Placement-y Film
Product placement in films is nearly as old as cinema itself. But the practice took on new life in the 1990s with meta-textual in-jokes in movies like Wayne's World and Demolition Man — a futuristic movie with the background detail that every fast food joint except Taco Bell has been wiped out in the "franchise wars" (in Europe, however, Taco Bell was switched for the more familiar Pizza Hut). These '90s pictures may have been responding to recent product placement big-hitters, such as 1985's Back to the Future, which featured 5.6 product placements every 10 minutes. Today, Back to the Future is still the fifth highest frequency in cinema history.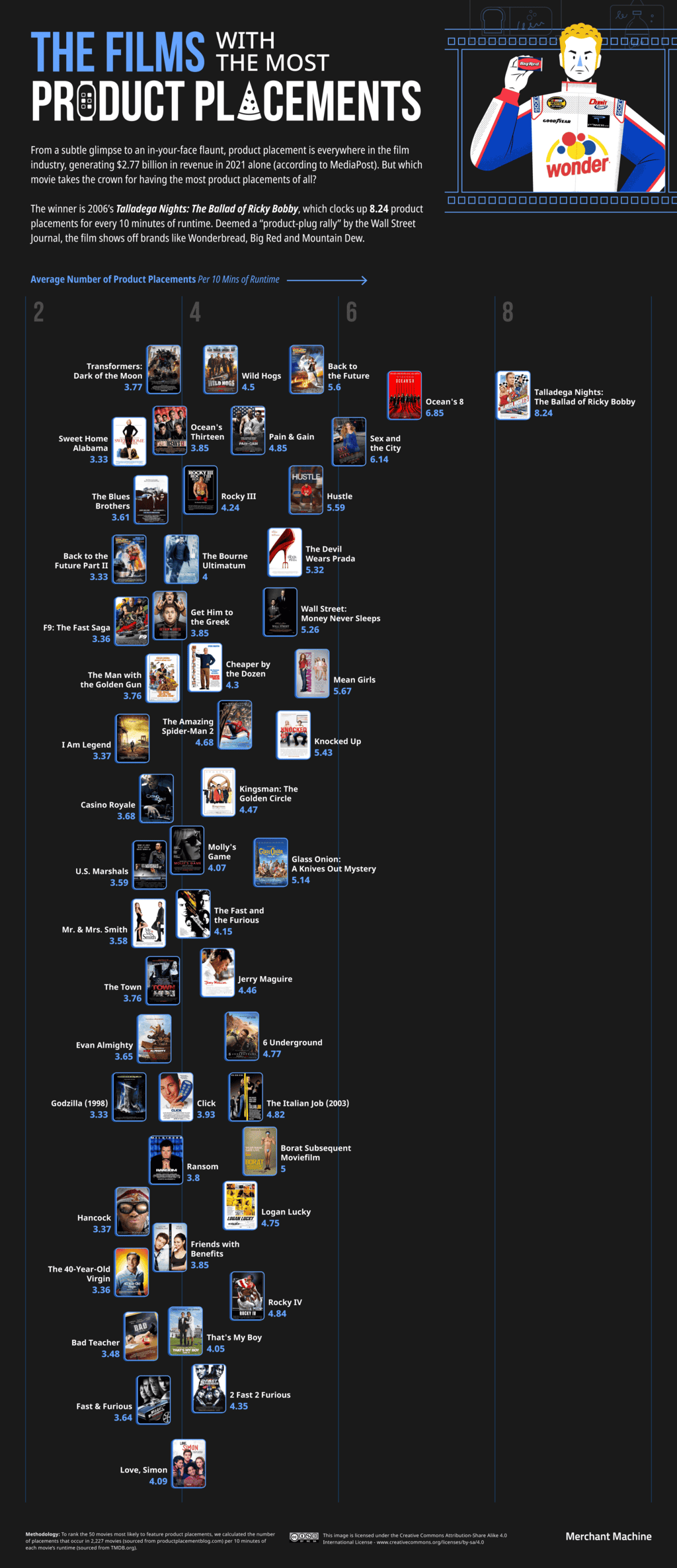 Click here to see the image in full size
The top spot, however, goes to the racing movie spoof Talladega Nights: The Ballad of Ricky Bobby (2006). With 8.24 splurges every ten minutes — 20% more than second-placed Ocean's 8 — there's barely time to catch your breath between product placements, the most prominent being NASCAR itself. However, many of the product placements were made as gags, and not all were paid. Some, such as Old Spice and Wonder Bread, were reciprocated with promotion for the movie.
Villains Don't Have iPhones: The Most-Pushed Brands on TV
The invention of the VCR forced ad men to rethink their game now that audiences could tape a show and fast-forward through the commercials. But while a TV character casually wielding a branded product can feel natural and unobtrusive, there's nothing like an honest-to-god in-world promotion. The real-life Heinz company was so happy with the "half an ad" that Draper cooked up for them in Mad Men that they repaid the favour: while the brand's fictitious executives rejected Don's idea in 1968, a real Heinz brand manager revived Stan's art for a 2017 Heinz campaign in the pages of Variety and on billboards across New York. Heinz even credited Sterling Cooper Draper Pryce in the press release.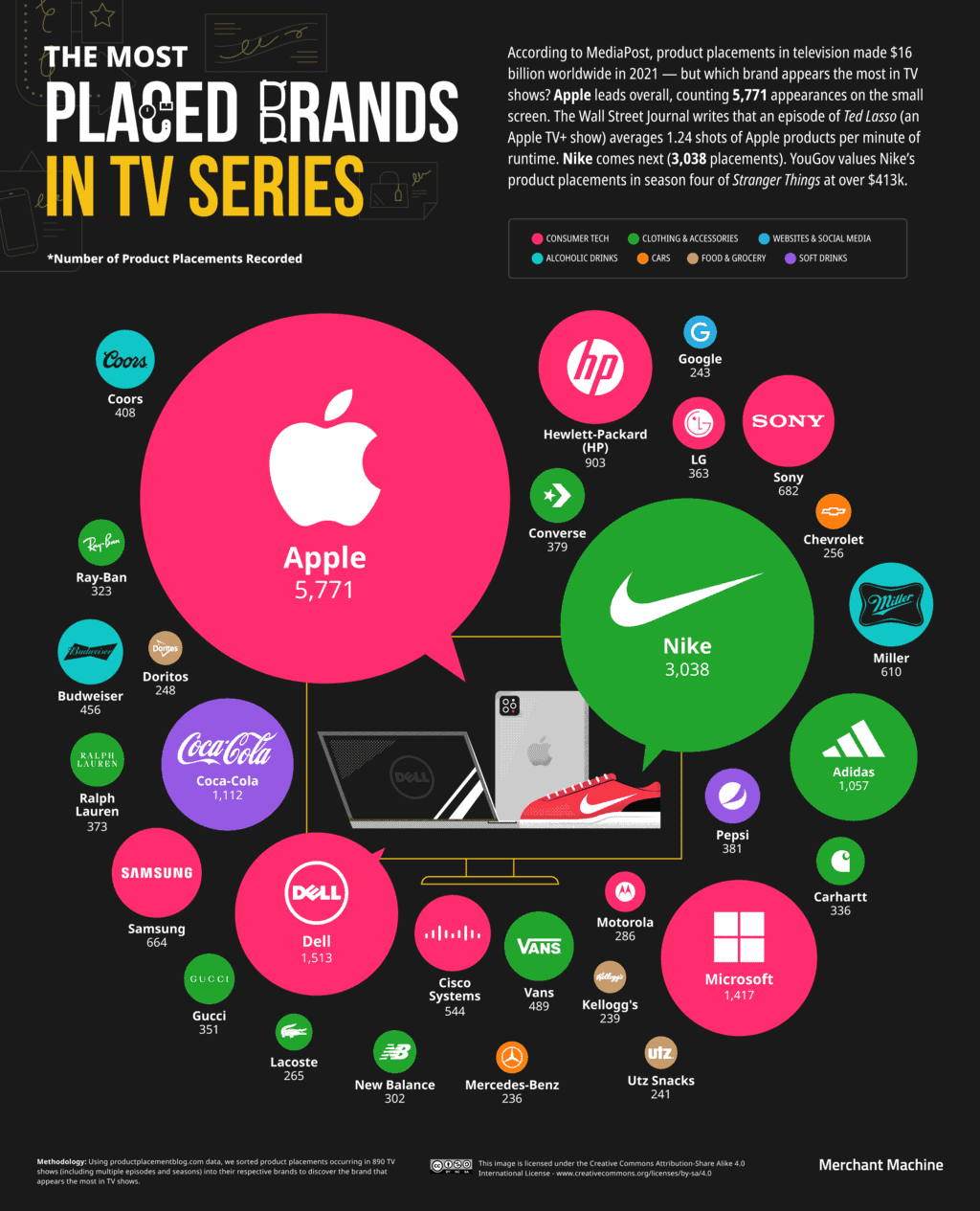 Click here to see the image in full size
Apple is by far the biggest player in product placement in movies and TV. It is a trend that seems set to prevail now that the brand's own streaming service can put its products directly in the hands of fan favourites like Ted Lasso — who is even heard saying he'd like to buy Apple stock. One WSJ report found that across 74 ‌Apple TV+‌ episodes, characters handled some 300 iPhones, 120 MacBooks and 40 pairs of AirPods — and that these devices were mostly restricted to the "goodies." Filmmaker Rian Johnson has even suggested that the lack of an iPhone can give away a "secret" baddy in a film, spoiling the surprise for viewers.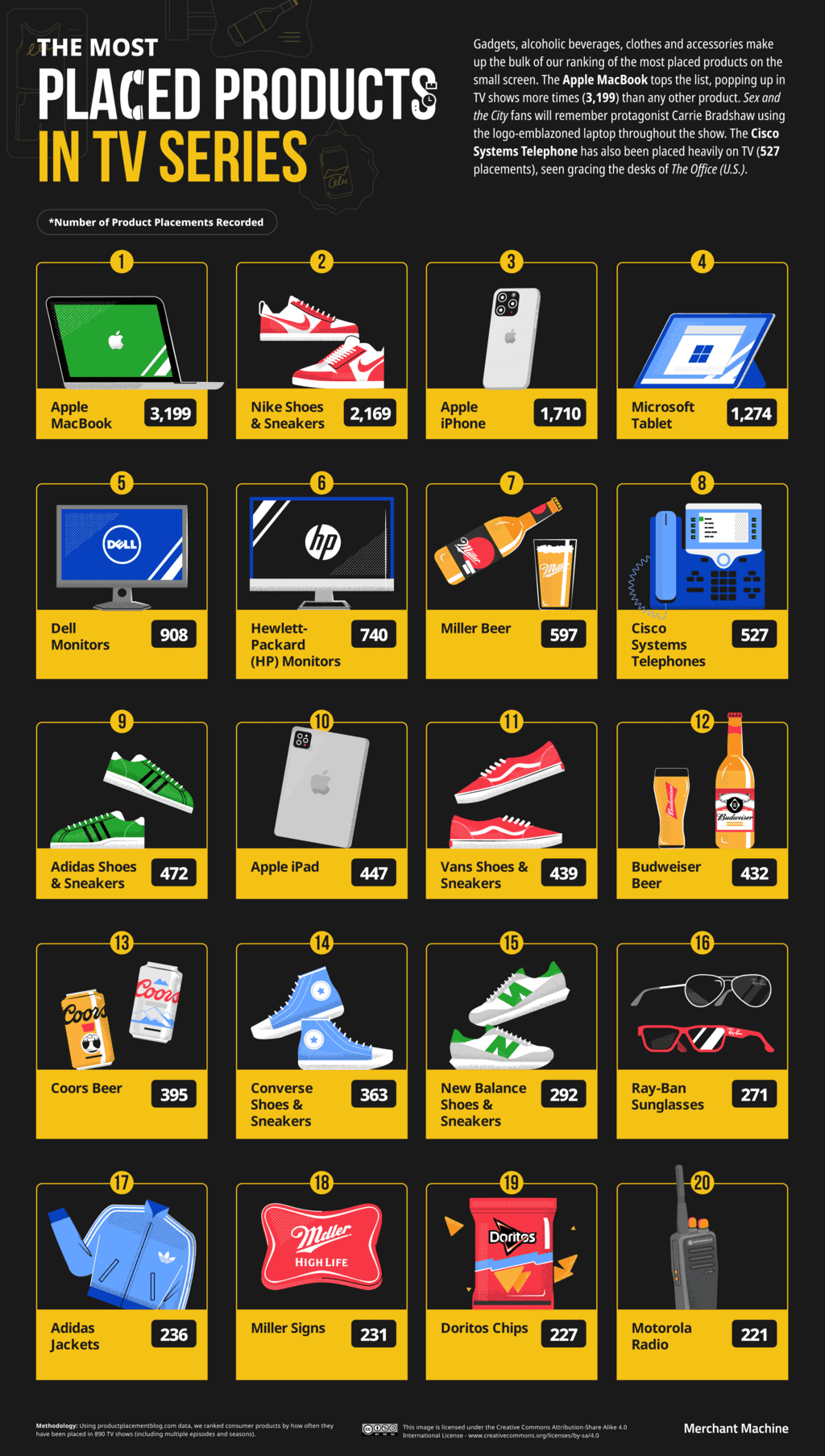 Click here to see the image in full size
Electronic devices dominate among the top individual products to be boosted on TV, and you could actually watch a streaming series on six of the top 10 products — suggesting that marketing teams might be gambling that you're dissatisfied with the image you're receiving. Beer and sneakers make up eight of the top 20, illustrating another useful tip for those with a minimal marketing budget: some products don't need a showy context or special effects. The satisfying sound of a character popping open a beer or smoothly lacing a comfy pair of sneaks is just as powerful a selling tool as the concept of a fast food brand literally destroying all of its rivals in an all-out science-fiction war.
In Space, No one Can Hear Quiet Luxury Scream
The golden age of binge TV ushered in a golden age of product placement, but it's a marketing ploy that retains its sheen even among today's less obvious shows. The Last Of Us might not have you adding mushrooms to your grocery list, but the graveyard of mall stores in Ellie's flashback scenes stirs pre-emptive nostalgia at the well-loved brands that we'd apparently lose forever in the event of a fungal apocalypse. (You'll spot some of them among our full data in the interactive table below.)
Meanwhile, Succession is touted at this moment's Mad Men. But in terms of product allure, the show is most associated with "quiet luxury" — brands so discreet that viewers can't even read the labels. Still, Tom Wambsgans unwittingly listed potential selling points of the "ludicrously capacious" Burberry tote he roasted in Succession's season four opener: "What's even in there? Flat shoes for the subway? Her lunch pail? You could take it camping. You could slide it across the floor after a bank job."
Burberry had the last laugh: Google searches for "Burberry tote bag" leapt by 310% in the wake of the show.
METHODOLOGY & SOURCES
We counted how often product placements occur in 2,227 movies and 890 TV shows (including multiple episodes and seasons) that are featured on productplacementblog.com — a website where more than 82,000 examples of paid and unpaid product placements have been recorded in films, TV and music videos.
After sourcing the runtime of movies from TMDB.org, we compared the number of placements that occur every 10 minutes of a movie's runtime — on average — to rank the 50 movies that are most likely to feature product placements.
We also categorized the types of product placement that occur by brand and by product (e.g., Apple iPhone) to see which brands and products have the most placements in film and TV.
Some brands and groups are represented by more granular categories, such as car brands like Mercedes-Benz featuring SUVs, exotic cars and sports cars, while other branded products, such as Apple's iPhone, were only categorized more generally by name as an iPhone.
The data for this research is correct as of July 2023.
Our Most Popular Guides