Retail Merchant Services was founded in 2007 in response to the frustration of small businesses being overcharged and under-serviced by banks.
The company, founded by Paul Bentham, focuses on four main areas of merchant services with card machines, online payments, phone payments and EPOS all catered for. The team, consisting of more than 150 members, are able to provide a tailored service to small and medium businesses searching for the best merchant services. 
It's quick and easy for merchants to get a free quote with Retail Merchant Services with no obligation required. 
Prices/Fees
Retail Merchant Services do not currently post their pricing online and merchants are required to get a free quote to learn more about the pricing of specific services.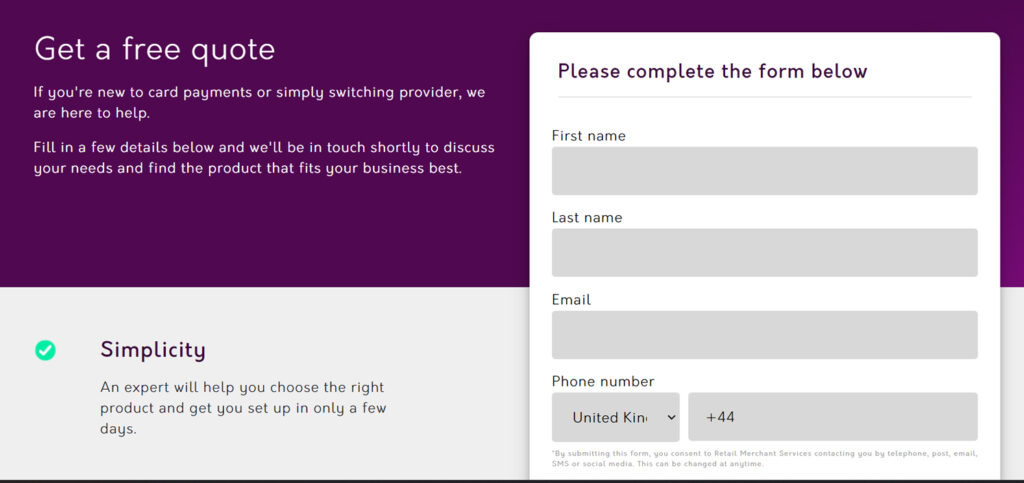 The pricing of the online gateway is transparent with a flat fee of 0.79% + 10p per transaction. This rate is charged regardless of the size of the business, turnover or number of transactions. 
Product/Service Overview
The products and services offered by Retail Merchant Services can be categorised into four main groups – card machines, online payments, phone payments and EPOS. 
Below we'll take a look at each category, viewing exactly what separates Retail Merchant Services from the competition. 
Card machines
The card machines offered by Retail Merchant Services can also be broken down into four main categories – countertop, portable, mobile and smart card machines.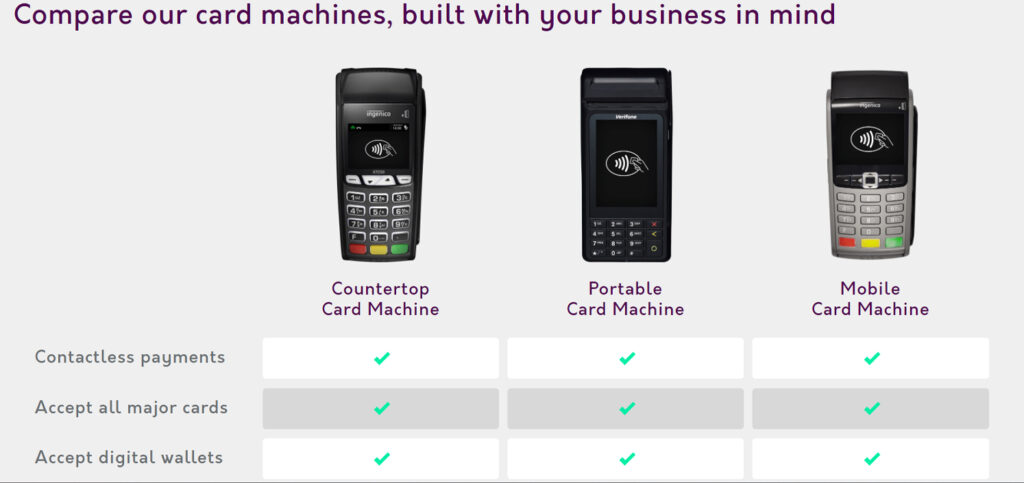 Countertop Card Machines
Countertop card machines, also often referred to as a desktop card machine, are those that remain in one fixed location as a dedicated payment point. 
This type of card machine can be hardwired to minimise downtime. Examples of the available desktop card machines include:
Each of these card machines comes with its own associated pros and cons with Retail Merchant Services able to walk merchants through the best options for their business. 
Portable Card Machines
A portable card machine allows merchants to move their terminal around the workspace, whether that be a restaurant, cafe or store. 
These portable card machines are not limited by hard-wiring and can be connected with either WiFi or Bluetooth with a 100m range. Contactless, Apple Pay and Google Pay can all be utilised with this type of card machine, allowing for the fastest possible payments. 
Tips and gratitudes can be added on to payments, making these great for the restaurant business and the long battery life is perfect for busy shifts.
Mobile Card Machines
Mobile card machines are inherently similar to the portable options available, albeit with more freedom to leave the place of business. 
Unlike portable card machines, mobile machines are not constrained by the distance of 100m and use GPRS to accept card payments from anywhere in the UK. The list of payment options also remains constant, preventing any issues with payment when taking payments on the road. 
These machines are great for all businesses ranging from food trucks to plumbers with the ability to take card payments from wherever they may be. 
Smart Card Machines
Produced by Verifone, the V240m smart card machine is not only fast but secure and fully mobile – allowing for payments to be accepted from anywhere in the UK. 
The smart card machine switches between GPRS and WiFi where available, offering the best performing service in accordance with the conditions. This is great for those remote, low-signal areas that struggle with mobile data. 
Apps can be downloaded to the smart card machine, allowing for an increase in customer loyalty with coupons, reward points and more.  
The V240m is fully EMV approved and PCI 5.0 certified, offering the most secure payment terminal to date. It not only offers peace of mind for customers but for the merchant, too. 
Online payments 
In addition to accepting payment in a traditional in-person, brick-and-mortar business, merchants are also able to accept payments online.
Online payments must be processed through an online payment gateway – this can be thought of as the online POS terminal. The gateway offered by Retail Merchant Services allows businesses to accept online payments 24/7 with a fast, safe and secure payment gateway.
Payments can be made with a variety of different methods ranging from credit and debit cards to digital wallets – allowing customers to pay in the ways that they want. 
The pricing options available are simple and transparent with a one-size-fits-all structure that is able to offer savings of as much as 30% on current fees. For credit and debit cards, merchants will be charged at 0.79% +10p per transaction, regardless of the size and turnover of the business. 
Next day settlement is a key benefit offered by Retail Merchant Services, this improves the cash flow of businesses by allowing for next-day, and in some cases, same-day payment. Recurring payments are also offered by Retail Merchant Services, allowing businesses to work on their cash flow with subscription models. 
Pay by link
One of the most popular modern ways in which merchants are able to send invoices is with the "pay by link" service. 
This allows for merchants to send a simple URL link to the customer via email, text message etc. that can be used by the customer for payment. This is not only a quick and easy way for merchants to invoice but allows for a hassle-free payment option for the customer. 
By pressing the link, customers are able to pay however is most convenient for them. This works to prevent the delay of invoices from being paid and improves the cash flow of the business once more. 
Phone payments 
Merchants interested in taking payments over the phone are able to complete this with the aid of a virtual terminal.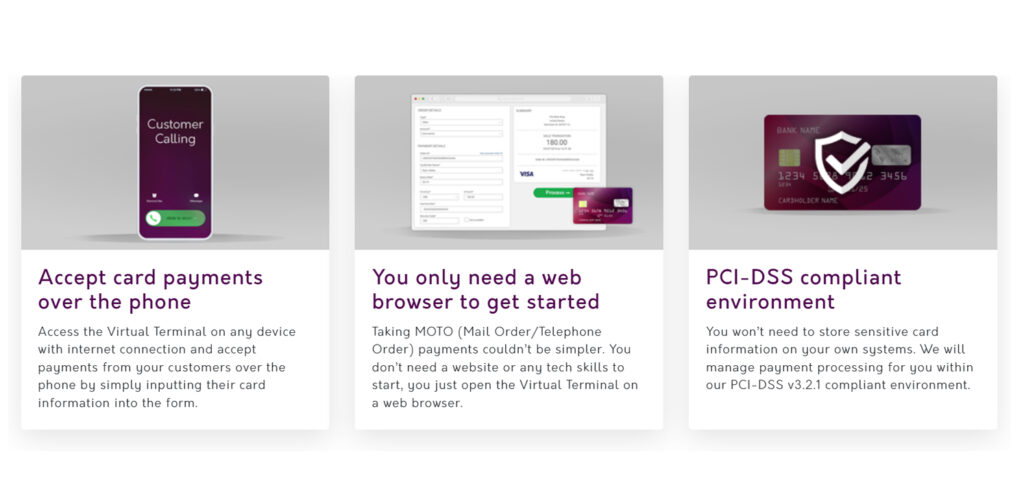 These virtual terminals can be accessed without the need for any additional hardware – all that's required is a device that can access a web browser to take payments. 
The virtual terminal is the simplest way for merchants to accept MOTO (mail order/telephone order) payments, opening up the number of available payment methods. The terminal is not only user-friendly but PCI-DSS compliant, ensuring that all payments are processed in a safe, secure and compliant environment. 
Access can be granted to multiple users on the same account, preventing the need for any expensive additional software. Users can be onboarded with varying levels of access, allowing for those in higher permission levels to access more tools within the virtual terminal. 
EPOS
An EPOS system, also known as an Electronic Point of Sale system, is the modern equivalent of a standard till system and is used by the majority of brick-and-mortar businesses.
The EPOS systems allow for much more than simple streamlining with the ability to track sales, manage stock and use custom, industry-specific applications for a more efficient business. 
One of the main benefits of an EPOS system is the ability to control the stock management with the implemented software. This allows merchants to ensure that their best-selling items constantly remain in stock with automation enabled for automatic re-ordering. Additional information can be accessed surrounding stocking including poor performing items etc. 
Merchants are also able to create custom reports with the data collected with the EPOS system. Merchants are able to build dashboards that can be used to access both live and past data, allowing for a detailed overview of the business.
The EPOS systems offered by Retail Merchant Services all include the central terminal, complete with a touch-screen display and industry-specific software. A card machine is also included and is able to process all major forms of payment including digital wallets (Apple Pay & Google Pay) and contactless payments. 
Accessories are also supplied as standard in each EPOS package with an 80mm receipt printer and a fully secure metal cash drawer.
Company background
Retail Merchant Services was founded back in 2007 by Paul Bentham with the goal of offering affordable card payment solutions to small businesses. 
At the time, small businesses were often both overcharged and under-serviced by banks and Bentham set out to offer a fair service. In 2017, Retail Merchant Services was acquired by TCV, a capital market company founded in 1995. 
Today, Retail Merchant Services offers a range of merchant services ranging from card machines and online payments to EPOS systems and virtual terminals. These are offered with a focus on small businesses with fair, transparent rates. 
User reviews from around the web 
Retail Merchant Services boasts a large number of independent online reviews from more than 6,000 different customers. 
Focusing on the Trustpilot reviews with minimal feedback found on other review sites, Retail Merchant Services has earned a rating of 3.8 / 5 from a total of 6,052 reviews. 
User Reviews
Review Summary
0.0 out of 5 stars (based on 0 reviews)
Recent Reviews
There are no reviews yet. Be the first one to write one.
Submit a Review