Brand love is a nuanced science. The internet age has cultivated a continuous three-way conversation between consumers, brands and the media, creating a volatile chemistry that can make or break a company's name overnight.
But while there are limits to the marketing awfulness that shoppers will accept, there is often truth to the adage that it's better to be talked about than ignored. There are brands we love and brands we love to hate. Indeed, it is said that there are five types of brand hate, each provoking its own response ranging from "complaining" to "revenge" — but if you hate them that much, there's probably someone who loves them just as passionately.
Nowhere is more judgemental on all matters brand-related than Twitter. So, Merchant Machine decided to find out how the Twitterati in each country feels about its top local brands by measuring the levels of positivity and negativity that are tweeted about each one.
What We Did
Merchant Machine evaluated tweets containing brand names for positive or negative tones using an AI sentiment analysis tool. We determined each country's most loved brand to be the local brand with the highest proportion of positive tweets.
Key Findings
Burberry is the UK's most loved brand, and Shell is its most hated.
Tiffany & Co. is the most loved brand in the U.S.
Fox has an 88% negativity rating in the U.S., making it the most hated brand in the world.
Jewellery brand Mouawad has a 98% positivity rating in the United Arab Emirates, making it the most loved local brand in the world.
Chocolate and Good Ethics Are Behind the World's Most Loved Brands
Food and clothing brands are among those with the most passionate love on Twitter. Brands with a positivity rating of 90% include Costa Rica's gourmet coffee firm Café Britt and chocolate makers in Ecuador and Venezuela, while Panama (rum) and Estonia (beer) favour alcohol brands.
While it may be a surprise to find telephone companies among the most beloved, Greece's Hellenic Telecommunications Organisation has an 87% positivity rating — the top among several in its industry to make the global map.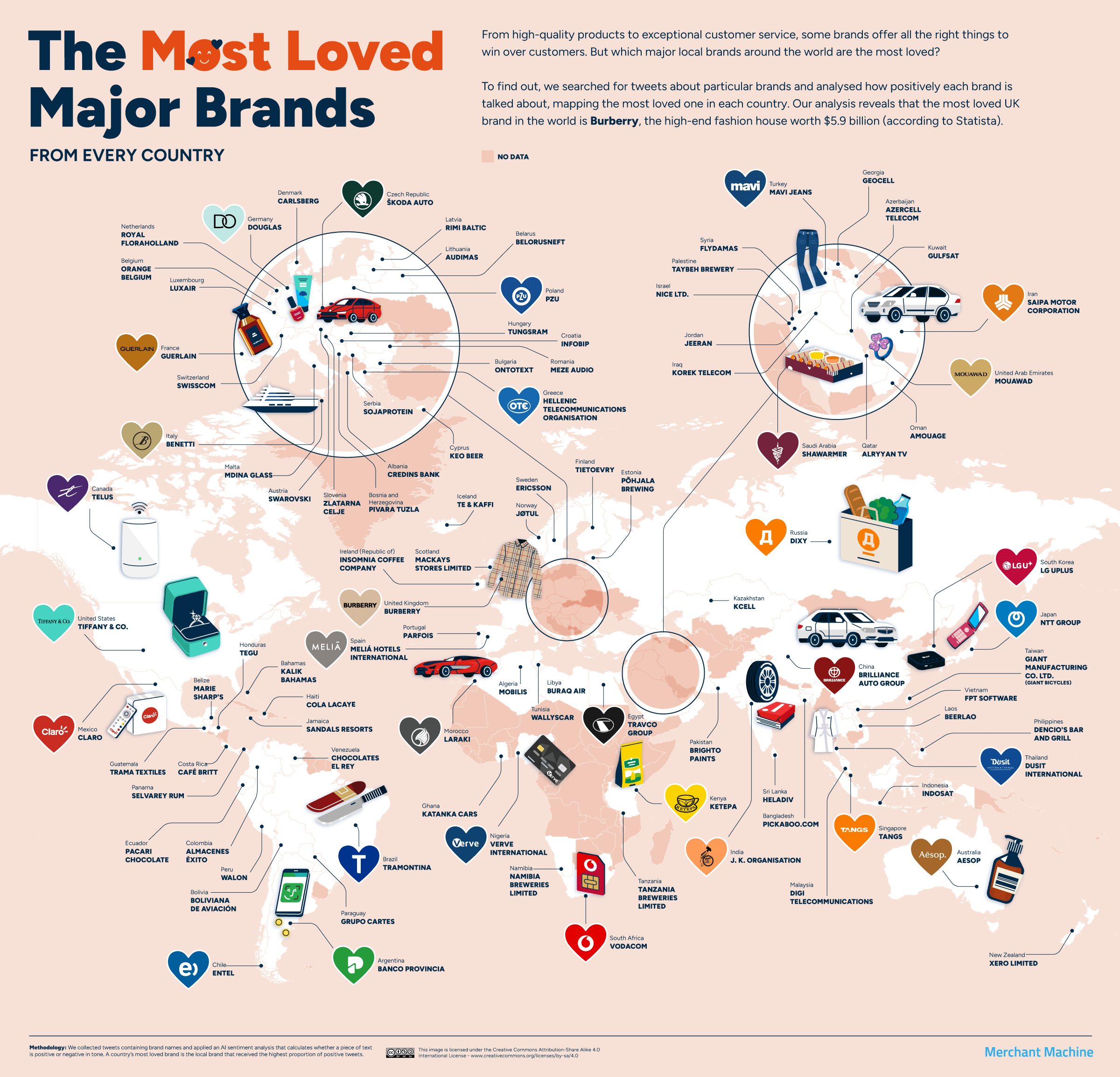 Click here to see the image in full size
Scotland's favourite brand is Mackays Stores Limited, lately known as M&Co., which holds a special place in the hearts of locals who've known it as a family clothing store for nearly 70 years. However, it is a bittersweet love since the company has recently gone into administration for the second time in three years.
Trama Textiles in Guatemala is a happier story of goodwill: this worker-owned weaving cooperative makes beautiful fabrics while empowering Mayan women. Sample tweet: "Fabiana's weaving business is taking off! …None of this would be possible without the support of Trama Textiles."
Climate Crisis: Airlines and Energy Companies Among Most Hated Brands
Whether courting column-inch controversy on purpose or harbouring guilty truths (a hefty carbon footprint, a misbehaving CEO), some brands can't help but attract Twitter's ire. Airlines are born to lose, burning up precious fossil fuels and subject to the frustrations of delayed or inconvenienced passengers.
Some 19 countries count an airline as their most hated brand, including Iraq (UR Airlines), Namibia (Air Namibia) and Malta (Air Malta).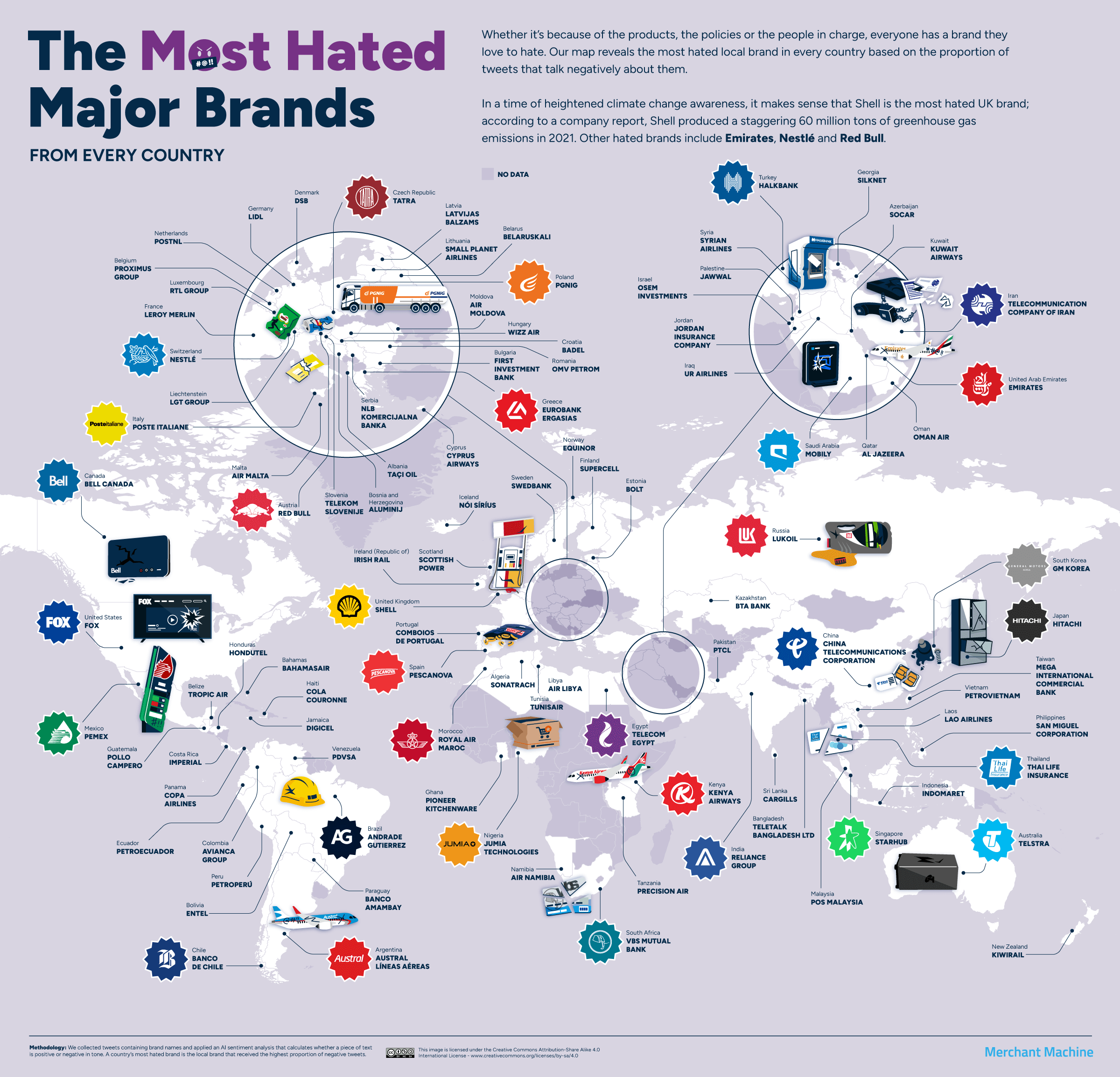 Click here to see the image in full size
The climate crisis appears to be a leading 'fuel' of anger against brands. In addition to airlines, energy companies such as Lukoil, Shell and Scottish Power feature among the most hated brands around the world.
But sometimes it's just a matter of customer service: "@ScottishPower it's 17:07, Wednesday… Why is your call centre closed?" asks @pumblechook of the Glaswegian energy provider. Banks and phone companies also feature prominently among Twitter's brand baddies.
Burberry and Barclays Are Among UK's Most Divisive Brands
Do you get a feeling of warm well-being looking over the list of the UK's most loved brands? Burberry, Britvic and Dyson are among top names with decades of British history.
Burberry can count Manchester United and England footballer Marcus Rashford among its ambassadors — and Rashford is a figure who inspires goodwill with his activism against racism and poverty and in support of child literacy.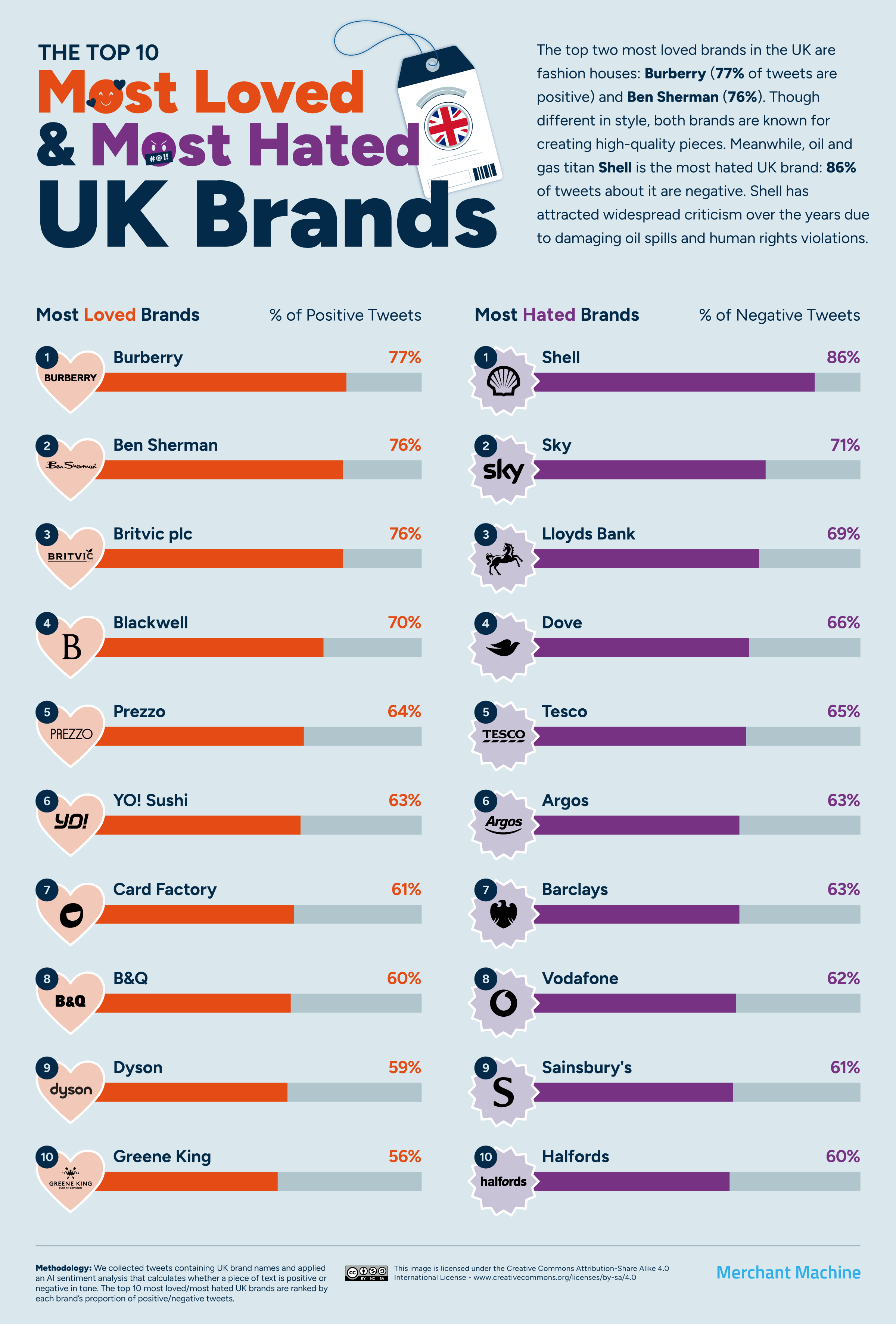 Click here to see the image in full size
The mundane irritations of bank and supermarket brands put their perpetrating brands among the UK's most hated. It's particularly complex in the case of Barclays: the bank brand sponsors the Premier League. Now, Barclays has become synonymous with top league football among fans, leading to very British mixed messages such as: "I like a bit of prime Barclays as much as the next person, but surely the ref should start handing out yellows?"
Tiffany & Co. Is America's Favourite Brand
"The brand is looked at with binoculars and sniper guns, and people are really waiting to see what we're doing," says marketing EVP Alexandre Arnault, who's spent the past two years rebranding heritage luxury brand Tiffany & Co. "It's quite fascinating to see the level of engagement we have, either on the hate side or the love side."
On balance, Arnault is doing something right. Tiffany's is currently the most loved brand in the U.S.  thanks to modern ambassadors such as Beyoncé and despite risky, clientele-alienating campaigns like "Not Your Mother's Tiffany."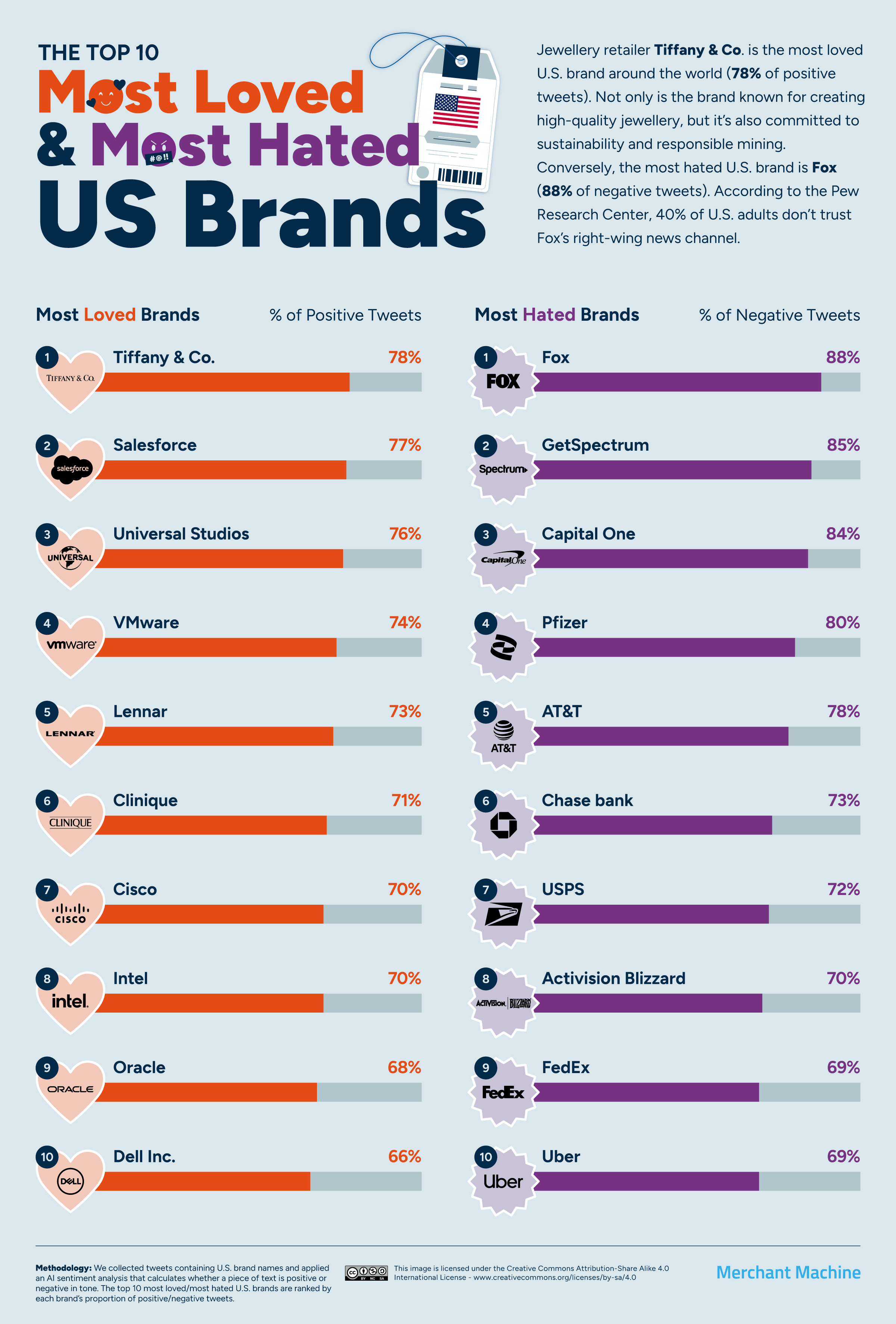 Click here to see the image in full size
Banks, telecom companies and delivery services dominate among the most hated brands in the U.S. Uber and video games company Activision Blizzard also make the hall of shame, the latter due to its potential takeover by Xbox and its efforts against workers' rights.
But the most hated — despite a loyal core fan base — is the Fox Broadcasting Company. Fox's provocative and often plain wrong news service generates much of this loathing. Media critic Bobby Lewis made it his business to tweet about the station during Trump's presidential heyday, flagging moments like this when Fox made, rather than reported, the news: "Fox's Griff Jenkins got to play Border Patrol yesterday, foiling and shaming a family's attempt to escape rampant extortion in Honduras."
'Marmite' Brands Capitalise on Clearly Defined Customer Base
Passion is always in fashion. Just look at Marmite. The brand defines itself by the fierce allegiance of its lovers, proudly writing off anyone else as haters. And despite Marmite rubbing salt in the cost-of-living wound by hiking prices by 11.2%, the spread's fans keep coming back for more.
Brand consultant Mark Ritson witnessed Marmite hit the headlines when it bumped its prices by 10% in 2016. Thanks to the publicity, sales rose by 61% all the same. "While brand image and reputation do count for something, they are dwarfed by brand awareness and simple saliency at point of purchase," said Ritson at the time. "Marmite took one step back in terms of brand image last week but took at least four steps forward in terms of awareness."
Not every brand is a Marmite or a Fox — but love them or hate them, these brands demonstrate the value of pinpointing your core customer and nurturing their loyalty.
For more brands people love have a look at:
METHODOLOGY & SOURCES
We began our research by building a seed list of major brands in every country. They were sourced from BrandDirectory's Global Brand Rankings and Wikipedia's list of brands by country.
Next, we retrieved a large sample of tweets from each country mentioning these brands. To prevent us from collecting irrelevant tweets for generic company names such as "Leon's," we manually checked top results for each entry on Twitter and added keywords when necessary, for example, "Leon's Furniture."
If a brand name was a combination of words, then we used quotation marks to return exact matches, such as "Canadian Solar," i.e., not "Canadian" and "Solar" in conjunction with other words or if "Canadian" and "Solar" happened to appear separately in one tweet.
Our resulting seed list comprised 2,055 brands.
We then analysed all tweets using an AI sentiment tool that analyses the text and attributes a positive and negative score. If a tweet had more than a 50% predicted probability of being positive, it was labelled as positive, and vice versa for negative tweets.
This enabled us to calculate the proportion of positive and negative tweets for each brand in every country. We could then determine which brand was the most loved in each country (the brand with the highest proportion of positive tweets) and the most hated (the brand with the highest proportion of negative tweets).
The data was collected in November 2022.
Our Most Popular Guides