Whether shopping for essentials or indulging in some retail therapy, over 2.14 billion people now shop online. While the activity can be a great mood boost, on other occasions the trip from product page to checkout is riddled with confusing distractions and nasty surprises. For example, have you ever been ready to pay for your haul and been blind-sided by expensive extra fees? Or how about being tricked by confusing wording into signing up for something you didn't mean to?

If that sounds familiar, you've encountered what's known as a dark pattern — a tactic used by retailers to trick online shoppers into completing an action and often making card payments that benefits the brand more than the customer. First identified in 2010 by UX specialist Harry Brignull, dark patterns used by shopping websites include misleading ads, misdirection and tricking customers into a subscription that's near impossible to get out of — and unfortunately, these tactics are all over the web.
According to Which, dark patterns work by exploiting us on a subconscious level and taking advantage of an online shopper's limited attention. In other words, they're designed expertly well to get you to spend your money, share your data and stay a customer for longer than you'd like.
With this in mind, we wondered: which major online retailers and brands are the worst offenders for using these tactics? Taking inspiration from a Rouge Media study that found Shein to be the most manipulative fast fashion brand, our researchers at Merchant Machine explored even more categories of online shopping websites to find out.
What We Did
Merchant Machine visited 72 online retailers and mimicked a real online experience by adding things to the shopping basket or making a hotel booking following the user journey all the way to the checkout stage. We counted each instance of a dark pattern that we came across and ranked the results to reveal which retailers were the worst offenders.
Key Findings
We counted 11 dark patterns on Amazon.com, making it the worst website overall for dark patterns
With three dark patterns on each of their websites, Dell and HP are among the most manipulative electronics retailers online
Instacart's website counts five dark patterns, more than any other grocery retailer
On average, beauty retailers use the most dark patterns (3.6) on their websites
What Are the Different Kinds of Dark Patterns?
From viruses to scams, the internet has long been full of shady practices.Still, it wasn't until 2010 that UX specialist Harry Brignull began to shine a light on the manipulative online tactics that even the most famous brands use. He named these tactics 'dark patterns,' reflecting just how mentally and financially harmful these tactics can be if they work on the customer.
For example, one Which poll found that 45% of people felt manipulated or annoyed by dark patterns, and more than one in ten (13%) found that dark patterns influenced them into spending more money than they intended. The U.S. Federal Trade Commission also reported that when users aren't shown ticket fees upfront, they end up spending 20% more money. Dark patterns in a website's design can also trick you into sharing more data than you're comfortable with.
The best way to defend yourself against dark patterns is by getting to know them. So, let's get into the 12 main types and what they can look like in action…

Click here to see the image in full size
Amazon Is the Worst Offending Online Retailer for Dark Patterns
Our overall research reveals that Amazon counts the most (11) dark patterns on its website. The dark patterns we found included a subscription box that was automatically ticked, making the more expensive payment option the default choice. Alternative payment options were also greyed out, misdirecting the user into focusing on the most expensive option.
Amazon.com's dark patterns have made the headlines recently. In July 2022, EU regulators forced Amazon to revamp its complicated Amazon Prime unsubscription process to one that allows users to unsubscribe in just two steps. The U.S. Federal Trade Commission also has an ongoing investigation into Prime's sign-up and cancellation process.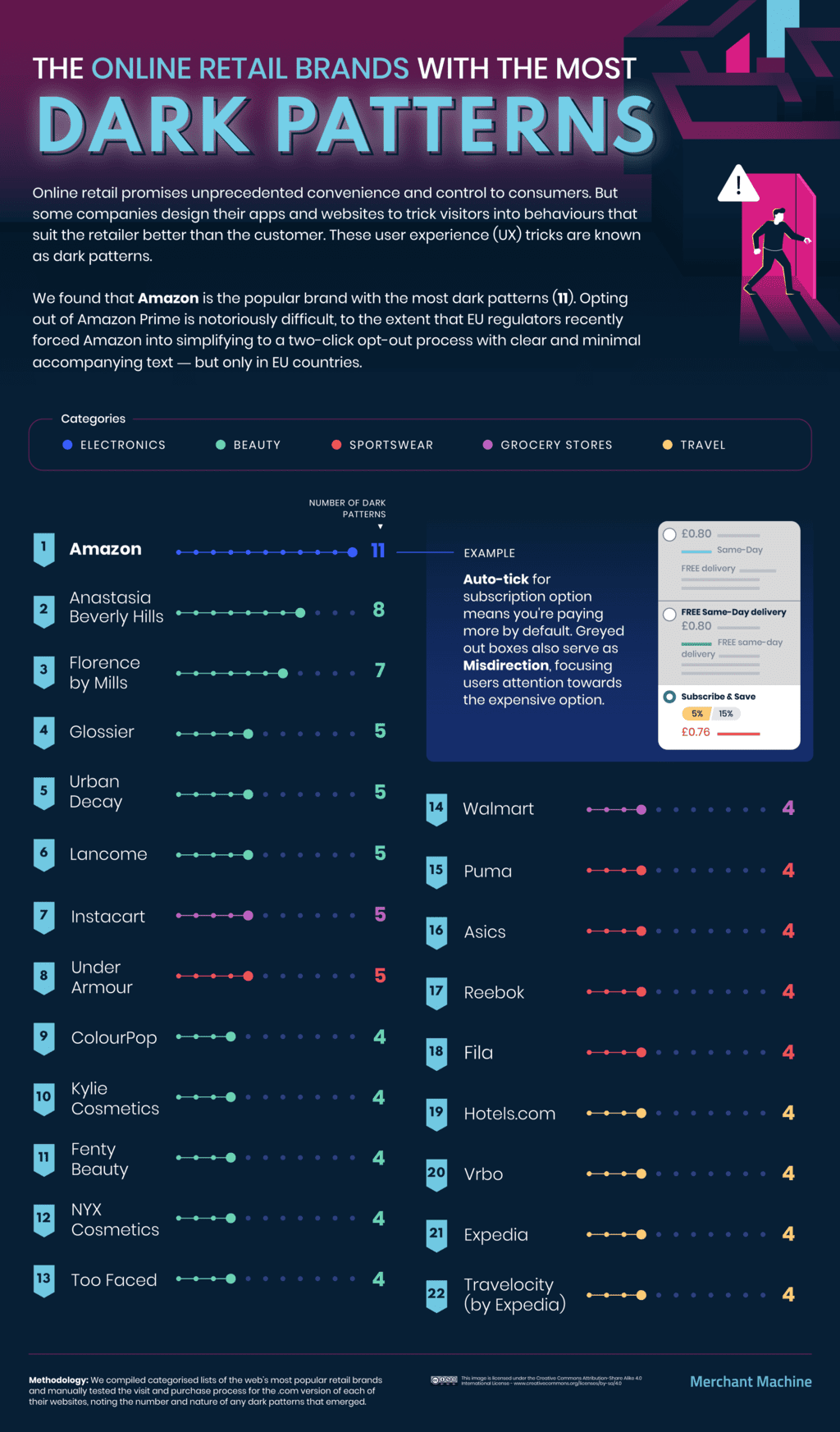 Click here to see the image in full size
A subscription that's easy to get into but difficult to get out of is an example of a dark pattern known as a roach motel. If you're in the UK and efforts to cancel a paid subscription lead nowhere, contact your bank to stop the payments. U.S. consumers should follow the advice given by the Consumer Financial Protection Bureau and give your bank a "stop payment order."
Amazon, Dell and HP Are the Most Misleading Electronics Retailers Online
Amazon.com is the worst electronics retailer on the internet for featuring dark patterns; we counted 11 in total. Among some of the tactics we found was an instance of 'confirmshaming' — a retailer making you feel guilty to pressure you into taking a particular action. Amazon did this by offering a 'last chance' Prime subscription at the checkout. Computer brands Dell and HP are tied in second place as the next worst offenders: on their respective websites, we counted three dark patterns.
At the checkout page on both websites, suggested accessories were advertised and an extra tax was applied. Both pages also had the option to receive marketing emails automatically ticked, meaning the customer would need to manually untick a box to not receive emails by default.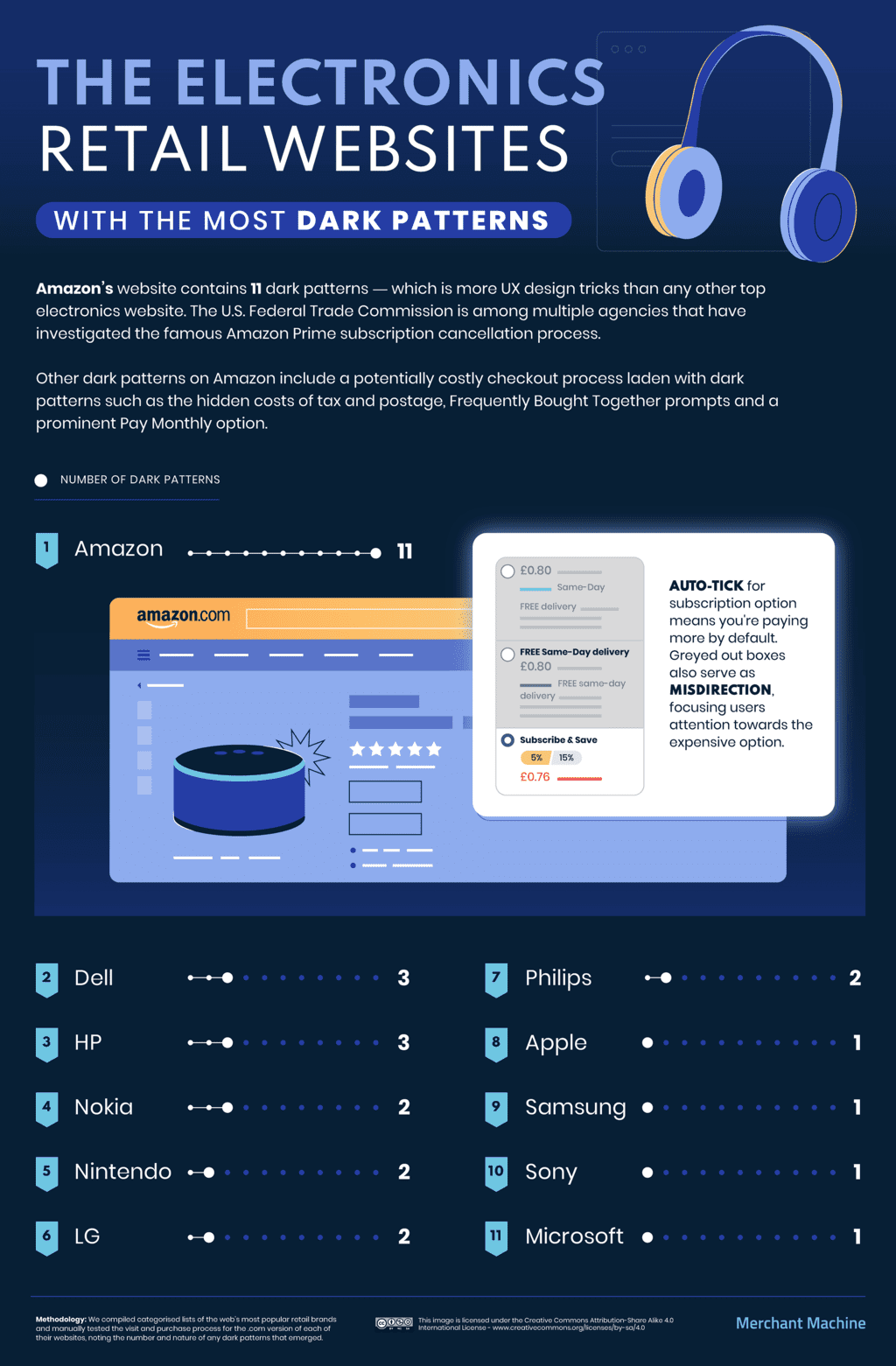 Click here to see the image in full size
Pre-selected checkboxes on websites can cause users to accidentally sign up for mailing lists, share their data and enter into a contract. The Electronic Frontier Foundation highlights how political fundraising websites in the past have made monthly donations the default option when making a donation, so users end up getting charged repeatedly by mistake.
Instacart's Website Counts More Dark Patterns Than Any Other Grocery Brand
The internet has made it easier than ever to get your weekly shop, and being able to order essentials remotely proved especially important during the COVID-19 pandemic. Unfortunately, some grocery websites employ manipulative tactics to get you to spend more than you want to.
Our data reveals that the worst of all is Instacart: from choosing products to checking out, we counted five dark patterns, including hidden fees, a countdown timer to pressure you into making a purchase and a free trial that ends in a pricey $99 charge if you forget to cancel.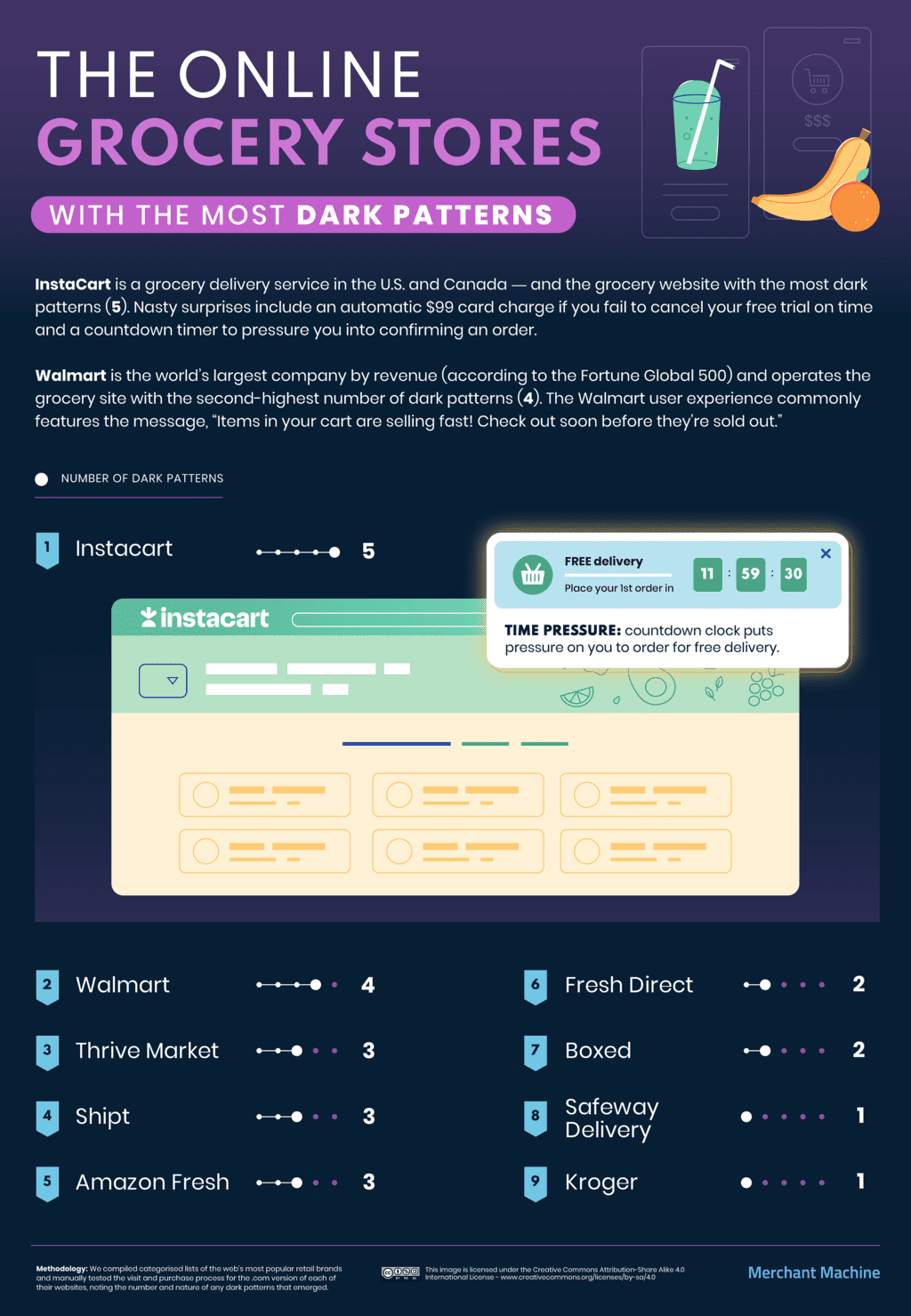 Click here to see the image in full size
Instacart is hugely popular in the U.S., where in 2021 it made up 45% of the grocery delivery market, and it works by allowing customers to buy groceries through the app for a separate personal shopper to collect and deliver. The app's misleading tactics have attracted controversy on more than one occasion in recent years; for example, in 2020, Instacart was sued by the District of Columbia's attorney general for hiding additional service fees at the checkout stage.
American Brand Under Armour Is the Most Manipulative Sports Retailer
When we shopped on American brand Under Armour's website, we counted five dark patterns — more than any other sportswear brand in our analysis. Troubling tactics we noticed included perks to make you spend more (e.g., free shipping over $99), 15% off deals for signing up with your email address and a "limited time offer" message that might pressure a customer into confirming a purchase. A GOV.UK report explains that one way that time-limited offers work is by creating a sense of urgency and exploiting a customer's regret about missing out on a deal.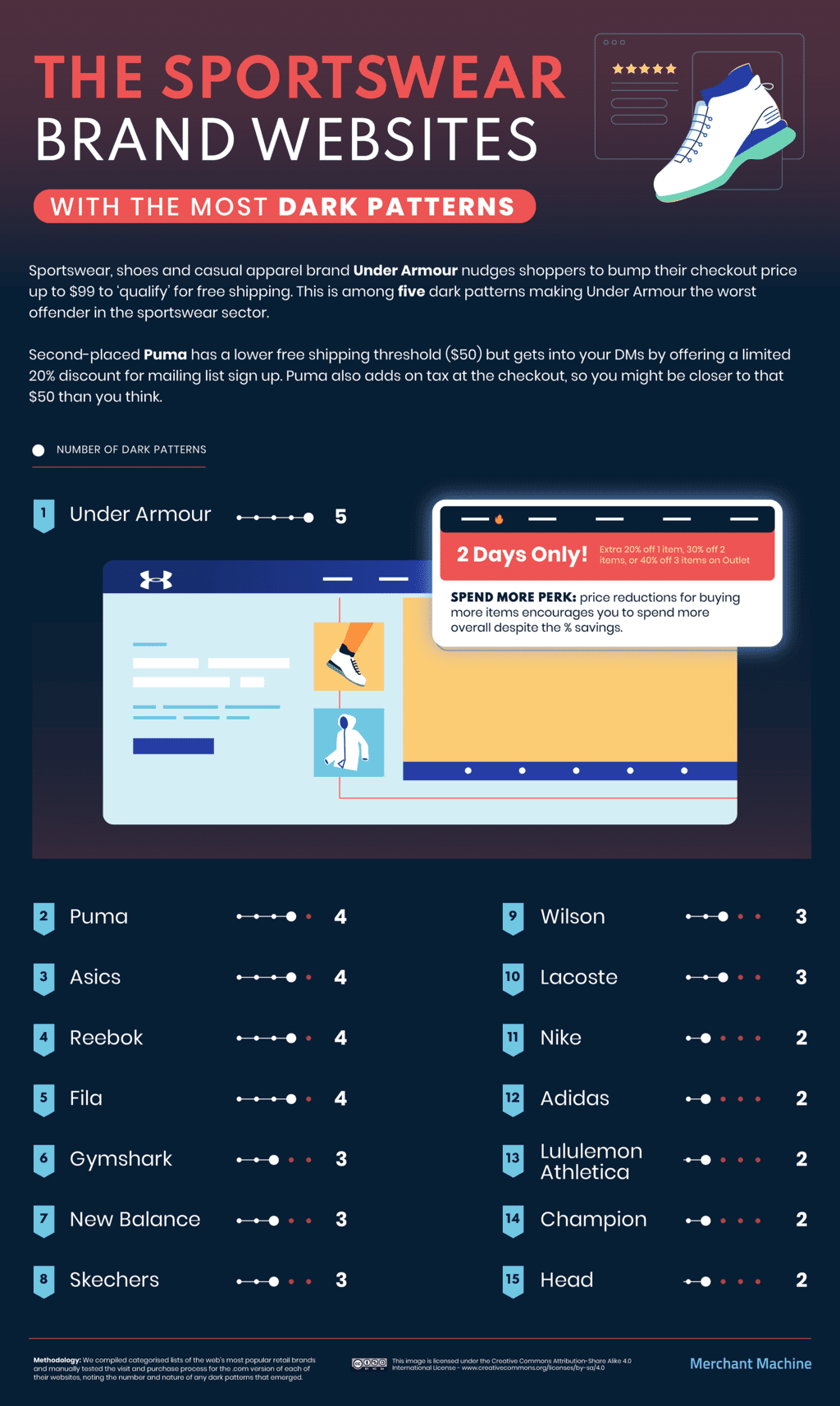 Click here to see the image in full size
Customer experience is one thing that suffers when brands use frustrating and misleading tactics. According to Xigen, 60% of people won't return to a website after a bad user experience (UX), and nearly one in two people in their poll said that they wouldn't interact with a brand ever again if they experienced problems unsubscribing. UX expert Paul Boag sums it up best when he writes: "What does it say about a [company's] attitude towards its customers if it seeks to manipulate them?"
Anastasia Beverly Hills Ranks as the Most Misleading Beauty Brand Online
For some people, stocking up on luxurious beauty products is a form of self-care. But depending on how a beauty brand's website is designed, online shopping can quickly turn into a frustrating nightmare. According to our analysis, Anastasia Beverly Hills has more dark patterns (eight) on its website than any other beauty brand. These dark patterns included sign-up perks like discounts (and a guilt-tripping "I'll pay full price" message if you decline), free shipping offers when you spend over $25 and a premium delivery option auto-ticked at checkout.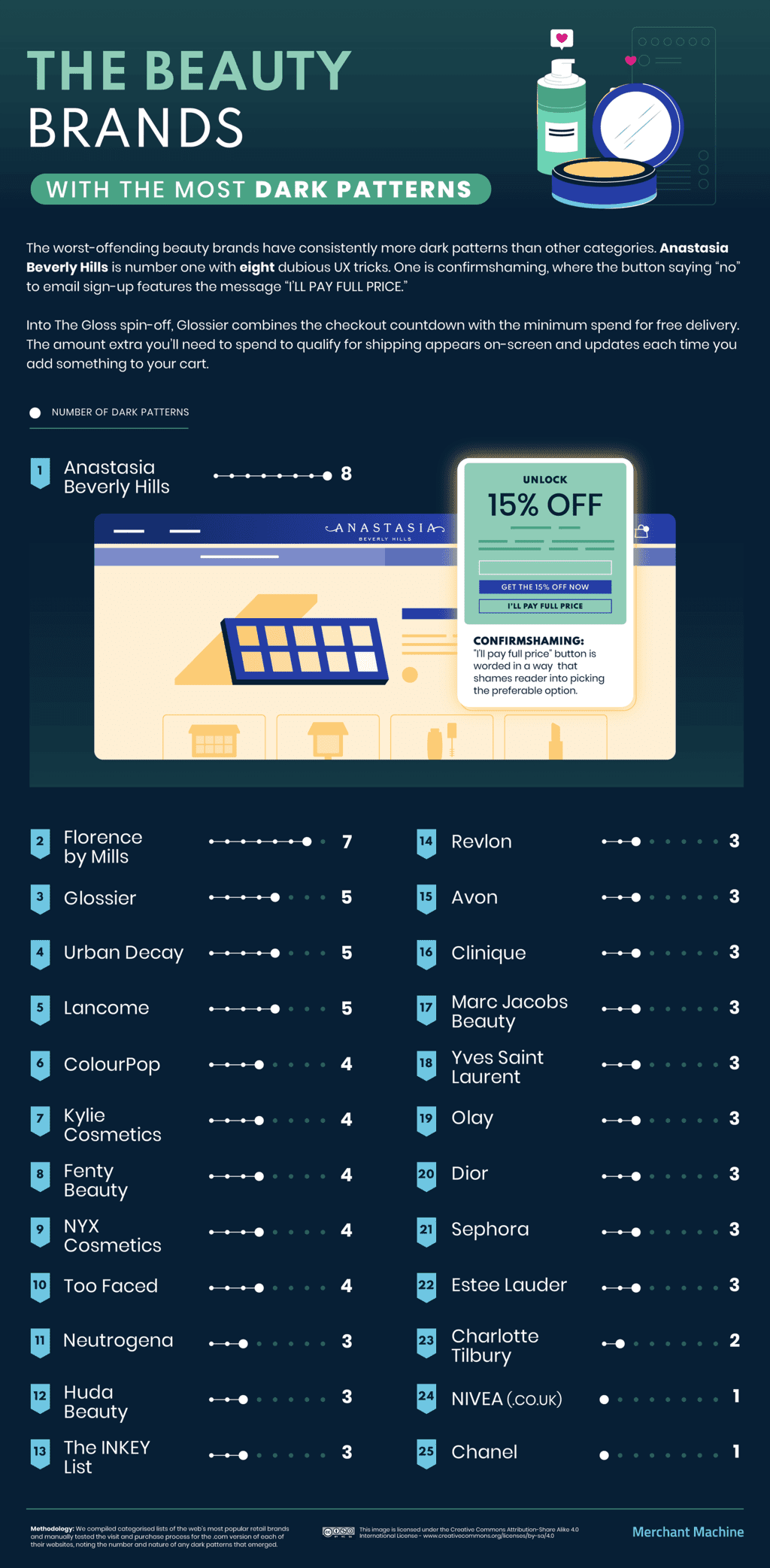 Click here to see the image in full size
Of all the retailer categories in our analysis, the beauty websites we visited counted the most dark patterns on average (3.6). Most of them offered free shipping or gifts if you spent a minimum amount of money. According to author Dan Ariely, the word 'free' is pretty powerful at altering people's behaviour, and of all the perks, free shipping seems to be the most popular.
Hotels.com and Expedia Among the Most Manipulative Travel Websites
Our research reveals that four travel websites count four dark patterns apiece: these are Hotels.com, Vrbo, Expedia and Travelocity (which is owned by Expedia). Tactics we came across include sign-up perks, taxes and fees added at checkout, confirmshaming messages when you decline travel insurance and pressurising pop-ups, e.g., "if you don't book now this amazing offer will be gone."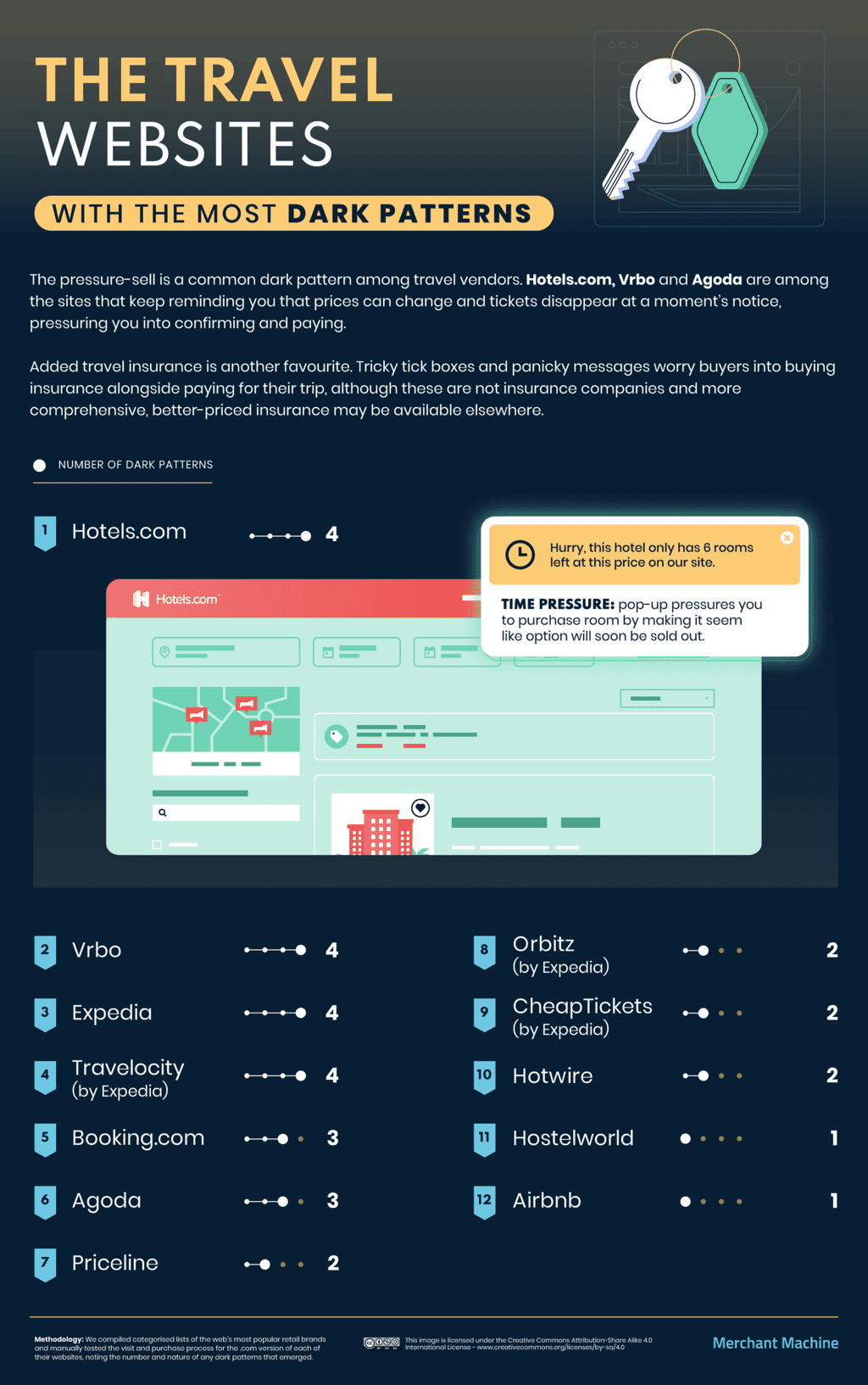 Click here to see the image in full size
In 2019, security researcher Ophir Harpaz was booking a flight when a message popped up to tell her that 38 other people were also looking at the same flight — a prompt designed to make her book faster. However, on inspecting the webpage's code, Harpaz found that the number 38 was, in fact, randomly generated. Travel websites are unfortunately full of these misleading tactics, and in recent years it's led to major hotel websites landing in hot water with the UK's Competition and Markets Authority.
Stay Ahead of Online Retailers by Learning Their Tactics
Online shopping can be a minefield of tactics to keep you as a subscriber, push you over the checkout finish line or charge you more money than you planned. Some websites, however, are more manipulative than others. Explore our HTML table below to find out how many dark patterns we counted on a particular brand's website.
While it might all seem a bit scary, on the plus side, dark patterns are getting more attention on a legal level: in 2021, the U.S. Federal Trade Commission ramped up efforts to stop websites from tricking customers into hard-to-cancel subscriptions, and in Europe, the EU's Digital Service Act aims to ban dark patterns on online platforms. The EU's strict GDPR regulations have also banned pre-selected checkboxes for allowing cookies on web pages.
Until the day that dark patterns are a thing of the past, you can protect yourself online by getting to know the types of pitfalls to avoid. If you come across one, dark pattern expert Harry Brignull encourages users to publicly expose the company responsible and runs a Twitter account for that purpose. Review sites like TrustPilot are also a helpful way to read about a company before signing up for a service or making a purchase.
Methodology
Inspired by this Rouge Media study of fast fashion brands, we began by building lists of the most popular brands in key retail categories. Next, we visited the .com version of each brand's website and noted down any dark patterns that appeared immediately on the home page, such as pop-ups and sign-up offers. Finally, we added items to the basket and followed the process until inputting card details to buy, keeping note of any patterns that appeared.
Our Most Popular Guides