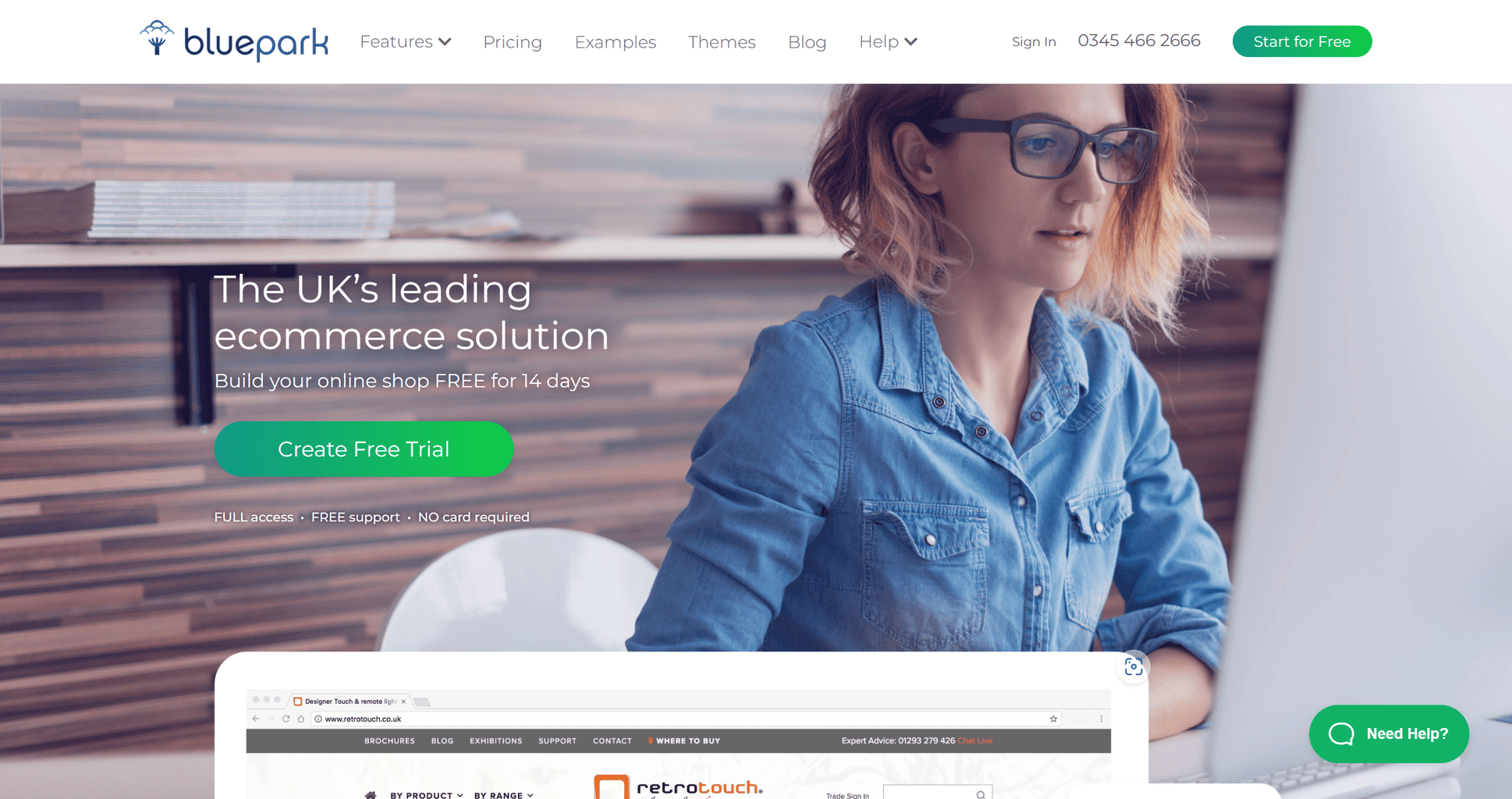 Bluepark is a site-building platform that's most suited for those who want to create their first online store and small businesses looking to grow their customer base.
The platform comes with an excellent variety of tools that are very intuitive to use, which is especially useful for first-time shop owners who don't know the eCommerce business very well. Pretty much everything that Bluepark offers is made to simplify things for the user and make site-building and feature implementation as seamless as possible. 
While the platform also includes an Enterprise plan that comes with unlimited product listings and online sales, it isn't well suited for large businesses. The number of themes is far too limited, there are few B2B tools, and even the most expensive plan only offers 2 GB of web storage. 
We're not saying that medium to large businesses can't use this platform, but rather that there are other site-building options that are much better suited for large customer bases and provide a lot more bulk order and processing tools.
Features
While we might have been a bit harsh on the platform in terms of the options it offers to large companies, it still comes with a lot of useful tools and features.
Design
Themes – Bluepark comes with 10 themes, all of which are free, and while the number is admittedly pretty low, they're very easy to customise and change in accordance with your preferences. Additionally, the themes are all unique and ideal for different types of online stores.
Code Access – All of the code on the site can be modified, and you can also add your custom HTML, CSS, jQuery, and JavaScript code. The editor has syntax highlighting, so it's a bit easier to review the code and change specific elements in it. However, even with great tools at your disposal, you'll still need at least some knowledge of how site building works before you can jump into changing large chunks of code.
Drag and Drop – Inexperienced programmers will find the much simpler drag-and-drop site design feature very useful. You can simply import pre-built blocks and site elements from the design dashboard and place them wherever you want on your page. It's easy to use, the layouts can be changed at any time, and you don't have to pay a professional to design the layout of the pages for you.
Unlimited Pages – You can add as many pages as you want to your site. This will allow you to split your items into several groups and list them all in their own categories that are easy to find and navigate through. Aside from eCommerce product pages, you can also add "FAQ" pages, "Contact Us" pages, and any other pages you need.
Browser and Mobile Optimization – Bluepark sites work well on any browser and the themes and layouts are very mobile-friendly. The elements on the page will automatically adjust to the dimensions of the screen they're being viewed on, so the site visitors can check out your products on a desktop, phone, or tablet without skipping a beat.
Megamenus and Drop-Downs – All of your tabs and menus can be grouped however you want, and you can easily design a site that's intuitive to navigate.
You can add as many sections to the drop-down menus as you want and link them throughout the site however you see fit.
Additionally, the site map is automatically generated once all of the menus are in place, so your customers will easily be able to find where everything is.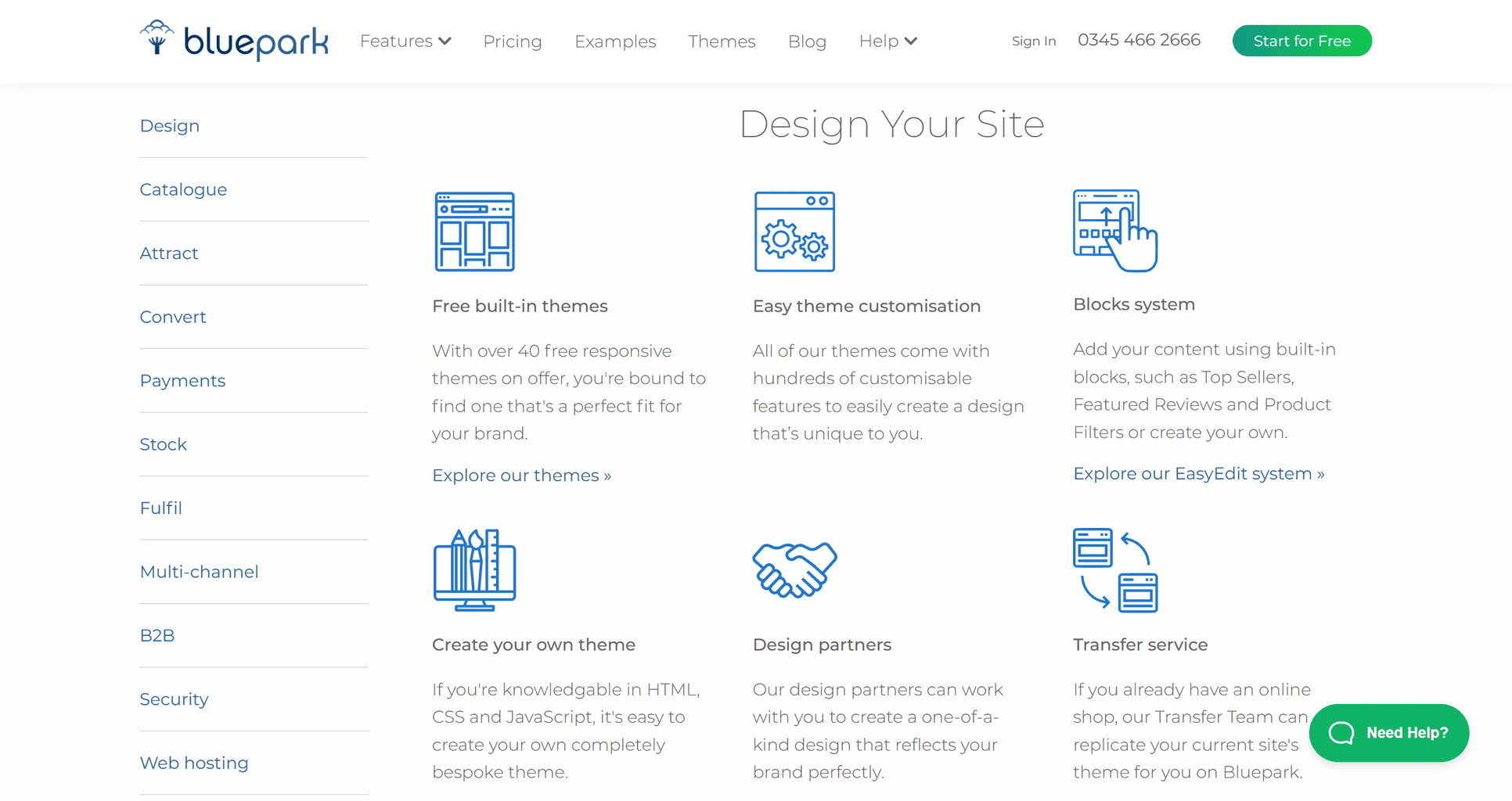 Marketing
Pop-Ups – You can set pop-ups to appear at different frequencies and on different parts of your site. For example, you can set a pop-up to appear after your site visitor has been on your site for 2 minutes or so, or once they open a specific product page.
These pop-ups immediately draw visitors' attention, so they're a very useful tool for advertising special promotions, coupons, discounts, and any other site news that you might want people to know about.
Google Shopping and Google Review Feeds – You'll be able to check the ranking of your products and the opinions people have about them at any time. This will allow you to make adjustments to your inventory and even your business practices so that you can better accommodate the needs of your customers and improve your site.
Subscriptions – You'll be able to sign your customers up for subscription services and provide them with certain perks, like special prices on products, an ongoing store discount, subscription-specific products in the store, and so on.
Site Security – Online shops live and die based on the safety of their payment systems. If a customer isn't sure about the integrity of your system, then they're very unlikely to enter their card and bank details. Luckily, Bluepark uses 3D secure authentication and complies with PSD2 and SCA regulations to ensure that your customer info is safe.
Social Media – You can add links to all of your social media accounts wherever you want on your site, as well as link your site through your social media accounts with a custom URL.
You can also give affiliate access to some of your customers so they can share affiliate links for your products. The commissions and currency conversions for this service are automatically tracked by the platform so you don't have to worry about a thing in that aspect.
Products
Form Generation – All of the orders on your site will be automatically generated once a purchase has been made and sent over to be approved either by you or a member of your staff. Bluepark gives you a variety of options when it comes to the forms that these product orders can be ordered through.
All of the forms will obviously contain all of the relevant product and customer info, but some are a bit more intuitively laid out than others, and you might have a preference towards one form over the other. In any case, having multiple choices is always a plus.
Suggested Products – The platform allows you to add tags to your products and put them into specific categories. Once a site visitor searches for or opens a specific product, the site will automatically find other products that share the same tag and offer them as potential alternatives or additional purchases.
Offline Payments – Anyone that has a physical store will be happy to know that offline payments can easily be processed through the Bluepark platform. The system will generate product purchase forms similarly to how the online payment process works, and both the online and offline payments will be sorted and sent to the user's accounts. This makes filing product purchases a lot easier and simpler.
Create Bundles – You can create product bundles that you can sell as one product. This can either be done as a promotional offer or included as an option for products that come in several variations, like drinks with different flavours or shirts with different colours.
Prices/Fees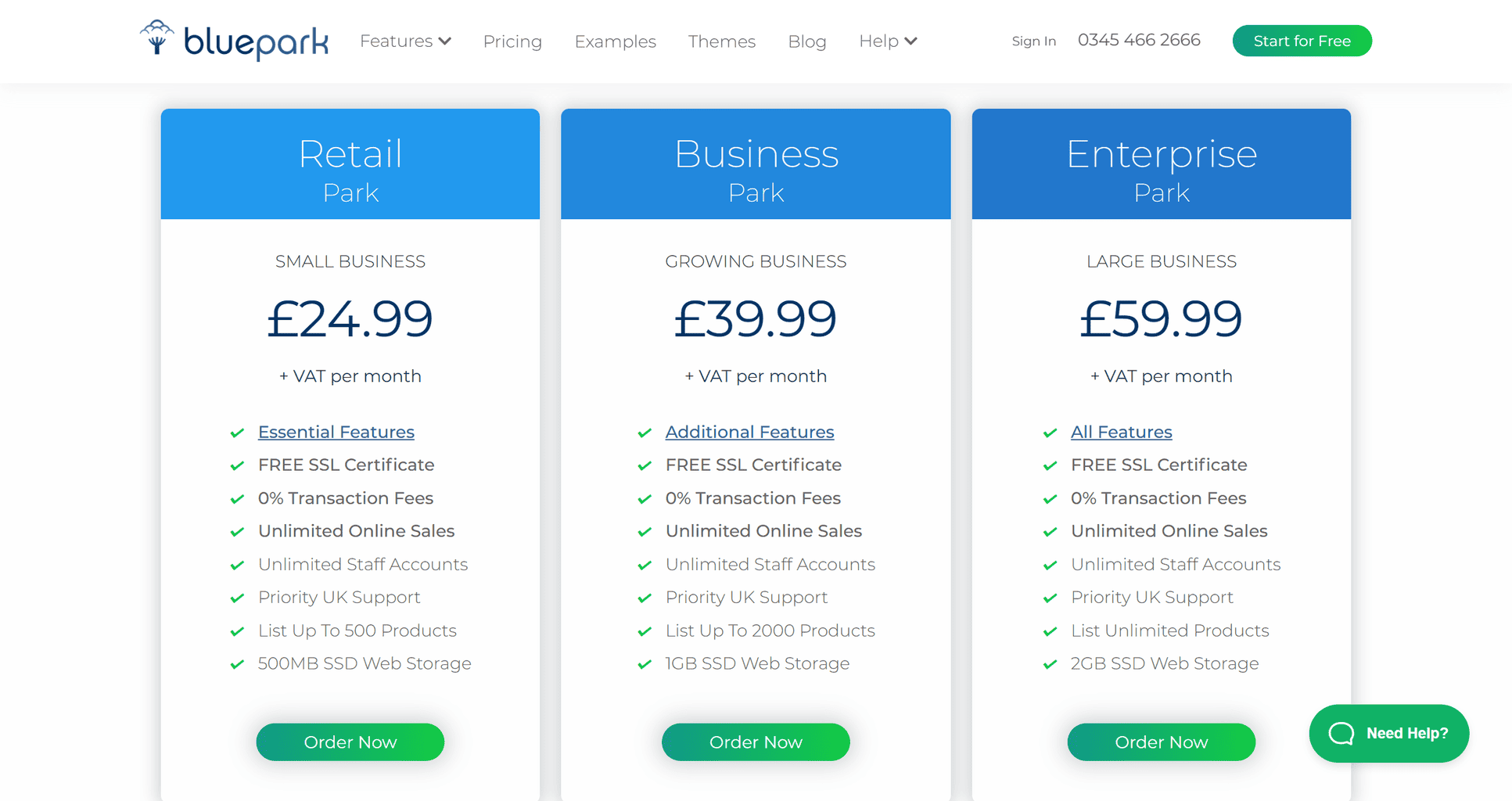 Bluepark has 3 plans on offer – Retail (suited towards small businesses), Business (geared towards growing businesses), and Enterprise (best suited for large businesses).
Regardless of how accurate these estimations are, it's true that all of these plans have their own perks, and the more expensive the plan, the better and more varied the features.
Before we explore each plan in more detail, it's important to note that all 3 plans come with the features that we covered just above.
Retail
The Retail plan will set you back £24.99 a month, plus VAT. There isn't an annual contract, and all of the plans are billed on a monthly basis as far as we can tell. 
On the one hand, this allows you to change your plan whenever the month is up, which is great since you're not locked into any long year-long contracts. On the other hand, the lack of an annual contract also means that you don't get any sort of discount for purchasing a year-long contract like you might have seen on other platforms.
For your 25 pounds, you get all of the features that we've covered so far, no transaction fees on your purchases, and a free SSL certificate that designates your site as a safer option for your customers.
You also get priority support if you're in the UK and access to an unlimited number of staff accounts. The second feature allows you to give your employees full access to the site and all of the tools that you as a site owner can use. 
This plan allows you to post up to 500 products on your site and provides you with up to 500 MB of SSD web storage. While you can make an unlimited number of sales on your site, the 500-item inventory limit and minuscule storage space limit how much you can grow your site by strictly using this particular plan.
Business
The Business plan is priced at £39.99 plus VAT a month, and it shares a lot of similarities with the Retail plan.
These similarities include the lack of an annual plan, the 0% transaction fees, the free SSL certificate, the priority UK support, and the unlimited number of online sales that can be processed.
You also get an unlimited number of staff accounts sо your employees can make changes to the site.
This plan also allows you to list up to 2000 products on your site and gives you access to 1 GB of SSD web storage. As the name of the plan suggests, it's indeed a better option for growing businesses than the previous plan, although the storage space can still be improved a bit.
The Business plan comes with all of the essential features that we've gone over, as well as the following additional features that weren't included in the Retail plan:
Bulk Email Newsletter Marketing

– This feature allows you to compose marketing email templates. These templates will be filled out with the account name that the customer left on your site, and it'll inform them of any deals, discounts, or coupons that they might be interested in. It's a simple but effective method of retaining a returning customer base by incentivising them with great deals.

Moderated Product Reviews

– Hearing an honest review from a fellow customer can be very reassuring to potential buyers. Naturally, this is only true of positive comments, and while some comments can get a bit too vitriolic, you have full moderator privileges, so you can remove some of the more angry comments at your discretion.
Loyalty Points

– You can create a system that provides your repeat customers with loyalty points that can net them special discounts or coupons. The condition for these loyalty points can be anything from buying a certain number of products to logging into the site for a certain number of days.

Product Finder

– Adding a search feature to your site makes it much easier for site visitors to navigate and find products that they like, which ultimately improves the overall user experience.

Store Locator

– If you have a physical store location, then you can easily point out the location to your customers by using the map feature. You'll be able to include the address, areal view of the store on the map, and pictures of the outside of the store.

Special B2B Prices

– You'll have access to B2B (business-to-business) specific features that allow you to create prices and discounts that are geared towards bulk orders from other shops and companies. You can even have a specific product category that's exclusively reserved for B2B purchases.

Individual Credit Amounts

– Certain companies and individuals can be granted special credit amounts on your site. You'll be able to set the limit yourself, and you can give each customer as much leeway on the payments as you like.

Assignable User Groups

– You can categorise your customers and their accounts however you want. This will allow you to keep things more organised and remember your customers based on the groups you've placed them into.

Fully Integrated Purchase Order System

– The purchase order system processes all of the transactions for you and sends them to your or your employee's accounts so that they can be approved or denied. This system streamlines product orders and keeps everything in the company moving swiftly.
Enterprise
The final plan Bluepark offers will cost you £59.99 a month plus VAT. Like with the other plans, there are no annual contracts for this plan either.
There are no transaction fees, you can process as many sales as you want on your site, and you have access to an unlimited number of staff accounts for your employees. The free SSL certificate is also included, as is the priority UK support.
This plan allows you to list as many products as you want on your site and gives you 2 GB of SSD web storage, which is a vast improvement from the previous two plans.
The Enterprise plan comes with all of the features mentioned in the Business plan, as well as the following perks that are unique to it:
Access to Quickbooks

– The Enterprise plan allows you to use

Quickbooks

to manage your internal accounting and business needs. This feature is available both as an online and desktop service that works even without access to the internet. It's simply a helpful tool that can give you a bit of help when it comes to crunching numbers and getting documents sorted out.

eBay Access

– Not only can you list all of your products on eBay, but you can also fully integrate both your store and all of your inventory into the online marketplace in question. This will allow you to advertise your products on a large platform and raise the chance that new customers will run into the products you're offering.

Multi-Shop eCommerce

– If you have multiple online shops on Bluepark, you can easily integrate them together and manage them all from a single point on your dashboard.

Automatic CSV

– All of your product and order dates will be organised into CSV files. They'll be automatically sorted, and you can pull them up whenever you need to. While this may seem like a small feature, it does wonders when it comes to keeping things organised, especially if you get a lot of orders per day.
Payment Options
Bluepark doesn't have its own dedicated payment gateway, but it does allow you to integrate all of the most popular payment options onto your site.
PayPal is obviously included on this list since it's most people's first choice for both domestic and international payments. You'll also be able to add Braintree, Stripe, Google Pay, and Apple Pay to your site, as well as some lesser-known gateways, like Klarna, Opayo, Worldpay, and many others.
While all of these gateways charge a set fee on purchase, you won't need to pay any transaction fees. For example, while PayPal charges 2.90% plus a fixed fee on each transaction, you won't get any additional charges aside from that.
Company Background
Bluepark was created in 2004 as a user-friendly e-commerce solution. It's now an established site-building platform that offers a variety of features and customizable solutions that have helped thousands of businesses grow.
The company is based in the UK and operates from an office in Witney, Oxfordshire. The company is by no means large, but it prides itself on good customer service and providing companies with an affordable way to create an online shop for their products. 
User Reviews
Bluepark has an overall score of 4.1 stars out of five on Ecommerce Gold, with the features, the support, and the hosting & performance getting the best scores.
Crozdesk gives Bluepark a score of 80/100 and speaks favourably about the features and the affordable plans.
The comments and reviewers on Trustpilot have similar views on the strengths of the platform, giving it an average of 4.8 out of 5 stars.
User Reviews
Review Summary
0.0 out of 5 stars (based on 0 reviews)
Recent Reviews
There are no reviews yet. Be the first one to write one.
Submit a Review