Payoneer is a payment processing platform that provides businesses and individuals with a range of payment solutions. Users can receive payments from all around the globe in over 150 currencies, and the platform is especially popular among freelancers as it's considered the best method for getting paid from clients worldwide.
Let's explore Payoneer in more detail and see what it offers. 

Payment Methods Available With Payoneer
Let's take a look at the various payment methods Payoneer offers.
1. Bank Transfer
There are two ways you can use bank transfer with your Payoneer account.
First, you can withdraw your funds to your bank account. 
Move money from your Payoneer account to your local bank account by following the next three simple steps:
Create an account with Payoneer if you don't already have one. Then add the data of your local bank.

After completing step 1, you will be able to receive payments from your customers and the marketplaces you use.

When you receive money in your account, you can withdraw them to your bank account.
The process is shown in the following image: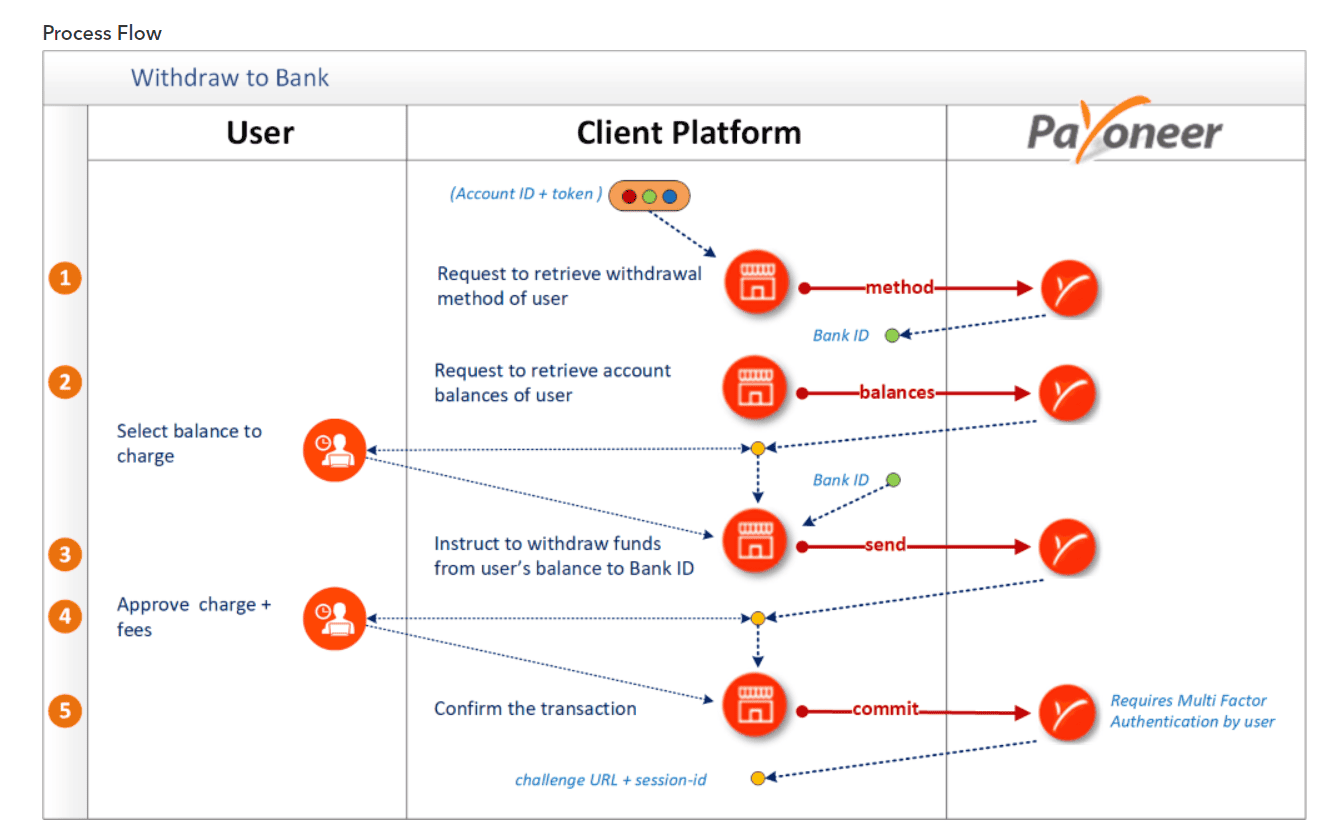 The second option is to pay your supplier from your Payoneer account to their bank account. 
You can make payments to business partners, suppliers, and contractors using the money available in your Payoneer account, by following the next three simple steps:
Create a new account with Payoneer, or login in if you already have one.

To make a payment, go to "Pay" > "Make a Payment" and select either a different Payoneer account or a bank account.

After you have entered the required information and checked the details, click the Pay button.
The process of making a payment from your Payoneer account to a receiver's bank account is illustrated in the following image: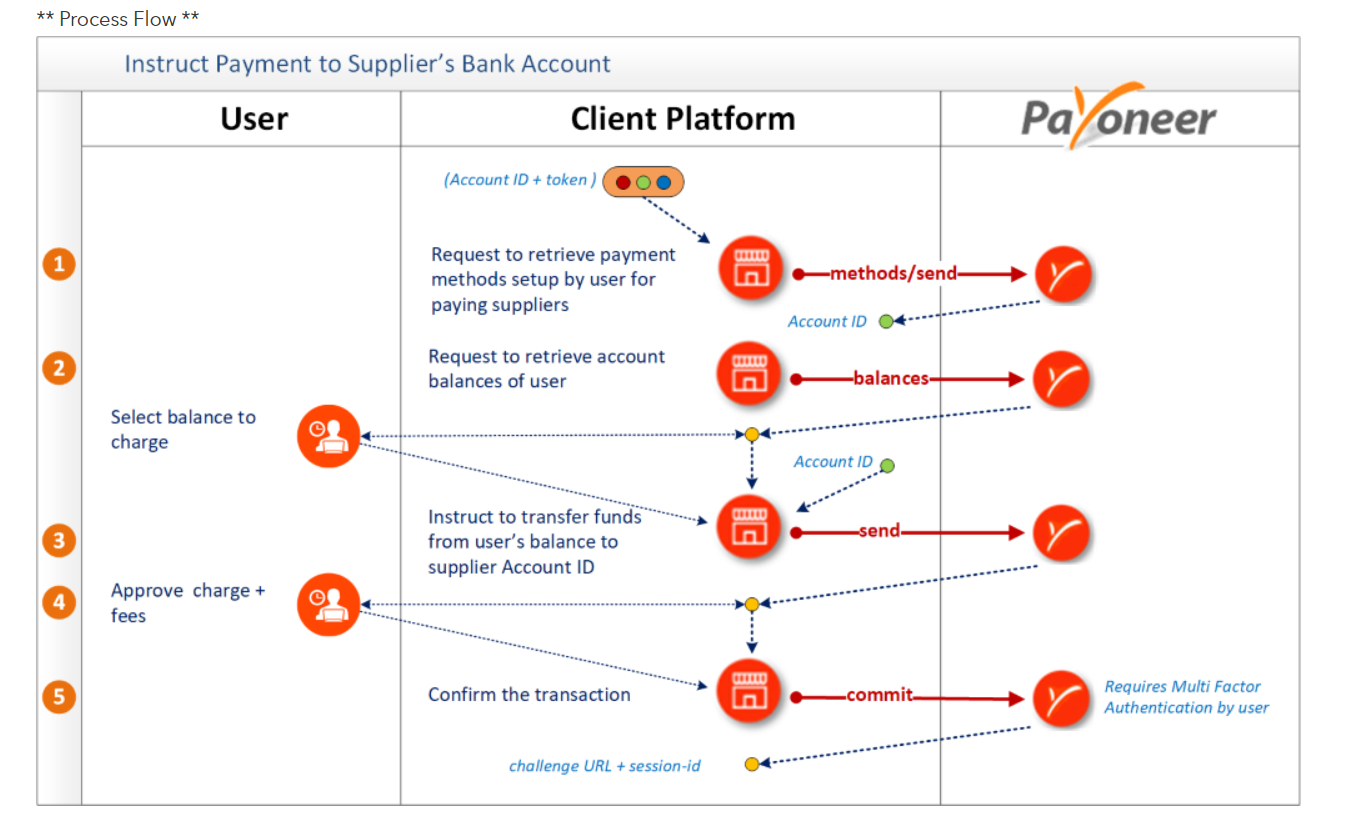 Lastly, the most common way to make a payment using Payoneer is from one Payoneer account to another. The steps are identical to those mentioned above. The process is shown in the following image: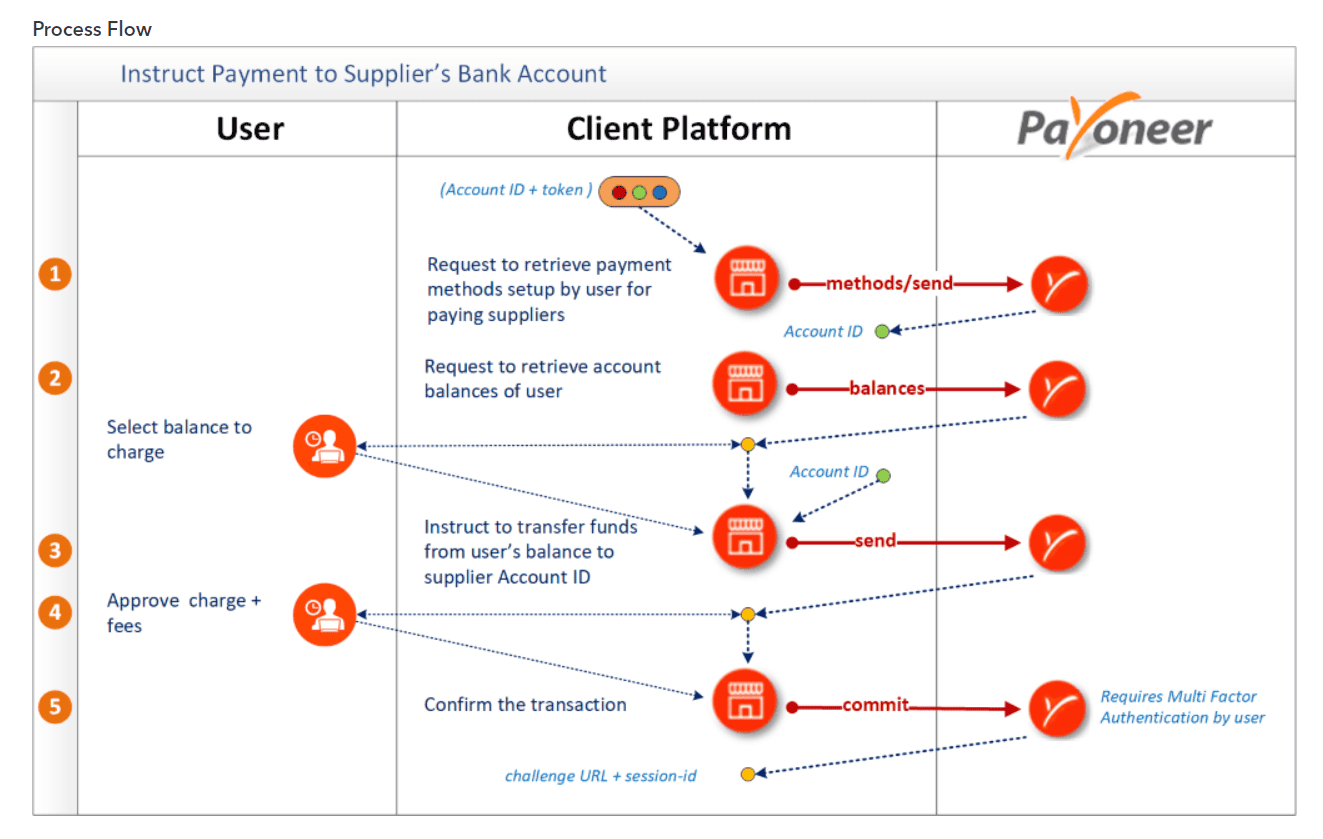 2. Payoneer Mastercard

After creating a Payoneer account, you will receive your Payoneer Master card, which you can use to withdraw funds from ATMs or pay at retail locations or online shopping sites that accept Mastercard payments.
3. Credit Card Processing
Payoneer Checkout simplifies the shopping experience for users no matter where they are in the world, offering a quick, simple, and secure method for merchants to provide their consumers with amazing shopping experiences. Payoneer is in a unique position to give the best-in-class checkout services since it's the industry leader in providing cross-border payment solutions for businesses.
Vendors all around the world put their faith in Payoneer's ability to rapidly and accurately handle their payment processing needs. 
Payoneer will assist you in managing the financial aspects of your organisation from beginning to end. Using Payoneer can help you accomplish everything more efficiently, from receiving payments to managing advertising and other expenditures.
4. eCheck 
You may send a payment request to clients located anywhere in the world with only a few clicks, and Payoneer will safely process whatever payment method they choose to use. Moreover, you can make sure you get paid on time by keeping track of all of your payments and setting payment reminders.
5. Mass Payout 
With the help of the Payoneer Mass Payout Account, businesses, organisations, and marketplaces may take advantage of a solution for making international payments that enables them to send money to a large number of recipients in more than 200 countries and in more than 150 different currencies.
Payoneer's selection of mass payout alternatives includes: 
Money loading onto prepaid MasterCard cards

Money transfers to local banks

Money loading into local eWallets

International checks

Management of tax forms

Working capital

Compliance and risk

Collection of funds
6. Global Solution
Without the appropriate resources, conducting business on a global scale can be difficult. If you use Payoneer, you can provide your customers with the option of paying with their credit card, a local bank transfer, or directly into their Payoneer account in the currency of their choice – globally.
Payoneer's worldwide banking network, which supports payments to more than 200 countries and territories in 150 different local currencies, enables you to contact payers no matter where they are located on the globe.
Prices/Fees
Payoneer has competitive fees and no additional charges. Let's take a closer look.
Getting Payments
Let's look at the fees associated with Payoneer's different payment methods:
Payoneer to Payoneer payments – free of charge.

Credit card transfers – 3% – 5% of the transfer amount.

ACH bank debit – 1% of the transfer amount.

Payoneer to a local bank account – 1% to 3.5% of the transfer amount.

eCheck payments – $1.50 to $10 of the transfer amount.

Mass payout fees – 1% to 2% of the transfer amount.
When you withdraw funds, some of the following fees will apply as well:
If your Payoneer balance is in USD and you withdraw money in EUR from EU banks, you can expect to pay a fee of up to 2% from the money withdrawn.

If your balance is in USD and you withdraw money in the same currency, you can expect to pay a fee of 1.5 USD per withdrawal.

If you have a USD balance and make a withdrawal from a USD bank account based in the EU, you can expect a fee of up to 2% per transaction.
The following image illustrates the above-mentioned fees: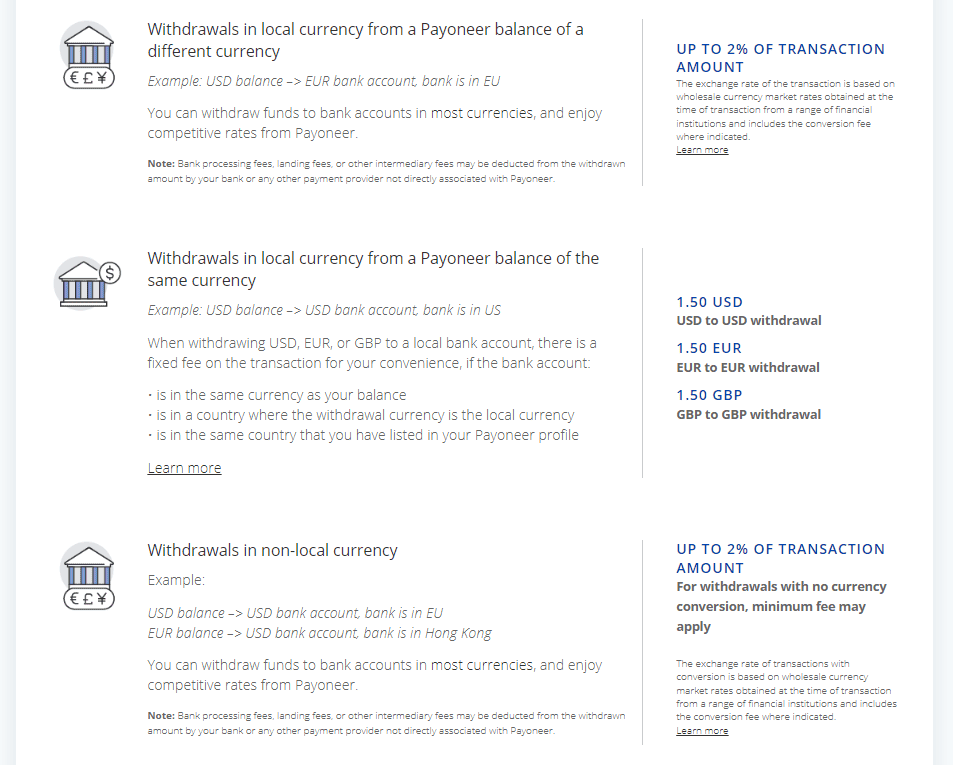 Next, we have fees associated with the Payoneer Master Card: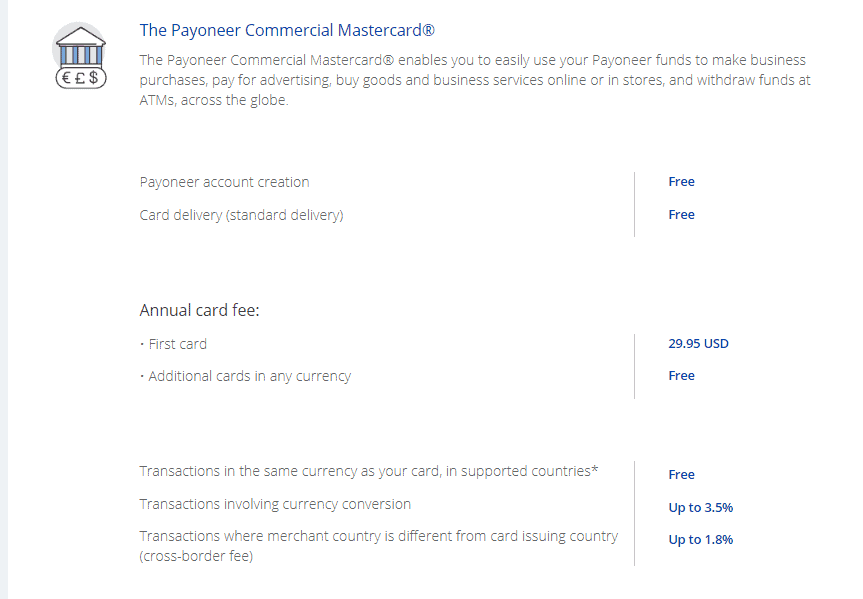 Lastly, we have fees that apply when you use an ATM: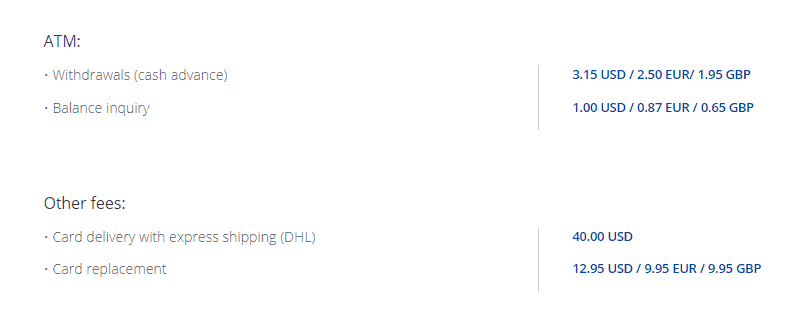 Making Payments
With Payoneer, you can make simple payments to your vendors and independent contractors, straight from the balance you have in your Payoneer account. 
The following fees apply when receiving payments:
Payoneer to Payoneer payments – free of charge.

Bank transfer payments – up to 2% per transaction.
Here are the fixed fees explained in more detail.

You can also make a payment via: 
A credit card – 3% fee. 

ACH bank debit – 1% fee (only available in the US). 

Local bank transfer – 1% fee.
Moreover, the following three fees are only applicable in the following cases:
1.Annual account fee
A fee of 29.95 USD will be taken from your account if you don't use your Payoneer card or account to make a transaction for a period of 12 months. You will never be required to pay this fee so long as your account is active.
2.Fee for managing currencies 
With the option to shift funds from one currency to another, you will be charged a fee equal to 0.5% of the amount that you have entered to transfer.
3.Escheatment fee
If Payoneer is mandated to escheat your funds, they will deduct a processing fee equal to the maximum amount that the state where you're from allows them.
The following link will direct you to the Payoneer website, where you can take a closer look at all the fees and costs.
Services
Payoneer provides its customers with the following services:
API
Payoneer APIs allows developers to integrate Payoneer payment services into their own applications and websites. This offers businesses a myriad of benefits without having to leave the website, such as:
Receiving payments

Managing payment requests

Managing mass payouts

Managing transactions

Checking the account balance 

Verifying customers' identities
Affiliate Program
By promoting Payoneer, you will receive compensation for each new user who uses your referral link to create a Payoneer account.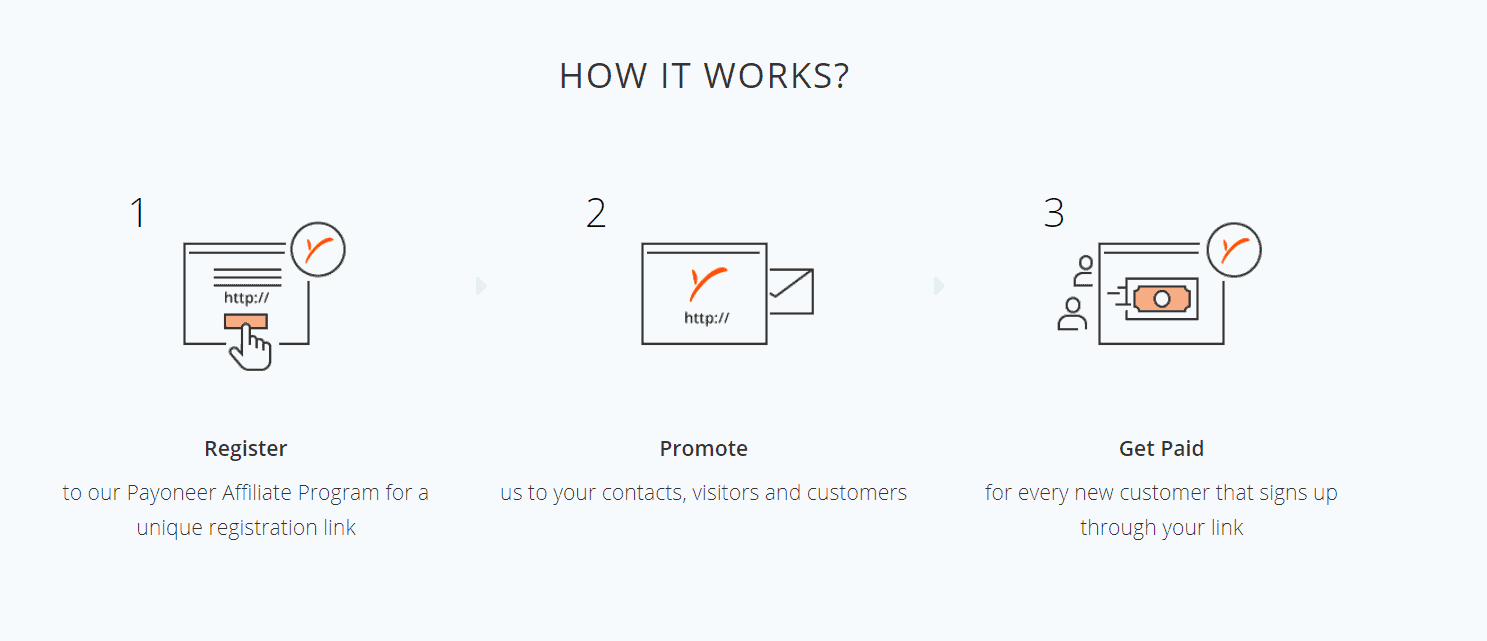 Integrations
Payoneers integrates with a plethora of websites and platforms, which include:
Payment gateways (PayPal, Stripe, 2Checkout, Skrill and others)
Ecommerce platforms (Amazon, eBay, Shopify, Wish, and others)

Freelance marketplaces (UpWork, Fiverr, Freelancer, Guru, and others)

Affiliate networks (CJ Affiliate, ClickBank, Rakuten, ShareASale, and others) 
On the following link, you can take a look at all Payoneer's partners.
Extra Care On Customer Support
Payoneer has 24/7 customer support and a community forum where you can get help from over 2 million Payoneer users.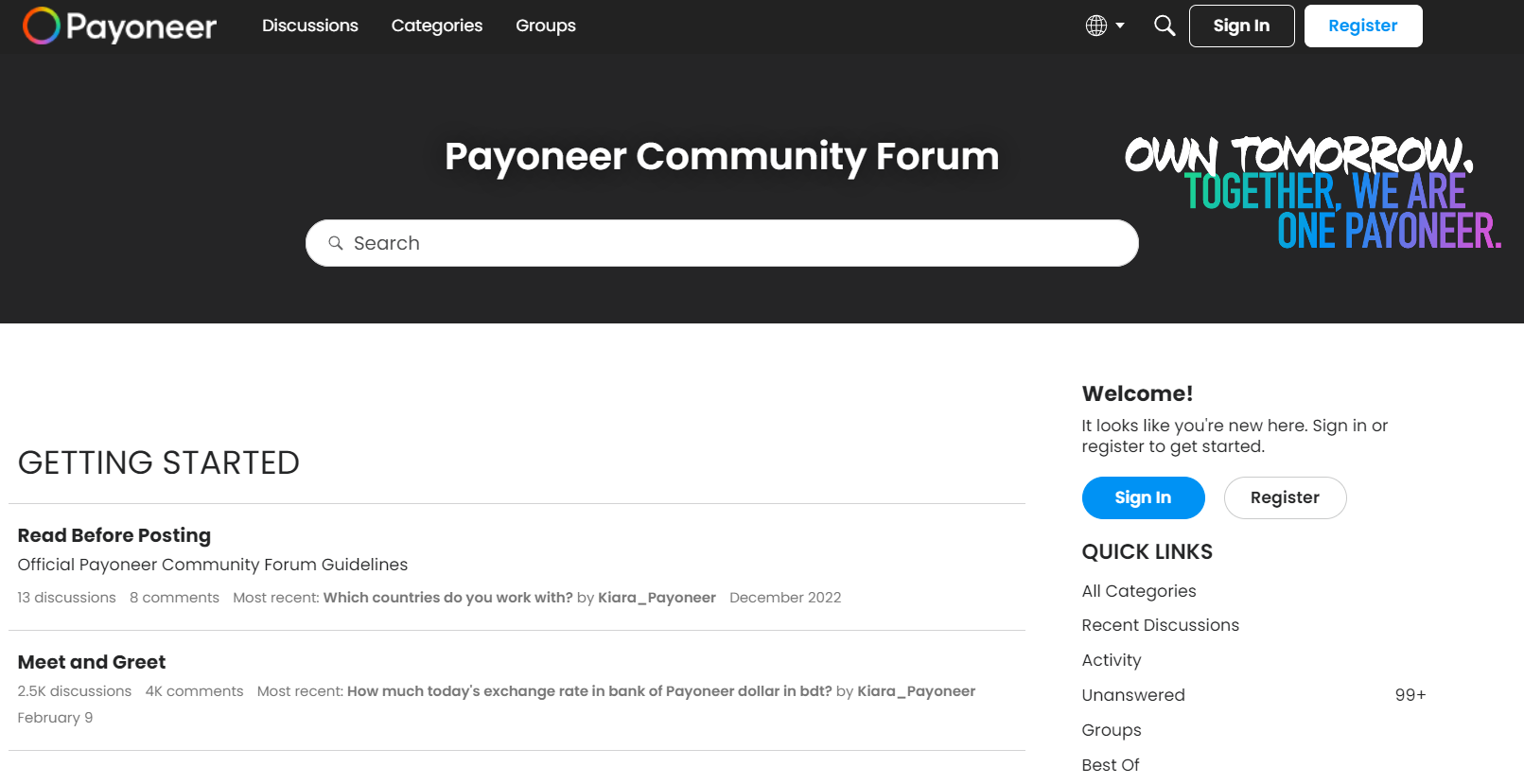 Company History
Payoneer is an American financial services firm that was established in 2005. It offers clients cash flow in addition to online money transfers and digital payment solutions.
Payoneer was established right when the world was beginning to transition into a new digital era and has been a trailblazer in this emerging market for the past 15 years. Payoneer is advancing new frontiers, establishing linkages, bringing disparate ecosystems together, and developing global ecosystems.
Payoneer has been recognised for its excellence by the following enterprises over the course of its history:

You can check out the latest Payoneer-related news on the following link.
User Reviews
Payoneer user ratings are as follows:
User Reviews
Review Summary
0.0 out of 5 stars (based on 0 reviews)
Recent Reviews
There are no reviews yet. Be the first one to write one.
Submit a Review