Founded in 2006, Adyen is a Dutch payment company focusing on allowing businesses to collect both e-commerce and mobile payments alongside point-of-sale payments.
With a headquarters in Amsterdam, Netherlands, the company is listed on the Euronext stock exchange under Euronext: ADYEN. 
The pair of founders, Arnout Schuijff and Pieter van der Does have a wealth of knowledge in payment processing thanks to the success with BiBit. As a result of previous endeavours, Ayden was given its name due to its meaning of "Start Again" in Sranan Tongo.
Prices/fees
Adyen offers a transparent pricing model with the company simply charging a processing fee plus a payment method fee on each transaction.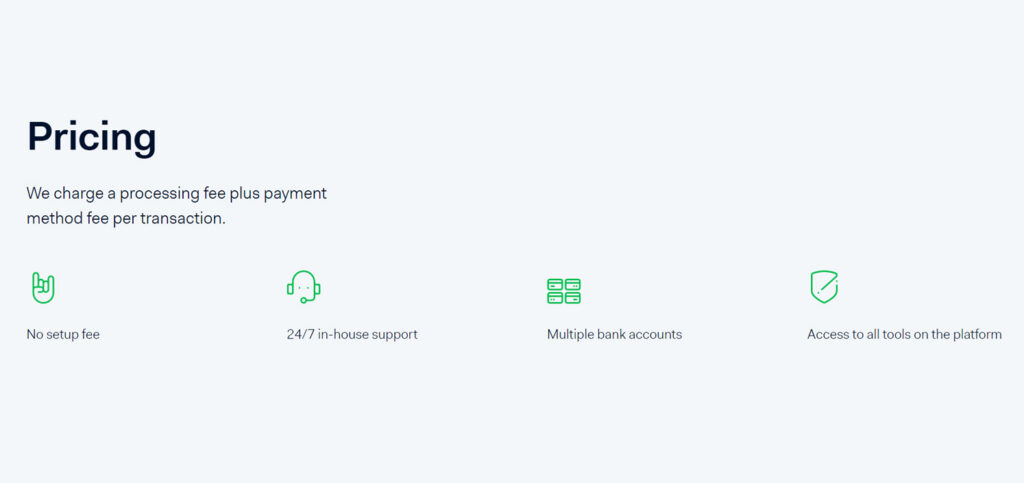 Unlike some of the main competitors in this space, there is absolutely no set-up fee and 24/7 support offered, all for the same price. For more information surrounding the pricing, the table below highlights the processing fee and payment method fee for a range of different available payment methods. 
| | | |
| --- | --- | --- |
| Payment Method  | Processing Fee | Payment Method Fee |
| Alipay | £0.10 | 3% |
| Amazon Pay | £0.10 | |
| American Express | £0.10 | 3.95% |
| Apple Pay | £0.10 | Defined by users |
| BACS Direct Debit  | £0.10 | £0.50 |
| Clearpay | £0.10 | 4.19% + 0.30 GBP |
| Diners Club | £0.10 | 3.95% |
| Discover  | £0.10 | 3.95% |
| Google Pay  | £0.10 | Defined by users  |
| JCB | £0.10 | 3.75% |
| Klarna Pay Later | £0.10 | 2.90% + £0.20 |
| Klarana Pay Over Time  | £0.10 | 4.99% + £0.20 |
| Maestro  | £0.10 | Interchange++ |
| Mastercard  | £0.10 | Interchange++ |
| PayPal | £0.10 | PayPal Contract  |
| Paysafecard  | £0.10 | 10-12% |
| Samsung Pay | £0.10 | Defined by user |
| Sofort | £0.10 | Physical goods: 1%, Digital goods: 2% |
| Trustly | £0.10 | – |
| UnionPay | £0.10 | 3% |
| V-pau | £0.10 | Interchange++ |
| Visa | £0.10 | Interchange++ |
| WeChat Pay | £0.10 | – |
| Zip | £0.10 | 4.25% |
Table: Transparent UK pricing from Adyen 
Product/service overview
The company offers a range of different solutions to businesses of varying sizes. 
The solution created by the company is designed to form a single platform that can be used to both accept payments and protect company revenue, all whilst keeping in control of finances.
Below, we will split the capabilities of Adyen into two parts. The products offered by the company and the features that accompany them. 
Products 
The products available from Adyen range from online payments and point of sale solutions to platforms and unified commerce. 
A full breakdown of each of the salient products offered by Adyen can be found below. 
Online payments 
The online payment solution offered by Adyen is one of the biggest selling points of the services offered by the company.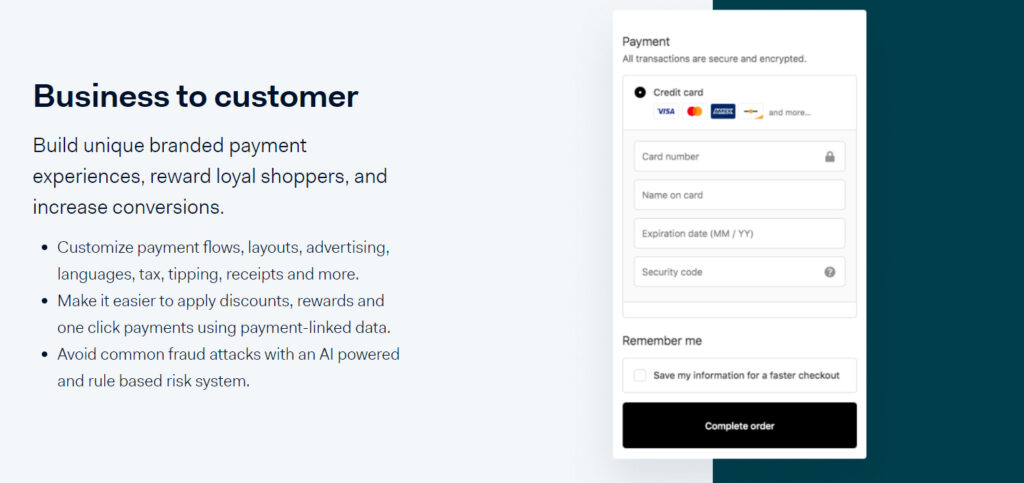 Adyen focuses its energy on an all-in-one solution that can be used to accept online payments from across the globe. Users are able to optimise their payments and, crucially, increase authorisation rates.
With a series of helpful dashboards, real customer data can be analysed and utilised for maximum conversions. This can be done with separate focuses on B2C, B2B and subscription services supported. 
Point of sale
The in-person side of sales is another area that Adyen excels with a range of fully-certified and PCI-compliant POS terminals.
The company boasts strong platform stability, designed not only for speed but for the quality of service. Similar to the online payment options, users are able to view insightful dashboards and find genuinely useful information that can be used to take the in-person aspect of their business to the next level. 
The list of payment methods available is vast, allowing customers to pay the local way. This helps small, local businesses thrive with local support that can be used to scale – regardless of location. 
Marketplace solutions for platforms 
One of the most impressive arcs offered by Adyen is the services offered surrounding marketplace platforms. 
With ever-evolving technology, a customer base can now sign-up, sell and get paid with everything taken care of by Adyen. Marketplaces that start small are given the tools to grow to a global scale, all whilst managing everything in exactly the same way. 
Payments can be accepted in a trio of ways when choosing the marketplace solutions with online, mobile and point of sale all covered. Users are also able to offer preferred payment methods and configure their own risk checks and settings from their account page. Risk levels are given as scores out of 100, giving a quantitive value of the risk level of each transaction. 
The pain points of onboarding, verification, compliance and regulation can also be outsourced to Adyen. Marketplace users can engage in several onboarding options before entering real-time KYC checks with live status updates and sanction checks.
Unified commerce
The unified commerce package offered by Adyen allows businesses to take an omnichannel approach to the next level.
Where a traditional omnichannel approach uses independent siloed systems, unified commerce allows for everything to be connected. This allows for valuable cross-channel insights, giving businesses the chance to become truly unified. 
The unified system allows businesses to connect their data for the best possible customer experiences by connecting both online and offline payments in a single system. This not only allows for the improvement in analysis, but aids in the generation of loyalty and helps to deliver flexible shopping experiences. 
Features 
The features highlighted by the services offered by Adyen are impressive, showcasing advanced tools and opening access to all companies. 
Features include global acquiring, several payment methods, risk management tools, revenue optimisation and customer insights that can be used to grow businesses. 
Global acquiring 
One of the most impressive features offered to businesses by Adyen is the services surrounding Global Acquiring. 
Businesses can take advantage of the system to expand into additional markets, offer further payment methods, and explore a range of advanced functionalities, all whilst focusing on a single provider.
The acquiring features are offered globally with locally sourced knowledge allowing customers from around the world to pay flexibility, the way that they want to. This is done with a fully transparent overview with an Interchange ++ pricing model (more on this a little further up the page). 
Payment methods
There is a long list of available payment methods that businesses are able to use when working with Adyen, allowing for a variety of options for customers. 
Businesses are able to easily add any of the supported payment methods to their checkouts, giving potential customers additional purchasing options. This is particularly good for global scaling with the ability to cater the checkout with popular local payment methods. 
The full selection of payment methods that can be added to the checkout of a business can be found at the Adyen site. The list includes popular examples such as Visa, Mastercard, American Express, iDEAL, Sofort, Alipay and countless others. 
Risk management 
The management of risk is vital when scaling any business, but the potential of fraud becomes one of the strongest threats when focusing energy online.
With Adyen RevenueProtect, businesses can put their best foot forward with the goal of blocking fraud, preventing disputes and keeping up to date with new fraudulent trends. With the advanced fraud technology and the customisable risk rules offered by Adyen, businesses can worry less about the safety of their company. 
RevenueProtect works with full customisation, allowing businesses to control the way in which they are notified, review the data and action chargebacks where necessary. These notifications are generated with the identification of abnormal customer behaviour using real, tailored data.
The level of risk extends further than just fraud prevention and different business models will find specific features designed to protect. Taking subscription and gaming businesses as an example, bespoke safety protocols can be found. Adyen will ensure protection from synthetic subscribers, potential card testing attacks and only accept those cards permitting recurring transactions.
Revenue optimisation 
Adyen's RevenueAccelerate allows businesses to unlock additional revenue by utilising data collected with artificial intelligence. 
The risk of an unsuccessful transaction can be dramatically reduced. Businesses are able to increase authorisation rates, reduce involuntary churn, lower payment costs and improve the overall customer experiences. 
Every single online checkout can be streamlined with the aim of optimising the revenue with a frictionless checkout process that resonates with customers. Shoppers are only required to authenticate their identity when necessary, massively reducing the potential for drop-off rates.
Different payment methods and issuing banks come with different technologies and risk preferences that can make online payment authentication tricky. With RevenueAccelerate, businesses will always send the correct payment data, ensuring maximum approval rates. 
Similarly, the routing of payments is optimised by Adyen, ensuring that each payment is made with access to the best performing routers available. This not only boosts customer experience with an efficient process, but intelligent payment routing ensures the best chance of payment authorisation. 
Customer insights
Businesses are able to gain insights into their customers with Adyen's Customer Area, giving access to real-time data.
Understanding the customer profile is one of the most powerful features offered by Adyen, allowing businesses to track and channel performance and view real-time payment behaviour. Once analysed, users are then able to customise their interface to compliment customer behaviour and increase conversions. 
The customer insight dashboard can also be used to address a handful of additional features available to businesses. Operations can be simplified with the understanding and simplification of cash flow, chargebacks and risk can be managed, data can be exported to third-party systems and payment terminals can be managed. 
Authentication
The issue of authentication is one of the most challenging areas of online payment processing.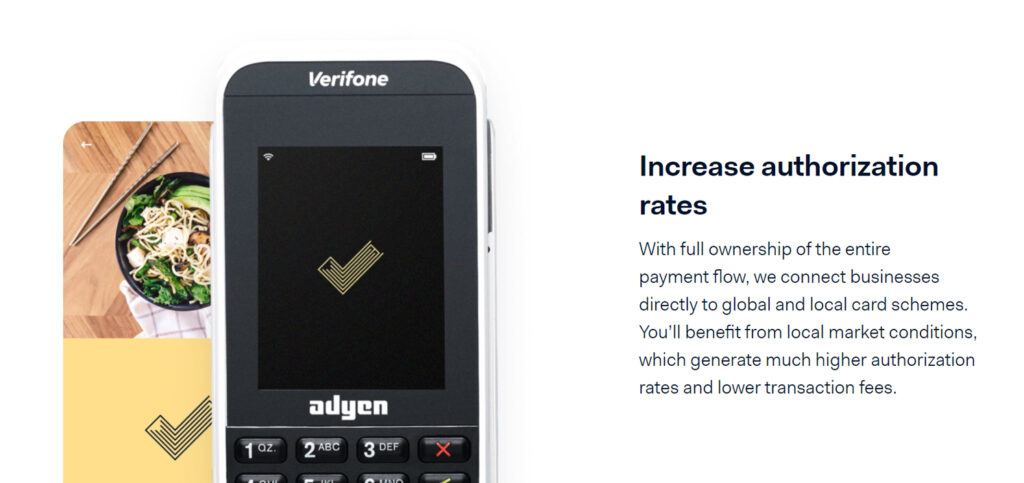 The payment landscape is adapting with different authentication requirements popping up globally, making it more difficult to accept payments online. Adyen 3DS2 helps by making authentication as simple as possible, allowing everyone to authenticate their payments when paying online. 
Adyen's sophisticated systems allow for transactions to be processed and routed in accordance with the regulation type, risk assessment criteria and any specific policies tailored to the business. The authentication engine not only helps to authenticate genuine payments, but prevent fraud with machine learning used to target abnormal behaviour.
Adyen offers a range of integration options, allowing businesses to benefit from full customisation when creating checkouts requiring authentication. 
Company background 
Founded in 2006 by Pieter van der Does and Arnout Schuijff, Adyen is a Dutch payment processing company focused on e-commerce, mobile, and point-of-sale solutions. 
The pair of founders had previous experience in the world of payment processing with the first venture, Bibit, which was ultimately acquired by RBS. In 2009, Adyen secured its first global enterprise merchant in Groupon, an e-commerce marketplace connecting businesses with customers via special offers and deals. 
The company earned its European acquiring license in 2012 before opening a number of additional offices in San Francisco, London, Paris and Stockholm. Adyen added point of sale (POS) to the list of services offered the same year. 
In 2017, Adyen obtained acquiring licenses for four new countries in Singapore, Hong Kong, Australia, and New Zealand. Following this, the Terminal API service was launched before one of the biggest steps of the company trajectory. 
Adyen announced and completed its IPO in 2018, trading as Euronext: ADYEN on the Amsterdam Stock Exchange (AEX). Most recently, the company reported that it has been responsible for processing more than €303bn during the 2020 Covid pandemic. This is the same year in which the company opened the Dubai office and acquired the licenses for both Malaysia and Puerto Rico
In 2021, Adyen obtained an acquiring license to both Japan and United Arab Emirates before obtaining their US branch license. 
User reviews from around the web 
Compared to some of the competitors in the payment processing industry, Adyen does not have a large number of online reviews.
Trustpilot – 1.9 / 5 (based on 55 reviews) 

G2 – 3.6 / 5 (based on 17 reviews) 

Capterra – 5 / 5 (based on 6 reviews) 

Trust Radius – 8.2 / 10 (based on 7 reviews) 
Overall, from the limited number of available reviews, Adyen scores an average of 2.64 / 5 from a total of 85 different independent reviews.
User Reviews
Review Summary
0.0 out of 5 stars (based on 0 reviews)
Recent Reviews
There are no reviews yet. Be the first one to write one.
Submit a Review