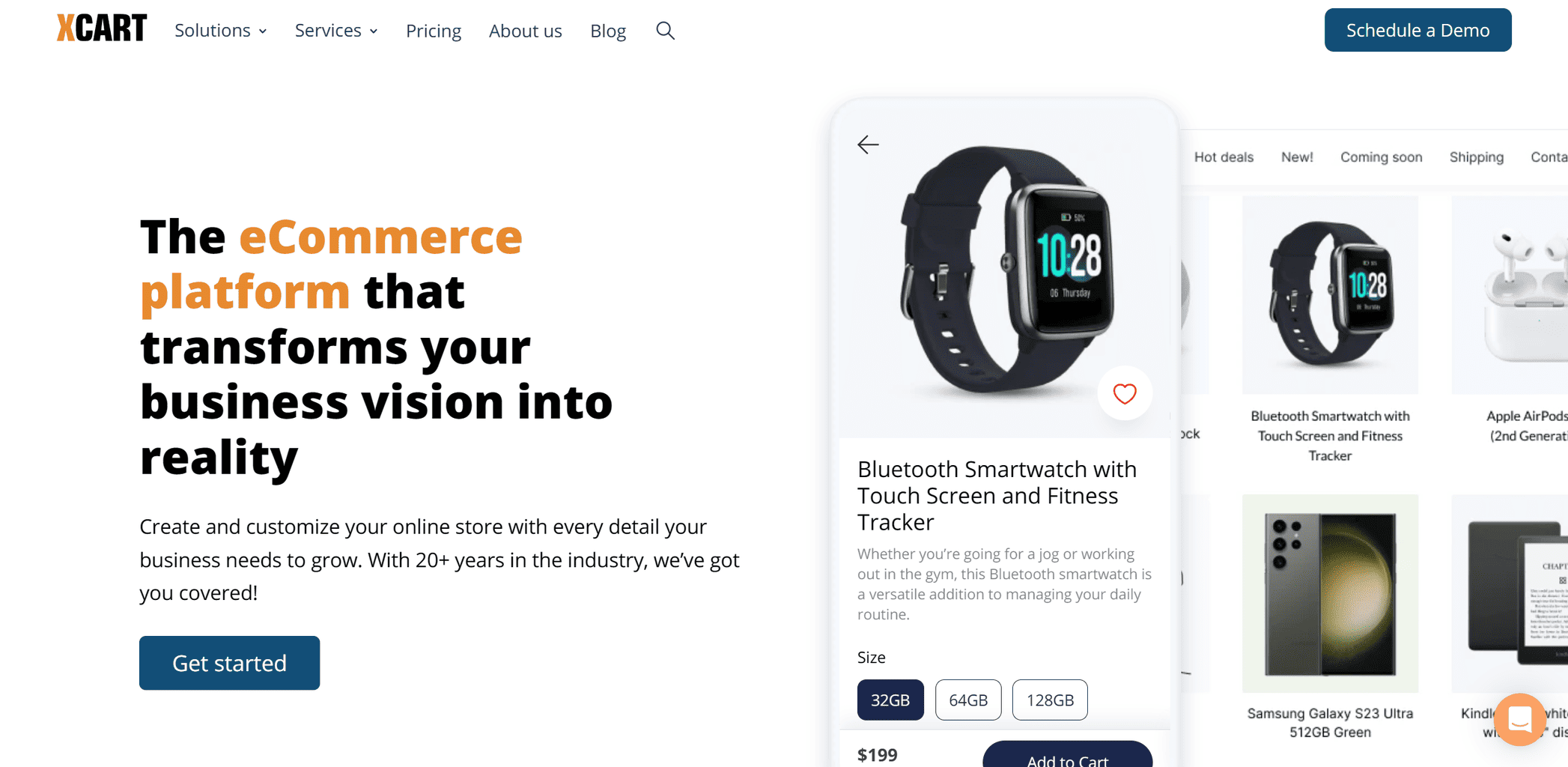 Having been in the eCommerce business for over two decades, X-Cart is one of the more experienced eCommerce platforms out there. 
A big selling point of X-Cart is the number of features that allow merchants to list and sell a large inventory of different products. You have bulk sale options, business-to-business discounts, subscription services, and many other great perks that we'll get into later on.
You're also provided with a large number of shipping services that you can add to your site to easily transfer your products both domestically and internationally, and with minimal delay as well.
The platform also comes with a month-long free trial that lets you experience the service before you make a decision on whether or not you want to commit to it.
Features
X-Cart comes with a plethora of great features that can help you improve every part of your business. We've compiled a list of what we consider to be the most important ones, so let's briefly cover them.
Design
Advanced Customisation Options – X-Cart gives the user full access to the API, HTMP, and CSS of the site. Anyone with any sort of programming know-how can tweak and alter the main elements of the page to better fit their requirements or tastes. 
In-House Developers – X-cart also has an in-house team of specialists that can design a site that's tailor-made to your descriptions. Not only are they experienced programmers, but they also specialise in working on this particular platform, so they know exactly what works and what doesn't in terms of design.
Customer Support – Even companies that have a large team of technical specialists might need a bit of help from time to time. X-Cart's team of professionals are always on standby and ready to take any questions that customers might have. Since they have so much experience dealing with their own platform, they're more than ready to resolve any issues that might happen.
Themes – X-Cart gives you a selection of more than 40 themes you can pick from. There are several categories and you can find multiple themes that fit with the type of products you sell. These categories include everything from car parts and tools to fitness equipment and hobby items.
There are several free themes that you can use, but the large majority of them are hidden behind a paywall. Additionally, the themes can be pretty costly, with most of them being between $99 and $150. You get quality for the steep price, but they're definitely not cheap.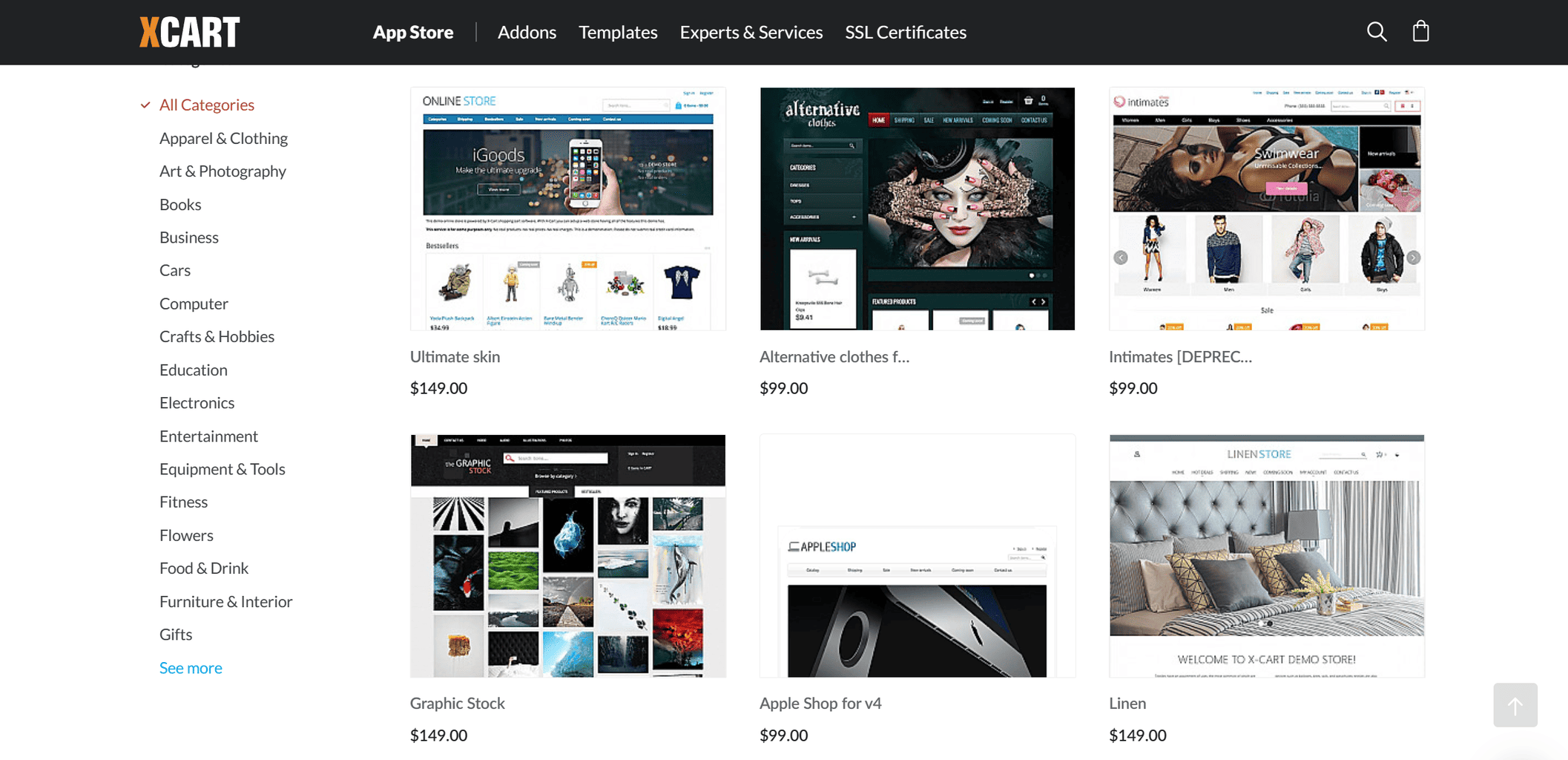 Templates – Similarly to the themes, the platform comes with 8 pre-built templates that fit a large variety of businesses. These templates allow you to design your site much more easily, even without any prior coding knowledge.
Additionally, you can still alter the templates however you want, so the final look of your site will always be to your specifications.
Mobile-Friendly Sites – All of the themes and elements on your site will automatically adjust to the screen that the customer is viewing them on. This will allow your site visitors to view your site and products on any device without having to worry about the text or the image sizes not adjusting properly to be visible.
Mobile App – The app will allow you to make changes to your site from either your phone or tablet. This is a particularly great feature if you're always on foot and don't spend too much time in your office.
You also get access to a mobile POS (point of sale) feature which allows you to perform card and electronic transactions through the app on your phone. This is a great feature if you have a physical store where you're selling your products.
Staff Account – You get access to an unlimited number of staff accounts, which means that you can give permission to as many people as you want to change aspects of the site. You can adjust the level of access you grant to each staff account so that certain employees only have limited control over the site.
Support – The X-Cart site comes with an entire page full of guides and tips on every aspect of the platform. You can consult any of these articles if you need help with any of the mechanics and you'll get a detailed step-by-step guide on how to implement all of the features that you might not be familiar with.
This is also a great resource when it comes to solving issues that you might be having on your site. You can always call the support team, but having instructions on what to do in case of certain recurring issues is also great.
Products
Shipping – The platform gives you access to the best shipping companies in the States. You can use site integrations to either use only one service or use several services for different purposes.
For example, USPS is great for small packages, UPS is a better option for larger packages or bulk orders, FedEx is costly but quick, DHL is the one you want for international shipping, and so on. You also have services like ShipBob, ShipStation, Shippo, and many others.
Regardless of your shipping policies or business practices, you can find and add the ideal service for the packages you want to send out, and for the service you're looking to offer to your customers.
Digital Courses – X-Cart allows you to sell digital courses, like fitness programs and online classes. You can list your services and their rates on your page, and add any additional information that you think might be useful for your customers.
Digital Products – You can list and sell everything from photos, music, and software to venue tickets on your site. Basically, if it's downloadable or streamable, you can offer it to your customers.
Notifications and Banners – Aside from the standard price tags and product descriptions, you can also add banners to your products telling your customers about ongoing discounts or informing them if a particular product is low on stock.
You'll also be able to send them email notifications telling them when a certain product is back in stock on your site and even giving your customers the option to immediately order that item.
Rental and Booking Systems – The platform has shared calendar and scheduling features that allow you to take booking requests online. You'll easily be able to schedule and organise the arrival and leave times of all of your visitors, and the features are just as good for multi-story hotels as they are for small motels.
B2B and C2C functionality – These features allow both business-to-business and customer-to-customer transactions. 
The first feature allows you to sell large bundles and create wholesale discounts for large purchases when you're selling to another company. The second feature allows you to create a visual marketplace on your platform where customers can interact with one another and make transactions between themselves.
Unlimited SKUs – SKUs or stock-keeping units are essentially virtual barcodes that are added to your products. These SKUs make product tracking as easy as possible and they allow you to keep track of exactly which products are still in stock and how many you have left.
Since you get an unlimited number of these units, you can go wild with the product purchases and you'll still easily be able to keep track of everything in your inventory. More specifically, the system will keep track for you, so you won't even need to lift a finger yourself.
Vendor Features – You can set as many vendors as you want for your products and manage them all from a single screen on your PC, tablet, or even phone. While this is a great feature in and of itself, you'll also be able to automatically manage the vendor income.
You can sort all of the payouts manually if you want, or set commission rates and simply have the income sort itself out.
Delayed Payments – Affirm and PayPal Credit are both available integrations for the platform. You'll be able to provide your customers with payment options that'll allow them to pay off any expensive products through several instalments rather than all at once.
You'll also be able to choose between several cr options that you can make available. For instance, you can make the max number of payments 4 or 6, or you can limit the number of months that the payment can be delayed by.
Tax Calculator – The automatic sales tax calculator makes sure that your customers know the exact price of the product that they're getting, as well as ensuring that all of your sales numbers are correct. 
Marketing
Subscriptions – There are two types of subscription services you can add to your site. 
The first subscription service allows your customers to sign into your site and buy your digital products or online courses.
The second subscription service is used for providing your customers with special prices of products exclusive to subscription holders.
Regardless of which type of service you need, they're both a great way to generate continuous revenue through the site and gain loyal customers.
Discounts and Coupons – Aside from subscriptions, you can also give your customers special prices by generating your own discounts and coupons. These can be sent through email and used on the checkout page, or you can simply post any ongoing sales on the product pages directly around the products themselves.
You can even set certain discounts and coupons to apply to products at checkouts, making it even easier for your customers.
Google Analytics – SEO tools are essential for growing websites. Google Analytics will tell you everything you need to know about the state of your site, the average ranking you get on search engines and other important elements.
You'll be able to track the average discoverability of your products with and without keywords in the product descriptions. You'll also be able to see current trends and perhaps take advantage of them to boost your numbers.
General Analytic Tools – Mixpanel, Hotjar, and Kissmetrics are only some of the analytics tools that you can add to your site. They'll give you accurate numbers on things like the number of daily visitors, the average number of sale transactions per day, the most sold products, and so on. 
These simple extensions can tell you which parts of your site and which products are the most popular so that you can focus most of your efforts on either improving them or emulating them in the other elements of the site as well.
Ads – The platform allows you to integrate and use online advertisement options, like Facebook Ads and Google Ads, along with a few others. These can help you get your name out there and show off some of your products to attract potential buyers.
Newsletter and Email Marketing – Creating a newsletter that gets automatically sent to your customers is a good way to advertise some of your products or services. The process is entirely automatic after the newsletter is crafted, and it's a simple way to get some potential return customers.
Social Media Integration – You can link your site to your social media accounts. All of the most popular options are present, and you can add links to Instagram, Facebook, TikTok, Youtube, and other platforms.
Abandoned Shopping Cart – This feature has two elements. The first part is the saved products in the cart. Essentially, if a customer selects a product but doesn't go through the checkout, then that same product is saved and stays in the cart on their account until they finish the transaction or remove it. 
The second part is the email that gets sent to the customer reminding them that they have a product still waiting for them when they log back onto your site. This is arguably a very simple tool, but an incredibly useful one for both the site and the customers that are using it.
Multiple Currencies – The product prices on your site will automatically be converted into the currency of the country that your customers are from.
Customer Reviews – Adding a review page to your site is a good way to increase customer interactions and activity. It can also motivate potential customers to buy a product if they see a positive review from an unbiased former buyer.
Prices/Fees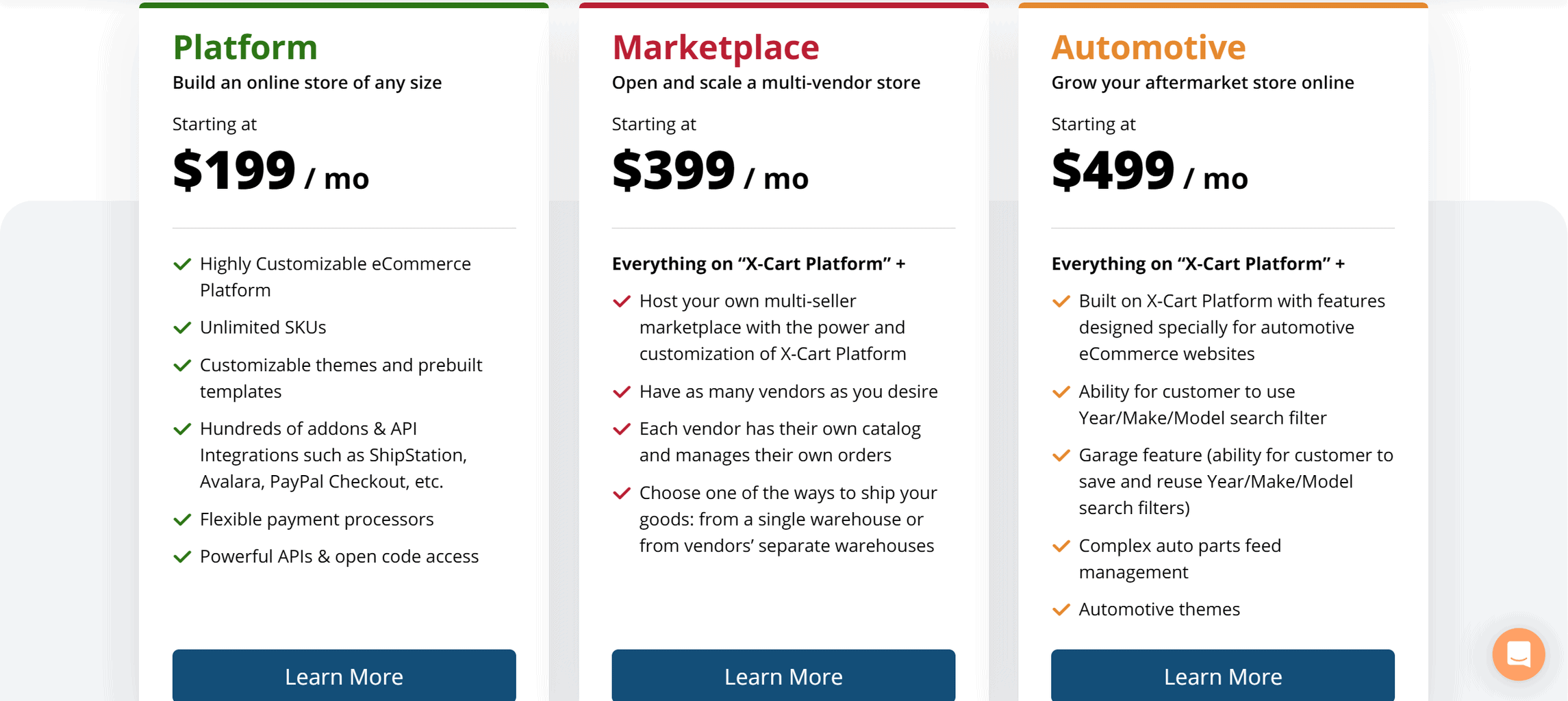 X-Cart comes with 3 different pricing plans, known as Platform, Business, and Automotive plans. They all have their own benefits, but they all share the features that we went over just above.
Additionally, all the plans have starting prices, but you'll need to talk to a company representative to get an accurate quote.
On the one hand, not knowing how much exactly you need to pay makes it difficult to make a decision on whether or not the service is in your budget or not. On the other hand, getting a quote allows you to specify the exact features you're looking for, so the plan is much better suited to your business needs.
You can also get a 30-day free trial that provides you with all of the benefits of the Platform plan and lets you see what the platform can provide before you get a full-time plan.
Platform
This plan starts at $199 a month, and it's the most basic option in terms of features.
That being said, you still get all of the site design features that we mentioned above, which includes the 40+ themes, the in-house developers and the code access that allows you to change any aspect of the site manually.
You also get to use an unlimited number of SKUs on your products, and you can use all of the extensions and add-ons that the platform has an agreement with. These extensions also include all of the different payment gateways that we'll discuss a bit further down in the article.
The unlimited number of SKUs also means that you can have as many items in your shop as you want and that inventory space will allow. This is very helpful when you combine it with the B2B and B2C features that allow you to sell your products in bulk.
You can also set your own shipping rates and provide discounts on large purchases, which is especially useful when dealing with other businesses that want a continual supply at the cost of a more reasonable rate.
Additionally, X-Cart staff will also help you with site migrations whenever or if you ever want to move your site to a different hosting service or if you want to change your domain.
Marketplace
The Marketplace plan will cost you $399 a month, and it comes with all of the features we've mentioned so far.
This is the plan for businesses that deal with a lot of vendors for their products. You'll get all the tools you need to check and approve the vendors you want, as well as management tools that allow you to organise everything from a single menu.
You can also have as many vendors for your products as you want, and each vendor will be allowed to have their own catalogue and manage their own orders. 
Additionally, you'll also be able to choose how you ship your goods to your customers. You can choose to ship them either from a single warehouse or from your vendor's separate warehouses.
Buyer-seller messaging features are also available in this plan, so you'll be able to put your customers directly in contact with members of your team that can take their orders or try to solve any issues they might be having with the site or the products.
This plan also comes with Stripe Connect as a payment gateway, as well as special marketplace rates through PayPal.
Automotive
The final plan on the list starts at $499 a month and comes with all of the features from the two previous plans.
As you might have guessed by the name of this plan, it's mostly geared towards sites that sell cars and car parts. It comes with a lot of custom templates and themes specifically designed for such businesses, as well as a lot of useful features that can help your customers find the exact part or car they're looking for.
For example, you can add search options to your site that allow you to sort the items by year, make, and model. This makes going through your inventory a lot easier and more intuitive, ensuring that your customers will find the part that they're looking for (if you have it, that is).
You'll also get many tools that allow you to create much more complex catalogues for your items, and millions of specialised SKUs. This will allow you to categorise and keep track of all of your products. This is a lifesaver when dealing with so many specialised items, all of which have very small distinctions, but all of which need to be labelled properly.
This plan also uses something called SEMMA data. The Search Explore Modify Model Asses system essentially creates models that tell you about potential fraud risks, customer retention methods, bankruptcy forecasting, and a lot of other things.
SEMMA is basically analysis software on steroids that gives you tips on how you can run your site better.
Payment Options
X-cart offers a number of different payment gateways that you can add to your site. The most popular ones include PayPal Checkout, Google Pay, Apple Pay, and Stripe.
Google and Apple Pay are different in a lot of ways, but they're both geared towards quick and easy checkouts through phones. Adding both to your site allows you to accept payments regardless if your customers are using an Apple or Android device.
Paypal is obviously a popular choice for online payments. They accept payment from anywhere, the same payments arrive after a single day, and the gateway has great security so you know that your customer's data is safe.
Stripe is a similar payment option to PayPal although it's slightly less well-known. They have excellent security as well, and they're steadily growing in popularity as a payment option.
Company Background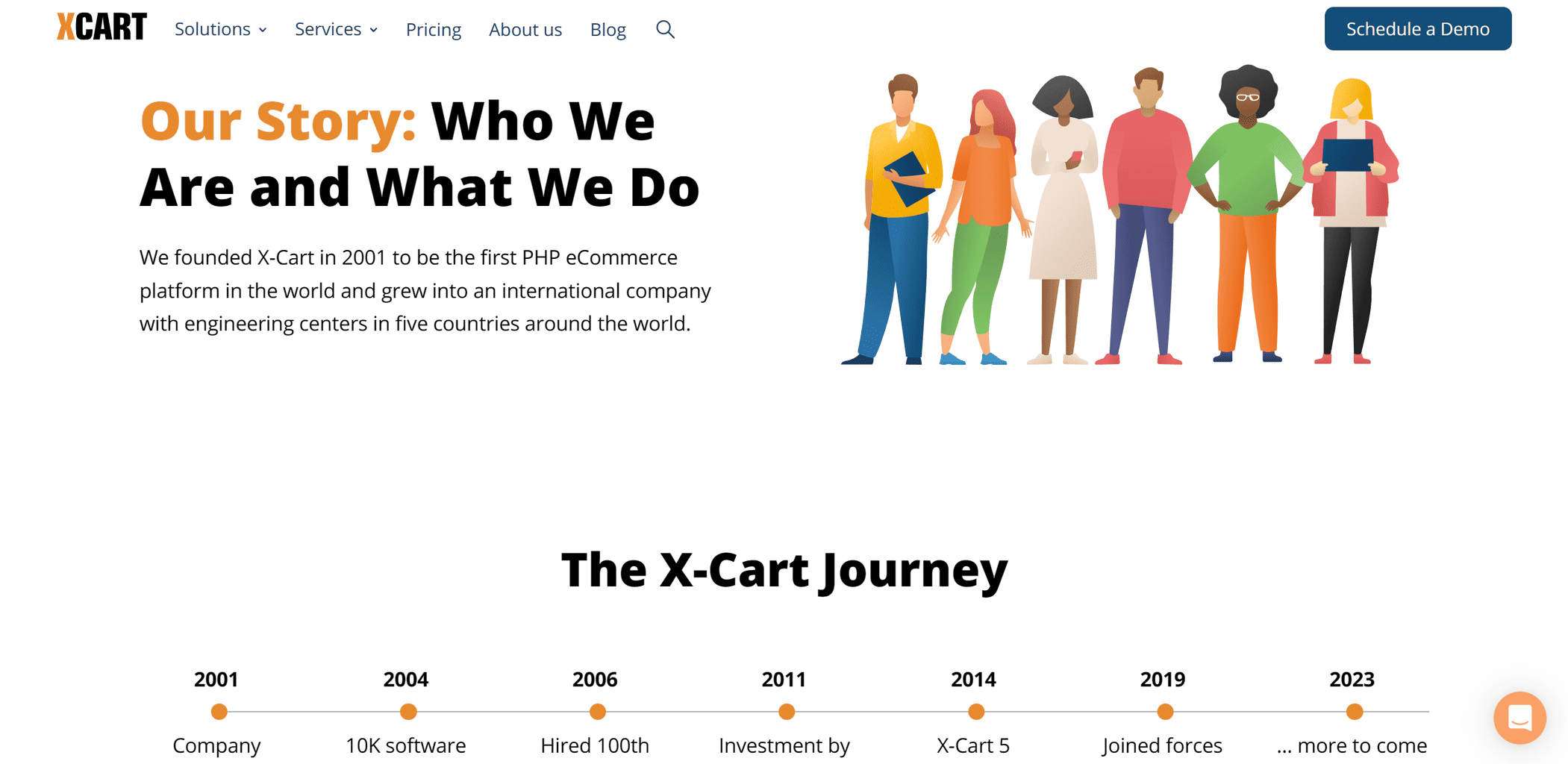 The company was founded in 2001, so it's been in the eCommerce business for well over 20 years now.
In two decades, the platform has spread to more than 111 countries around the world, has helped merchants open and run more than 40,000 online stores, and has opened offices in 5 different countries.
X-Cart currently has offices in more than 40 locations and employs over 200 people, all of whom work every day to improve the platform in any way possible.
User Reviews
PCMag gives X-Cart a 4 out of 5 stars and points to the extensive features and the 30-day free trial as some of the most pronounced positives of the platform.
Merchant Maverick is slightly less positive with its reviews and only gives X-Cart 2.5 out of 5 stars, with the non-transparent pricing and the lacklustre customer support being singled out as the worst aspects of the service.
And finally, G2 gives the platform 4 out of 5 stars, with most of the customers having a vastly different experience and actually praising the customer support as opposed to the Merchant Maverick reviewers.
User Reviews
Review Summary
0.0 out of 5 stars (based on 0 reviews)
Recent Reviews
There are no reviews yet. Be the first one to write one.
Submit a Review