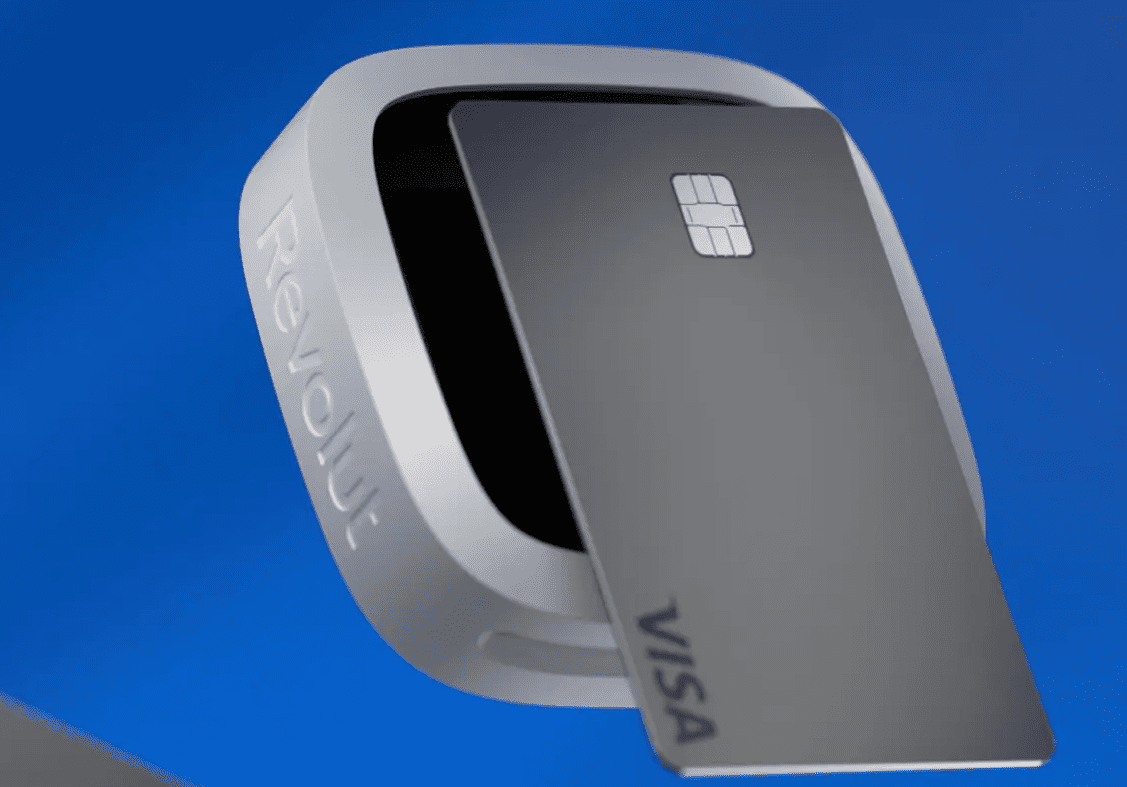 The Revolut Reader is one of the newest readers on the market. It comes from Revolut which is best known for their business bank accounts.
The reader itself is rather basic, but benefits from offering some of the lowest fees on the market.
Revolut Reader Features
Simple, pay-per-transaction pricing (see below)
Access funds the next day
Accept credit and debit cards along with Apple Pay and Google Pay
Create a catalogue of all your products to ring through customer carts
30-day money back guarantee
Integrates with Nobly POS
Revolut Reader Cost & Monthly Fees
The Revolut Reader itself costs £49 (+VAT).
But to get a Revolut reader you also need to have a Revolut business bank account. Fortunately the basic account is totally free.
Revolut Reader Transaction Fees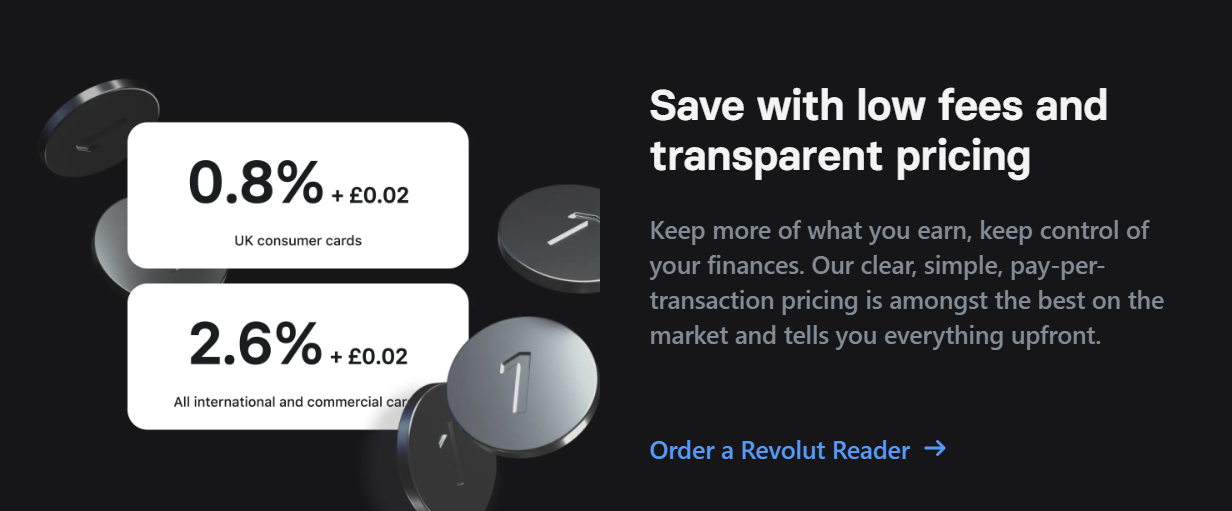 The main benefit of the Revolut reader is that the transaction fees are substantially lower than some of the competitors. Here are they are below:
UK Consumer Cards (in-person): 0.8% + £0.02
International & Commercial Cards (in-person): 2.6% + £0.02
UK Consumer Cards (online): 1.0% + £0.02
International & Commercial Cards (online): 2.8% + £0.02
Revolut Reader Contract
The Revolut reader does not require a contract, but you do have to remain a Revolut business banking customer.
Revolut Reader Addons & Accessories
At the current time the Revolut Reader is pretty basic with no addons beyond being able to integrate with Nobly POS. If you need advanced features like printers, bar code scanners, etc you're probably better off with a different machine.
Revolut Reader Summary
Revolut Pros
Low transaction fees of just 0.8% + £0.02 for UK consumer cards
Access funds the next day
30-day money back guarantee
Revolut Cons
Only available if you have a Revolut Business bank account
Only offer 1 basic model
High rates for International & Commercial Cards
The Revolut reader is a nice low-cost option to get started accepting payments, especially since the Revolut business bank account offers a lot of additional benefits. However, limited addons and accessories means it won't be right for businesses that need more advanced features and functions.
Visit the Revolut Reader website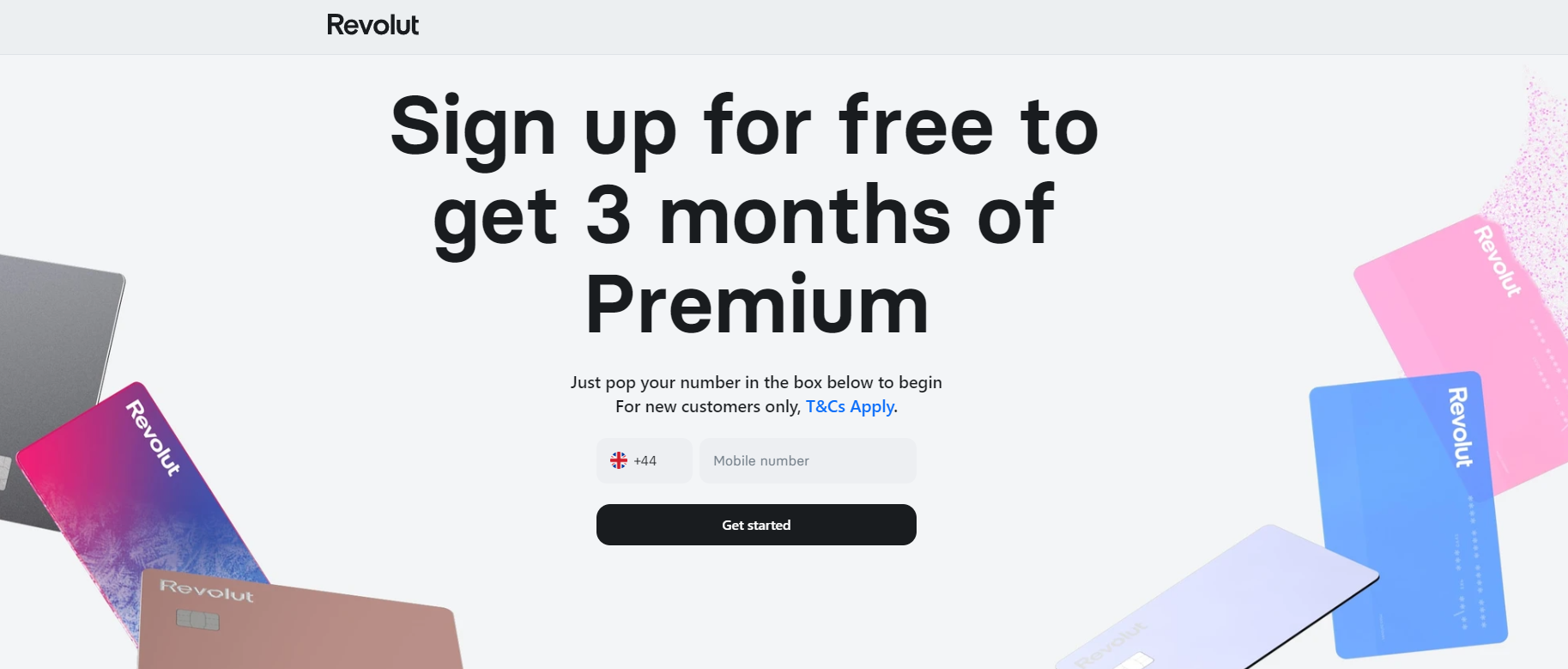 Key Features:
Monthly fee: Free
UK Card Purchases: Free
ATM withdrawals: 2% fee
Bank Transfers: 5 free (£0.20 after)
Overdraft: No
Access: App & Online
Protection:
FSCS protected: No
FCA regulated: Yes
Pros
Hold and exchange 25+ currencies
24/7 support
Free transfer to other Revolut accounts
IBANs for global transfers
Local accounts in GBP & EUR
Ability to Accept Payments
Ability to buy and hold crypto with your account
Cons
Not FSCS protected
2% fee to withdraw cash
Premium features only come with paid plans
Revolut is a UK-based financial technology (fintech) company that offers banking services to both individuals and businesses from around the globe. It was founded in the United Kingdom in 2015 and expanded its operations to the United States in 2020.
Revolut doesn't conform to the standard model of a traditional bank account. This financial app is used by almost 20 million users to make payments, receive payments, convert currencies, and buy and sell cryptocurrencies, among other things, and it's expected to expand its offerings in the coming years.
Anyone looking for a centralised app to handle various financial services will find that Revolut is an excellent option to consider. Because it provides its premium clients with various incentives relating to travel, it's also an excellent choice for frequent travellers.
Prices/Fees
Revolut offers the following four pricing plans:
1. Standard
The Standard plan is the basic, free version. You can benefit from having a Standard account if you want to save costs while travelling internationally or manage your budget with the help of our integrated budgeting features.
2. Plus 
The Plus plan costs 2.99 GBP per month.
With it, you can improve the way you manage your day-to-day money and gain more value for your money while spending less than the price of a cup of coffee.
3. Premium
The Premium plan costs GBP 6.99 a month and includes additional benefits, like travel insurance, higher ATM withdrawal limits, and the ability to create virtual cards.
4. Metal
The Metal plan costs 12.99 GBP per month. You will unlock the full potential of using Revolut and get 3% interest paid daily on savings, cashback, low-fee cryptocurrency trading, and more. 
Subscription and adding money to your balance
Adding money to your Revolut account is free. Nevertheless, if you add money to your account using a card that was not issued inside the EEA (The European Economic Area) or a commercial card, Revolut will charge a modest fee.
Card fees
Before you buy your card using their app, Revolut will outline the costs associated with it.
The first Revolut card is free; after it expires, each replacement card will cost you £5. In both cases, a delivery fee applies.

Users of the Plus, Premium, and Metal Revolut plans can create custom cards, which are subject to fees accordingly. 

The cost of a Special Edition Card single card changes from edition to edition, plus a delivery fee applies.

For a Revolut Pro Card, you can get an estimated price upon request plus a delivery fee.

Virtual Revolut Cards are free of charge.
ATM Withdrawals
Revolut offers ATM withdrawals that are free up to a certain limit, which depends on the plan you use.
For Standard and Premium plan users, a minimum charge of £1 is needed for each withdrawal, and this cost is equivalent to 2% of the amount that is withdrawn.

Metal plan users that have a Basic Bank Account are allowed to make withdrawals at no cost and without any limits at any time.
Making Payments
When you use Revolut to send money/make a payment, the following fees will apply:
Free money transfers to other Revolut members anywhere in the world.

Paying for things locally is free if payments are made and received in your country's native currency.

Free and easy payments between members of the Single European Payments Area in euros and conducted on accounts located outside of your nation but still within the

SEPA

.

When making card transfers from a Revolut to a non-Revolut card, there's a charge that applies. Before you go ahead and authorise the payment, the app will provide you with a real-time calculation of this cost. 

There is a cost associated with making international payments. Before you complete the transaction, the app will provide you with a real-time calculation of this cost. This applies to any payment made across international borders that's not conducted within the Single Euro Payments Area.

Both the Standard and Premium plans contain additional costs for payments that are more than 1,000  pounds for the Standard plan and 5,000 pounds for the Premium plan.
Revolut Pro Account
The following costs apply to users of the Revolut Pro account:
Revolut Pro Payment Processing Fees of 2.5% for online payments and 1.5% for payments made via Card Reader.

A chargeback request might be made by one of your customers if they disagree with one of your transactions. If the chargeback is approved, the transaction will be reversed and a chargeback fee will be assessed to your account. The chargeback fee adjusts based on the currency that was used in the first transaction.
Exchange
When you initiate a transaction with Revolut, you'll see the complete cost with the actual exchange rate; they add a tiny, fair exchange charge applicable to trades in precious metals, monetary currencies, and cryptocurrency.
If you go above the limit on any of your exchanges, you will be subject to a cost called an exchange fair usage fee. Every one of Revolut's plans waives the exchange fair use fee for at least one thousand pounds worth of currency conversions every calendar month. After that, however, you will be subject to an exchange fair usage fee of 1.0% for the Standard plan and 0.5% for the Plus plan. You can avoid this by subscribing to the Premium or Metal plan.
Crypto Fees
Users of the Standard and Plus plans will be charged a fee that's either 1.99% of the value of their cryptocurrency transaction or the currency equivalent of £0.99, depending on which is bigger. The amount of this minimum charge is calculated depending on the currency used in your country of residence.
Service Charges for Processing Payments with Revolut Pro
The following Revolut Pro payment processing fees apply to Revolut Pro Card users:
2.5% fee of the total amount paid, applicable for online payments.

1.5% fee of the total amount paid, applicable for payments made offline using the Card Reader.
Refund Associated Fees
Your customers can send you a refund request. If the refund request comes through as valid, you will also pay a cost associated with the dispute. This fee adjusts based on the currency that was used in the first transaction, as follows:
AUD 30, CHF 20, USD 20, CAD 25

EUR 15, DKK 130, GBP 15

HKD 150, NOK 200, JPY2000

NZD 30, SEK 200, PLN 80, ZAR 350
Services
Bank accounts in GBP, EUR, and other currencies, currency exchange, debit cards, stock trading, and cryptocurrency exchange are just some of the financial services that you can find on Revolut's website.
All Revolut services are as follows:
Budgeting and analytics

Lounge and smart delay

International transfers

Currency exchange

Revolut Shopper

Revolut under 18

On-Demand Pay

Pet Insurance

Subscriptions

Commodities

Saving vaults

Revolut Pro

Early salary

Donations

Payments

Rewards

Lifestyle

Pockets

Security

Gifting

Wealth

Crypto

Stocks

Vaults

Shops

Stays

Cards
You can use the Revolut mobile app to withdraw cash from an ATM, make purchases, and send money in 29 different currencies.
Card 
Except for delivery fees, the Revolut debit card is completely free.
A Revolut card can be a Mastercard or a Visa, depending on the nation you're in. In the United Kingdom, you'll be sent a Revolut Mastercard, in the United States, however, clients can choose between a Mastercard or Visa.
The Revolut card allows you to load funds from a debit or credit card directly through the app.

Revolut Stays 
With Revolut Stays, you can enjoy a 10% cashback on your hotel bookings anywhere on the globe. You can also book your stay without a charge, and pay after you arrive at your hotel. 
On-Demand Pay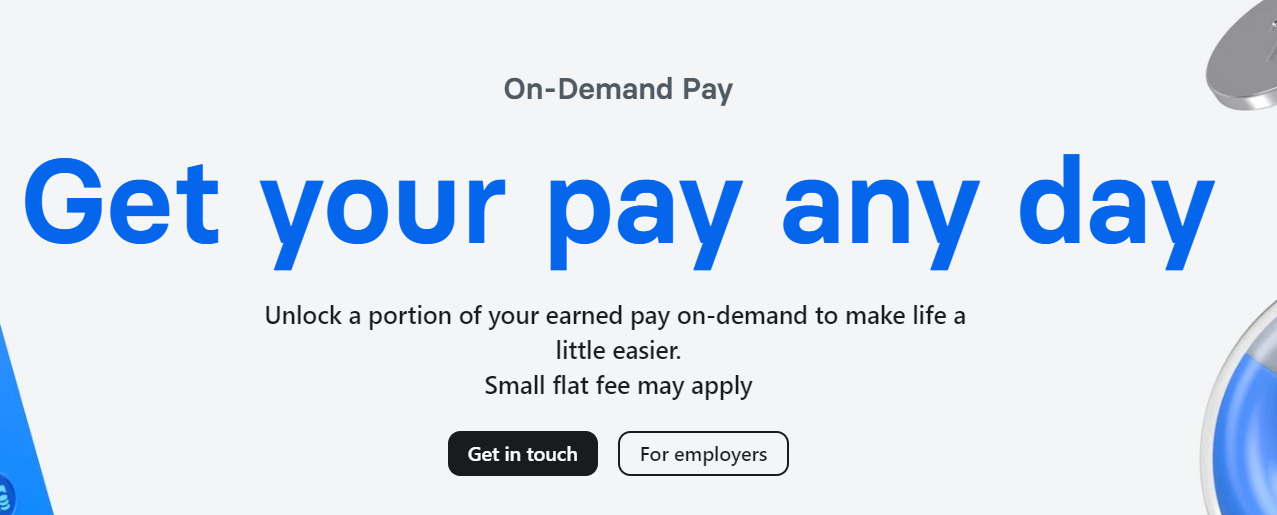 Use Revolut On-Demand to withdraw as much as half of your earnings anytime you need to, which will quickly be deposited into your account. It could incur a nominal charge, but it will vary for each company.
API
Revolut's API is a set of tools and protocols that allow developers to integrate their applications with Revolut's banking services. Moreover, you can use their turnkey payment plugin to immediately begin accepting credit card payments online and build your subscription service by storing payment details for subsequent billing.
Revolute's API features are as follows:
You can install Revolut's completely functional widget on your website so that you can immediately begin accepting credit card payments.

You can design your subscription engine by storing payment methods.

You have complete control over how your orders and clients are managed. You can develop a checkout process that's tailored to the requirements of your company.

You can make use of the Business Application Programming Interface to automate your business banking procedures.

With Revolut's APIs, you can view accounts, add counterparties, automate currency transactions, and make payments.

You will get comprehensive guidelines.

You can construct an application using the Revolut platform, join the company's partner programme, and then upload your application to Revolut's Business Marketplace.

You can utilise Revolut's Open Banking APIs to retrieve information about transactions and accounts or to start receiving payments.
Affiliate Program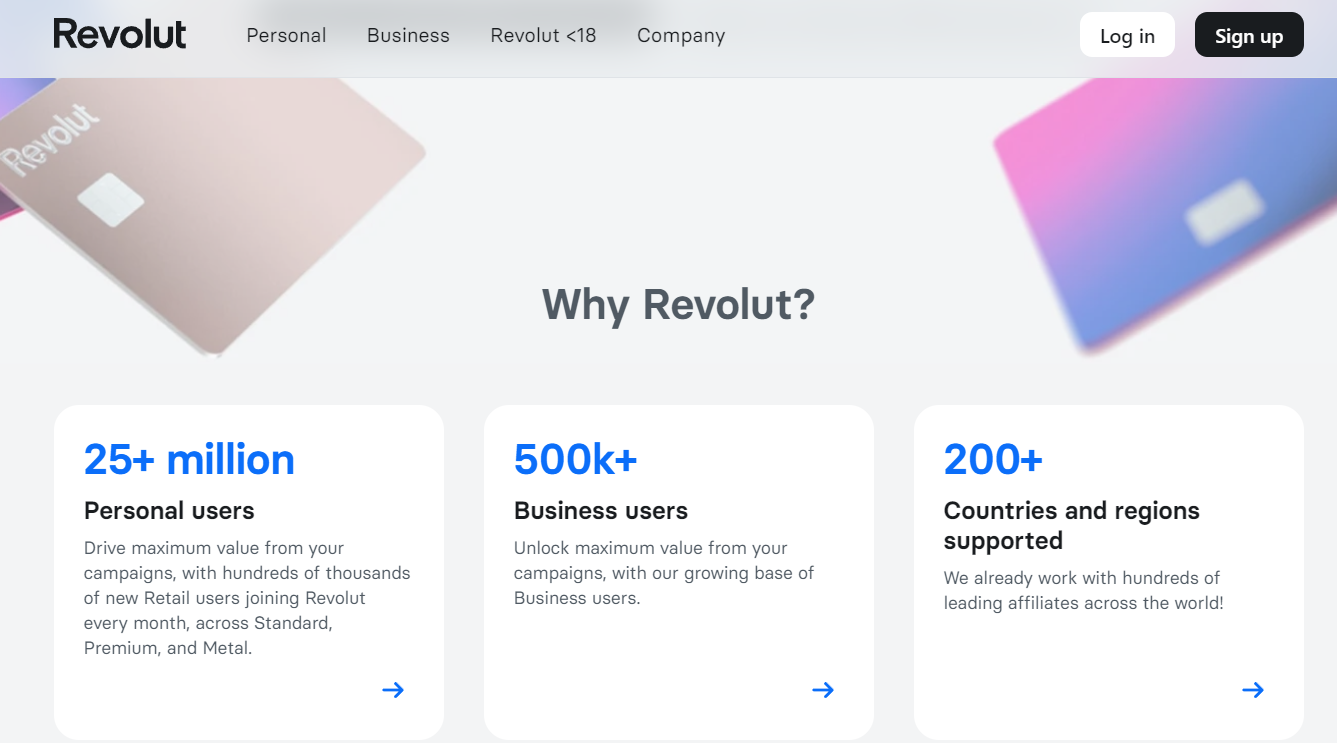 Anyone can apply to become an affiliate of Revolut. To sign up for either the Retail or Business affiliate programme platform Impact, all you need to do is click one of the icons located at the following link. Please click the "I already have an account" button if you have an existing account with Impact. In the "Account Display Name" field, you are required to provide either your full name (if you are an individual) or the legal name of your business (if you are a company). The application will not be considered if it's submitted without a full name.
When you register for the scheme, you will receive information on Revolut's commissions.
Integrations
Integration with Revolut is available for businesses in the areas of accounting, automation, payments, and costs, such as Zoho Books, Slack, and Zapier.
Accounting integration partners:
Dynamics 365 Business Central

Coconut

Pandle

Money Dashboard

Dext Prepare

Odoo

NetSuite

FreshBooks

QuickBooks

Zoho Books

Ember

Clear Books 

Xero

Sage

FreeAgent

QuickFile

Board
Automation integration partners:
Payment integration partners:
Crezco

WooCommerce

Merchant API

Magento2

PrestaShop
Extra Care On Customer Support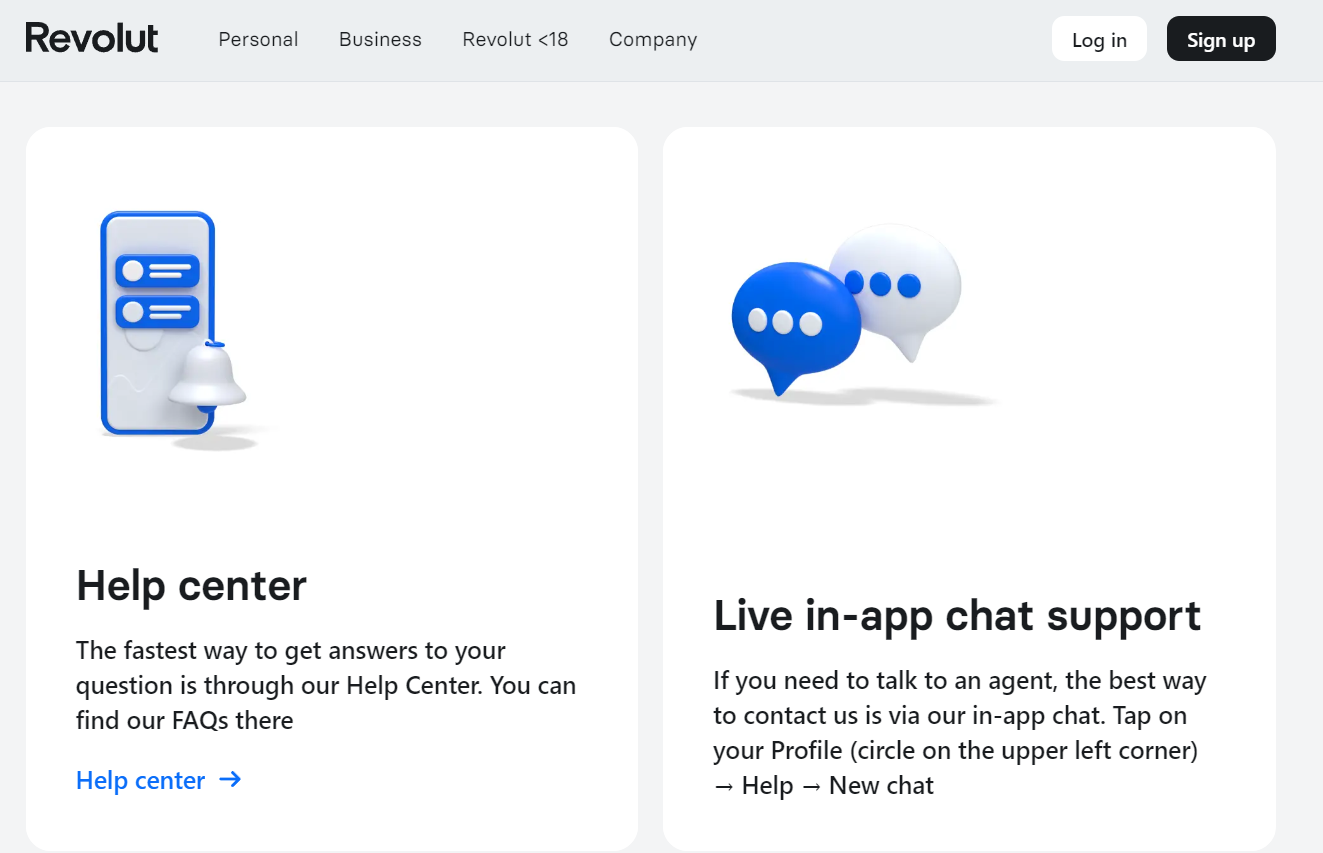 You can find immediate responses to your concern by consulting the Revolut support centre, or using the in-app chat if you have any further questions. 
Company History
In 2015, Nik Storonsky and Vlad Yatsenko founded Revolut. By 2020, Revolut launched in the United States, Japan, Lithuania, Poland, Australia, and Singapore. Their timeline history is shown in the image below: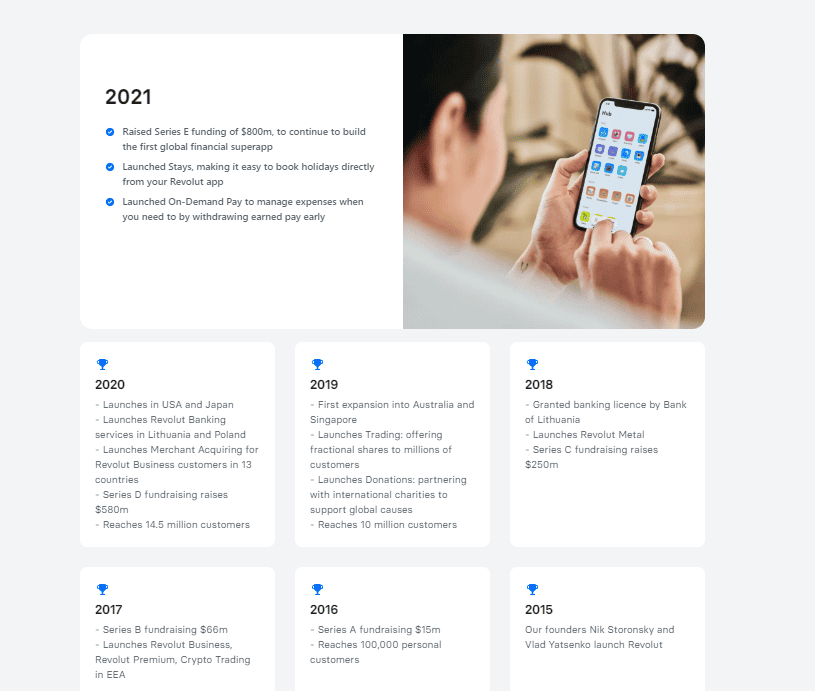 User Reviews
On Trustpilot, Revolut has received an excellent rating of 4.3 out of 5.0 stars based on more than 123,000 customer reviews. 75% of users gave Revolut a 5-star rating, praising its user-friendly application and helpful customer support, while 10% of users gave it a bad rating, citing issues with cashback, signing in to the app, and uploading documents.
Other Revolut user ratings are as follows:
Revolut User Reviews
Review Summary
0.0 out of 5 stars (based on 0 reviews)
Recent Reviews
There are no reviews yet. Be the first one to write one.
Submit a Review