Founded in 2012, Independent Merchant Services is a UK-based company focused on streamlining the process for merchants.
Born out of frustrations in the industry, the company knows and aims to solve the issues created by comparison companies. Acting as a self-appointed regulator, Independent Merchant Services only recommends the top, approved merchants for businesses looking for tailored merchant services. 
Below we'll take a look at exactly how Independent Merchant Services operates, the products and services offered and a brief history of the company. 
Prices/Fees
Unfortunately, the pricing and fees are not clearly published online for merchants to see.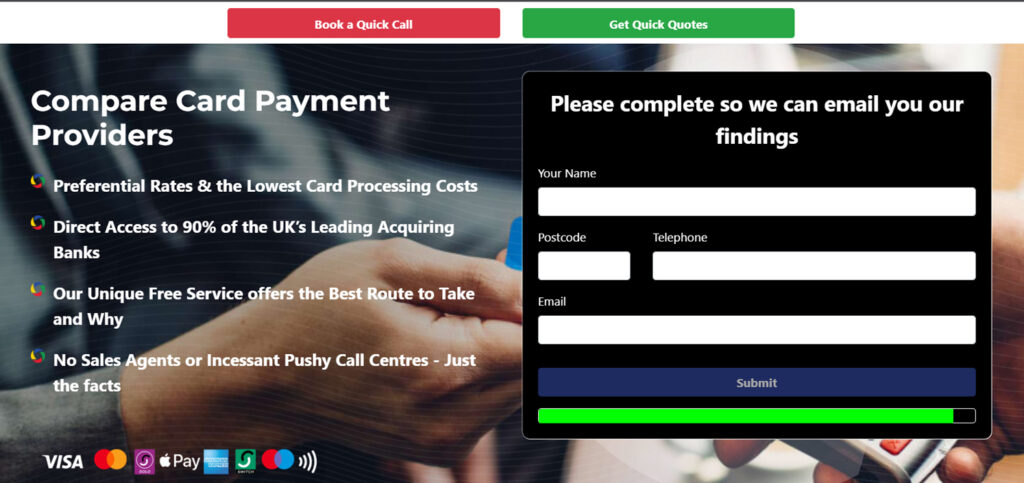 Instead, merchants are able to contact Independent Merchant Services to access an accurate quote. This can be done both online by choosing the "Get Quick Quotes" option or over the phone by choosing the "Book a Quick Call" option. 
Product/Service Overview
Independent Merchant Services offers business owners a wide range of products and services ranging from low and high-risk merchant accounts to full EPOS systems. 
The company is fully independent and allows businesses to access the best overall packages for them. With no loyalty to specific companies offering merchant service, merchants can be sure that they are offered a genuine top deal for their business needs. 
Online Payments 
Independent Merchant Services can help businesses get everything they need in order to begin accepting payments online.
The company ensures that all businesses receive a fully independent overview of the merchant market, allowing for the best possible solutions to be reached. With online payments so crucial in modern business practice, this prevents businesses from stumbling over the jargon and reaching poor overall deals. 
Payment Gateways 
Merchants searching for a comprehensive online solution will benefit enormously from the payment gateway offered by Independent Merchant Services. 
The payment gateway can integrate into the shopping cart of a merchant's website, offering a fully tailored and unique service. There is a range of additional options available in the payment gateway solutions with pricing ranging between £0 and £20 PCM depending on the requirements of the merchant. 
Virtual Terminal 
A virtual terminal is a great way for merchants to increase the number of ways that payments can be taken by their business. 
Accessed via a browser, the virtual terminal can be used to accept payments via telephone interactions. As the terminal is a virtual addition to the business, no additional hardware is necessary and merchants are able to access these on any web-enabled device. 
Funds accrued by the virtual terminal can be accessed within 3 days of the date of processing. 
Email Payments
In addition to a virtual terminal and the payment gateway, Independent Merchant Services can assist businesses looking to accept email payments. 
By using a "pay by click" link in an email, merchants can take payments from customers by simply sending a link to their email address. Once clicked, customers are taken to a secure portal where they are able to complete payment in the way in which they would feel most comfortable.
Merchants do not require to operate their own website when utilising the "pay by click" service and the payment portal can be independently hosted if preferred. 
Merchant Accounts
Businesses looking to open their first merchant account are able to do so with the help of Independent Merchant Services.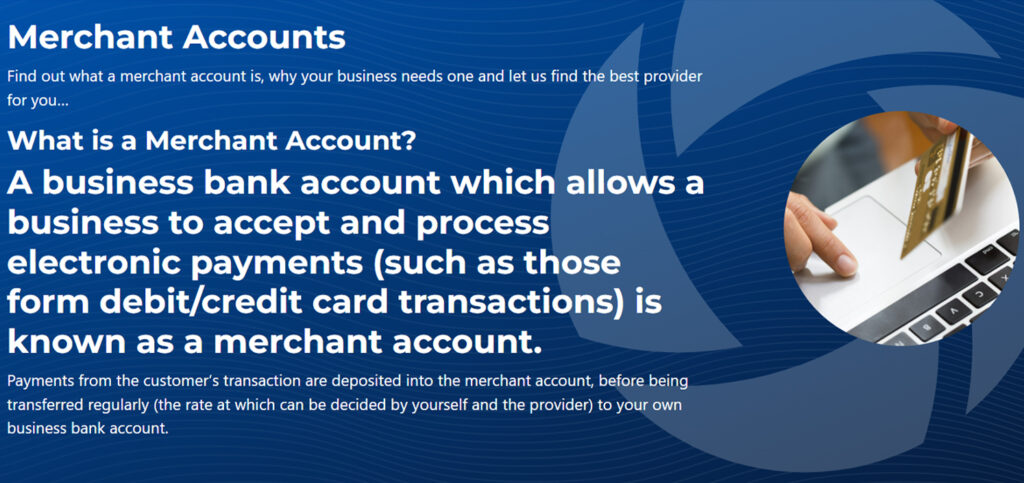 The merchant account is vital for allowing businesses to both accept and process election payments. The company allows merchants to make one of two different merchant accounts: high risk and low risk. 
A high-risk merchant account is created when the business is identified in a high-risk industry. Examples of these include cryptocurrency, alcohol and e-cigarettes which are seen as risky by banks. 
A low-risk merchant is the opposite and is concerned with industries that are seen as safer by the bank accounts. Examples of low-risk merchant businesses include online apparel, office supplies and auto parts. 
Chip and pin 
Alongside online payment support, Independent Merchant Services also allows for in-person payments to be accepted with a range of chip and pin devices. 
Merchants looking to take traditional in-person payments are able to do so with four main handheld payment types: 
Countertop PDQ

Portable Bluetooth or Wi-fi Terminals

Mobile PDQ

Contactless payment
Devices, typically from Ingenico, can be quickly and easily set up at a business with merchants able to set up payment in a matter of hours. 
Switching provider
Independent Merchant Services makes it as easy as possible to switch payment providers with the company taking care of all aspects of the move. 
IMS are careful to ensure that merchants will always receive the best possible payment providers for them with the best possible deals. The company reviews all current charges/quotes and explains all of the options – avoiding merchants from feeling in the dark.
If it's not worth switching – IMS will let you know you've got the best deal. 
EPOS 
A competent EPOS system is a foundation of a successful business in the modern age with multiple options available to suit different businesses.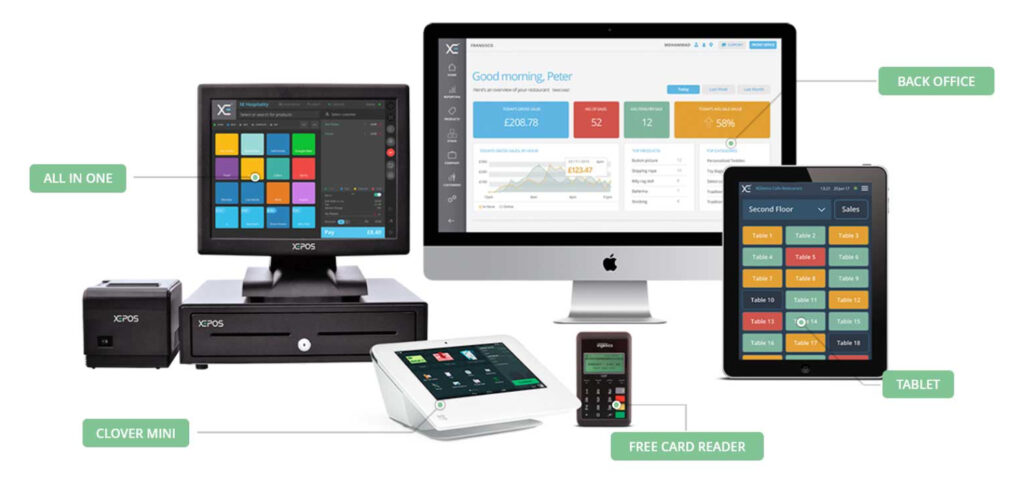 Independent Merchant Services offers both a retail and a hospitality EPOS system, ensuring that everything can be efficiently tracked, organised and run effectively. Navigating the site, merchants can find premade, tailored EPOS systems that will work well with specific businesses including: 
Flower Shop EPOS System 

Pet Shop EPOS System 

Pharmacy EPOS System 

Clothes Store EPOS System 

Music Shop EPOS System
The EPOS systems can be integrated with the most popular payment solutions ranging from Apple Pay and Contactless to VISA, Mastercard and American Express. This freedom to pay however the customer likes is not only valuable for the conversion of sales but for building trust with customers, too. 
An all-in-one EPOS system
The all-in-one EPOS system offered by Independent Merchant Services includes a fully scalable system that can be scaled across multiple locations. 
A simple and effective user interface can be used to take payments quickly in person with an easy-to-use system focused on speed. This is linked to the back office system, offering all of the vital information and analytics needed to run a business on a large scale. Inventory, accounts and staff can all be viewed and edited to suit. 
This system allows for multiple locations to be grown with cloud-based software that keeps track of everything a business needs to succeed. 
Cost Reduction
Alongside the typical merchant services, IMS offers businesses a cost reduction service that saves merchants money on their card fees. 
Card fees have a habit of sneaking up and Independent Merchant Services has the expertise to reverse the creep, compare providers and determine the current card processing fees. If a business's current fees are too high, IMS can help with a switch to a more competitive card processor. 
Merchants interested in the service can simply send the company an email of a recent card processing statement from the current provider for the team to analyse. From their analysis, businesses are able to receive actionable information including:
Current payment versus how much could be saved

Alternative approved providers with a comparative list of the benefits of each

A cost breakdown and explanation of the monthly expenses
Independent Merchant Services currently has 15 different pre-approved card processors that cover more than 90% of the UK's leading payment providers. If merchants do decide to change to save, IMS acts as their representative meaning that they are the first port of call for any issues. 
Company background
Established in 2012, Independent Merchant Services was founded out of frustration with the state of merchant services at the time. 
Independent Merchant Services aims to solve the problem of finding the souring the best provider with tailored solutions for each different business. The company aims to add real value, tailoring the service to suit with a payment provider to suit.
Following its creation, the company has helped thousands of different businesses create partnerships with the top merchants to suit their day-to-day habits. At the time of writing, the company annually processes more than £500,000,000 of card transactions via the list of approved acquiring banks.
Independent Merchant Services is a fully independent company, boasting access to a huge 90% of the leading acquiring banks in the UK. With no allegiance to any of the top payment providers, merchants can be sure that they are receiving the best possible unbias service.
In addition to helping business owners find the best deals, Independent Merchant Services also functions as the main port of call for after-sales support. With an amplified voice, the company can quickly solve any issues that arise with a firm point of standing in the industry.
User reviews from around the web 
Taking a look at the available online reviews that have been published, Independent Merchant Services scores highly with glowing reviews. 
Trustpilot  – 4.9 / 5 (based on 232 reviews) 
Due to a lack of other sources, we're taking the Trustpilot reviews as our sole supplier of online reviews for Independent Merchant Services to issue an overall score of 4.9 / 5 from a total of 232 reviews. 
User Reviews
Review Summary
0.0 out of 5 stars (based on 0 reviews)
Recent Reviews
There are no reviews yet. Be the first one to write one.
Submit a Review