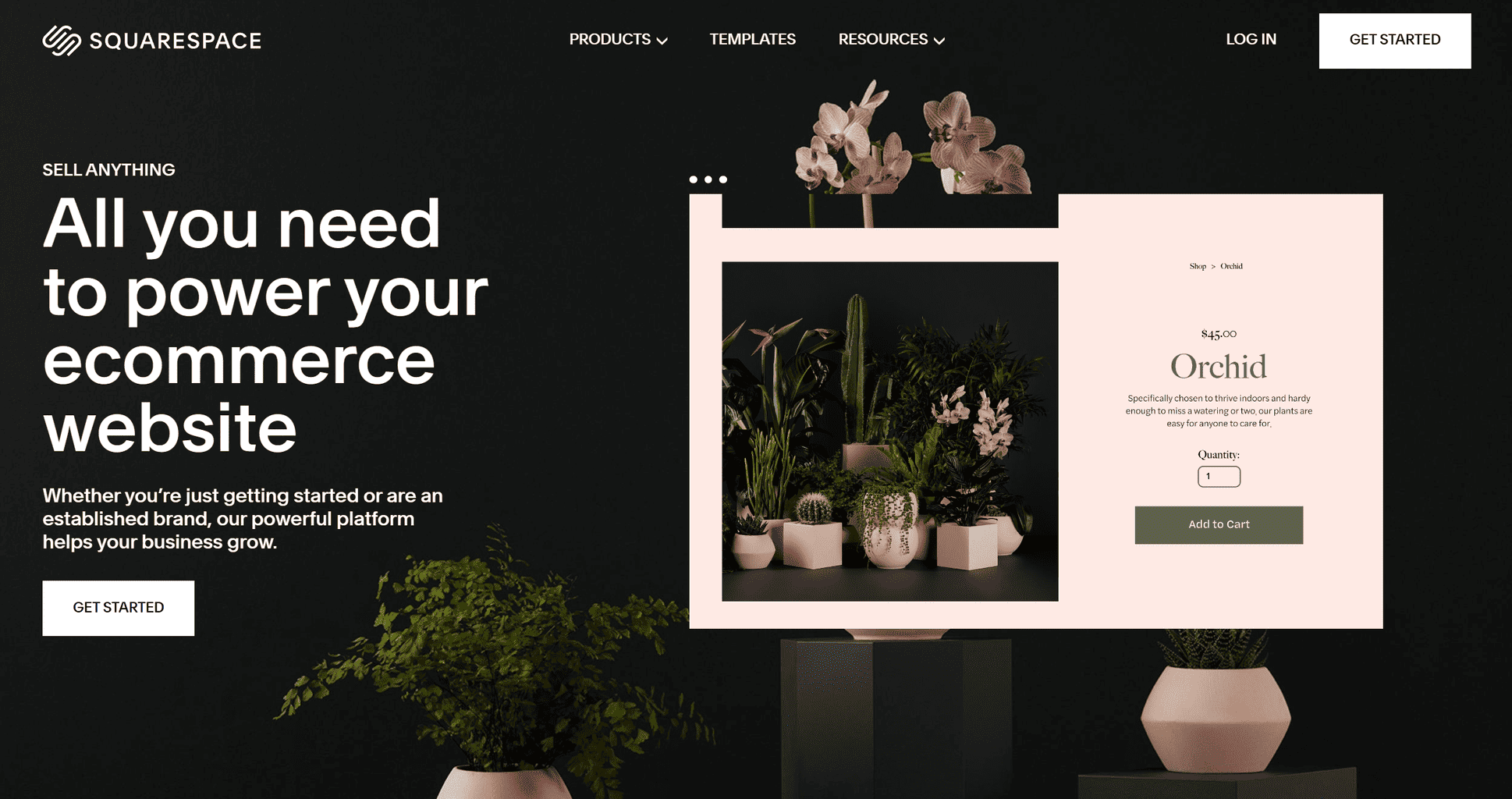 Squarespace is, without a doubt, one of the most famous site-building platforms in the world. Even those who aren't in the programming world or don't know the first thing about site coding have heard of the platform and some of the services it offers.
The platform comes with a large number of features for eCommerce sites, like inventory management perks, SEO tools, sale banners, and many others that we'll cover further below.
There are four pricing plans you can pick from that cater to businesses of different sizes. The cheaper plans are great for one-person teams or small businesses and offer all the essentials, while the costlier plans can really help large businesses run and grow their shops through email marketing, subscription services, shipping discounts, and so on.
Useful Features
We'll go over most of the features in the pricing section, but now, let's cover some of the most useful perks Squarespace has to offer.
Templates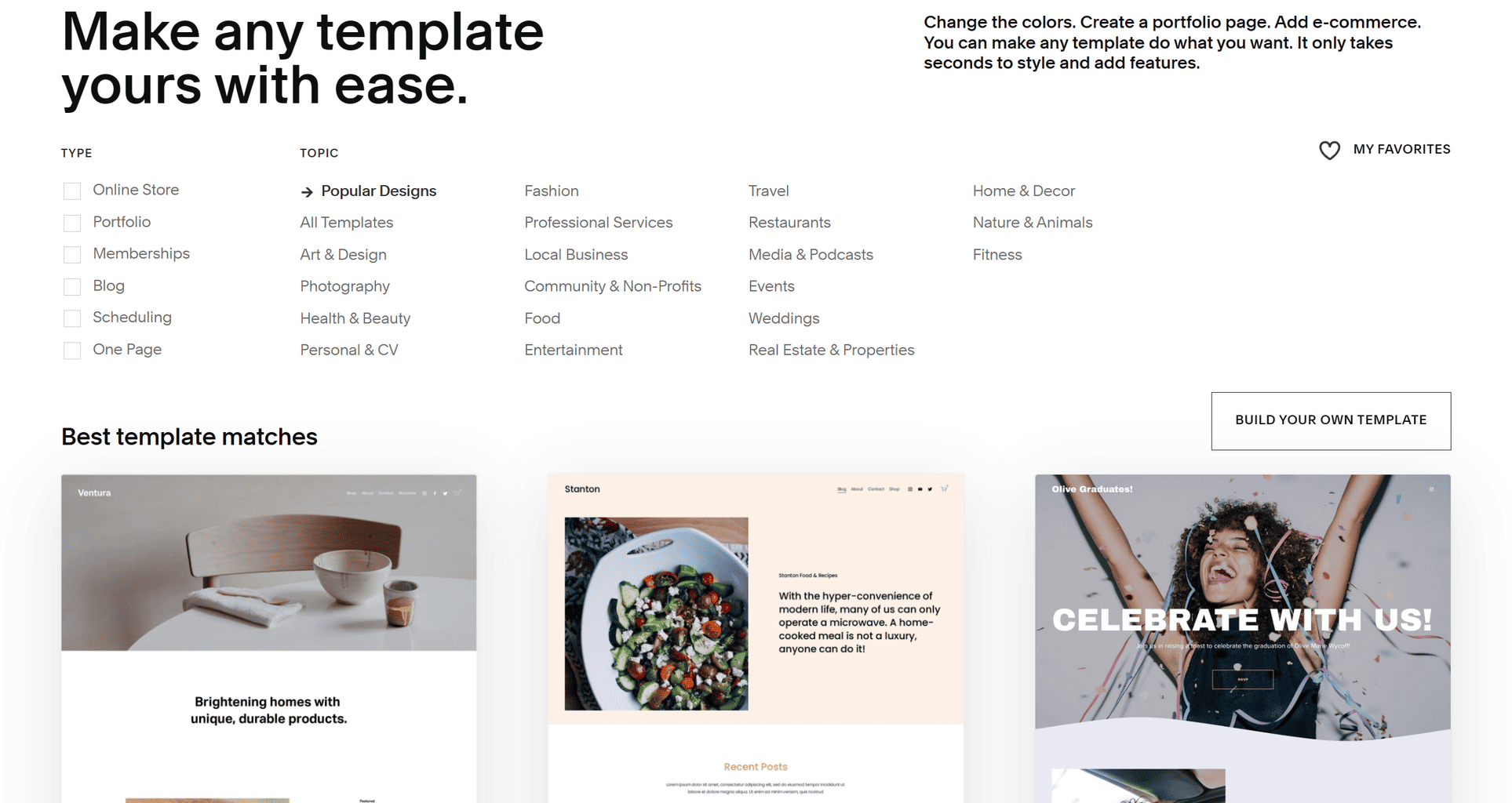 The number of available templates isn't mentioned, but considering that they're widely lauded as incredibly creative and unique, we'd say that most people consider them to be a strong selling point of this service.
There's a questionnaire you can fill out that will give you the most suitable templates for your business, and every template can be customized to fit your brand.
You can even answer questions that pertain to your goals and how you intend to grow your site so that the search feature is more focused and presents you with templates that perfectly fit your requirements. You can choose between health & beauty, technology, jewellery, clothing, and dozens of other business models and find several templates that would give your site a professional layout that's easy to navigate.
If all of that wasn't enough, you'll be happy to know that you can even design your own templates. You can adjust the colour palette to your liking, design the homepage layout yourself, add additional pages, select the ideal font, and make many other small but important changes to the template.
Let's cover the features included in every template.
Inventory management – You can add tags to your products and sort them into as many separate categories as you might like. This will allow your customers to easily find any product by using keywords in the built-in search engine on the site. 
Product Suggestions – The tags you put on your products automatically group them together. This allows the site to automatically suggest certain products to your customers if they're placed in the same category as the items they were searching for.
Multi-Media – Using the drag-and-drop feature will allow you to easily add as many images as you want and attach them to all of your products. You can also add other media to the site as well like videos, and you can add detailed descriptions of your products, their dimensions, qualities, and so on.
Product Labels – You can put labels on any items that you sell if you need to draw the customer's attention to something. For example, it can be a notification saying that a particular item is almost out of stock, that there's a sale on a certain product, and so on.
Catalogue – All of the products on your site are automatically put into a catalogue. This makes it easier to look through them on the site, but you can also more easily share your entity inventory by simply linking the catalogue on any social media site that you might run.
Mobile Optimization – All of the templates you can get for your site will automatically adjust to the screen they're being viewed on. Your customers will be able to just as easily scroll through your site behind their desks as they will if they're on their phones or tablets.
Webinars
If you're new to online marketing, then one of the most useful benefits of Squarespace might be the webinars you can watch on the site once you've created an account.
You'll be able to watch and read entire lectures on the intricacies of the eCommerce business and get some tips on how to start and eventually grow your business.
There are entire sections on many subjects you might be curious about. You can learn about domains, email campaigns, Fluid Engine fundamentals, and so on.
You'll also be able to learn a bit more about how the features work if you aren't too sure about how to add discounts to your products or how to organize the icons on your page.
Additionally, you can also see some example websites and what other people are doing so you get an idea of what an online shop is supposed to contain and how it's supposed to be laid out.
Help Center
If you know your way around the eCommerce business and don't need hours of instructions, the Help Center might be a more helpful feature than the Webinars.
You'll be able to find answers to some recurring questions that people have about the platform, and you can even learn a few tips and tricks that can help improve your site.
This is a particularly useful resource if you're not sure about how all of the features work and some of their nuances.
Videos
The videos on the Squarespace site are something of a middle ground between the webinars and the help centre.
There are single videos as well as entire playlists that cover specific features that are available on the site. They can show you quick step-by-step instructions on how to get the most out of the features that the Squarespace platform has to offer.
Prices/Fees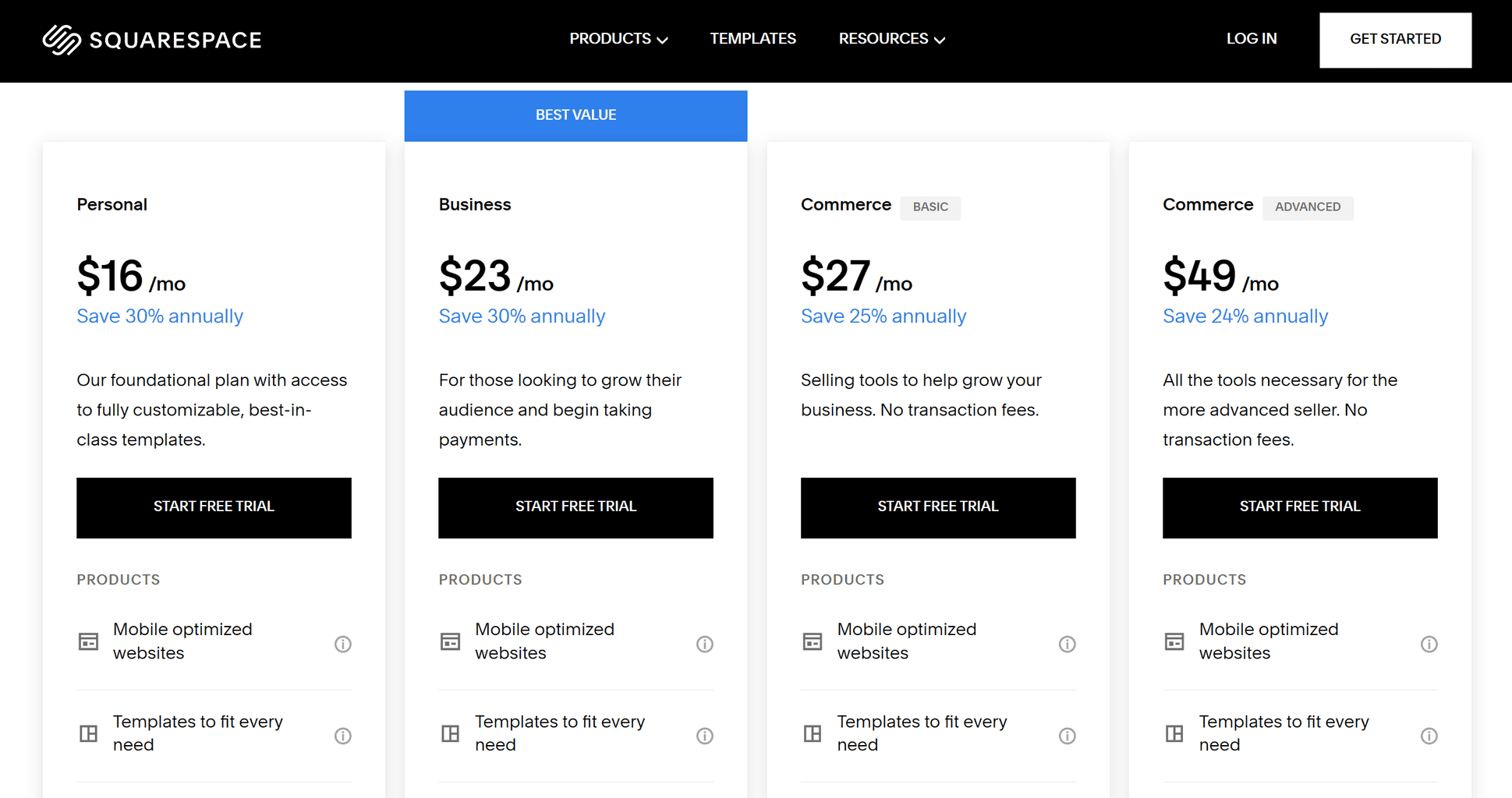 Squarespace has 4 plans that you can choose from, and they all come with incredibly useful features. Each of the plans is tailored towards sites and businesses of a certain size. The cheaper plans will obviously be much better suited for small and upcoming businesses. On the other hand, the more costly options have a lot more features that would be useful for more established and larger businesses.
While the cheaper plans come with a variety of perks, each incrementally more expensive plan comes with all of the features of the previous one. Meaning that the Business plan has all of the perks of the Personal plan, the Basic Commerce plan has all of the perks of the Business plan, and the Advanced Commerce plan has all of the perks from the other plans, with a few additional exclusive ones.
Personal
The cheapest plan that Squarespace offers will cost you $23 a month. If you go for the annual plan, you can save 30% and only pay $16 a month, which comes to an annual fee of $192.
Features:
Templates – This plan comes with customizable templates and all of the features we mentioned in the previous section, like mobile optimization, inventory management, product labels, and all of the rest.
Free Domain – You'll also get a free domain you can use for the duration of your contract. Keep in mind that regardless of whether the contract is a monthly or yearly agreement, the domain is only free for the first 12 months. Unfortunately, the domain name renewal fees and taxes aren't mentioned so we can't say whether the prices are steep or not.
Unlimited Bandwidth – Your site visitors will experience as little latency as possible and the bandwidth will ensure that all of the data on your site loads quickly even on slow internet. If customers complain about slow loading times, you can say for sure that it's their internet and not your data transfer speed.
Customer Support – Squarespace has a dedicated support team that's on-call 24/7. You can call in with any issues that you might be having with your server, and the problem will be solved in just a few minutes.
Upload Videos – You can upload up to 30 minutes of video to your site. This feature will allow you to add short ads for certain products, and while half an hour might not seem like a lot of time, you'd be surprised how much you can squeeze into those 30 minutes. 
Fluid Engine – The design tool Squarespace gives you makes creating page layouts easy. You simply drag the tabs and the icons you want from the creator menu and drop them onto a location on your page. It's easy to use and gives you a lot of design options.
SSL Security – The platform uses 2048-bit keys and SHA-2 signatures in order to create SSL certificates for your site. Not only does this security ensure that all of your site info is safe, but protected sites also rank better on Google, so the certificates give you a bit more potential discoverability by new clients.
SEO – Speaking of rankings, the search engine optimization tools that Squarespace comes with allow you to increase the chances that your site will appear on the results page while people are looking for specific products.
Site Metrics – You can open up your site info and learn a little bit more about the site traffic that you're getting. You'll be able to see the geographic location of your site visitors, the most popular products on your site, the number of visitors per day, and so on.
Extensions – Squarespace has dozens of extensions that you can choose from that provide you with a large assortment of different benefits. You have automated email marketing tools, shipping order organization tools, automatic tax calculator tools, language translation tools, and many more.
Merchandise – You can design your own company merchandise, however, you need to upgrade to the Business, Basic Commerce, or Advanced Commerce plans if you want to sell this same merch online.
Contributors – You can set up as many as 2 additional accounts for your employees. These contributors can then add elements and make changes to the look and structure of your site. This is a great option if you need to step out or if you can't make it to the office but need to make some modifications to the site.
Audience Management – While the name of these tools might be vague, their purpose is to organize and effectively use customer info. These tools allow you to create email subscriptions for all of your site visitors, make them user profiles they can log into, and send them messages on any deals or discounts.
Business
The business plan will cost you $33 a month if you stick to a monthly billing plan, and $23 a month if you go for an annual billing plan. The monthly billing plan comes to $396 a year, and the annual billing plan comes to $276, which means you save $120, or around 30%.
This plan comes with all of the features that we just mentioned in the Personal plan, as well as access to an unlimited number of contributor accounts that you can give to your employees.
Features:
Better Analytics – The advanced analytic tools give you access to all of the data that the standard tools do, but now you also get additional metrics that you can analyze to determine which products on your site are getting the most average visits.
Checkout Page – You can add your own checkout page to your site. This will allow your customers to complete their transactions on the same page instead of getting transferred to a different payment gateway.
Professional Emails – Getting the Business plan will also give you access to a single Gmail and Google Workspace account free of charge. Just keep in mind that only the first year is free and then the annual fees will apply if you want to keep using the accounts.
Editing Tools – You can make changes to your site through the provided tools that allow you to adjust elements in the HTML and CSS code. This tool gives you greater control over the templates that you can use, but it does require a certain amount of prior programming knowledge to use properly.
Banners – You can use several different styles of colourful banners and pop-ups to draw the attention of your site visitors. These banners can be used to advertise certain promotions or special deals that you might currently have going on.
Inventory Management – After you log the number of products that you have on hand, the site will then automatically subtract items from the inventory based on sales. This keeps your inventory organized and up to date automatically. The catalogue also automatically updates if a certain product is out of stock.
Shipping – Not only can you make product bundles and offer special offers on them, but you also have shipping tools that you can use to organize the delivery info. You'll be able to track the packages, send your clients an email about their expected arrival, organize your shipping forms, and much more.
Basic Commerce
The monthly business plan will cost you $36 a month, while the annual one will cost you $27. This works out to $432 and $324 respectively, so you save $108, or just around 25% annually. This plan also comes with all of the features that were mentioned in the previous plan.
Features:
No Site Transaction Fees – Unlike the Personal and Business plans that come with a 3% fee per transaction, both of the Commerce plans have a 0% transaction fee for any product sold on the site. However, standard credit card and online payment transaction fees still apply.
POS – The point of sale feature allows you to sell your stock in a physical location and then have the daily sales numbers for both the online and physical stores calculated in one spot. This service is only available for shops in the US, but it makes calculating the combined revenue of your stores much easier.
Reviews – You can now add product reviews for all of the items that you sell. Your customers can give honest feedback about what they liked or disliked, while visitors and potential customers will get an impartial opinion on the quality of certain products, which might convince them to make a purchase.
Customer Accounts – Your customers can create an account on your website that will provide them with a number of perks. They'll receive emails on special offers, have their credit card details memorized for faster checkouts, and so on.
Advanced Merchandising Tools – There are several features included in this category. The related products perk automatically displays items that share the same tag, the low stock banners tell customers if a product is sold out or close to being out of stock, and so on.
Social Media Integration – You can link your site to your social media account and vice versa. This will allow you to sell your products on sites like Instagram and Facebook much more easily.
Advanced Commerce
The final Squarespace plan will cost you $65 a month on a monthly payment plan, and $49 a month on a yearly payment plan. The monthly plan comes to $780 a year, and the annual plan comes to $588. This means that the yearly plan saves you $192 a year, or just around 24%.
This plan also gives you access to all of the features of the Basic Commerce plan.
Features:
Subscriptions – You can create subscription services for the products you sell and categorize certain items as "members only". This is a good way to generate constant revenue rather than one-time purchases.
Shipping Tools – You can now offer free shipping to customers who've spent a certain amount of money on your site, or who buy certain products with a special offer. You can also set your own dynamic shipping rates based on the proximity of the customers from the shipment site.
Discounts – The Advanced Commerce plan allows you to create discounts that you can apply to certain products. You can also either set discounts for certain products or if a certain price threshold has been reached with the products that a customer is buying.
Abandoned Cart – This feature memorizes all of the items that were in the checkout cart when the customer was last logged onto the site.
Payment Options
Squarespace doesn't have a private payment gateway that's specifically designed for its sites. However, all Squarespace sites are compatible with all of the most popular payment gateways, like PayPal, Google Pay, Apple Pay, Stripe, and others.
You can add as many gateways as you want, and your customers can use whichever ones suit their needs the most.
All of the standard transaction fees and taxes per purchase apply.
Company Background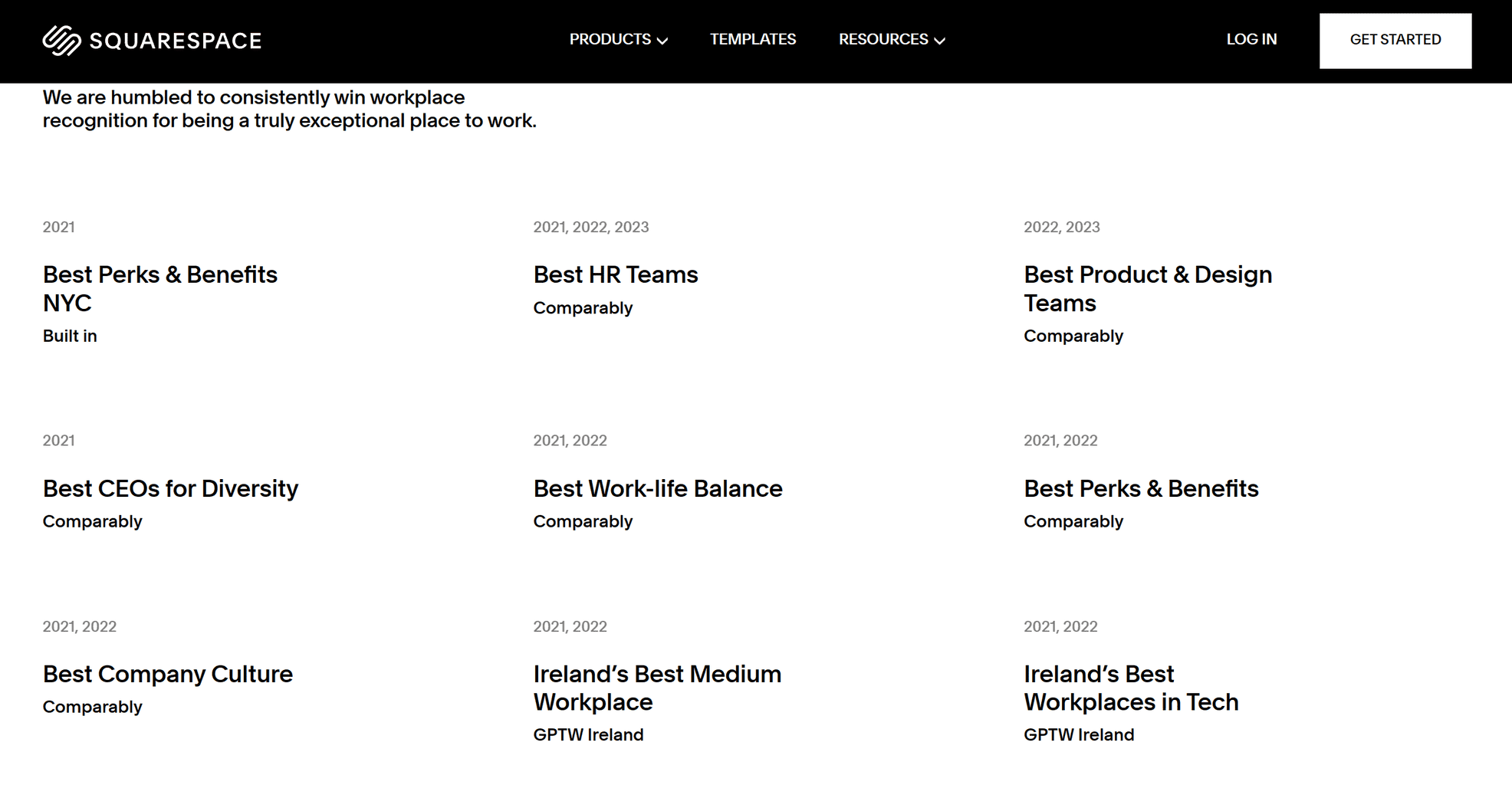 Anthony Casalena started Squarespace in his dorm room back in 2003. Since then, the company has helped millions of companies and individuals create their ideal sites, and Squarespace currently employs 1,640 people, so it's a bit of a step up from the dorm room days.
During the years that it's been active, the company has gone on to win multiple awards for outstanding performance in several fields.
It landed a place on the list of the top 100 places to work, in multiple cities and countries, including New York, China, Ireland, and so on. It's also won awards for the benefits and the perks it provides, for the effectiveness of the HR team, for having the best product and design teams, and so on.
User Reviews
Squarespace has a Techradar score of 4 out of 5 stars. The reviews are overwhelmingly positive and people outline several benefits as incredibly useful, like the drag-and-drop functionality and the flexible template design.
Forbes gives the platform a 4.2 out of 5 stars, and the only negative points mentioned are the lack of phone support and the fact that the site upgrades require you to rebuild the entire site.
PCmag gives Squarespace 3.5 out of 5 stars, with special attention being focused on the responsive design editor and the many extensions you can add to your site.
User Reviews
Review Summary
0.0 out of 5 stars (based on 0 reviews)
Recent Reviews
There are no reviews yet. Be the first one to write one.
Submit a Review