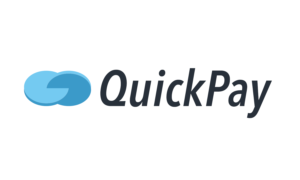 QuickPay was launched in 2004, with the philosophy that less is more.  Today it has over 30,000 customers and processes more than 2 million payments per month.  It uses national and international acquirers and is available in over 20 languages.
QuickPay Credit Card Processing & Payment Services
QuickPay Payments
QuickPay accepts payments from the following (via credit cards, mobile devices and invoices)
MasterCard
Maestro
Visa
Dankort
JCB
American Express
Diners
Forbrugs
ViaBill
Trustly
iDEAL
Klarna – Pay Later
Klarna – Pay Now
MobilePay Online
Apple Pay
Paysafecard
Vipps
Swish
QuickPay Pricing & Fees
Basic                     €0 per month          €1 per transaction
Starter                 €10 per month        €0.02 per transaction
Professional       €25 per month        €0.01 per transaction (includes 250 free)
Enterprise – email sales@quickpay.net for information
For all plans: –
Branding of payment window      €3 per branding per month
Additional domains                        €7 per domain per month
MobilePay online                           €0.15 per transaction + €6.50 per month
Apple Pay                                         €6.50 per month
NB all prices exclude VAT
Source: QuickPay UK Pricing
To see how that compares have a look at: UK Merchant Account and Credit Card Processing Fee Comparison.
QuickPay Features
PCI DSS Certification
3D Secure
API
Mobile payments
Subscriptions
Payment links
QuickPay Manager
International
Wide range of integrations
In App refunds
Multicurrency
Integrated checkout
Company Background
QuickPay.net is a Danish company which was started in December 2004.  The company has more than 10,000 merchants on its books, ranging from small shops to large corporations.
The QuickPay team pride themselves on solving problems and "exploring uncharted territory".  What began as a "technical challenge" has matured into a successful and efficient business.
QuickPay Pros & Cons
The following pros and cons are based on information available on QuickPay's website and reviews from Trustpilot, and  Facebook.
Pros:
Easy set up
Good customer service
Excellent technical support
Simple to use
Cons:
Not recommended for recurring payment
Slow customer service
QuickPay Reviews
There are very few online reviews for QuickPay.net
Trustpilot: 3.6 out of 5 based on 202 reviews
Facebook: 4 out of 5 based on 3 review
QuickPay's score is 7.6 out of 10 (based on the above two reviews).
Website: www.quickpay.net