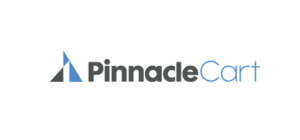 PinnacleCart is a shopping cart solution which is simple to set up and use and, is especially useful for those merchants whose technical skills are not quite up to scratch.  PinnacleCart is fully hosted and has a wide range of features, including excellent SEO and email marketing tools.
PinnacleCart Plans and Pricing
PinnacleCart has four plans for selling online products and/or services.  The company also has a 14-day free trial period.
Start Up – $44.95 per month
No transaction fees
No set up fees
No contract
Unlimited products
Unlimited administrative accounts
Online, mobile and Facebook store
Over 450 features
One-page checkout
Coupons, discounts, gift card and more
Real time shipping w/Quotes
Over 30 payment methods
Professional reports
Blog – on request
Reviews and ratings
Customer groups
Cart abandonment remarketing
Trusted stores
Widget AKA 'Add-to-cart' website plugin
Custom pages and questions
Predictive search
Google shopping
Product syndication
Customer support and services
Dedicated SSL – available
Resources
Disk space – 1GB
Bandwidth – 2GB
Add-ons
Recurring billing $9.95 per month
Product filtering $14.95 per month
Content Mirroring – available
Standard – $94.95 per month
All of the above, plus
Quickbooks online integration
Resources
Disk space – 10GB
Bandwidth – 20GB
Add-ons
Recurring billing included
Advanced – $199.95 per month
All of the Standard Plan features, plus
Priority customer support and services
Dedicated SSL included
Resources
Disk space – Unlimited
Bandwidth – Unlimited
Add-ons
Recurring billing included
Product filtering included
Enterprise – For high-volume plans and services.  Price on application
All of the Advanced Plan features
Source: PinnacleCart Pricing
To see how they compare, have a look at: UK Merchant Account and Debit Card Processing Fee Comparison.
Company Background
PinnacleCart was started by two childhood friends, Craig and Mike, in Phoenix, Arizona.   It was their frustrating attempts at trying to launch online businesses with existing software that pushed them into developing a better eCommerce solution.  Craig and Mike wanted to develop an eCommerce platform that could drive traffic to stores, thus increasing sales.
PinnacleCart began its life in a hotel room, where Craig and Mike worked every spare hour, while holding down day jobs and having a family life. This is why PinnacleCart knows how hard it is to start a company from scratch and has developed a produce which makes life easier for SMEs.
PinnacleCart Pros & Cons
The following pros and cons are based on information available on PinnacleCart's website.
Pros:
Easy to set up
Excellent customer service
Simple to use
All-inclusive price
Cons:
No custom features
Not a good platform for B2B
Complaints about recent charges for technical backup
Website:  www.pinnaclecart.com