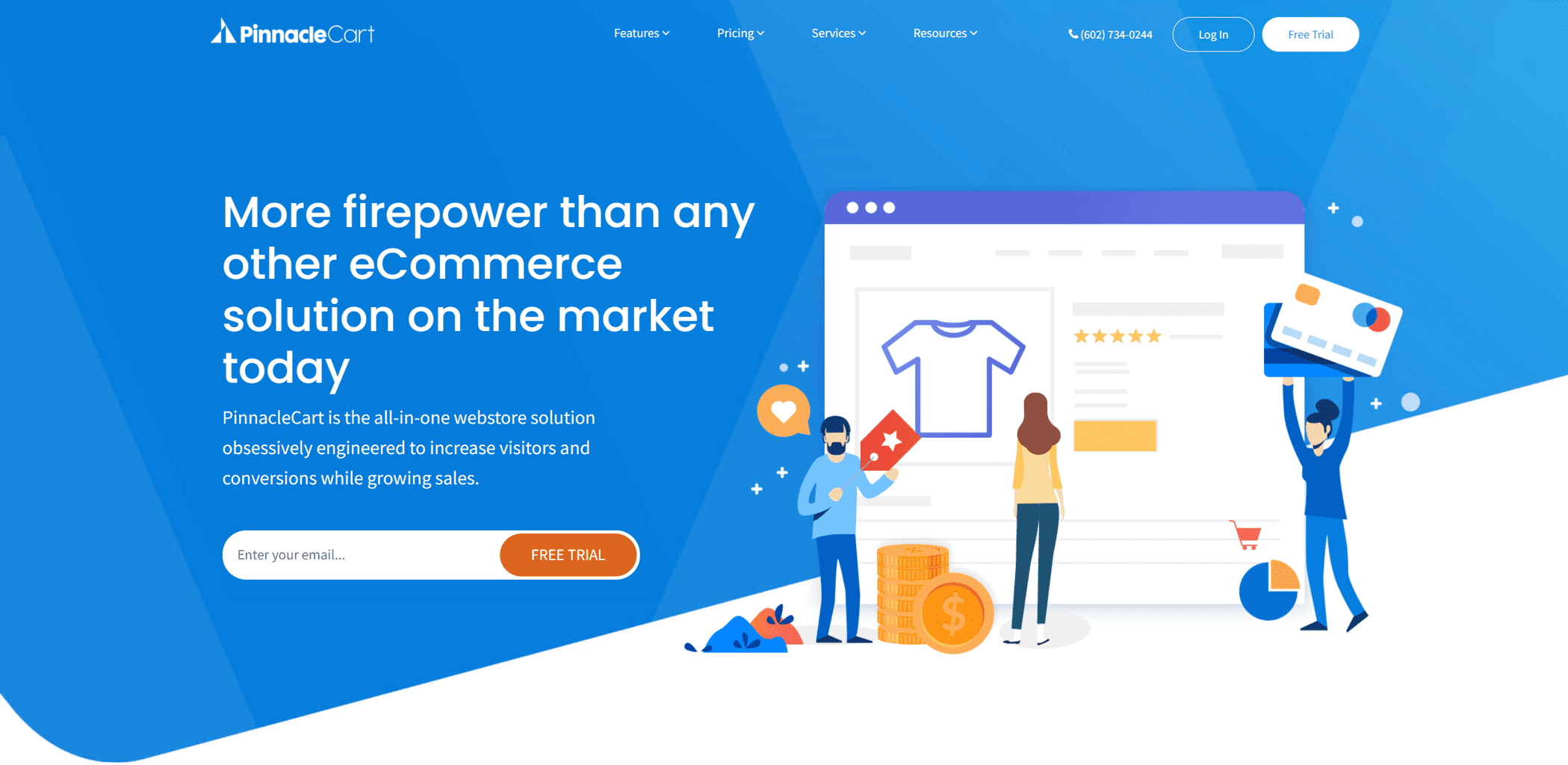 PinnacleCart is a site-building platform where merchants can design and grow their own online eCommerce shops. It comes with plenty of tools that help merchants create layouts for all kinds of stores and products.
There are four pricing plans you can pick from and they give you enough flexibility to build a shop of any size. All of the plans also come with a 14-day free trial that allows you to check out all of the features before you make a decision on which plan you ultimately would like to stick with.
Small companies and one-person operations should probably start with the more cost-effective plans since the first two options provide everything a shop with a small customer base needs.
However, once the site starts to pick up steam, it can be migrated over to more powerful servers, and you'll be given access to features that are better suited for bulk orders and a larger number of site visitors.
Essentially, PinnacleCart is great for both small and large businesses, so let's explore it in more detail.
Features
PinnacleCart comes with
many useful tools that will help you design your ideal online shop. You'll also find a lot of features that can help you sort your products and sales, as well as marketing tools that can help you promote your site through various means and increase your number of monthly site visitors.
Design
Hosting – Whereas most site-building platforms require you to host the site through the services they offer, PinnacleCart allows you to choose whichever hosting service suits you most. You can either choose from the hosting options the platform provides, but if you've used a different service in the past you can stick with it.
Page Customization – You can add as many pages as you want to your site and customize them however you want. The products and messages that you want to highlight can appear front and centre on the homepage, while everything else can be organized around them.
You can also add as many non-eCommerce pages to your site as you want, like an "About Us" page, a "Contact Us" page, an "FAQ" page, and so on.
Mobile Friendly – PinnacleCart's automatic calibration tools adjust the dimensions of the pages, themes, layout, and every other element of the site to be easily viewed on phones or tablets.
You can set the recommended font sizes for both PC screens and phone screens, but aside from that, everything will be done without you having to lift a finger.
Code Optimization – You can go into your site code at any time and make as many small or large changes as you might want. You can adjust the themes, the layout of the pages, the tabs, and tweak pretty much any other element on the site.
Of course, modifying site code isn't as easy as it might sound and those who don't have at least a basic understanding of how things work shouldn't carelessly be poking around. In cases such as that, your best bet would be to engage the services of a professional.
In-House eCommerce Experts – Speaking of professionals, PinnacleCart has an entire team of programmers skilled in two areas – building sites through this particular platform, and optimizing those sites for the best results.
Working closely with a professional developer will allow you to tell them exactly what you're looking for in a site. They will then design your online store to your specifications, while also making suggestions that can help make your site stand out.
WYSIWYG Editor – While the name of this tool is confusing, its main purpose is to actually simplify things for you. The editor allows you to pick and choose specific theme elements that you want to add or remove from your pages. It doesn't require any prior coding knowledge and it's a great tool for beginner site designers.
While editing the code directly gives you a bit more control over the layout of the site, this feature is still an excellent tool that allows you to create a shop that fits your tastes without having to hire anyone or take a multi-month HTML coding course.
Upload Custom Images – You can add as many pictures as you want for your products, and you can edit and touch them up however you want using the on-site tools. You can also edit the borders of the images and add different designs.
These designs can be anything from symbols like stars that denote special offers or straight-up banners that tell the customer about special discounts, offer coupons, or inform them if a specific product is low in stock.
You'll also be able to zoom in on the images and use the thumbnail generator to create custom thumbnails for each product in your catalogue.
And on top of that, you have bulk upload options that allow you to simultaneously add as many images as you want and attach them to your products. You can manage all of these images through FTP (file transfer protocols) to create custom image filenames and IDs.
Multi-Media – You can add music or videos to your site as well, in addition to linking PDFs or adding third-party content. All of the content will need to either be licenced or approved, of course, but anything short of a copyrighted piece of media can be added to your site.
Banners and Fonts – There are many different fonts that you can pick from that can be used on your site. You can use the same fonts or mix and match the styles and colours however you want.
You can also add custom headers and footers to each page, and add different types of banners wherever you want. These are incredibly useful if you're trying to draw attention to something, like specific product discounts or special sales and the dates of said sales.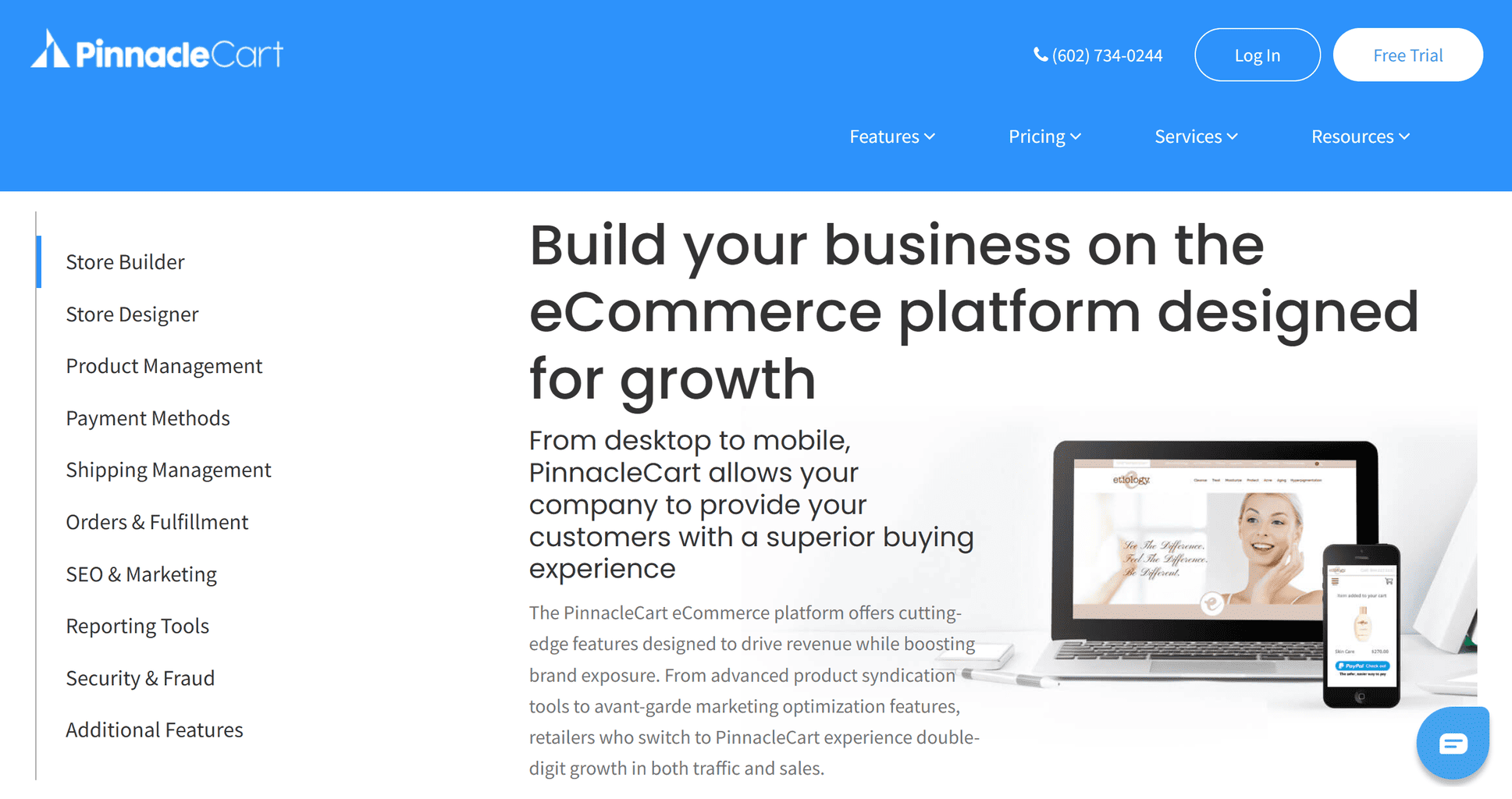 Marketing
Single-Hub Marketing – Regardless of whether you're marketing using Amazon, Google Shopping, or any other option, you can manage all of your ads from a single hub. Here's where you can set up all of your listing options and descriptions, and make any additions or changes to the products and their listings.
Special Fields – You can add special fields and export tools for Google Shopping, Amazon, eBay, Yahoo, PriceGrabber, Nextag, and Goshopping. This will allow you to connect different store accounts to your site and manage all of your products from a single point on top of that.
Customer Accounts – All of your site visitors will be able to create their own accounts. This way, they can keep their card or payment info memorized to avoid typing in the same info every time they return to buy something from your shop. This is a great way to make the customer experience on the site more seamless and earn yourself some repeat customers.
Subscription Services – If you're selling digital products and services like fitness videos or online courses, then you'll need to get your customers signed up for a subscription. They get access to all of the videos, music, or other media that you have on your site, and you get a monthly income flow.
You can also sell subscriptions for physical products and offer special discounts on products for subscription holders, or use other incentives to get people to sign up.
Customer Reviews – Adding an option for people to share their honest opinions on your products and services is a great way to promote transparency when it comes to your business practices. This can backfire if you're not running your company well, but if most of the reviews are positive, then it's some of the best free marketing that you can get.
Abandoned Cart – Your customers will receive an email telling them about any products they still might have in their cart so they can come back and finish their purchases. The products will stay in the cart and they'll be reminded as often as you'd like until they buy or remove the products from the cart.
Products
Sell Different Products – You can sell all sorts of products on your site, including physical items, video or music media, and subscription services. This will allow you to add anything that you want to your site, from handyman tools and makeup to online subscription courses.
Organized Orders – Similar to the marketing materials, all of the orders can also be managed from a signal hub. This includes any orders that you've received from your site, any Amazon listings that you might have, or your social media accounts.
Since all of the product requests are funnelled into a single point, you can also easily sort and organize everything by categorizing them into various groups. This way, you'll always stay on top of your income calculations and the number of products you've sold.
Product Filters – Aside from better order organization, you can also add several different product categories and filters on your site so that people can navigate through all of your products more easily. You can sort all of your items based on price, size, and brand, and you can even create custom categories for different types of products as well.
You can add as many custom tags, SKU (stock-keeping unit) designations, or barcodes as you'd like. These tags make cataloguing each product simpler and allow you to also set exceptions, like special product categories, different tax classifications, and so on.
Product Recommendations – If you've created custom tags for your products, then your site can automatically match them together. More importantly, once a site visitor clicks on a certain product, a similar product will be recommended to them based on the tags from the previous item.
Your site will essentially be able to do internal product promotion once you have specific product categories set up.
One-Page and One-Click Checkout – The one-page checkout feature allows you to put all of the necessary customer info boxes that need to be filled out on one page. The one-click checkout feature skips the cart entirely and simply processes the product payment and sends the customer a confirmation email.
Keep in mind that the one-click feature only works if the customer already has an account on the site and they're logged in so that the card info can automatically be accessed for the product purchase.
Inventory – All of the products you have in stock will be memorized by the system once you log them in. After the initial entry, the platform will automatically keep track of the number of items that you have in your inventory by knocking off a number based on the purchases.
You'll naturally be able to check the state of your inventory at any time, without worrying about running out of stock since you'll get an automatic message telling you when you're low on products in stock. You can set the product warning message to any number that you want.
Automatic Restock – Once you set a limit to how low a specific stock of products can drop, you can also set an automatic restock message to be sent out to your supplier. For example, if you only have 20 shirts left from a specific brand, the system will automatically send a resupply message once that number is hit, and the supplier will receive an order request for another 100 shirts or something like that.
You can also set these messages to be sent to your email or your dashboard before they're sent out. This way, you'll have a lot more control over your supply since you'll need to manually approve each message before it's sent out.
Drop-Down Menus – You can add custom drop-down menus on your site to both your tabs and your products. The tabs drop-down menus allow for easier navigation through your site, but the product menus allow the customers to be more specific about the products that they buy.
You can add different categories to these drop-down menus and give the customer a lot of choices on how to process the purchase. Buying several items at once, buying items of different sizes, and buying special product variations will be much easier through these menus, and the customers will have a much more positive experience on your site because of it.
Real-Time Shipping With Quotes – You'll be able to give your customers accurate shipping rates for all of your products, regardless of where they're located. Of course, you can also set shipping routes and restrictions so that people know whether or not you deliver to their country.
Prices/Fees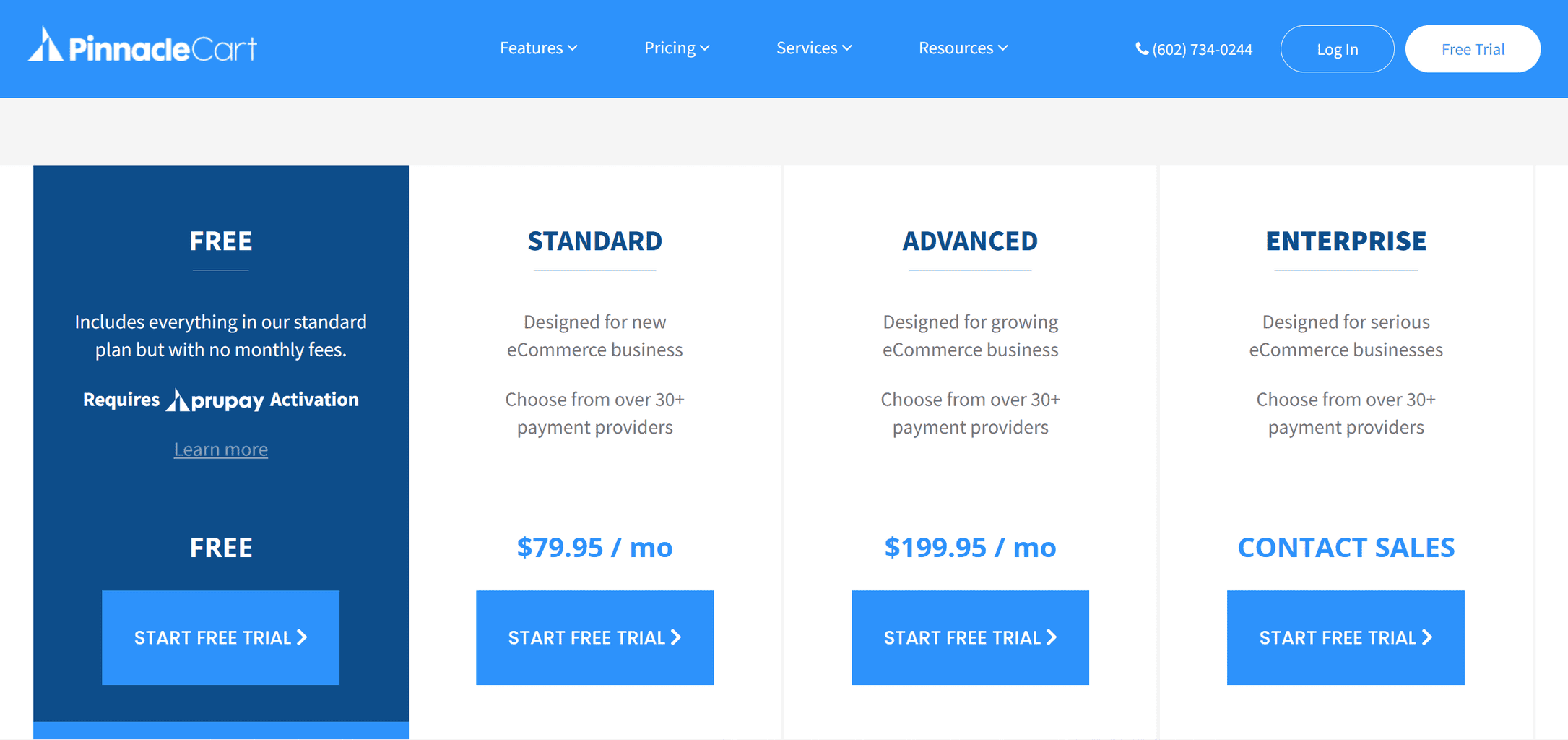 PinnacleCart has
4 pricing plans that you can choose from. All of the plans include the above-mentioned features, but there are a few differences between the plans in terms of which features are free and which need to be paid for.
Free
As you might have guessed by the name of the plan, you won't have to pay anything to get all of the available features.
However, this plan only works with PruPay payments since it's the only patent service that your site can use on this plan.
Perks included in this plan:
5 admin accounts

All of the features that we covered above

An unlimited number of products can be uploaded

An unlimited number of tags and categories can be assigned to the products

Ticket and live chat support options

An unlimited number of sales can be processed

An optional blog feature can be added for a fee

Facebook, Amazon, and other store links can be added to your site

You get shared site SSL, and you can get a dedicated SSL for a fee

10 GB of site disk space and 20 GB of bandwidth
Standard
The Standard plan will cost you $79.95 a month, and it comes with all of the same features and benefits as the free plan that we just covered.
The only difference between the two plans and the reason why you'd pay the 80 bucks is the fact that you don't need to use PruPay.
Getting this plan will give you full access to more than 30 other payment gateways that you can use on your site, which include PayPal, Stripe, Braintree, and so on.
Advanced
The Advanced plan will set you back $199.95 a month, and it comes with the following features:
All of the features from the previous plans

An unlimited number of admin accounts

Priority customer support over phone, ticket, or live chat

The blog feature is a standard inclusion that you don't have to pay for

Free dedicated SSL

Unlimited site disk space and bandwidth

Recurring billing

Split shipping

Specialized product filters
Enterprise
The enterprise plan comes with all of the features from the advanced plan, but the pricing will need to be determined by calling PinnacleCart directly.
This plan allows you to pick the features that you want in order to create the ideal site for your needs.
However, this custom site might cost you quite a lot of money. Additionally, the only way to know the actual number is to get in touch with a representative of the platform.
Payment Options
PinnacleCart gives you access to
37 different payment options that you can add to your site.
A lot of these gateways are global payment options that can be used by customers all around the world. These include 2Checkout, American Express, Braintree Payments, Cart Connect, and many others.
You also have country-specific gateways, like Converge for America, Moneris for Canada, or PayPal gateways geared for either global or specific country coverage.
Additionally, none of these payment gateways charges you a commission based on the number of transactions. However,
standard transaction charges still apply, so keep that in mind.
Company Background
PinnacleCart was founded in 2003 by Craig Fox. The company started as a shopping cart platform and website builder and has stayed on the same path for the two decades it's been active.
While the company has been steadily growing and slowly incorporating more and more useful features that customers can use, their goal is still the same – to provide a user-friendly site-building tool that anyone can use to start and grow their eCommerce business.
User Reviews
PinnacleCart has a respectable 4 out of 5-star score on PCMag, noting the small number of themes and the relatively high prices as the few downsides of the platform.
TechRadar gives PinnacleCart a slightly better 4.5 out of 5 stars, and they point to the security tools and the intuitive management dashboard as the best perks.
MerchantMaverick tops both of those scores and gives the platform a perfect 5 out of 5, pointing out the well-designed UI and the impressive set of features the site builder comes with.
User Reviews
Review Summary
0.0 out of 5 stars (based on 0 reviews)
Recent Reviews
There are no reviews yet. Be the first one to write one.
Submit a Review