Ordo is an omnichannel retailed solution that allows you to receive payments in real time at a fixed rate. As a PISP, Ordo has secure connections to more than 40 UK banks. 
Customers don't need specialised equipment or contracts. It's as simple as presenting the payment to be made to the customer. Ordo sets up the payment request by managing the backend processes of connecting to the bank, requesting the payment, and transferring it. 
In this article, we'll go over what Ordo is and review its services and prices. 
Let's get started. 
Ordo Overview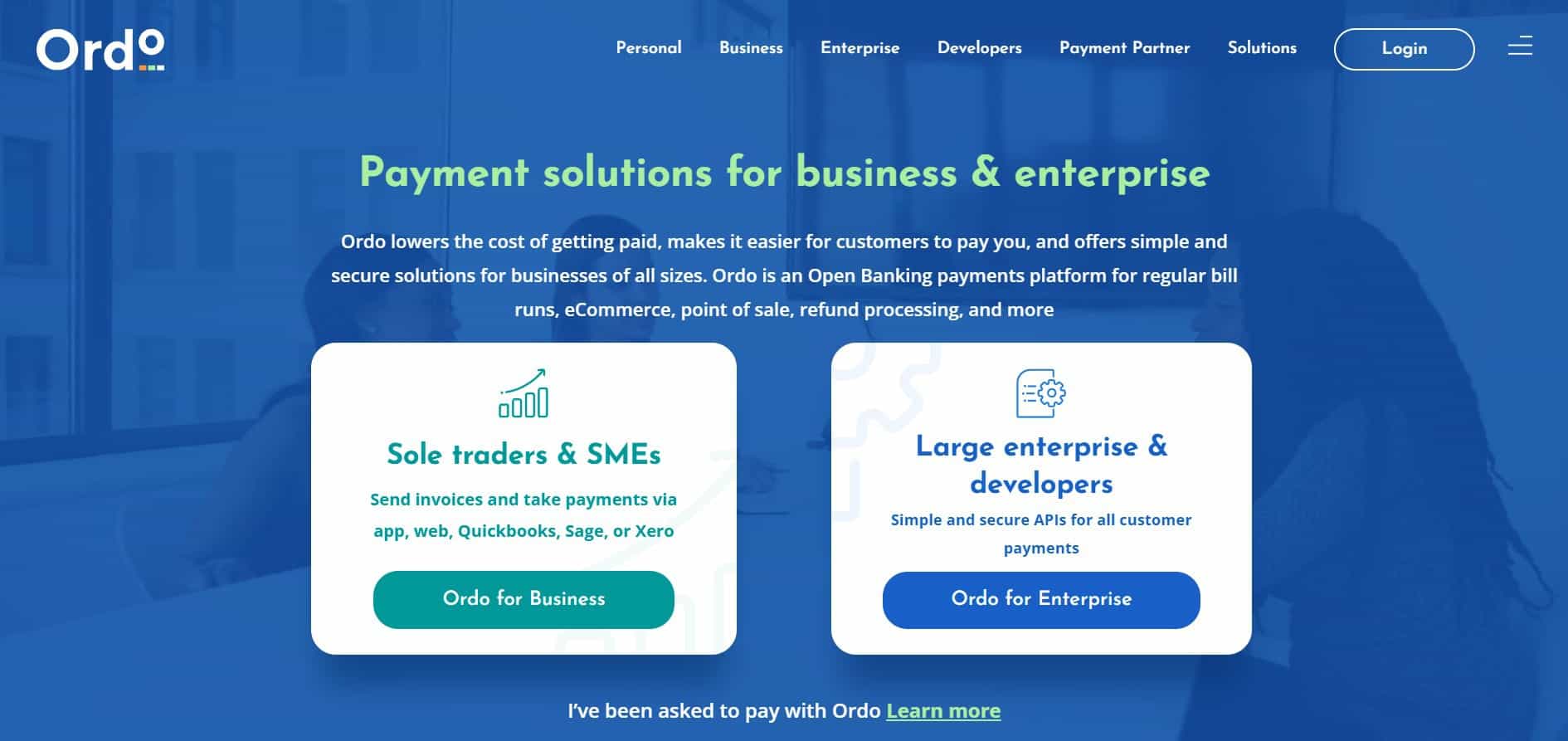 Ordo is a payment solution for individuals, businesses, and enterprises that aims to lower the cost associated with regular payments. 
According to their value proposition, they aim to make customer payments easier, more convenient, and quicker, regardless of how big your business is. 
As an open banking platform, you can use Ordo for ecommerce payments, regular bills, refunds, QR code payments, and direct POS transactions. 
Ordo was founded in 2018 by the former management team of the Faster Payments Scheme. Their plan was to provide an alternative to insecure direct bank payments and expensive card payments. 
Currently, Ordo is consistently adding new financial features such as point of sale capabilities regularly. Their vision for the future involves adding real-time direct debits, along with geographic expansion towards the EU. 
Furthermore, the company offers payment solutions for multiple forms of businesses and occasions. Here are some examples: 
Contact Centre Payments –

Regardless of whether you are making payments to customers or collecting, you can use utilise Ordo's low-cost real-time direct payments feature. The payment is bank-to-bank and a middleman agent manages the real-time transaction through the authorisation of both parties. 
Ecommerce & Online Payments –

Ordo removes the need for online card payments and middlemen fees. Through transaction-specific URLs, customers can make direct payments. The same is true for any refunds or cashback offers. 
Point of Sale Payments –

Users can scan QR codes to make instant direct payments. You can use your smartphone's camera to scan the payment QR code. 
Invoice and Bill Payments –

Secure invoice and bill payment options allow users to make regular error-free payments. 
Refunds and Customer Payments –

Businesses can easily approve and provide refunds and customer payments using existing details. 
Removing card payments allows for minimum risk and no unnecessary fees. 
What Differentiates Ordo from Others? 
Ordo offers two different versions of its services. One is for businesses that include sole traders and SMEs. The second is for enterprise-level businesses. 
For sole traders and SMEs: 
There are no setup fees or contracts. 

There's a flat 20p+VAT payment fee. 

No percentage is deducted regardless of the amount. 

There's easy integration with Xero, Sage, etc. 
Alternatively, for enterprise businesses: 
Payments are capped at 20p+VAT plus discounts for large volumes. 

There's direct payment reconciliation. 

Tamper proof references remove administrative errors. 

There's no risk of account impersonation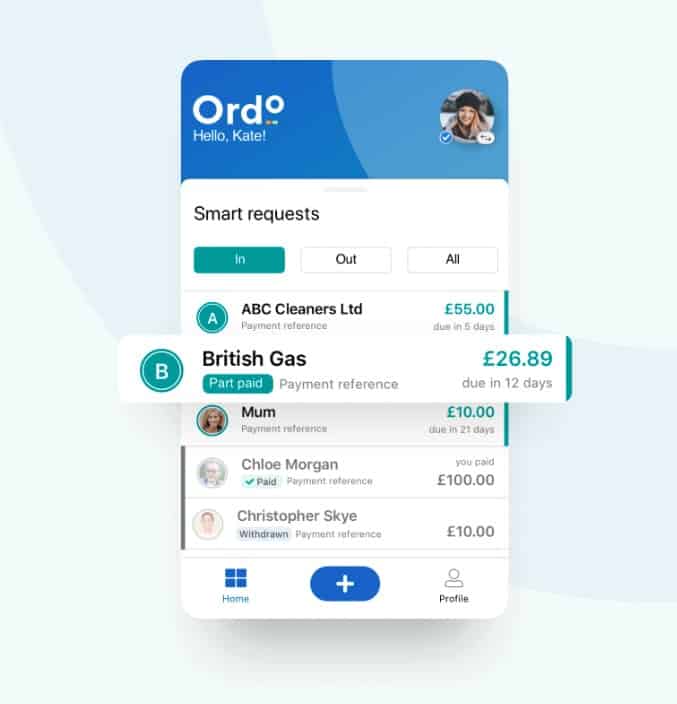 Customers never have to divulge any account, card, or reference details. 
Furthermore, here are some additional features that Ordo offers. 
Open Banking-Enabled Solutions 
Ordo provides various ways of enabling and making payments online without the need to divulge any card details. 
For example, customers can make straightforward ecommerce payments. You can set it up on your website or your payment portal. It helps minimise abandoned baskets. 
Furthermore, you can use the bill payment option to send requests for payment for bills. Customers can get real-time notifications and automatic reconciliation for dividend and insurance payments. 
For users who want to provide point-of-sale payment options, you can share QR codes and secure links for instant in-person payments. Multi-channel sharing allows direct bank-to-bank transfers instantaneously. 
These options help reduce fraud risks, enhance customer experiences, and minimise transaction costs. 
Integration Support 
Using Ordo doesn't require you to overhaul your systems. Instead, it allows you to integrate the platform into existing systems. 
That includes integration with existing billing platforms and CRM tools. On top of that, you can customise both the payer and biller experience to tailor journeys. 
Flat Fee System 
While most companies and banking systems work on a percentage system, Ordo adopts a flat fee system. There's a flat 20p+VAT fee on all transactions, regardless of the size of the transaction. 
For enterprises, there's a volume discount in some cases. 
Customised Solutions 
Ordo has designed customised solutions for different kinds of users. 
Sole traders can utilise the Ordo app to instantly access their finances. Meanwhile, small businesses can get direct access to the web service platform from where they can bulk upload invoices and connect their accounting software. 
You can connect your business's applications directly to Ordo using one of their APIs. To avoid APIs, you can connect your business using the Ordo Bridge product. 
Ordo Review 
Ordo is still in its early stages but it's catching up. As the company keeps adding new features, it is bound to become one of the leading services in the industry. 
Since the company has adopted a customised solutions approach, it will likely continue to target specific audiences. 
The platform offers complete integration support through APIs and a non-API solution. That helps differentiate Ordo from other platforms in the industry. That's because users don't have to make major changes to their existing systems. All they need to do is make an addition that improves payment efficiency. 
Furthermore, the flat fee may not be for every vendor. However, the fee is low enough to be viable in most situations. 
On top of that, the Ordo app allows vendors to communicate with customers directly. In non-POS situations, this can help make collecting payments simpler. 
Pros 
The following are some major pros of using Ordo.
Free for individuals with up to 5 smart requests per month. 

A 20p+VAT flat fee for businesses of all sizes on transactions of all sizes. 

End-to-end encryption of smart requests. 

Complete integration support with CRM tools and billing platforms. 

Non-API business application integration. 

Easy setup for refunds. 
Flat fees tend to be more useful when payment amounts get bigger. 
Cons 
The following are some of the drawbacks of Ordo. 
Works with banks that signed up for the government's Open Banking Initiative. 

Ordo's app is not available on the Google Play Store. 

Currently only works within the UK. 

Users are stuck with a flat fee. 
Ordo currently only works with 39 banks in the UK. You can learn more here. 
User Reviews 
Since Ordo is a relatively new company, you won't find many reviews online. However, you can check out the app's reviews on the iOS App Store. 
Currently, the Ordo app has a 4.9 rating on the store. The following are a couple of reviews from the App Store. 

The second review praises the app's direct communication system. 

Overall, the app has positive reviews. 
Ordo Pricing and Fees 
As mentioned before, Ordo is straightforward with its pricing system. You can try the platform for free. However, moving on, there are four categories. 
Personal –

Free for individuals with up to 5 smart requests per month. 
Business –

At 20p+VAT (per transaction) for sole traders and SMEs with up to 10,000 smart requests. 
Enterprise –

At 20p+VAT (per transaction) for large companies with volume option pricing. 
Payment Partners –

At 20p+VAT (per transaction) for payment facilitators with wholesale option pricing. 
Whether the transaction is for £100 or £5,000, there will always be a flat fee. 
What's the Verdict? 
Ordo's flat fee system may seem counterintuitive but ends up favoring businesses and customers. Furthermore, since there are no card fees involved, both parties end up saving money on each transaction. 
On top of that, offering non-API integration allows businesses to quickly incorporate Ordo into their systems. 
Overall, Ordo is an excellent option for businesses of all sizes looking to minimise fees and fraud risks. 
Ordo User Reviews
Review Summary
0.0 out of 5 stars (based on 0 reviews)
Recent Reviews
There are no reviews yet. Be the first one to write one.
Submit a Review