Modulr is payments enhancing service that enables businesses to automate and launch various financial services. 
The company provides a complete payments architecture through an API that allows partners to integrate existing systems. For the most part, this happens through a secured open banking system. 
In this article, we'll go over what Modulr is and review its services and prices. 
Let's dive right into it. 
Modulr Overview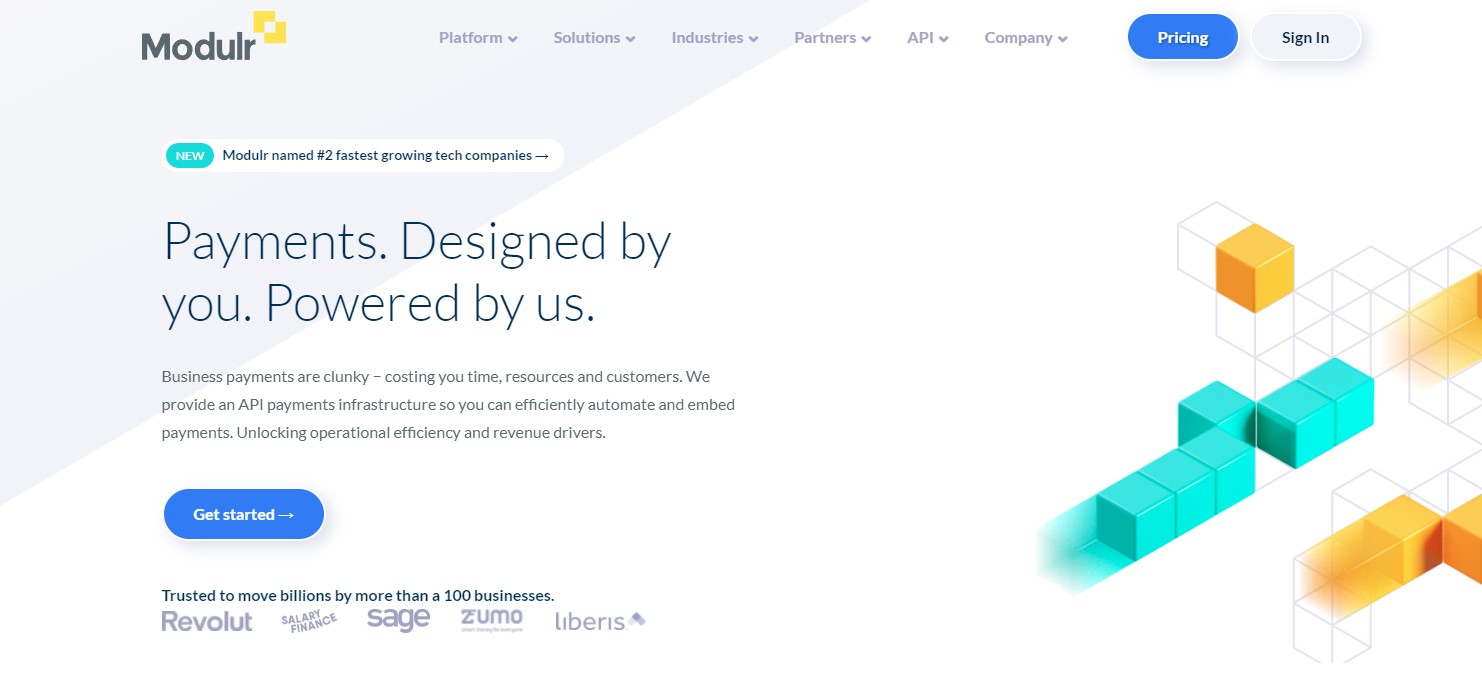 Modulr is a fintech company that provides digital businesses with a payments-as-a-service API. They aim to improve business productivity by providing more efficient payment systems. 
The company was founded in 2015 and is headquartered in London. In November 2020, PayPal Ventures invested £9M in the company. 
By March 2021, Modulr was named the second-fastest growing tech company in the United Kingdom. That helped the company get additional funding from FIS Ventures. That allowed Modulr to expand into the Netherlands by September 2021. 
More recently, Modulr raised £83M in a Series C funding round that was led by General Atlantic. At this point, the company is actively providing their payment architecture to over 200 businesses. 
Currently, Modulr is authorised by the UK's FCA, Dutch Central Bank, and the Central Bank of Ireland as an EMI (Electronic Money Institution). 
With their latest funding, the company aims to expand Modulr into other European countries. 
Currently, they provide the following solutions to digital businesses. 
Automation –

Modulr allows you to automate your payment flows. That includes payables, receivables, disbursements, and collections from customers. The point is to reduce operational costs by eliminating unnecessary checks and intermediaries. 
Embedding –

Modulr systems and API embeds within existing software and platforms. That allows businesses to enhance payment systems without making any changes to their existing platforms, customer experiences, and workflows. 
Launching –

The platform also helps businesses launch their financial services efficiently. 
Modulr allows businesses to issue accounts using Euro IBANs and sort codes. On top of that, they're directly connected to Faster Payments and Bacs schemes, allowing them to settle all funds at the Bank of England. 
What Differentiates Modulr from Others? 
Modulr doesn't target individual customers; they target digital businesses that have massive cash flows, payment receivables, and disbursements. 
The company works with SMEs, enterprise organizations, government institutions, and nonprofits. They have a partner programme where they work side by side with these businesses. 
They target many industries including the fintech, lending, travel, crypto, and wealth management industries. 
Furthermore, here are a few key features of the Modulr platform. 
Open Banking  
Modulr allows open banking A2A payments by combining the platform with their eMoney accounts. This allows the reconciliation to be automated and makes fund flows visible. 
It also removes card processing fees, reduces fraud, and helps avoid chargebacks. On top of that, all payments are instantaneous, requiring no wait times. 
Furthermore, all the successful payments have a fixed price per transaction. The platform allows single immediate payments and recurring payments if you want to automate the payments.  
Card Issuing 
You can offer card issuing from the payments platform even if you have an existing card programme. You can create, distribute, and manage physical and virtual cards via the API. 
They are fully customisable cards, allow you to access the entire platform, and have a simple management portal. You can also set user permissions, control things like cardholder levels, and get a unified view of all the accounts, transactions, and balances. 
Account Services  
Modulr allows you to create as many e-money accounts as you want in both the GBP and euro. The accounts come with UK sort codes and IBANs for EU accounts. 
Furthermore, fund segregation allows for faster reconciliation and processing. 
Multiple Platform Features  
The multi-faceted platform offers a lot of features for businesses. That includes easy API integration where you only have to start with a single integration. 
Furthermore, you get a customer portal that's easy to use, simple, and direct. 
The platform is secured, and industrially compliant, and users can add customisable approvals for unique payments. 
Payment Innovation 
Modulr aims to provide the latest payment innovations to customers. That includes a Payment Initiation Service – it allows eCommerce, property, and alternative banking businesses to reduce the risk of fraud and settle faster. 
Another addition is the Confirmation of Payee which provides assurance of payments to the right recipients. 
Lastly, the Request to Pay feature allows businesses to communicate with customers, request payments, and automate invoicing. 
Geographic Services 
Modulr allows you to accept Bacs payments in real-time. For merchants, there are direct debit collections, providing visibility of business cash flow at all times. 
Businesses can also utilise direct debit outbound services, making it easier for customers to set up their accounts. 
Lastly, your Modulr account is connected to the Clearing House Automated Payment System (CHAPS), enabling you to complete same-day high-value transactions and develop their receipts. 
For European businesses, the company offers SEPA credit transfer, SEPA direct debit, and SEPA Instant services for real-time payments. 
Modulr Review 
Modulr is a well-established and well-backed company that offers technology services to businesses. While it's a payments-as-a-service company, it's actually offering a platform for businesses to make existing processes more efficient using Modulr's API. 
Since it integrates with most applications like Primo Payroll, BrightPay, and Revolut, among others, it works great for businesses. They don't have to overhaul existing systems and their customers don't need to make payments any differently or make new accounts. 
Therefore, it adds to the efficiency of businesses by only making their payments instantaneous. On the other hand, the customers of those businesses no longer need to pay additional intermediary fees. 
Furthermore, they can utilise a more customer-friendly platform for their payments. 
This allows Modulr to have a good relationship with the end user too. That's why their customer support extends to the customers of the businesses they partner with. However, that's only if the matter involves the Modulr platform or their technology. 
Pros 
The following are some major pros of using Modulr.
Easy integration into existing systems through a single API 

Dedicated customer portal for business partners 

Various payment innovation features  

Custom card issuing services for businesses 

Allows quick reconciliation accounts  

You can get sandbox access to the Modulr API 

Fixed fee per transaction under all open banking payments 
The company provides various automation features for recurring payments. 
Cons 
The following are some of the drawbacks of Modulr. 
Doesn't directly work with end users 

Currently only supports the English language 

Works with a limited number of industries 

Currently only works with accounts in the UK and Netherlands 
Because the platform integrates with existing systems, it may not work as well if existing systems are unoptimised. 
User Reviews 
Currently, Modulr has a 3.1 rating on Trustpilot. The following is a written review of Modulr on Trustpilot.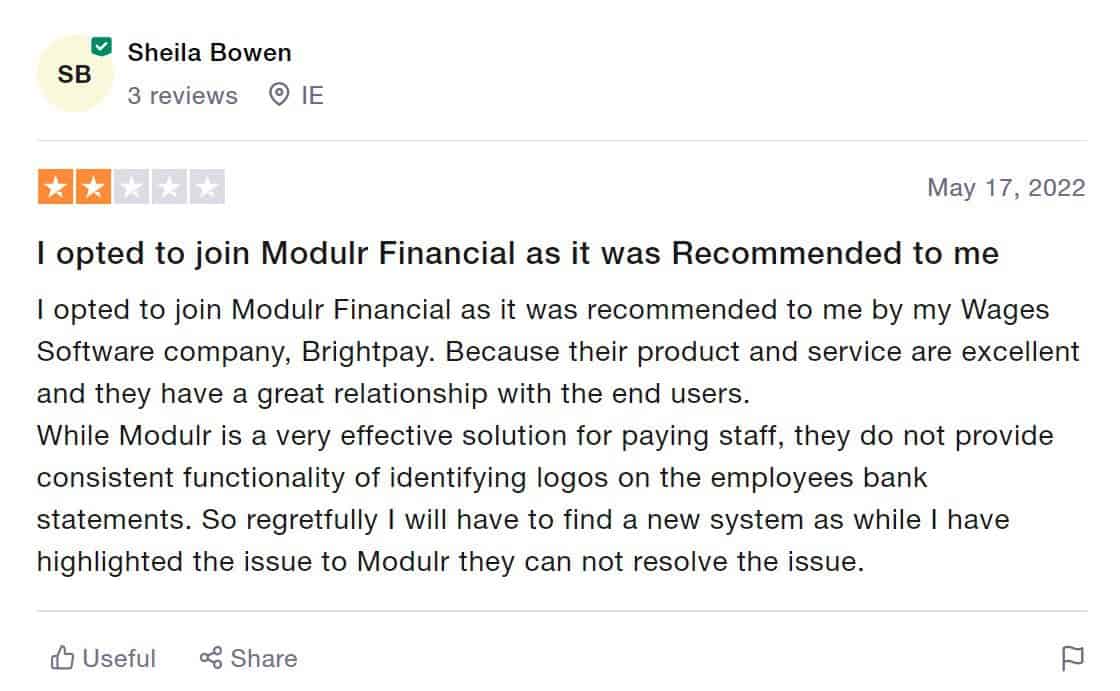 Meanwhile, Modulr has a 5.0 rating on Smart Money People.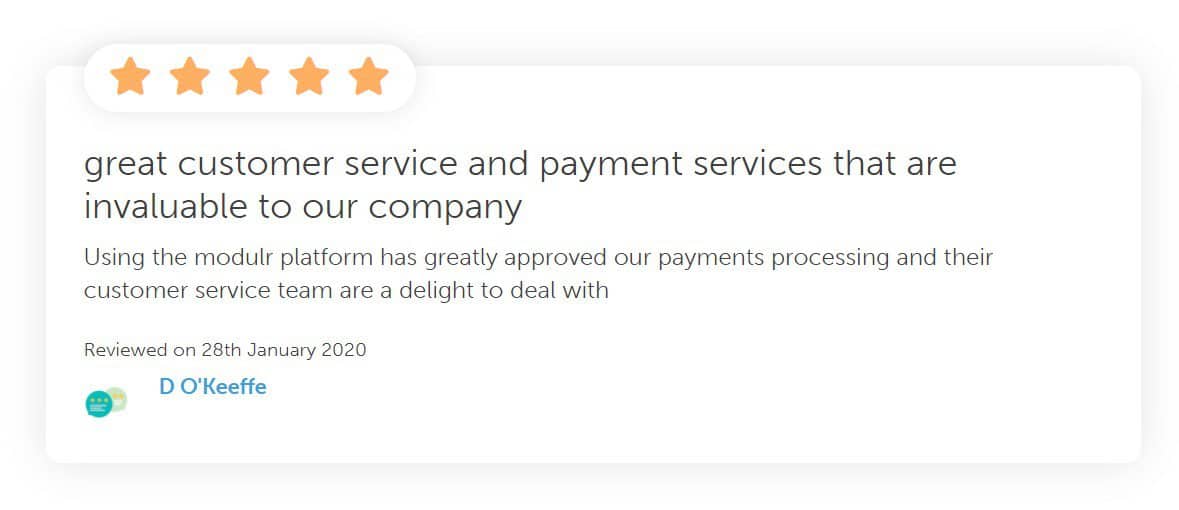 Furthermore, Modulr has a Net Promoter Score of 51. 

For the most part, businesses that use Modulr are happy with the platform.  
Modulr Pricing and Fees 
Modulr doesn't provide any pricing information on their website because it provides a tailored partnership, depending on the business. 
The pricing is mostly based on the account and transaction volume, along with what kind of product is involved. 
You can get a quote from the company by filling out their form and getting a meeting here. 
Lastly, all open banking transactions have a fixed fee per transaction. 
What's the Verdict? 
Modulr is a good option for businesses that are looking to automate their payment systems. It allows easy API integration into existing systems and provides a customer-facing portal. 
That is especially useful for e-commerce businesses and SaaS companies that have checkout pages or work on recurring subscription payments. 
All in all, it works great for businesses that require a pick-me-up for their payment services. However, the end user's experience mostly depends on the partner business. 
Modulr User Reviews
Review Summary
0.0 out of 5 stars (based on 0 reviews)
Recent Reviews
There are no reviews yet. Be the first one to write one.
Submit a Review