BOPP is a mobile payments service provider that makes it easy for users to pay each other directly. Their primary goal is to minimise card processing fees while providing a secure system. 
The privacy-first company ensures that no bank login information is shared during transactions. Their open banking platform also incorporates blockchain and decentralisation technology, making transactions convenient for all kinds of users. 
In this article, we'll go over what BOPP is and review its services and prices. 
Let's dive right into it. 
BOPP Overview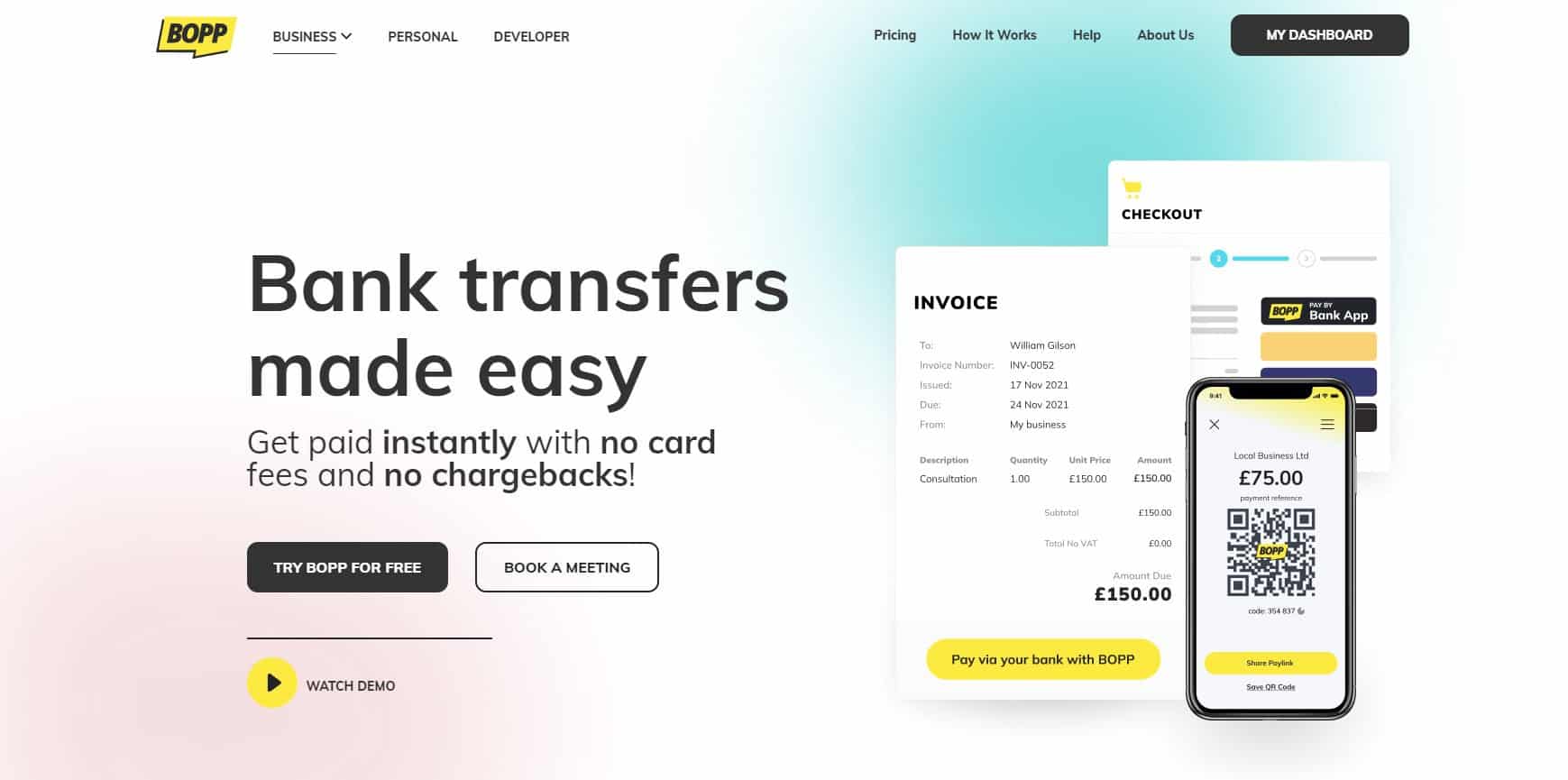 BOPP is a direct payments company that aims to ease bank transfers by removing card fees, making transactions instant, and avoiding chargebacks. 
According to the CEO of Agitate, the company that owns BOPP, as cash becomes a thing of the past, businesses need better ways to be paid. He claims that every merchant using BOPP can reduce fraud, save money, and get their money in their banks immediately. 
On top of that, the company regularly partners with charities and organisations like Parentkind to help bring them towards open banking payments. 
BOPP provides a lot of payment solutions to different kinds of businesses and organizations. Here are a few notable ones. 
Invoice Payments –

Users can add BOPP as a payment method in their accounting system. It's a one-step process and allows easy integrations with Quickbooks, Zoho, Xero, and Pandle, among others. It allows customers to pay more quickly and conveniently. 
Moto Payments – It allows digital mobile point of sale (mPOS) payments, without the need for a card machine since there are no cards or card fees involved. Customers can also pay by scanning a QR code. 
No Code Payments –

Users can incorporate digital payments directly into their workflows without any coding. You can add BOPP paylinks to your websites. 
Online Payments –

Secure online payments with no card details requirements allow for faster checkouts, reduce card fraud, and ensure instant transactions. 
POS Payments –

Users can make in-person payments by scanning a QR code. 
By eliminating cards from the equation, BOPP removes all the redundancies and risks of card usage. 
What Differentiates BOPP from Others? 
BOPP's primary selling point is that they make bank transfers easy and secure. Here's how it works for businesses: 
You register a receive your BOPP activation code. 

Configure payments by adding a reference, expiry date, and choose whether the amount is fixed or open. 

Share request by sharing your BOPP paylink via message, email, or by showing your QR code. 
As a customer, you can pay with BOPP by: 
Clicking a BOPP paylink or scanning a QR code. There's no need for downloading the BOPP app. 

On the payment details screen, check the payee, the amount to be paid, and choose your bank. 

You'll be redirected to your bank for authentication where you can confirm the payment. 
Throughout this process, there are no card details, account details, or any other form of sensitive information involved. 
Furthermore, here are a few key features of BOPP. 
Instant Transactions 
BOPP effectively eliminates middlemen by allowing two bank accounts to transfer funds between them. That means there are no cards, payment systems, or unnecessary checks involved. 
Using BOPP, you are making a direct bank transfer into the business's account. Therefore, all transactions are instantaneous and as secure as your bank's infrastructure. 
No Card Fees 
Since BOPP is essentially assisting direct bank transfers, there is no need for cards. That means there are no excessive card fees involved. 
Furthermore, on top of the 3% transaction fees, card payments take 3-5 days to end up in the business's account. 
Easy Setup 
It's easy for businesses to set up with BOPP as the onboarding process is quick. On top of that, you need any coding to incorporate BOPP on your website. 
You can easily add the BOPP paylink button on your site. Their API allows you to integrate BOPP directly into your website and applications. 
Customers Don't Need the App 
Customers don't need the BOPP installed to make payments. After scanning a QR code or clicking a paylink, they are redirected to their bank's app. 
This makes the process more efficient and ensures security and privacy. 
Payment Management 
BOPP provides a robust dashboard where users can create payment requests, review transaction history, and track payments. 
BOPP Review 
BOPP is a fast-growing company that is currently targeting small businesses, e-commerce sites, charities, and community groups. 
It doesn't try to be a solution for every kind of business and sticks to its niche. Therefore, they've managed to properly cater to the niches they target. 
Furthermore, their open-banking system allows for quick and direct payments. That helps both the customers and businesses. 
Businesses receive funds instantly. For customers, the process is quick, secure, and involves no unnecessary middlemen fees. 
On top of that, BOPP is extremely easy to set up and integrate. Since their API directly integrates into your website and app, you don't need any external help setting it up. 
Furthermore, the dashboard they provide makes it easy to track cash flow and workflow. 
Customers who make payments through BOPP can also take advantage of BOPP. All payments happen under the security of their bank app. The also allows users to buy gifts, share takeaways, split bills, and easily donate to charities. 
Pros 
The following are some major pros of using BOPP.
Quick and easy setup and integration for businesses 

Simple three-step checkout for customers 

Easy to create BOPP paylinks and QR codes 

QR code expiry settings allow for convenient discount codes and fundraising options 

Payment notes allow users to add instructions 

Businesses can add a custom thank you note or other messages 
Bank-to-bank authorisation minimises security risks and quickens the process. 
Cons 
The following are some of the drawbacks of BOPP. 
Some features require users to open the website 

Currently works only within the UK 

Integration is harder with custom-designed websites 

While BOPP works with most major banks, there are some banks that it doesn't work with.

Here's

a list of all the banks it currently works with 
Since BOPP relies on the bank systems, if the bank system is having connectivity issues, BOPP won't work either. 
User Reviews 
Currently, BOPP's profile on Trustpilot has no reviews. Furthermore, you won't find any user reviews on sites like Capterra and G2. 
However, you can check out some reviews on the iOS App Store and Google's Play Store. 
BOPP has a 4.0 rating on the App Store. Furthermore, the following are a couple of reviews from the Google Play Store. 

The second review also praises the easy setup and quick funds turnover. 

Overall, the BOPP app has good reviews. That being said, there are also a few negative reviews. 

However, the majority of reviews praise the app and its services. 
BOPP Pricing and Fees 
BOPP provides a clear outlook of their prices. You can try out the app for free with a 30-day free trial. 
After that, you can choose from two pricing plans: 
Value Bundle Plan –

At £10 per month, you can get £5,000 worth of transactions. Every transaction above that includes a 0.5% fee with a 5p minimum and 50p maximum. 
Pay As You Go Plan –

This plan directly works on a 0.5% per transaction fee with a 5p minimum and 50p maximum per transaction. 
If your monthly transactions are below £5,000, you're better off with the first plan. 
What's the Verdict? 
BOPP is an end-to-end payment solution that eases business and customer transactions. It makes it convenient for customers to pay while making cash flow faster for businesses. 
On top of that, it helps reduce unnecessary fees and minimises the risk of fraud. 
The easy setup, integration, and seamless transaction process make BOPP a good option. 
Overall, BOPP works great for small businesses, e-commerce stores, charities, and community group owners. 
BOPP User Reviews
Review Summary
0.0 out of 5 stars (based on 0 reviews)
Recent Reviews
There are no reviews yet. Be the first one to write one.
Submit a Review