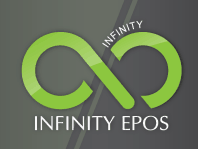 Infinity EPOS has been one of the front runners in EPOS solutions for the hospitality industry for many years. The company installs their products directly to end users and also distributes to the trade.  Infinity EPOS' hardware has been exported to over 50 countries and their software is used in over 20 countries, by more than 20,000 businesses globally.
Infinity EPOS Point of Sale/Epos Plans and Pricing
Businesses need to contact Infinity EPOS directly for most plans and prices, however, they do list a few online: –
Rental EPOS System – £33 per week
No long term contract
15" touchscreen
EPOS terminal
Sewoo terminal receipt printer
Sliding cash drawer
Infinity EPOS software
Back office
Sampos Complete All-in-One – £1,195 + VAT
Coffee shops and small eateries
Also Available, with prices
CR6 Advanced 12,000 PLU cash register – £274.95 + VAT
EPOS Starter Kits – £178.95 – £212.95 (ex VAT)
To see how they compare, have a look at: UK Merchant Account and Debit Card Processing Fee Comparison.
Infinity EPOS Features
Fully customisable
Software powered by ICRTouch
Add or edit items remotely
Stock control
In-depth sales reporting
Clerk restrictions and auditing
Scheduled price changes
Pictorial charts and reports
Employee time and attendance
Loyalty system
Table reservations
Menu and pricing
Orders and payment
Other Infinity EPOS Products and Services
Chip and pin machines
Touchscreen terminals
EPOS printers
EPOS scales
Staff login and card readers
Barcode scanners
Staff login key fobs
Customer loyalty cards
Company Background
Infinity Business Advancement Systems, t/a Infinity EPOS, works out of its head office in Cardiff and branches in Swansea and Yeovil.  The company is a private limited company with share capital which was incorporated on 14th March 2012.
Infinity EPOS focuses on software and easy to use touchscreen tills.  The company uses brands such as Posbank, Sewoo, Valcretec, PosBill and others.  Infinity EPOS has its own software development team which is constantly looking at the EPOS needs of its customers and finding solutions which make their lives easier, so they can concentrate on the bottom line.
The company has a dedicated in-house support team which supports its 20,000 customers around the globe.
Infinity EPOS Pros & Cons
The following pros and cons are based on information available on Infinity EPOS's website and from reviews on Trustpilot.  There are no 'Cons' posted online.
Pros:
Fast, efficient service
Value for money
Excellent customer service
Professional company
Cons:
Infinity EPOS Reviews
Trustpilot: 4.6 out of 5 based on 22 reviews
Based on the reviews of the above site, our Merchant Machine score is 4.6 out of 5.
Website:  http://www.infinityepos.com