Originally founded in 1865 as The Hongkong and Shanghai Bank, HSBC is one of the oldest financial service companies in the world. 
The investment bank offers financial services to a range of personal users and businesses, offering services surrounding everyday banking, finance and borrowing, payments, protection and import and export. 
Merchant services are also offered by HSBC and are outsourced with a partnership with Global Payments, an American payment company listed as a Fortune 500 company in 2021. Merchants looking to learn more about the merchant services offered by HSBC can check out our pricing and review in the article below. 
Prices/Fees
The pricing and fees of the merchant services offered by HSBC are, unfortunately not published online.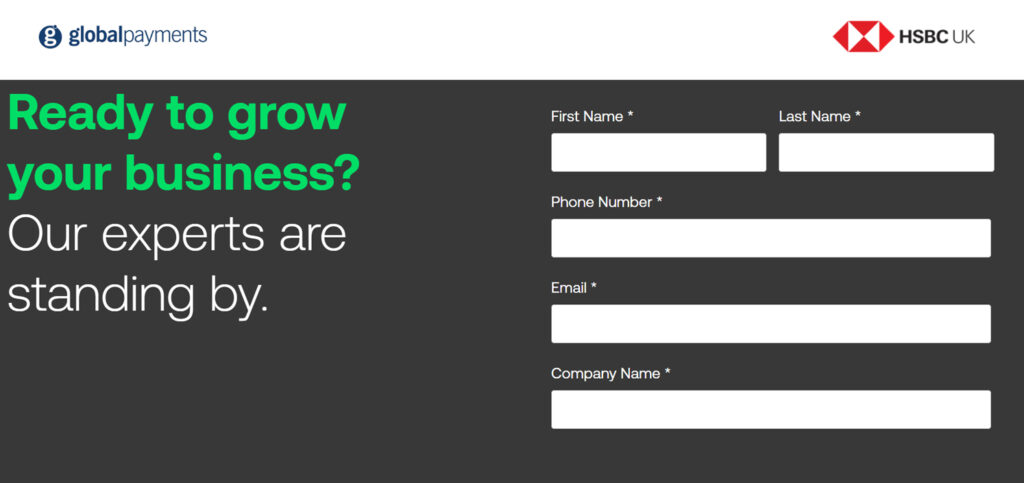 For an accurate representation of the product and service pricing, merchants should sign-up to Global Payments via HSBC to access the payment information. 
Product/Service Overview
The merchant services offered by HSBC are actually outsourced to Global Payments with a partnership with the global payment services company. 
Global Payments, established in 2000, specialises in offering both payment technology and services to consumers, merchants and issuers. Most recently, in 2021, the company was named to the Fortune 500 as one of the largest corporations in the United States as dictated by total revenue.
With the partnership between HSBC and Global Payments, merchants can expect to benefit from a range of products and services offered. Examples of available merchant services include omnichannel payments, business intelligence and an analytics suite. 
Omnichannel payments
Perhaps the most valuable of the products and services offered by HSBC is the ability to offer an omnichannel payment solution.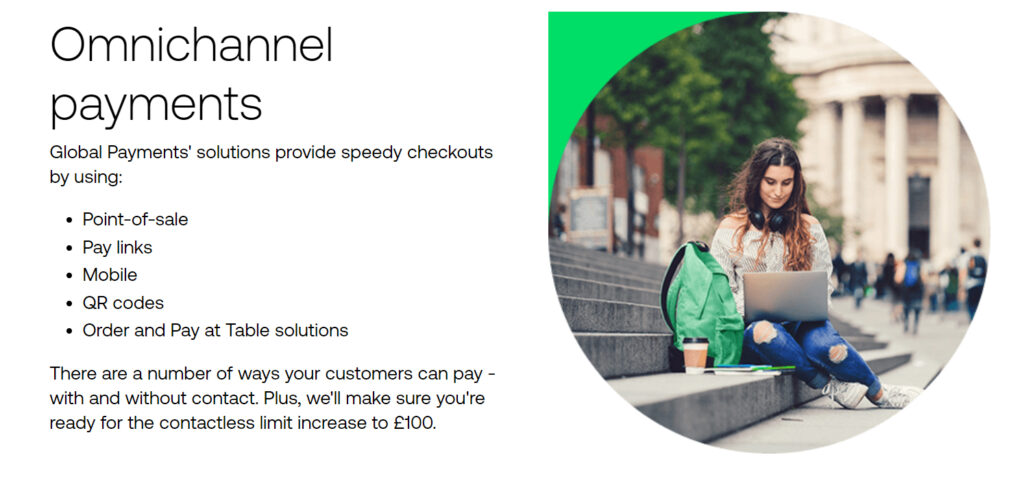 The omnichannel payment solution allows for merchants to accept a long list of different payment methods including point-of-sale, pay links, mobile, QR codes and order and pay at table solutions. 
An omnichannel approach is great for merchants that allow for payments to be taken in a variety of different methods. For example, businesses operating in the retail space are able to offer a traditional brick-and-mortar POS solution alongside the ability to sell online and on the road at trade stands or events. 
The omnichannel solution keeps track of everything that a business could need to know. All sales are available to view as data in real-time and customer data can be collected and used to extract real business value. 
Point-of-sale (POS)
Merchants searching for a Point of Sale (POS) solution can find a range of options provided by HSBC and Global Payments.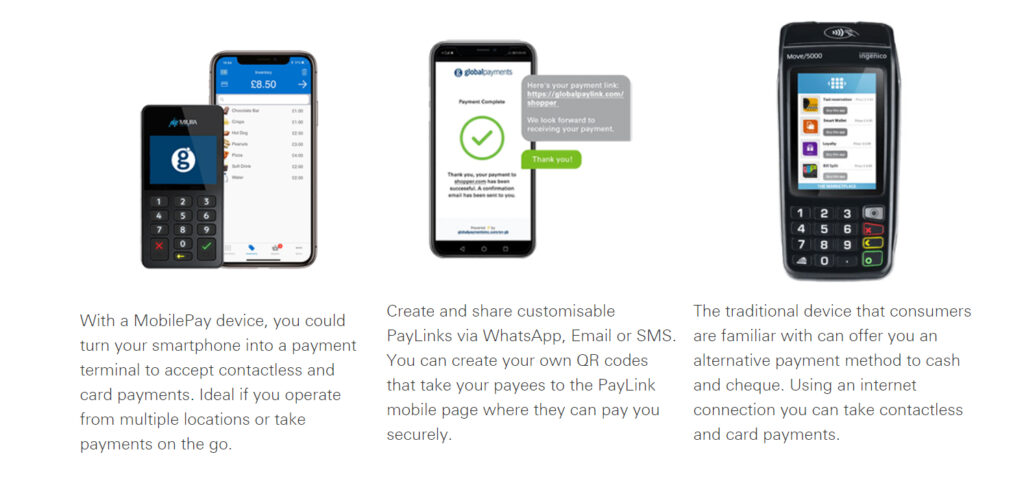 Businesses can choose from tailored POS systems with everything from a comprehensive ePOS system to a small, mobile POS that can be used with full flexibility. Each of the POS terminals is suited to different business applications with industries ranging from retail to hospitality finding specific terminals to suit. 
The traditional POS services offered are simply the start of the products available and with QR codes, pay links and more available from HSBC, merchants find countless options available when accepting payments. 
Next-day funding
Merchants looking to improve the cash flow of their business are able to benefit from next-day funding offered by HSBC and Global Payments. 
At no extra cost, all merchants are able to keep on top of their cash flow with the financial benefit of next-day funding. To find out more about the improved cash flow accolades offered by HSBC, merchants should head over to sign up for the Global Payments merchant services from the banking site. 
Business intelligence
The Merchant Portal, offered to all merchants, allows users to view valuable data surrounding their business. 
Upon entering the Merchant Portal, users can find access to a long list of services including business troubleshooting, deposit validation and billing verification. Additionally, all disputes can be managed from the Merchant Portal, allowing merchants to utilise queue management from a useful dashboard that highlights a probability score of win/loss scenarios. 
This is a great tool for keeping all business management under the same roof, offering a powerful product that can lead to a streamlined service. The Merchant Portal can be accessed by all payment/merchant solutions offered by HSBC and Global Payments. 
Analytics suite
The analytics suite offered by HSBC Merchant Services allows merchants to gain an improved understanding of how their business best functions. 
Global Payments' analytics suite offers insights into customers with merchants given the ability to view data surrounding the following:
Total numbers of sale volume, visits and average ticket order

Comparison of locations 

Low and high-performance highlights of locations

Heat maps of postcodes
The analytics suite offers unrivalled business value, allowing merchants to make informed decisions with real, specific data. The suite is offered to all merchants using the services offered by HSBC and allows for top-quality information to be used in all business decisions made. 
Company background
HSBC was founded originally in 1865 under the name of The Hongkong and Shanghai Bank. 
The company was incorporated the following year, in 1866, under the name of The Hongkong and Shanghai Banking Corporation (HSBC). In the UK, it wasn't until 1991 that HSBC Holdings plc was incorporated in England and Wales. Upon the transformation, HSBC was recognised as a non-trading, dormant shelf company.
Although traditionally associated with banking in the UK, HSBC does offer a range of merchant services which it outsources to Global Payments. The American Fortune 500 payment company was founded in 2000 as a subsidiary of National Data Corporation. 
The company has since grown to one of the world-leading payment technology companies, recognised as one of the top 500 largest corporations in the USA determined by revenue. 
User reviews from around the web 
As the merchant services offered by HSBC are outsourced to Global Payments, we have taken the independent reviews from the American payment company alongside the reviews for HSBC as a whole. 
Trustpilot

(Global Payments) – 4.4 / 5 (based on 1,800 reviews) 

Trustpilot

(HSBC) – 1.3 / 5 (based on 6,112) 
Taking an average of the total reviews for both Global Payments and HSBC, the merchant services offered by the investment bank score a total of 2.0 / 5 based on 7,912 reviews.
User Reviews
Review Summary
0.0 out of 5 stars (based on 0 reviews)
Recent Reviews
There are no reviews yet. Be the first one to write one.
Submit a Review