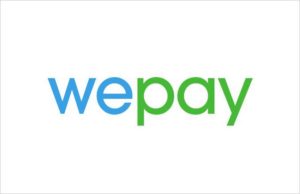 WePay is a platform payments company which, as of October 2017, is part of the J P Morgan Chase group.  It handles digital transactions for platforms such as GoFundMe, FreshBooks and Constant Contact.  In July 2016, WePay expanded into the UK, which was its first move outside North America.
WePay Credit Card Processing & Payment Services
WePay Payments
WePay accepts the following credit and debit cards.  There are plans to include a wider range of cards.
Visa
Mastercard
American Express
Discover cards
WePay Pricing & Fees
WePay supports UK users that: –
Have a UK address
Have a UK bank account
Want to accept payments in British pounds
Want to have funds settled to them in British pounds
WePay's pricing plans are now only available on request.
To see how that compares have a look at: UK Merchant Account and Credit Card Processing Fee Comparison.
WePay Features
PCI security
Integrated payments
Apple Pay and Android Pay compatibility
Risk API
Custom UX
Instant onboarding
Mobile POS
Transaction-level reporting
Tokenisation
Customer Service – 3 levels
Silver – for platform businesses during office hours via email
Gold – support through telephone, email, with faster response time
Platinum – 24/7 with a dedicated technical account ret
Company Background
WePay was founded in Boston in 2008 by Rich Aberman and Bill Clerico.  Rich Aberman developed the idea after finding it difficult to collect money from friends for his brother's bachelor party.  Friends had donated $4,200 in cash, cheques and via PayPal, so Aberman could pay for the various aspects of the party.  However, receiving them via different means made Aberman's life rather tiresome.  He got together with his friend, Bill Clerico, and together they came up with WePay.
Bill Clerico has successfully grown WePay from a Y Combinator startup to 2017's acquisition by J P Morgan Chase.  Rich Aberman is WePay's product strategist whose expertise is in high demand as a speaker at Fintech conferences.  WePay opened its doors in Canada in early 2015 and, in 2016, announced it was opening up in the UK.  In 2011, the company had 30 employees.  By the end of 2017, this had risen to 180 employees located in California, Rhode Island and the UK.
WePay believes strongly in customer service excellence.  In 2017, the company won 10 Stevie Awards, including Gold Award for Sales Distinction of the Year, Best Use of Technology in Sales and Customer Service Department of the Year in Financial Services.
The founders of WePay are always looking for innovative ways to showcase their products.  In 2010, they made an uninvited appearance at PayPal's developer conference.  Messrs Clerico and Aberman dropped a 600-pound block of ice at the conference which was filled with dollar notes.  Their point was made – PayPal freezes your money, so people should look elsewhere for their payment processor solutions.
WePay Pros & Cons
ePay Pros & ConsThe following pros and cons are based on information available on Sage Pay's website and reviews from Trustpilot.
Pros:
User friendly
Good customer service
Reliable platform
Great for fundraising
Speed and ease of onboarding
Cons:
Complaints about holding on to funds
Poor customer service
High fees, especially on small donations
No customer service phone number
No customer service at weekends or evenings
WePay Reviews
Trustpilot: 4 out of 5 based on 515 reviews
WePay Merchant Machine score is 4 out of 5.
Website:  https://go.wepay.com