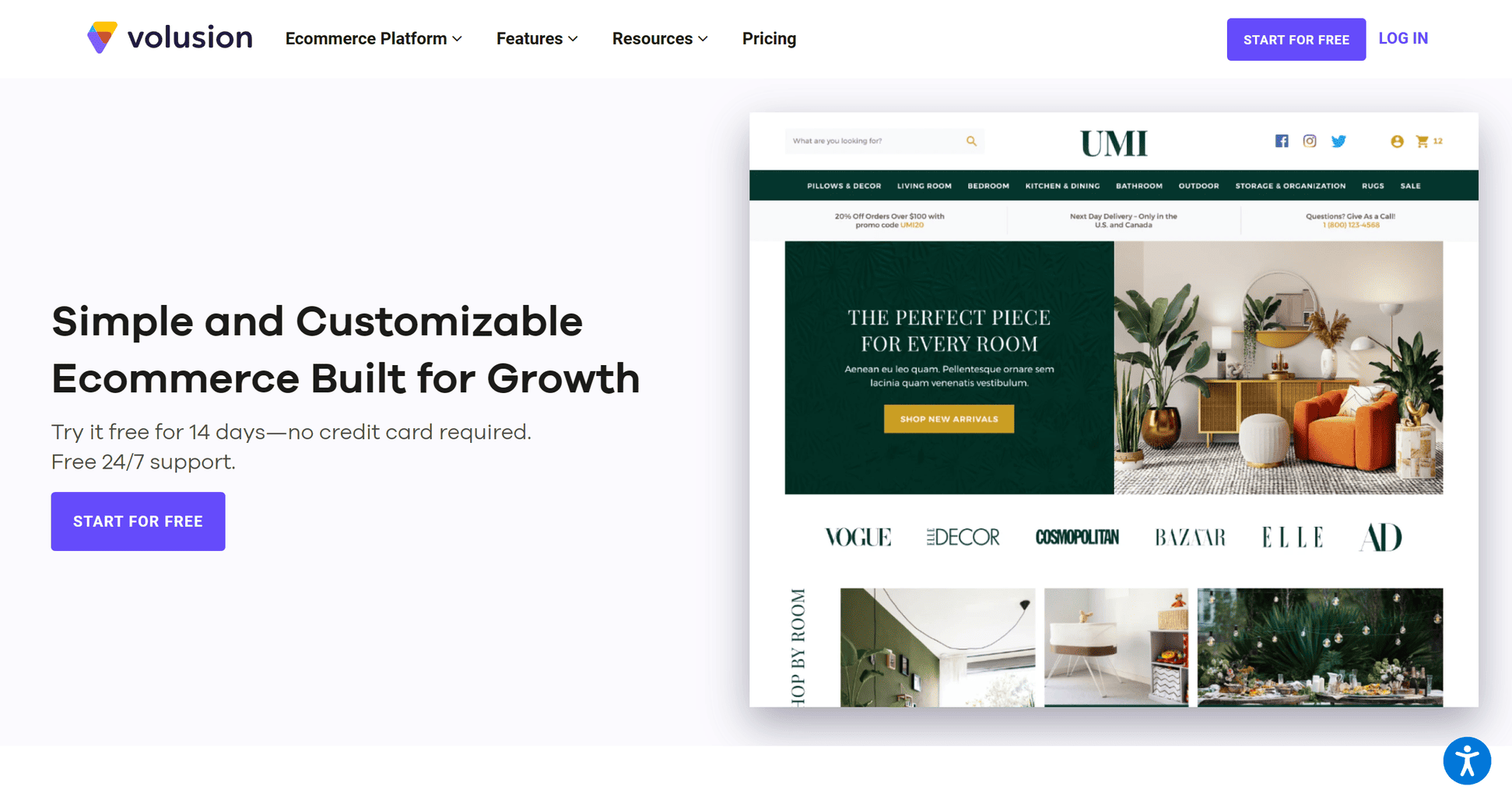 Volusion offers a wide range of services that help both small and large businesses build and manage their online stores. The site design and marketing tools are easy to use and you can quickly get the hang of them.
The platform also comes with in-house specialists who can take care of both the site design and the online marketing for you. 
You have several plans to pick from. The cheapest in the bunch is only really useful for small sites since it can only process a limited yearly gross profit, but even then, you get all of the site editing tools that you need to design a professional-looking site.
The more expensive plans allow you to display and sell an unlimited number of products, and adjust the yearly gross profit limit by however much you want.
Features
Volusion comes with a staggering number of tools that you can use to create an ideal site for your business. To make things a bit easier to go through, we've categorised them based on their overall function.
Site Building and Editing Tools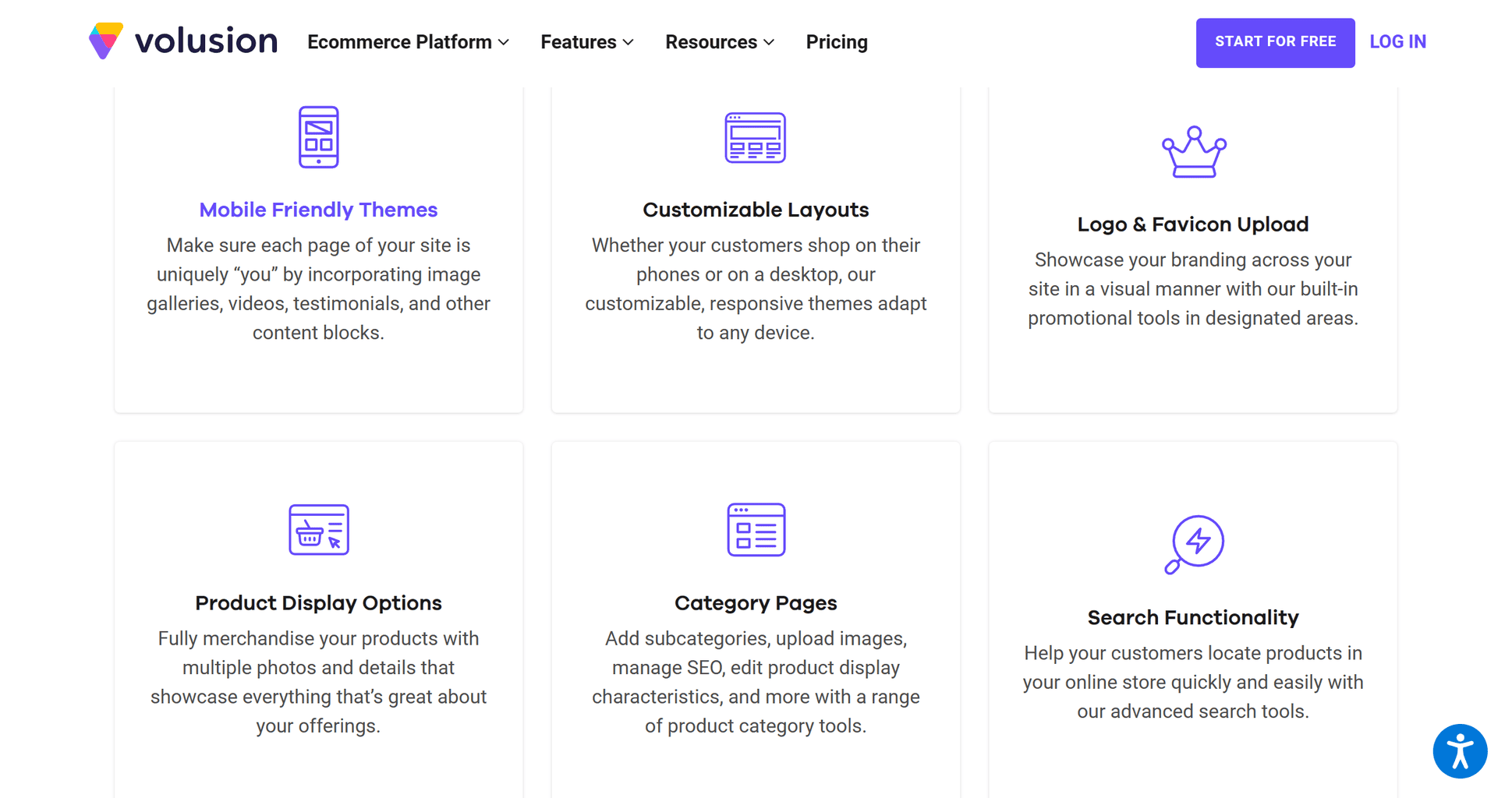 Blocks
You can add or remove large segments from your site by simply clicking on them in the customisation dashboard and then adjusting their position on your page so that they're exactly where you want them to be displayed. This works on the same concept as placing widgets from your phone menu onto your screen. 
These blocks of pre-built code allow you to easily add and adjust the other features that Volusion has to offer, like product reviews, integrated blogs, payment gateways, and so on. Each block can also be used on multiple pages if you want to, and there are more than 50 content blocks that you can add to your site.
The block feature allows you to easily modify templates by just dragging and dropping features that you want to add to your pages. This makes this feature significantly more beginner-friendly than most other site-creation platforms that require a certain degree of programming knowledge in order to make significant changes to pre-designed site layouts.
Themes and Templates
Volusion comes with dozens of pre-built eCommerce themes that would be ideal for a large variety of different online shops. You can also choose from the many pre-created templates as well and pick out the layout that would fit your site the most.
All of these themes and templates were designed by professionals, so their layouts are optimised for the types of businesses they're meant to cater to. You get multi-page layouts that you can implement, and they're all mobile-friendly, so they'll automatically adapt to the screen that they're being viewed on.
Best of all, all of these professionally crafted themes are free. All you need to do to gain access to them is pick any of the Volusion payment plans.
Site Designer
If you don't want to get something that's already been done and would instead prefer to create your own thing, then the Volusion Site Designer can allow you to do just that.
You'll be able to change elements of the themes like the colours, the dimensions, and so on, and you'll also be able to create your own custom layout for the elements on your site without having to use any templates.
This tool allows you to take advantage of automated image optimisation and server-side rendering in order to make sure that the site is firing on all cylinders at all times. These two features allow you to edit and publish any aspects of your site within 15 minutes, as well as make sure that data is transferred to your clients at top speeds for minimal lag. 
Additionally, the changes that you make to your layouts are automatically saved, so there's little risk of you losing progress if anything unforeseen happens. You'll also be able to host your site on a test server and test it out to see if there are any issues before you go live with the changes.
HTML/CSS Editor
Just because you can edit the themes and templates without going into the code doesn't mean that the option isn't available. If you know your way around editing code, you can make small changes to your site. You can also save the code beforehand so that you can backtrack on any problems that might have arisen due to a mistake in the code you added.
In-House Design
If you don't know anything about programming or creating appealing site layouts, you'll be happy to know that Volusion has an in-house team that can help you out with the site design.
You can either choose from one of the already created example sites and have your pages be designed with a similar layout, or you can speak to the team and tell them exactly what you're looking for. You can give your input on the site design, while also taking some advice from more experienced hands in the field.
Logo Creation
Volusion allows you to design your own logo according to your specifications. This will allow you to create a unique marketing tool that you can use on your ads, promotional materials, and the site itself.
Marketing
SEO Tools – You can manage all of your metadata from one main hub on your site. This will allow you to implement and use certain keywords in order to make sure that your products and pages are search engine optimised.
Cross-Selling Functionality – You can link several sites together and manage them all from one place. This is a great option for businesses that use separate sites for different products, and it will allow you to more easily manage all of your orders, calculate your daily expenditures and profits, and do other important tasks. 
Social Media – You'll be able to link your site to any social media accounts you run. This is a very simple addition to the site, but it can really help get your name out there by showing your followers a glimpse into the inventory that you have available.
Coupons and Discounts – You can generate as many product coupons and specialised discounts as you want. These same coupons can be sent to account holders on your site or be given out before a purchase transaction. In either case, your customers will get a better deal on their next purchase, so they're more likely to return and buy other products.
Newsletter – The best way to use the discounts and coupons that we just mentioned would be to send them out to your customers through a newsletter or an automated email. You can create standard emails about any new products on your page or emails about any special sales and send them out to any visitors that signed into your site.
The emails will be sent out automatically to everyone on your list, and it's a very easy way to get some return customers on your site.
Abandoned Cart – The abandoned cart feature has two benefits. The first benefit is that it automatically stores any products that might have been left in a visitor's cart that they didn't purchase. The same items will remain in their carts the next time they sign back onto your site.
The second benefit is that it automatically sends email reminders to the account holder telling them which items they still have in the cart and asking if they would like to finish the transaction.
Customer Accounts – Aside from being updated about new products or prices via email, your customers will also have a much easier time getting through the checkout if they have an account on your site. Their card and electronic payment info will automatically be stored and they can make their second purchase with one click of a button.
Subscriptions – You can create subscription services that will allow you to give your customers special rates on your products. You also have the option to sell certain products only through the subscription service, incentivising interested customers to subscribe.
Customer Reviews – Allowing your customers to leave product reviews is a great way to increase site activity and the amount of time that visitors spend on your pages. People will also be able to leave comments about the quality of the products and the service. 
Positive comments may encourage potential customers to buy something, and negative comments will show you the flaws in your system and tell you what you need to improve. Either way, it's a win for you.
Generate Reports – You can check the state of your site at any point, which includes your  Google rankings, daily income, average number of weekly visitors, and so on. The numbers will tell you what you need to know in terms of site performance and whether your site is growing or stagnating. Depending on the answer, you can either make changes to your marketing strategy or keep going as you have been.
ROI Tracking – You can use the ROI (return on investment) feature to see how your newsletter and other marketing tools are doing and whether or not they're attracting any new customers. This feature will tell you which marketing method is the most effective so that you can focus more of your efforts on growing your site through these same methods.
Sitemap Indexing – Creating a detailed index of your site layout can make it easier for search engines to examine the metadata that you've used. This will make it easier for your site to be discovered once someone searches for a specific product or keyword online.
SSL Certificates – An SSL certificate confirms that all of the data on your site is encrypted and protected. When your customers know your site is safe, they'll be less hesitant about sharing their debit or credit card details during checkout.
In-House Marketing – You have the option to hire professional developers to handle the marketing side of things, like SEO, PPC, and so on. Not only will you get better results if you leave things in the hands of the professionals, but you can also focus all of your efforts on the other parts of the business.
Products
Inventory Management – You only need to log the number of products that you have in your inventory once and the platform will do the rest. A tally will automatically be kept of the number of items you have in your inventory and the system will keep track of the number of purchases on its own.
You can also set a minimal product limit. Once this limit is reached, the system will automatically create purchase orders for the products that are running low. All you need to do is approve and send out the order.
Variable prices – You can set multiple prices for the same item. This is very handy if you have variations on the same product so you can't price them the same way.
Product Info – Aside from the basic product details like the price, dimensions and so on, you can also add any additional info that you think the customer might need to know. This includes any special offer, the availability of the product, any reviews that people might have left on it, and so on.
Shipping – There are several shipping options that you can take advantage of. You can create special discounts based on the customer's location, you can provide flat shipping fee options, set your own shipping rates, and much more.
Returns – Processing product returns is always a time-consuming task. Luckily, you'll get access to an automatic returns processing system that takes care of most of the heavy lifting for you. All you need to do is look over the generated return request and either approve or deny it.
Checkout – Volution uses its own checkout system that's meant to streamline the payment process for your customers. It's easy to use on phones and tablets, has automatic address verification, and comes with a few other perks as well.
Additionally, this checkout system accepts multiple payment options, as well as promo codes, gift cards, reward points, and most other discount systems that the customer might want to take advantage of (and which you've approved of course).
Currencies – The price of the products will automatically be converted into multiple currencies so that your customers can view the price in their own currency. Not all of the global currencies are available, but the dollar, euro, pound, and some of the other more popularly used ones are.
Prices/Fees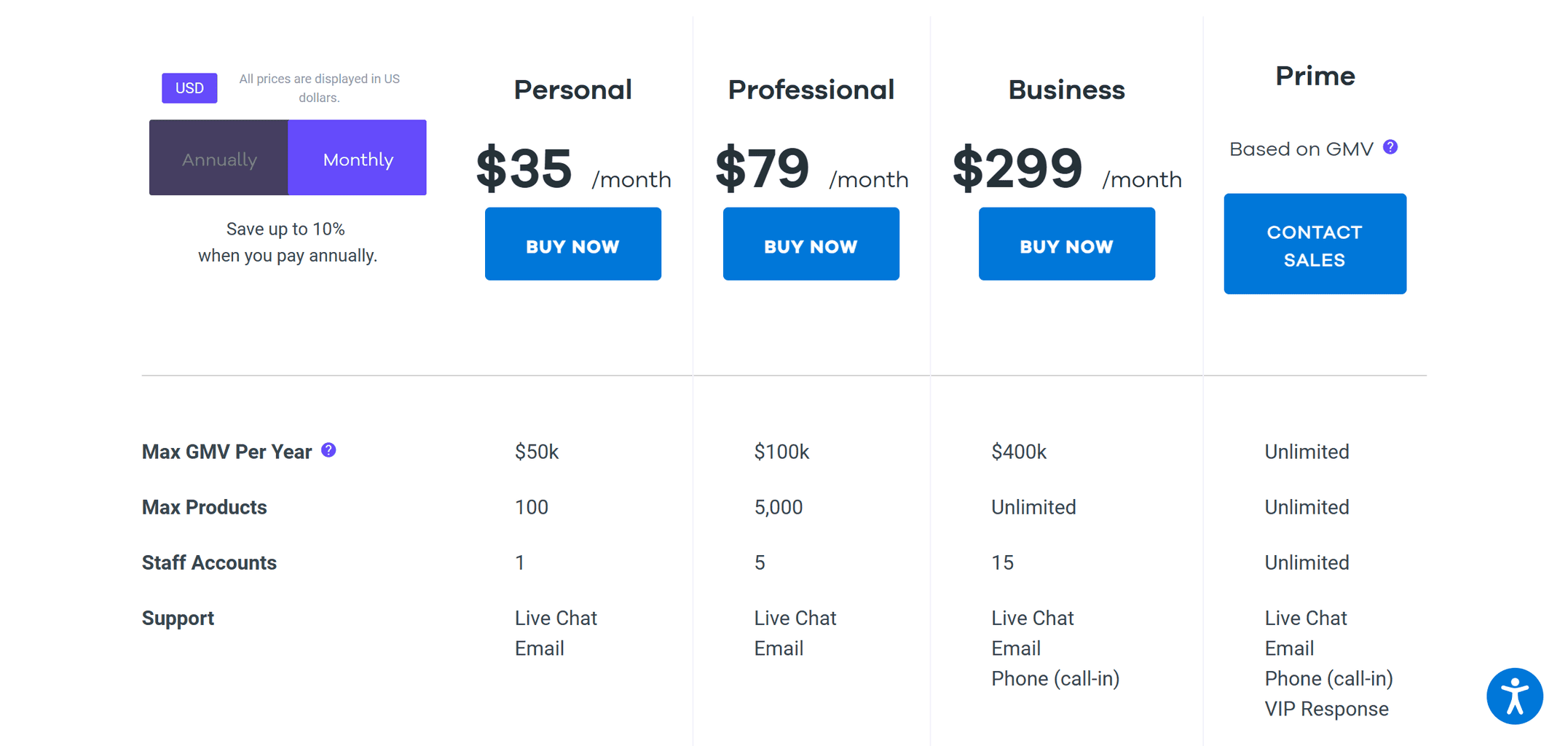 Volusion provides you with 4 pricing plans. The more expensive plans encompass all of the features that are included in the cheaper plans, plus many others, so let's take a look at them in more detail
Personal
The personal plan will cost you $35 a month if you're on a monthly plan, or $31.50 a month if you're on an annual plan.
The personal plan allows you to accumulate a GMV (gross merchandise volume) of $50,000 a year. If you're on a monthly plan, the online product sales from all 12 months are collected and the estimate is calculated.
You can also have 100 products on your site max, and you can only use a single staff account. The single staff account isn't much of an issue since it just means that one person can alter details about the site and your products. The 100-product limit, on the other hand, is a pretty big nuisance for anything but the smallest online shop that's just starting out and doesn't have much of an inventory.
Online support is also available through either live chat or email. You might have to wait for a few hours to get on a call or maybe a day to get a response to your email, but you'll get a response nonetheless.
You also get access to the following features:
All of the Volusion themes

The custom Volution checkout system

A  custom domain name

A free SSL certificate for your site

Free web hosting services

Unlimited bandwidth

Continuous PCI compliance

Inventory management features
Professional
The Professional plan will set you back $79 a month if you're billed monthly, or $71.10 if you're billed annually.
The GMV limit on this plan is $100,000, and you're allowed to upload up to 5,000 products to your site. You'll also be given access to 5 staff accounts that you can give to your employees so that they can make changes to your site whenever you're not around.
This plan also comes with the live chat and email support that the Personal plan came with.
You get access to everything from the Personal plan, plus the following features:
One-click product import and export functionality

The option to take phone orders

The abandoned cart feature

Newsletters

Customer reviews

CRM features
Business
The Business plan goes for $299 a month on a monthly payment plan, and $269.10 a month on a yearly contract.
For that price, you'll be able to achieve a GMV of $400,000 a year, upload as many products as you want on your site, and you'll get 15 staff accounts that you can use. Aside from live chat and email support, you can also make a phone call to the support team if you're having any issues with your site or features.
The Business plan comes with everything from the Professional plan, plus the following features:
Batch order processing – you can sort and send out multiple products at once in bundles

Custom loyalty plans that you can offer to your customers

API access
Prime
The prime plan is a flexible option for large businesses. The monthly and annual costs will depend on your GMV, so you'll need to contact a representative from Volusion in order to get a quote. However, while we can't be sure of the exact costs, we can estimate that the plans will start somewhere in the $400 range and go up from there.
The Prime plan comes with flexible features. The GMV and the number of staff accounts will depend on the deal that you work out with the company. The two constants in this plan are the fact that you can upload and sell as many products as you want on your site and that you'll get VIP priority from the support staff when you call in.
The Prime plan comes with everything from the Business plan, plus the following features:
Premiere access to any new features that are coming out

Lower rates for additional Volution services like site design or marketing

A dedicated "Client Success Manager" that's there to help you come up with an extensive plan that can help you grow your site and business
Payment Options
All of the plans that Volusion offers come with the same payment options that you can add to your site.
Volusion payments are powered by Stripe, and customers can pay with most credit and debit cards. They can also use online wallets, like Apple Pay, Google Pay, PayPal, and others.
Additionally, they also get access to buy now pay later services like Affirm that can allow them to split the cost of the product over several payments.
Company Background
Volusion was founded back in 1999 by 16-year-old Kevin Sproles in Simi Valley, California. The company immediately went into the eCommerce field and gained massive popularity by offering free trials of its services.
Since it was launched, the platform has helped more than 250,000 businesses create their own website, and has processed more than 225 million orders and 40 billion dollars.
User Reviews
Merchant Maverick gives the platform 3 out of 5 stars and mentions the ease of use and the competitive prices as some of the best parts of the platform.
Tom's Guide rates Volusion higher at 3.5 stars out of 5, although it does mention that there's a limited number of free themes and a limited app selection.
Volusion has a similar 3.5 out of 5-star rating on PCMag, and the site mentions the many useful SEO tools and the unlimited bandwidth as some of the strongest features.
User Reviews
Review Summary
0.0 out of 5 stars (based on 0 reviews)
Recent Reviews
There are no reviews yet. Be the first one to write one.
Submit a Review