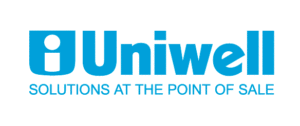 Uniwell has been a leading manufacturer of ECR and POS systems since 1978, supplying the hospitality and retail industries with EPOS solutions. Their products are suitable for individual outlets or large multiple retailers.  Uniwell's products are sold through a network of distributors that cover over 40 countries.
Uniwell Point of Sale/Epos Plans and Pricing
Uniwell doesn't list its prices and plans online.  These can be obtained by contacting Uniwell directly.  Microtek (UK) Ltd., part of the Uniwell Corporation, distributes Uniwell POS equipment products via a reseller channel which covers the whole of the UK and Ireland.
To see how they compare, have a look at: UK Merchant Account and Debit Card Processing Fee Comparison.
Uniwell EPOS Features
EPOS systems come with Uniwell embedded EPOS software
Suitable for retail and hospitality
Hardware is designed to withstand rough handling and heavy use
Touchscreens are dual back lit
Various sizes available
EPOS Software
ePOS Sales – Entry Level
POS terminal maintenance
Sales reporting and analysis
Cash declaration and reconciliation
Weekly business summary
Export to Word, Excel, HTML
Staff reporting
Electronic journal display
ePOS Central
Powerful EPOS management
Remote communications
Automated report collection
Detailed business performance reports
Daily and weekly business sheets
Multi outlet stock management
Information on staff performance
Historical analysis of sales and top selling items
3D charting tool
ePOS Office
All the above plus
Barcode labelling
Multiple price levels
Stock control
Recipes and cocktail – for stock management
Automatic ordering
Time and attendance of staff
Electronic journal
Company Background
Uniwell UK is part of Japan's Uniwell Corporation which is based in Osaka.  The company was founded in 1978 and produced its first cash register in 1979.  Uniwell's sole focus has always been POS.  The company sells to over 40 countries through local distributors who know the needs of their own domestic markets. Uniwell has installed over 50,000 units in the UK alone.
Uniwell EPOS Reviews
There are very few customer online reviews of Uniwell EPOS.  It's therefore not possible to give a fair Merchant Machine score at this time.
Website:  http://www.uniwell.co.uk