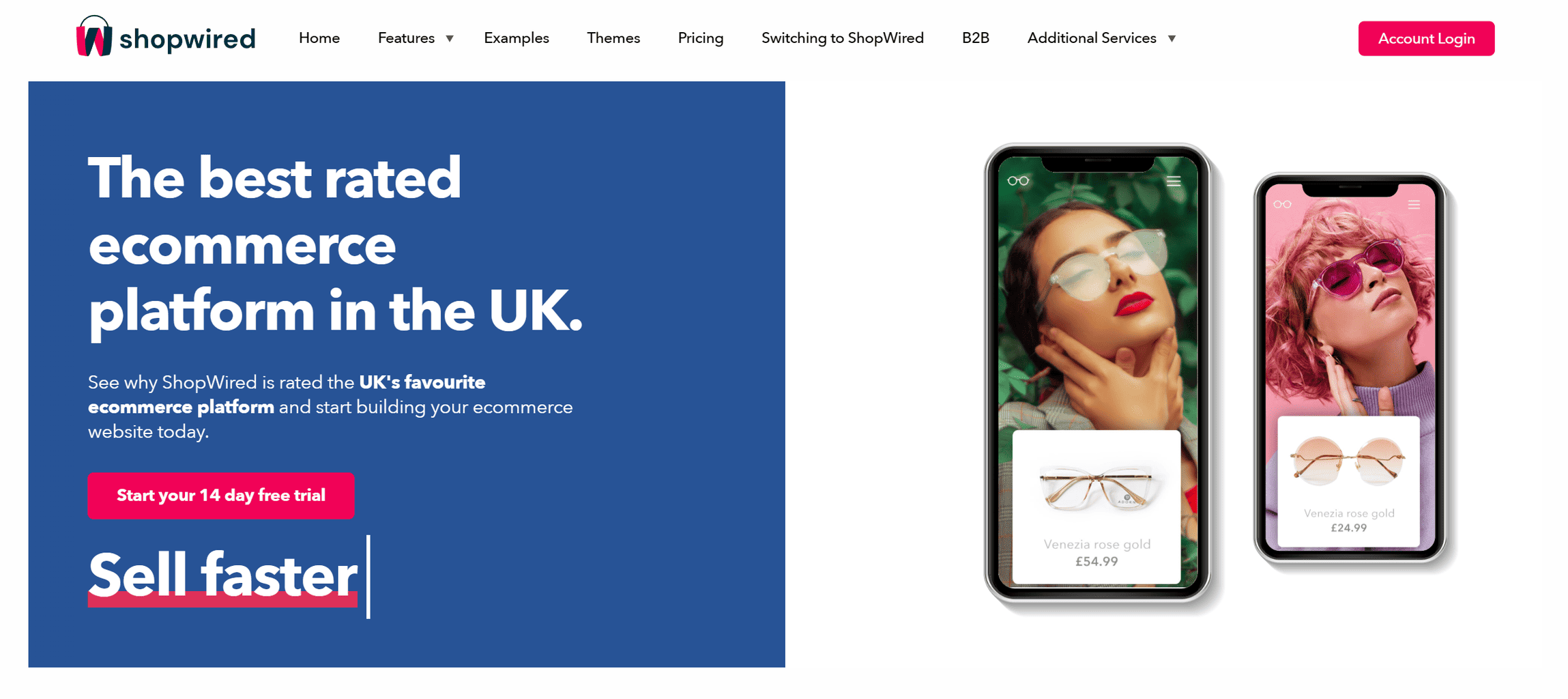 ShopWired is an eCommerce platform that's relatively well-known in the online shop sphere. It comes with many features, has a lot of apps that can be added to your shops, and all of the plans are pretty reasonably priced.
The cheapest standard plan allows you to upload and sell up to 750 products on your site, making it perfect for smaller and new shops that have a limited budget and not many products. The other two plans are suitable for larger companies as they don't have any limitations in terms of how many products you can sell, while the three enterprise plans are designed to accommodate the needs of large enterprises. 
We'll go into all of them in a bit more detail further down in the article, but all you need to know before proceeding is that ShopWired can accommodate businesses of any size. 
Features
ShopWired comes with many useful perks you can use to design the ideal site for your purposes. We'll go over all of the outlined features that are included in the platform, and tell you exactly what they can help you with.
Design
Themes – ShopWired comes with professionally designed themes that you can use for your site. They're all free of charge and won't cost you a single penny, however, it's not stated how many there are to choose from.
HTML and CSS – While the themes are all great right off the bat, there's nothing that says you can't change them to be more to your liking. Customizing the themes and using the editing tools is easy for anyone who's a practised hand in programming, or at least knows their way around HTML, CSS, or Java.
Multi-Media – If you're looking to spruce up the themes even more, you can personalize them with your own images, videos, custom text fonts, and any other additions you think might make the site pop and stand out among the competition.
Mobile Optimized – The themes are designed to easily adapt to phone and tablet screens. The size of the text also changes but remains legible, and the product icons and images automatically align to fit the screen and make it easy to scroll through and find all of the products on display.
Preview Site – Before you take your site live, you can host it on a private network just to see how everything looks. You'll be able to check if the icons and text are properly sized, if the videos are loading, and if the images are high-quality or got compacted during the upload process. You'll also be able to navigate through the pages to make sure that the tabs are responsive, the links work, and everything is in order.
Custom Themes – If none of the themes are to your tastes and you don't have the necessary skills to make any changes to the look and the code by yourself, then getting a bespoke theme is the best option. You'll get in contact with a team of designers, tell them exactly what you're selling and what you're looking for, and they'll provide you with a unique design just for your site.
Products
Free Shipping – You can offer free shipping options for some of your products. This is a great way to quickly sell a certain product, but also a great method for rewarding loyal customers who've been with you for a while.
Shipping Zones – You can outline shipping zones that get specific discounts and specify which cities fall into those shipping zones. You can create several zones if you want and provide a discount for every one of them. Customers who live close to the area where the products are shipped from will obviously get the best deals, but that doesn't mean that other customers won't be able to take advantage of your shipping policies to get a good deal on a product.
Automatic Recall – Any customer with an account on your site can take advantage of the "remember me" feature to have their credit card information stored on the site. This way they won't need to type in their info the next time they make a purchase, but simply click the check-out button.
Abandoned Basket – Similarly to the previous feature we mentioned, the abandoned basket feature stores any products that the account user has selected. These items are then listed on the purchase page for when the user would like to buy them. This feature reminds your customers about any forgotten products in their carts during their last visit to your site.
Images and Variations – You can add several images for a single product, as well as variations for the products themselves. This is particularly helpful for clothing shops that almost always display item variations with several different sizes.
Payment Gateways – Payment gateways allow your customers to use a credit card, debit card, or an online wallet to pay for any products they might be interested in. ShopWired has more than 40 different payment gateways you can pick from, so you can provide your customers with a wide number of choices.
Delayed and Split Payments – ShopWired has several payment options that allow customers to pay off the products over a certain amount of time. This feature can find a use in any business, but it's particularly important for any shop that sells expensive gear. Instead of getting put off by steep prices, people might consider getting a product if they can pay it off over time rather than all at once.
Bulk Orders – You can give discounts for certain products if they're bought in large numbers. Business-to-business transactions are usually done in bulk, so giving another company a discount is a good way to secure a potentially large client that can make large purchases at once.
Management
Tax Assistance – You get access to an automatic tax calculator that will determine the exact tax for each and every product purchased. This tells the clients exactly how much a product costs while sparing them from having to manually calculate and write down every product estimation.
Accounts – You can give your team members access to the site so they can modify it and make changes as necessary. The three plans all come with a different number of admin accounts. The Pro plan gives you access to 2 admin accounts, the Advanced plan to 5, and the Premium to 15.
Surveys – Rather than sending your client emails, you can create and send out surveys that your site visitors will only receive when they log back onto your site. The surveys should ideally be short and to the point and should ask for any potential improvements that customers want to see on the site.
Labels – You can print your own labels that contain the necessary client information and simply stick them to your products. This spares you from having to go through the first step of the shipping process, so the packages will be sent out without any delays.
Simple Forms – The product orders and shipment requests are very easy to fill out using the ShopWired forms. You can also automatically notify your clients when their products have been sent out.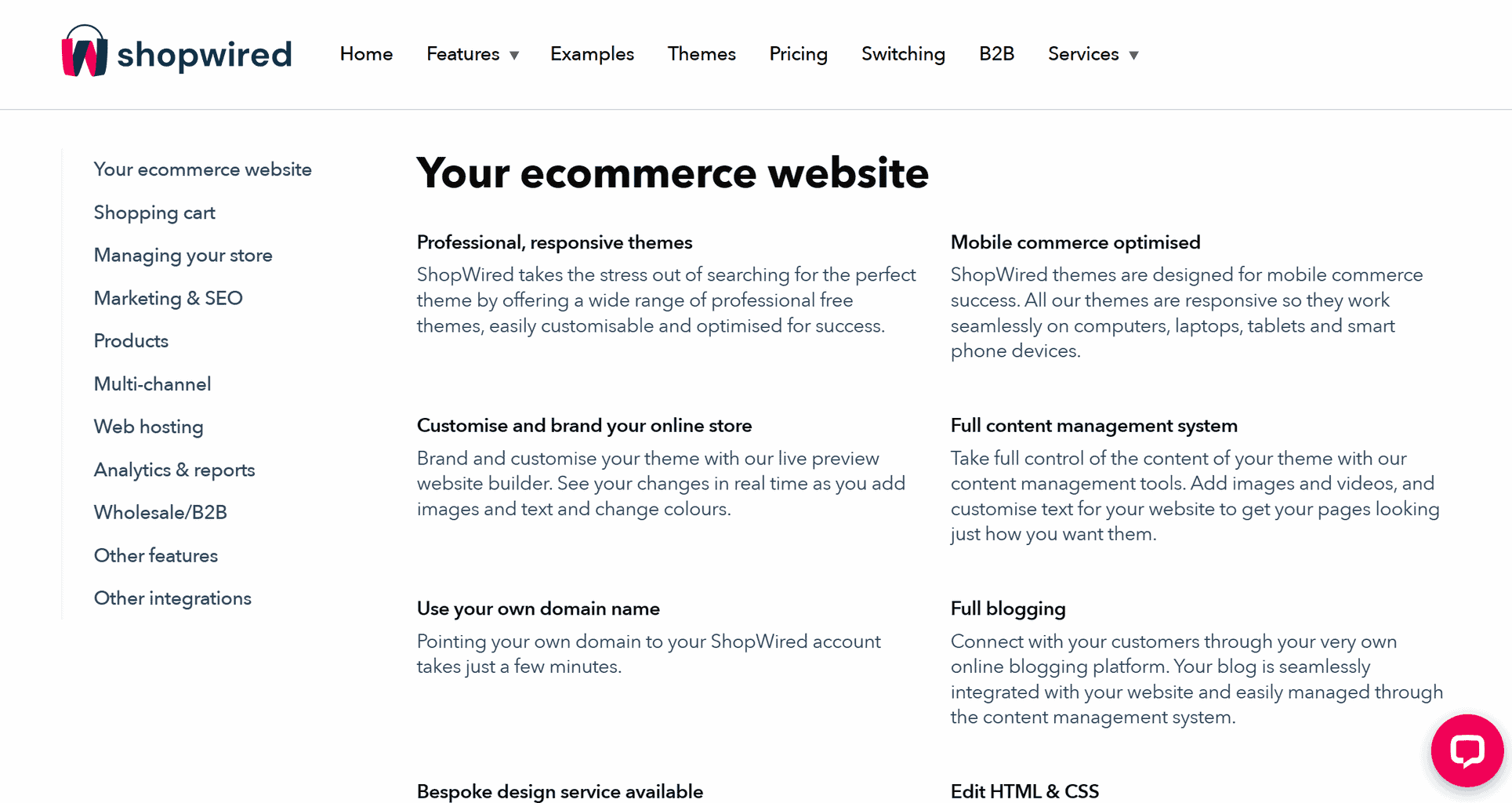 Marketing
Email Marketing – Email marketing is great for building customer loyalty. If a client has left their email info on your site, you can send them messages about any deals or discounts you have going on they might be interested in checking out.
Syncing to Other Shops – You can link your ShopWired account to any other online shop that you have an account with, like Etsy, eBay, Amazon, Google Shopping, and so on.
Reward Points – Similarly to the previous feature, reward points are targeted towards repeat customers rather than newcomers. You can set goals that revolve around buying certain products or spending a certain amount of money on the site. Once the goals are reached, the customer will automatically receive a reward, which can be a discount or a gift card.
Social Media Integration – ShopWired allows you to integrate all of the popular social media networks, like Facebook, Instagram, and Youtube, with your site, so you can use them to link your products and hopefully draw some new customers to your site.
Subscriptions – You can create subscription services that people can sign up for. This will allow you to retain certain clients by offering them perks like gift vouchers or a constantly active discount on your products.
Recommendations – The platform will automatically recommend items to customers based on their previous purchases. New customers will also get recommendations based on items that they might have searched for or that they might have added to the cart, even if they haven't bought anything yet.
Hosting
SSL Security – E-commerce platforms take in a lot of private information from their customers, like their addresses and credit card details. This information obviously needs to be protected. For that purpose, ShopWired uses 256-bit encryption so that everything that was written down on the site stays on the site.
Backups – ShopWired creates a backup of all of your site info several times a day. This helps to reduce any damage that might be caused by a server crash or a malicious hacking attack. You still might lose a few hours of data, but it's still a lot better than having all of your site info irreparably corrupted or erased.
Upgrades – You'll be the first to know when there are any improvements to the site code and features. The updates will happen automatically without you even having to lift a finger.
SEO and Analytics
Search Engine Optimization – You can set your own custom title tag, meta description, and URL for every page on your site. All of these little improvements can yield pretty impressive results when it comes to improving your Google rankings, so they're always a welcome feature.
Blog – You can set up your own blog page on your site where you can post as many articles as you like. With proper search engine optimization, these articles can help your store do better in the search engine rankings. 
Customer Reviews – People will trust the words of their fellow customers much more than they would the words of a business, even a small one. Allowing people to leave comments and product reviews on the site can increase site engagement, while also giving potential customers some info on your products.
Prices/Fees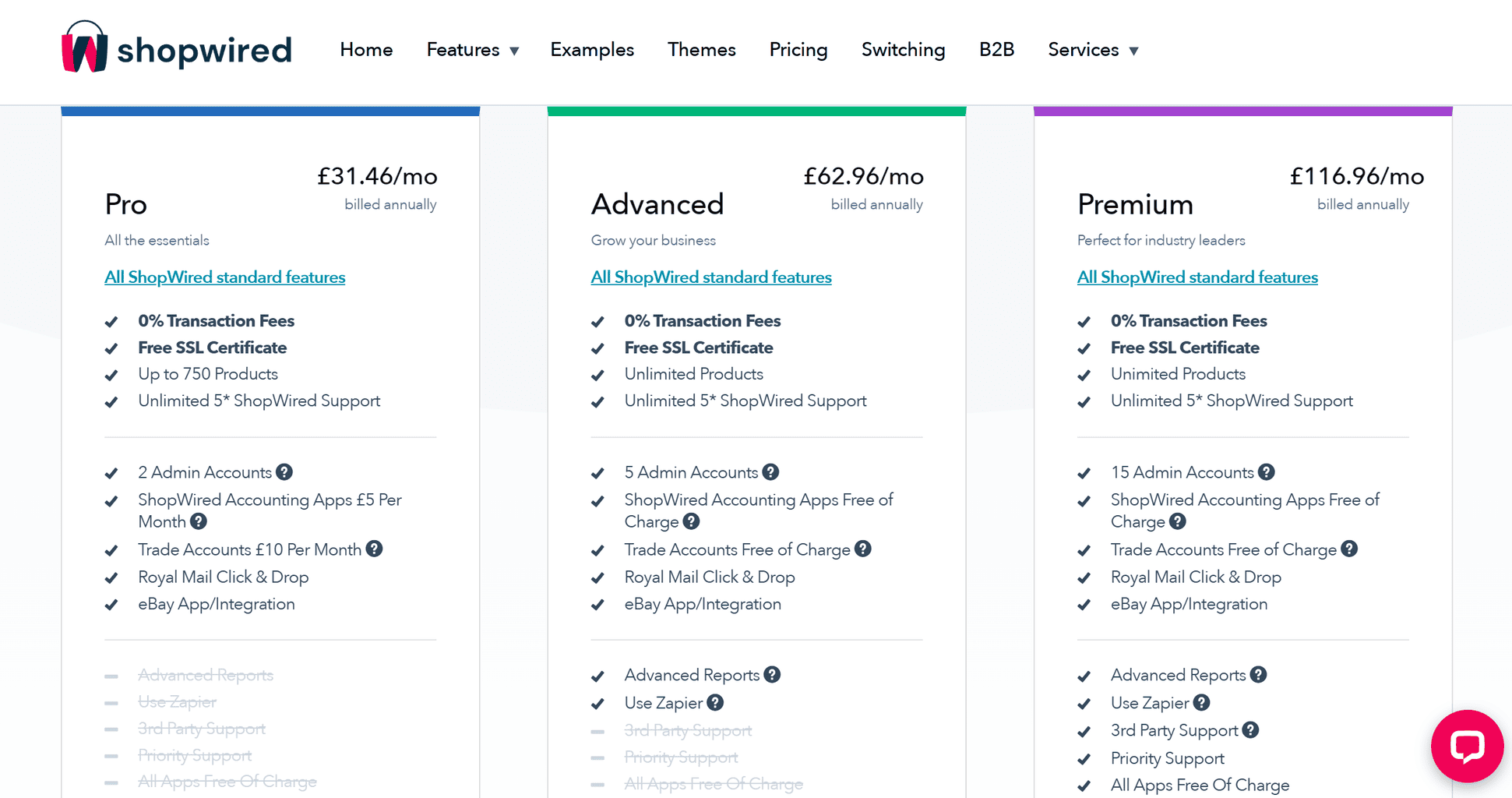 ShopWired has 3 standard plans and three enterprise plans that you can go for. 
A great thing about the standard plans is that all three come with a 14-day free trial. There are also four different deals that you can pick from and pay for a month, one year, two years, or three years.
The monthly cost of each payment plan goes down as the deals increase in length. In other words, if you're planning to stay with the platform for at least 3 years, you might as well pick the longest deal and save yourself some money.
The monthly deals are billed monthly, the yearly deals are billed annually, the two-year-long deals are billed every two years, and the three-year-long deals are billed every three years.
The enterprise plans come with 6-month contracts as a minimum, and they all provide some incredible perks that you don't get in the standard plans.
Standard Plans
Pro
Monthly Agreement – £34.95 a month
1-Year Deal – £31.46 a month
2-Year Deal – £27.96 a month
3-Year Deal – £24.47 a month
(For companies with an annual turnover of up to £75,000)
This plan allows you to upload up to 750 products to your page, and it comes with a free SSL certificate for your site, 2 admin accounts, and no transaction fees from ShopWired (payment gateway charges not included). You also get access to five-star system support, easy eBay integration to your site, and the Royal Mail extension.
You can also get ShopWired accounting apps, like Quickbooks, Sage Online, and Kashflow, but those will cost you £5 a month. Similarly, the trade accounts will cost you £10 if you want to use them.
Additionally, this plan, like all of the others, includes all of the features that we went over just above. The only difference between the plans is the number of admin accounts, the number of products that can be posted on the site, and a few other features that we'll go over in just a moment.
Advanced
Monthly Agreement – £69.95 a month
1-Year Deal – £62.96 a month
2-Year Deal – £55.96 a month
3-Year Deal – £48.97 a month
(For companies with an annual turnover of up to £200,000)
The advanced plan comes with all of the features that we just went over in the Pro plan, except that now you can add and sell an unlimited number of products on your site, and you get 5 admin accounts that your employees can use.
You also gain access to Zapier, which is a platform that allows you to connect your ShopWired account to more than 3,000 apps.
Additionally, the accounting apps and trade accounts that used to cost £5 and £10 respectively are now free of charge.
And finally, the Advanced Reports give you a rundown of all relevant site data like the number of daily visitors, most popular products, Google rankings, and so on.
Premium
Monthly Agreement – £129.95 a month
1-Year Deal – £116.96 a month
2-Year Deal – £103.96 a month
3-Year Deal – £90.97 a month
(For companies with an annual turnover of up to £500,000)
All of the features from both of the previous plans are present in this one, except now you have 15 admin accounts that your employees can use to organize and change the site if necessary.
The accounting apps and the trade accounts are also free but now you get priority support, so you're first on the list if you need to have any issues resolved.
All of the apps for your site are now also free of charge, and you can integrate 3rd party support apps into your site. Some of these 3rd party support apps include Google Analytics, Google Search Console and so on.
Enterprise Plans
Excel
The Excel plan will cost you £249.95 a month, and it can support businesses that make up to 1 million in revenue a year. You get all of the features that were included in the Premium plan, as well as better priority support through a team of dedicated Enterprise engineers who are always on standby.
You also get regular website reports that tell you exactly how your shop is doing and what you can do to improve its performance. 
Additionally, you get a strategic account manager assigned to your site. Their job is to act as a link between you and the support staff and be a sounding board for you and the regular site reports you get. They're essentially there to help you improve the performance of the site in any way that they can.
This plan also ensures that your site gets priority if there are any tweaks or improvements to the platform and its features.
Finally, you get a 5% discount on both the marketing packages and the coding changes.
Elite
The Elite plan will set you back £399.95 a month, and it's designed to support companies that generate up to 2.5 million in revenue a year.
You get all of the same features as the Excel plan, but now you're even higher on the priority list for system support and platform design tweaks. The regular website reviews are now also accompanied by regular conversion reviews.
You'll now be able to access exclusive partner payment rates for PayPal, and you'll also get a 10% discount on marketing packages and coding changes.
Platinum
If you can pay £699.95 a month, you'll be able to get the plan for businesses that generate up to 5 million in yearly revenue.
You get all of the perks that we mentioned up until now, and now you're the first in line when it comes to priority support and design tweaks. The website and conversion reviews are also now joined by competitor review reports that tell you exactly what other similar sites are doing and which lessons you should take from them.
Additionally, aside from the strategic account manager, now you also get a marketing account manager. The marketing manager is there to handle the financial aspect of the site and give you some advice on how you can potentially increase your earnings.
Finally, you now get a 20% discount on marketing packages and coding changes.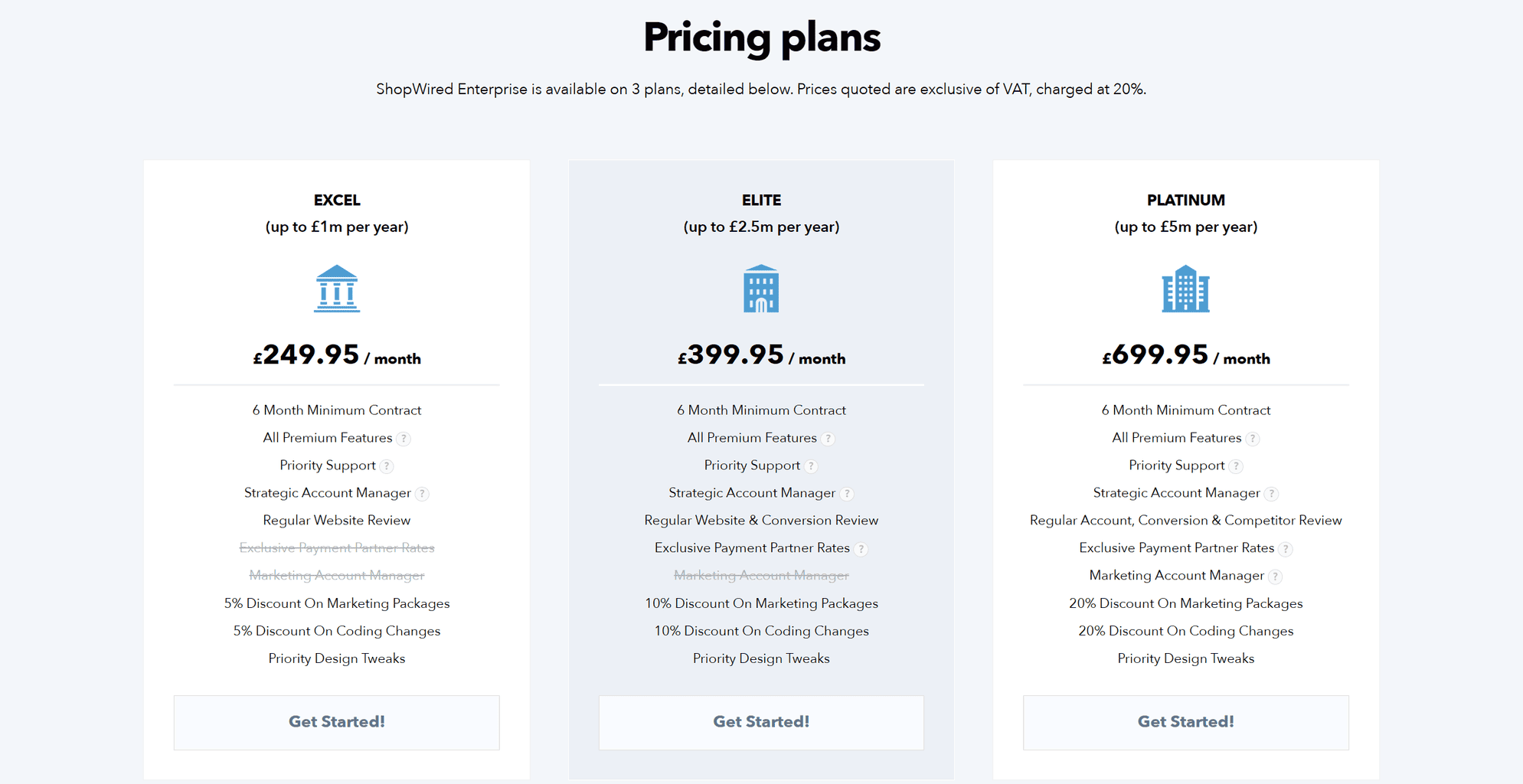 Payment Options
ShopWired can integrate some of the most popular payment gateways to give your clients a wide range of different payment choices they can go for.
There are the more popular options, like Apple Pay, Google Pay, PayPal, Square, Revolt, and so on, but there are also some more obscure options as well.
The platform is compatible with over 40 different payment gateways, so it includes lesser-known options, like Takepayments, V12 Retail Finance, NoChex, and many others.
While you can integrate any payment gateway that you want, ShopWired recommends using Stripe and Biller as the two must-have options for your online business.
Stripe is a very famous payment gateway and very popular thanks to it not having any monthly fees that you need to cover in order to use it. It also helps that the application process is very quick, and you can create and get approved for an account in a matter of minutes.
You do need to pay a transaction fee of 1.4% plus 20p for each transaction, but that's still a good deal when you compare it to other payment gateways. For example, Paypal has a 2.9% fee for any card transactions, plus an additional fixed fee.
Stripe takes a smaller commission for transactions and it can be installed with a click of a button in a matter of minutes, so it's pretty obvious why ShopWired would recommend it.
As for the second recommendation, Biller is primarily a B2B gateway that can provide your clients with great credit deals for gradual payments. You can offer delayed payment deals that last for up to 90 days, during which the clients can pay off their bills in increments or all at once.
Additionally, Biller also takes care of the most tedious parts of the credit lending process. All of the customer registrations, onboarding and credit checks are done by Biller, so you don't have to worry about anything. The AI will simply send you a message that confirms or denies an applicant.
This is also beneficial for your clients as well. Not only does the 3-month payment plan give them quite a bit of leeway when it comes to paying off their debt, but the application is also quick and easy to fill out.
Company Background
ShopWired was founded back in 2013 in Birmingham, UK. Unfortunately, aside from that, there's no more info about the company or its founder.
User Reviews
EcommerceCEO gives ShopWired a 4.3 out of 5 stars, with the biggest highlights being the affordable prices, the B2B features, and the ease of use.
ShopWired has a 4.8 out of 5 stars on Trustpilot, with a lot of the reviewers giving the platform a perfect score.
G2 rates the platform 5 out of 5 stars, and close to 100 reviewers have only positive things to say about it.
User Reviews
Review Summary
0.0 out of 5 stars (based on 0 reviews)
Recent Reviews
There are no reviews yet. Be the first one to write one.
Submit a Review