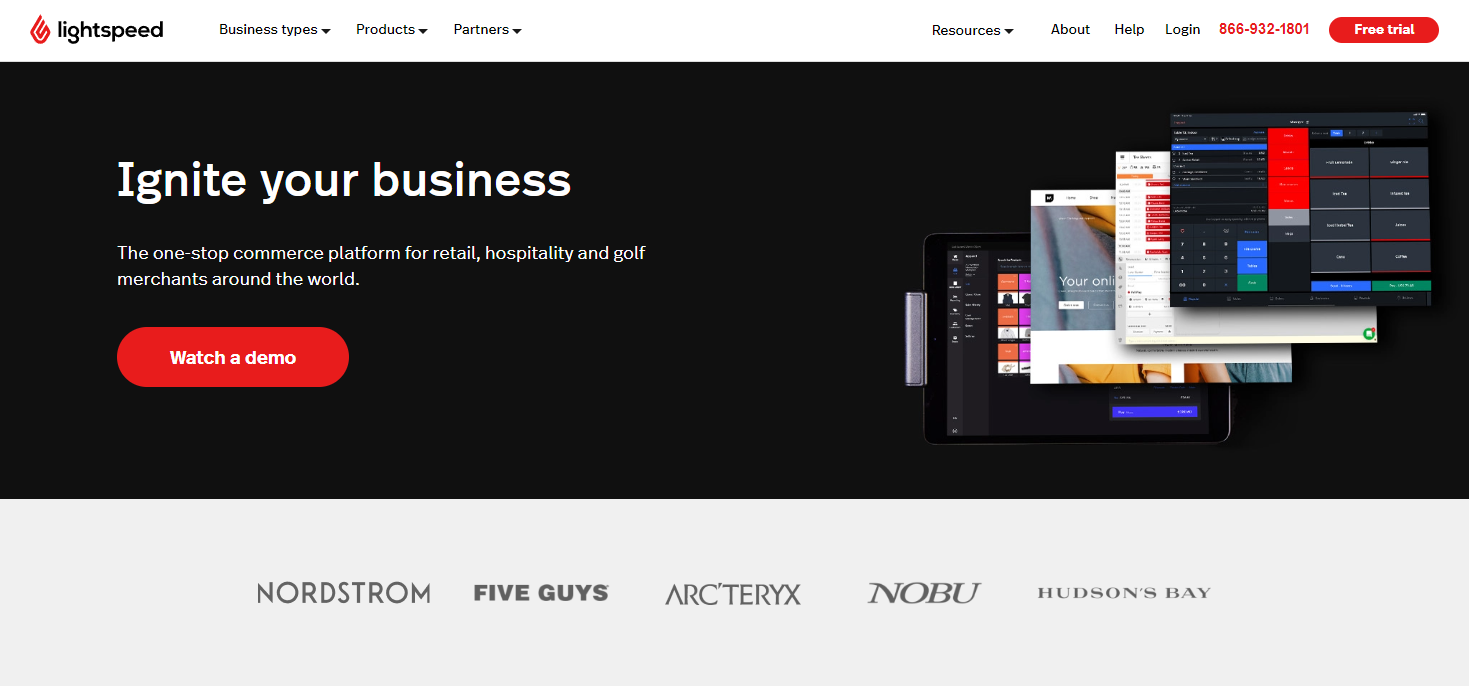 Lightspeed is a company that specialises in point-of-sale (POS) systems for restaurants, golf courses, and retail shops. Their offer includes both hardware and software solutions designed to help merchants streamline their operations and improve customer experience.
Besides managing their clients' stocks and transactions, they also offer loyalty program management and accounting software enhancement.
Pricing/Fees
Lightspeed offers different pricing packages for products designed for different industries. Here's an overview of their pricing systems for retail POS, restaurant POS, and Golf POS.
Retail POS System Pricing
There are three pricing tiers for small and middle sizes retail stores and a separate pricing package for enterprises.
The first pricing tier, called Lean, costs $69/ per month. It includes essential products such as the POS, one register, and integrated payments.
The standard package is an ideal choice for omnichannel businesses as it includes everything from the Lean package plus accounting and eCommerce. The price of this package is $199 per month.
The advanced package is the usual choice for businesses looking to go further. Along with all the products included in the previous packages, it also includes an omnichannel loyalty reward plan for customers and advanced reporting.
Services-wise, all packages include a 2.6% + 10 cents Lightspeed Payments Card-present rate, a dedicated account manager, 24/7 customer support, free training resources, and one-on-one onboarding guidance.
Enterprises and large businesses can count on everything from the advanced plan, and more in terms of unlimited personalised onboarding and launch services, personalised consultation services, dedicated premium support team, API consultation and support, dedicated customer success manager, preferred Lightspeed Payment rates, and more. Prices for enterprises vary depending on their needs, which is why it's recommended to step in touch with the Lightspeed sale.
Restaurant POS System
Restaurants that wish to implement the Lightspeed POS system, can choose between three pricing tiers.
The Essentials package costs $69 and includes features that help restaurants simplify their daily operations. Those features include customisable POS, menu manager, floor plans, advanced insights, integrated payments with a 2.6%+10 cents fee, take out and delivery, single-view reconciliation, pre-auth bar mode, and CRM loyalty.
Plus package costs $189 and includes everything from the Essentials package and additional six features. Those are contactless ordering, online ordering, order and pay at the table, Lightspeed Live app, multi-location management, and advanced inventory management.
The Pro package comes for a somewhat higher price of $399. This package comes with all of the above features with the addition of multiple revenue centre support for hotels and raw API access.
Users with Pro and Plus packages can additionally receive dedicated one-on-one support in terms of strategic planning, consultations on how to use the technology in their restaurant, and access to Lightspeed's raw API.
Enterprises with a large turnover can apply for personalised software and hardware packages. They can count on unlimited launch and consultation services and a dedicated support team and customer success manager.
Golf POS System
Prices for the golf industry are not explicitly listed on the website. Certain services are included in every package such as SMS marketing, dynamic pricing, tee-sheet, event management, online booking, business intelligence lite, players database, and others.
To get a personalised quote, interested parties need to fill out a form on the Lightspeed website. Personalised pricing includes customisation to the user's Facility, no long-term contract, and flexible payment options.
Thanks to their software being fully cloud-based and running on any device with minimum effort, there are no set-up costs. Users can cancel the collaboration at any time without any fees, but they can also upgrade to a new plan whenever they please.
eCommerce
Lightspeed also offers four pricing packages for eCommerce businesses designed to support them in making sales online and growing.
There are two ways of charging: annually and monthly. In both cases, the princess will be exhibited per month, the difference is that eCommerce businesses that make an annual payment get to pay a lower monthly price.
The first pricing tier is completely free. It includes an easy online store for launching a business. The Venture package costs $14.08 per month if charged annually, or $19 per month if charged monthly. This package includes the online store like the free package, but also selling on Facebook and Instagram, e-goods sales, the possibility to post 100 products, mobile store management app and mobile POS, live chat support, Google Shopping, App Market Access, Automated taxes and tax calculations, discount coupons, customisable checkout.
The most common choice is the Business package. This package costs $39 per month in case of a monthly charge or $29.08 per month in case of an annual charge. The perks that come with this package are the possibility to post 2500 products, Facebook and Instagram shops, Amazon and eBay sales, staff accounts, phone support, 2 customisation hours, an automated abandoned cart saver, wholesale prices, and a multilingual store.
Finally, the Unlimited pricing tier costs $82.5 per month in case of a yearly charge or $99 in case of a monthly. It includes everything from the Business package, but also unlimited products, branded mobile app, POS integration, unlimited staff accounts, and priority support.
Integrated payment solutions to an e-Shop have simple and transparent pricing of $2.9 + 0.30 cents per transaction.
Products/Services
Lightspeed has a special set of products designed for each type of industry they cater to. Here is a brief overview of their rich offer.
Retail
POS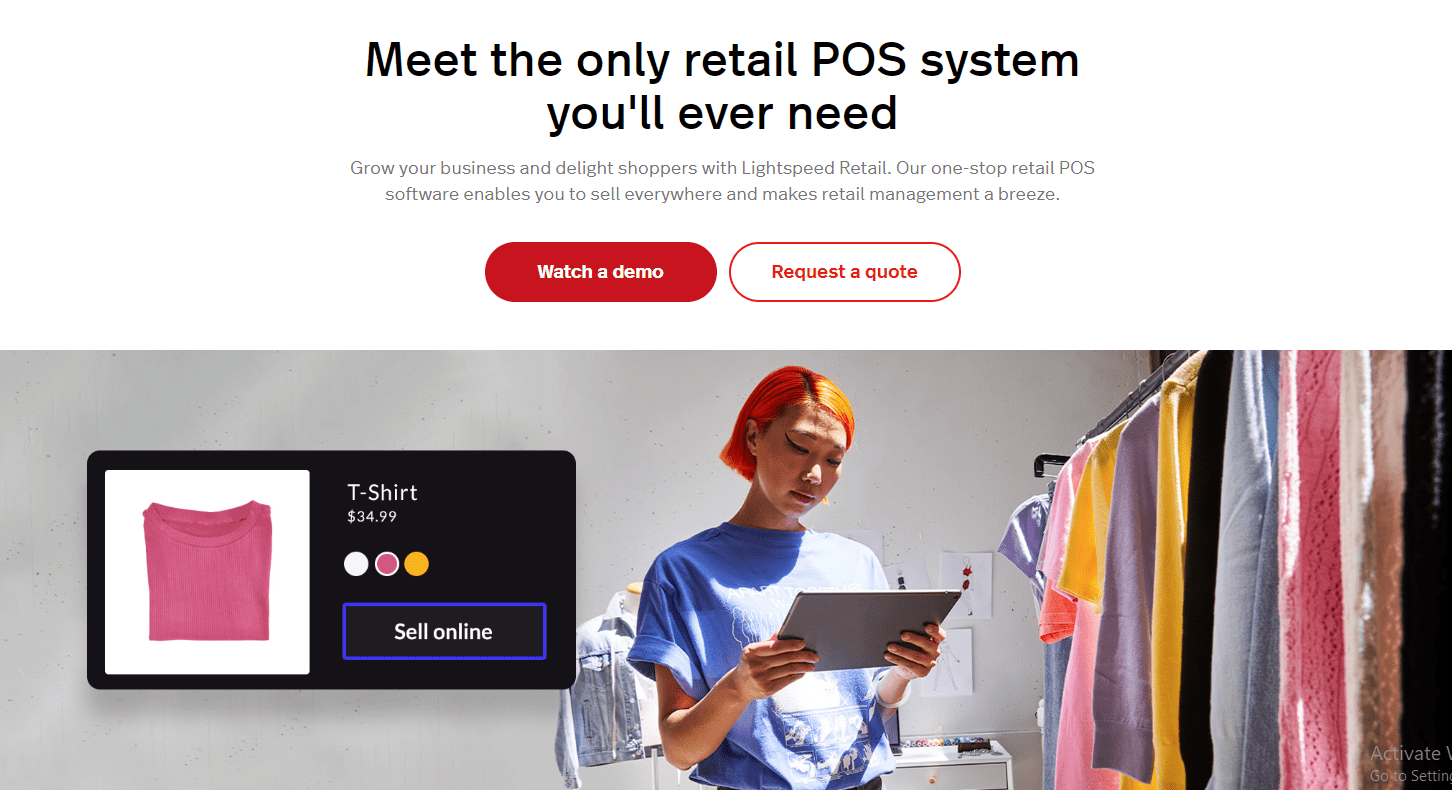 Lightspeed's one-stop retail POS software enables retailers to sell everywhere and make their retail management smooth and easy. Their POS ensures speed, all payment types accepted, personalised customer experience (by collecting their details on the checkout), and a customisable POS interface.
Lightspeed POS system is easy to integrate and gives retailers all they need to accept payments both online and in-store.
Retailers can rest assured about the safety of their transfers, as Lightspeed complies with PCI, employs the latest standards in end-to-end encryption, and offers unlimited fraud monitoring.
eCommerce
Lightspeed offers a simple solution for retailers to open a non-stop digital shop and scale their business. This feature allows essay website building or connecting to an existing website, access to online marketplaces like Amazon, eBay, and Google Shopping, sales across social media platforms, as well as syncing products online and in-store via Lightspeed Retail.
Inventory Management
For simple retail inventory management, Lightspeed offers a software solution that tracks inventory levels and SKUs across locations, product variants creation, easy inventory identification with unique serial numbers, and seamless fulfilment and delivery of special orders.
Marketing and Loyalty
Lightspeed Advanced Marketing feature helps businesses streamline their marketing projects while growing their bottom line. The feature has pre-built templates for emails, forms, and landing pages, automatic customer segmentation, birthday rewards, abandoned carts prompts, first-time customer emails, and so much more.
Advanced Reporting
Lightspeed Retail makes sure that every retailer has access to sophisticated POS analytics and reporting from any device or location.
Scanner
The Scanner is a product that allows retailers to efficiently count products, track their inventory, and fulfil orders using nothing but their iOS or Android devices. Through the Stock Lookup feature, it is possible to check the quantities of any product instantly.
Hardware
Lightspeed offers a hardware bundle suitable for both stationary and mobile iPad POSs. Those are the LAN receipt printer, cash drawer, Bluetooth scanner, Lightspeed iPad stand, and receipt paper.
The desktop hardware kit includes a USB receipt printer, cash drawer, and USB scanner.
Finally, the individual POS equipment consists of the Zebra label printer, USB barcode scanner, mobile tap, TM -m30, WisePOS E, and WisePad3, along with all the hardware from the above bundles.
eCommerce
Instant Site
Building a website for an eCommerce shop with Lightspeed is possible without any design or technical experience thanks to their user-friendly website builder. Users can choose from more than 30 themes and get a free website domain (company.site format) or connect their webshop to their existing website.
Social Media
Lightspeed offers a convenient solution for managing Facebook, Instagram, and TikTok all from one place. Sellers can seamlessly tag, sell, promote products or manage their ads from the Lightspeed eCom store. They can also connect Facebook with Instagram and advertise their products on TikTok to tell their brand's story.
Products and Inventory
Lightspeed eCom helps sellers take control over their inventory and diversity their product offerings. This tool enables selling digital goods (up to 25 MB per file), subscriptions, services, and gift cards.
eCom also simplifies inventory tracking, low-stock alerts, large catalogue management, pre-orders, and so much more.
Lightspeed Payments
Payment solutions are fully built-in and automated for eCommerce sellers. The checkout is fast, secure, and accepts all major debit and credit cards, but also Apple and Google Pay.
Shipping
A standard flat rate for all shipping allows freshly-launched businesses steady growth. Lightspeed eCom tool allows sellers to create non-standard shipping expenses and unique shipping rules for each product.
Lightspeed eCom merchants can receive an exclusive pricing deal that will save them up to 50% on both domestic and international costs of shipping. 
Restaurant
POS
Lightspeed offers a fully-integrated restaurant platform adaptable to the restaurant's specific needs. It supports delivery and contactless online ordering, floor plan adjustments, and different payment methods.
Lightspeed POS system offers a speed-up service with easy contactless payments straight from the table and reduces waiting times by letting customers scan QR codes and order, split bills, and make payments from their phones.
Furthermore, restaurants can get their order updates and real-time transaction data sent straight to their POS. They can also receive orders from UberEats, Sklp The Dlshess, or DoorDash apps, as well as stay flexible with their in-house guests by easily transferring items from one table to another and digitally overseeing table occupancy.
Delivery
Lightspeed Delivery powered by Deliverect is a feature that enables syncing the restaurant's menu with the leading food delivery apps or creating a delivery-only menu. 
This increases the efficiency of the restaurant as it allows them to consolidate online orders from a single screen.
Restaurants can use this feature to engage customers with discounts and promotions, maximise their delivery zone and increase the number of customers within their reach, and spot new opportunities thanks to Lightspeed's comprehensive reporting system.
The Lightspeed Delivery feature gathers customer data and helps restaurants keep in touch with their regular customers. It's also possible to make promo codes to share on social media that will attract new diners.
Order Anywhere
Order Anywhere is a safe streamlined service for both guests who are dining in or to-go, without contact or any third-party commissions.
This feature allows the generation of unique QR codes for specific menus or tables without needing customers to download the app.
Advanced Insights
Advanced Insight refers to a unique offer of sales report offered by Lightspeed that simply goes above and beyond when it comes to delivering relevant information to their clients to help them upscale their service.
This allows restaurants to create a unique profile for each guest who swapped their card. They can track how often certain diers are coming, what they order the most, and present them with an insightful offer they can not reject by creating personalised deals and promos. There is also a possibility of seeing which dishes perform the best and feature them more often. 
Inventory
Keeping track of their inventory can be a real challenge for many restaurants. This is why Lightspeed created a tool for inventory tracking that eliminates manual counting and performs real-time deductions and automatic replenishments upon reloading the inventory.
This tool also comes with comprehensive reporting on purchases, produce, waste, and sales, which helps with waste reduction and cost control.
Payments
Lightspeed facilitates a range of payment options for restaurants, which enhances the overall dining experience for customers. Payment methods accepted include cash, credit cards, debit cards, and mobile payments. The system is fully PCI-compliant and incorporates the latest fraud detection technologies. The system can easily manage large volumes of transactions and does not impose any monthly transaction limits.
Accounting

Having everything in one place can be crucial for doing proper accounting, especially when the turnover of goods is fast, as is the case with restaurants. Lightspeed Accounting enables syncing accurate sales data to the accounting software in use.
Lightspeed Accounting integrates with several accounting software solutions like Quick Books, Xero, Sage, and Freshbooks. The data flows directly from the POS back office which helps avoid any accounting errors. The system is completely cloud-based and automated ensuring stability.
For complex businesses, Lightspeed Accounting enables mapping and recording different product categories and payment methods in any way the user wants, making complex accounting fairly simple. In case of any syncing errors, an email notification is sent, and the user can review the whole syncing history whenever they wish.
Kitchen Display System
The Kitchen Display System is designed to simplify the workflow and ensure that guests get their orders on time. The system displays ticket times and helps track the turnaround. Orders are colour-coded, making it easier to observe what's under preparation and what's ready to be served.
This system helps restaurants digitalise and reduce their paper production. It reduces the number of mistakes on the line and gathers data and insights about production times.
It provides a detailed view of every modifier that includes order and efficiently sorts through orders thanks to its filtering system.
Customer Facing Display
Customer Facing Displays adds a new layer to the customer ordering experience, as it allows waiters to give customers a breakdown of their orders on an iPad screen. This sends a message of openness and transparency to the customer, as the screen will contain the following information: item details, subtotal price (without tax), tax percentage and total, total order price, and order number for Takeaway Mode.
Hardware
Hardware is an important part of Lightspeed's offer, as they design their hardware according to the standards of the industry they cater to.
For restaurants, they offer an iPad hardware kit that includes a receipt printer, cash drawer, Lightspeed hardware stand, and a kitchen printer.
Each of these can also be bought individually. Other individual pieces of hardware restaurants may find useful are Verphones e285, P400, and 400m, various versions of Epson Receipt Printers, Cash Drawer, Barcode Scanner, iPad Mobile Case, and Lite Server.
Golf
Tee Sheet

Lightspeed Golf stands behind Chronogolf's leading tee sheet in the golf industry, making tee sheet management simpler than ever.
This product can manage any course set-up and support between 9 and 54 holes and within no more than two clicks, you can adjust tee time intervals between tee times.
Tee Sheets support any type of play: crossovers, front/back nines, or shotguns.
POS
The POS by Lightspeed is the golf industry's most robust POS. It helps managers track the inventory more efficiently by setting up notifications for being low on stock.
Thanks to the possibility to process transactions directly from the tee sheet, the workflow is much faster. Any purchase can be made within seconds and shipment is tracked on an easy-to-use dashboard.
Sales and Marketing
Lightspeed offers a full suite of marketing and sales tools to golf businesses designed to help them maximise their revenue and expand their sources of income.
The players can book their game rounds on their own from whichever device they please. To make this possible, businesses only need to install a simple booking widget on their website.
It's also possible for golfers to pay in advance as well as to charge different prices on different weekdays as well as free listing on the Lightspeed online marketplace where golfers 
Reporting and Intelligence
Lightspeed Business Intelligence tool is designed to help their clients from the golf industry make better decisions and learn about how golfers are using their facility.
The tool enables data insights that can help with generating additional revenue, eye-catching reports, catering to the specific needs of golfer subgroups, as well as simplified staff management.
Website and App
Website and app help golf courts increase their online presence and attract more customers. The Lightspeed website builder offers a simple way to build a one-stop shop for different golfers' needs. The website is a good way for golf courts to showcase their facilities, and the Lightspeed website builder offers a number of optimisation features that can help with pushing the website to the top of Google search results.
Accounting
This fully-automated accounting software makes manual data entries and the anxiety over whether the entries are correct a thing of the past. The data is easily and quickly funnelled from the pro shop directly to the accounting software.
The software is simple to set up, and the data is accessible 24/7 from any device, as long as there is an internet connection because the whole app is cloud-based. 
Payments
The payment system for the golf industry is similar to the systems described above. There are no hidden fees for the client and users can automatically settle their customers' accounts to pay the bills on a certain day of the week.
They can also access real-time reports, settlements, operations and finance directly from the POS.
The payments are fast and flexible as golfers can use any payment method or make prepayments online.
Lightspeed provides a free onboarding session to help businesses set up and get acquainted with the software. After that, they still provide unlimited 14/7 support that answers any question their users might have along with chargeback assistance.
Hardware
Hardware for golf courts is similar to that offered to restaurants and retail stores. While there are no bundles listed in the website offer, there are numerous pieces of hardware any golf course could find use in. Those are: Apple iPad, iPad Stand, Lightspeed Lite Server, Receipt Paper Rolls, Bluetooth Barcode Scanner, Cash Drawer, Apple Mac Mini, Chipper 2X BT, Wise POS E, Label Printer, and UB & Ethernet Receipt Printer.
Business Operations
Besides the long list of useful products, Lightspeed also runs a number of business operations that make them one of the most successful POS companies worldwide.
Capital
Lightspeed Capital is one of the company's latest features designed to help retailers, restaurant, and golf court owners grow their businesses and maintain their cash flow.
Businesses just need to submit an application and pass the eligibility screening. If successful, they will receive a cash advance from Lightspeed Capital that is tailored to their business needs.
The payback structure is strictly flat-fee, and the advancement doesn't impact the clients' credit bank credit score in any way.
It's possible to request the funding again after the first balance is fully paid. 
Integrations
Lightspeed offers a variety of integrations for businesses from each industry.
For the golf industry, Lightspeed offers a myriad of services from its integrated partners for inventory management, appointment scheduling, customer service, loyalty, subscriptions, marketing, reservation, tools, payroll, etc. Some of the partners are: GolfNow, Kangaroo, GolfBack, Golf Genius, Golf EMS, Ikeono, Quote Machine, Stripe, Pitch CRM, Tee Times, Tee Off, etc.
For retail stores integrations include the Retail R-Series and X-Series. They cover eCommerce, ERP, accounting, employee scheduling, reporting, loyalty, marketing, rental, reservation, analytics, payroll, etc. Some of the partners are Kimoby, loyal2, Ledio, Kosmos eSync, Klaviyo, Loyal Action, nChannel, Nexus Apps, MailChimp, etc.
Finally, for restaurants, there are three series of integrations: K, L, and U Series. Services include analytics, inventory, reporting, employee scheduling, online ordering, accounting, reservation, invoicing, etc. Some of the partners are: Incentivio, Kangaroo, Libro, Hostme, Mews, Mobi2Go, MarketMan, Oracle Opera Cloud Hospitality, Orca Inventory, Omnivore, Moneris, and many others.
Company Background
Lightspeed is one of the leading POS companies, established in 2005 in Montreal, Canada. From founding until 2022, the CEO of the company was Dax da Silva. During his time, the company opened offices in New York, Ottawa, Toronto, London, Belfast, Geneva, Ghent, Amsterdam, and Melbourne.
In the beginning, the company was providing only POS and eCommerce services to retail stores, but over time their offer and customer base grew significantly. In 2011 it ranked 24th among Canada's 200 fastest-growing companies.
To this day, the company has expanded their product and service offer and today represents one of the most successful service providers in its industry.
User Reviews From Around the Web
There are not many Lightspeed user reviews on the web, however, those that are available, help paint a complete picture of this company.
Trust Pilot: 3.4 / 5 (827 total reviews):

73% – 5 stars

7% – 4 stars

2% – 3 stars

2% – 2 stars

16% – 1 star

Trust Radius: 6.7 / 10 (29 total reviews)

G2: 4 / 5 (280 total reviews)

This review refers to Lightspeed Retail only
Lightspeed User Reviews
Review Summary
0.0 out of 5 stars (based on 0 reviews)
Recent Reviews
There are no reviews yet. Be the first one to write one.
Submit a Review