Vyne is a one-in-all account-to-account payments solution for merchants and online businesses. Their primary goal is to help merchants move on from card networks to avoid middleman fees. 
The idea is to help businesses move funds between bank accounts more efficiently, quickly, and with lower costs; consequently improving business growth, scaling cash flow, and increasing conversion rates. 
In this article, we'll go over what Vyne is and review its services and prices. 
Let's dive right in. 
Vyne Overview 
Vyne is a payments company to empowers merchants to make account-to-account payments without the need for any cards. 
Karl MacGregor, the CEO, and co-founder of the company is a fintech veteran with over 20 years of experience. Using his experience in business development, e-commerce strategy, and product management, he came up with Vyne in 2019. 
Vyne aims to make online payments smoother, faster, and more secure. The account-to-account bank payment idea is born from the concept of open banking under the EU banking directive, PSD2. 
Here's a breakdown of Vyne's main services according to their business model: 
Easy eCommerce Payments –

Merchants can make their customers' checkout experiences smoother through instant settlements, quick reconciliation, and automated refunds. 
Recurring Payments Automation –

They help make it easier for customers to make recurring payments, allowing for pay-by-link options that make instant settlement and reconciliation a reality. 
Account Top-Ups –

Merchants can have customers top-up their accounts for quicker checkouts; all actions are SCA-protected. 
POS Retail Support –

Users can instantly pay in person or offline using a QR code, instead of a card or pin code. 
Invoicing and Billing –

Businesses can smoothen the invoicing and billing process by sending embedded links by email, chat, or SMS. They can also utilize app-based payment requests and static or dynamic QR codes. 
On top of that, Vyne can integrate directly with a merchant's website or app to activate. 
What Differentiates Vyne from Others? 
Vyne's biggest selling point is that they simplify the checkout and payments process into three steps: 
Users checkout with Vyne by selecting their bank. 

They log into their bank's app. 

Then, they authorise the payment and they're done.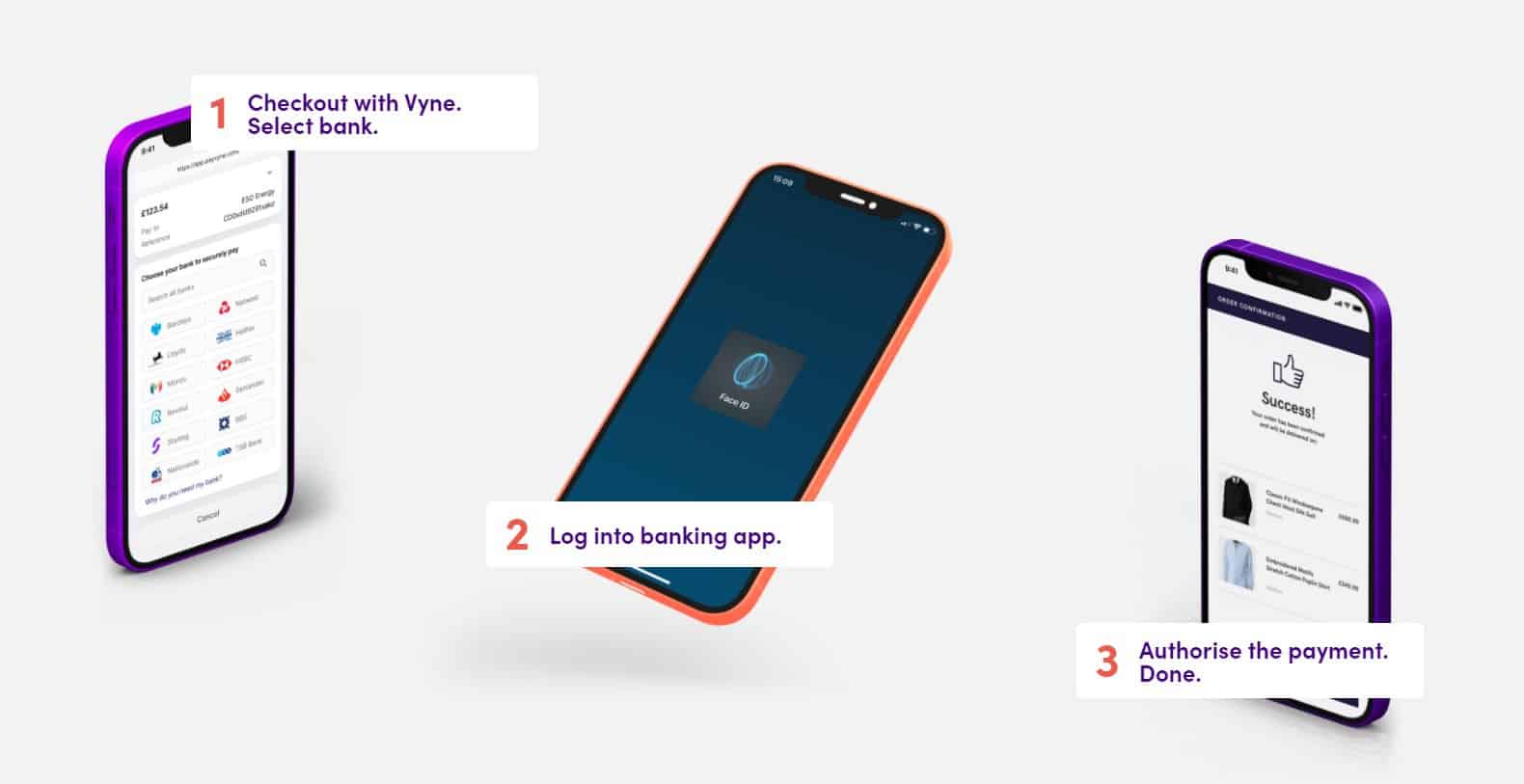 Other than that, the following are some key factors and features of Vyne. 
Instant Settlements 
In traditional payment methods, there are middlemen with multiple levels of security and checks that can take 3-5 days for any card transaction to settle. 
However, Vyne's direct integration with banks allows merchant and user bank accounts to practically exchange funds with each other. That allows for instant funds transfers, leading to instant settlements and reconciliation. 
Reduced Costs and Fees 
As Vyne makes the payment acceptance process and single-step process, it eliminates excessive middlemen fees and card costs. 
That allows merchants to move their payments on a flat fee per transaction. Therefore, merchants always have to pay a predictable (and lower) price per transaction. 
Direct Bank Communication 
Since Vyne's model works by utilizing direct bank communication, the risk of fraud is little to none. 
The primary reason for that is every payment needs authentication from a person's own bank account and app. Furthermore, it requires a biometric scan or any other form of security in the banking app. 
That ensures all payments are secure and final, minimizing the risk of fraudulent payments. 
Bulk Refunds 
Since the payments work account-to-account, it's much easier to process refunds, making them instantaneous. 
Users can issue individual and bulk refunds while receiving real-time notifications and reconciliation updates. 
Offline Payment Support 
Vyne offers offline payment support in the shape of pay-by-link options and QR codes. 
That way, merchants can send customers payment links by email, SMS, or through the app. 
This allows for offline purchasing while protecting both the merchant and their customers against failed payment processing. In traditional payment systems, the latter can take up to six months to clear up. 
Vyne Review 
Vyne is currently processing millions of points in transactions each month; they have a growth rate of 95% per month. On top of that, the company raised $15.5M in their seed round in the third quarter of 2021. 
Using the seed funding, they have been working to scale through international expansion. The idea is to maximize the options of merchants to provide seamless payments across the globe. Currently, Vyne's business model limits them to the UK and the European Union. 
However, for merchants in Europe, it's a great open banking tool as it opens up various opportunities. That includes giving a chance to directly engage customers through digital channels like QR codes and pay-by-link options. Customers can receive them in person, by email, or by SMS. 
This removes/reduces the intermediaries, additional checks, third-party fees, and unnecessary stoppages in the payment infrastructure. If you're worried about security, it's a no-brainer because Vyne uses your bank's systems for security management. 
Furthermore, they use on-device authentication through biometrics scans for mobile transactions and Strong Customer Authentication (SCA). 
As for the integrations, Vyne has a developer-friendly integration process with simple development, native SDKs, direct API, and a custom-hosted page. 
Moving on, another good feature by Vyne is that merchants get instant settlements to better manage cash flow. This reduces chargebacks and assists in reconciliation. 
Perhaps the best thing about Vyne is the UX for both the merchants and their customers. The company invests a lot in ensuring a seamless payment experience that maximizes ease of use. 
The three-step process of making payments through direct integration makes checkouts faster, more efficient, and more secure. 
Pros 
The following are some major pros of using Vyne.
Three-step checkout and payment process for customers 

Instant payment settlements for real-time cash flow updates 

Transparent process 

Visually aesthetic and easy-to-use UX and UI 

Easy refund management and reduction of fraud instances 

Simpler invoicing and billing, along with account top-up options
On top of that, Vyne removes the need for plastic cards and pins as people can make payments through QR codes and pay links, even in POS transactions. 
Cons 
The following are some of the drawbacks of Vyne. 
Currently has little to no support beyond Europe – Limited to GB and European Union for now 

Only provides single payment option beyond Great Britain 

Only works with banks that partner with Vyne 

Not available for merchants beyond Europe 
There are practically no user reviews online. However, that may be due to the fact that the company is still in its initial growth stage. 
User Reviews 
You won't find any user reviews on sites like TrustPilot, G2, Capterra, or any other site. That's because while the company found its roots in 2019, it only began scaling in the fourth quarter of 2021 after receiving seed funding. 
However, there are a couple of merchant reviews on Vyne's website. 

Similar to the review above, the second one also praises the easy adoption process and usability of Vyne. 

It's safe to say that Vyne is a great option for merchants looking to make their checkout and payment processes more efficient. 
Vyne Pricing and Fees 
Vyne does not disclose its pricing or fee structure on its website. There is no information on how they charge merchants/customers. 
However, if you want to partner with the company, you can fill out a form here. 
You'll have to provide some basic details, including your full name, email address, phone number, company name, and company website. You'll also have to add a small message explaining why and how you want to improve your payment systems. 
What's the Verdict? 
Vyne is a full-stack direct payment platform that fully utilises the open banking system. That effectively makes it more convenient for merchants who can receive their money instantly and securely. 
Meanwhile, customers benefit from it because they can avoid longer checkouts, added security checks, and can also receive instant refunds. 
Most importantly, the company reduces all additional fees by charging a single predictable per-transaction fee. That also allows them to view their cash flow holistically and accurately. 
Overall, with an impressive growth rate, Vyne proves to be a great option for online merchants looking for more efficient ways to receive their payments.
Vyne User Reviews
Review Summary
0.0 out of 5 stars (based on 0 reviews)
Recent Reviews
There are no reviews yet. Be the first one to write one.
Submit a Review