TrueLayer is a global open banking platform that allows businesses to build financial experiences. Their customers can build and manage financial apps that help connect and oversee transactions, bank data, and accounts. 
The company provides a toolkit that allows businesses to create consumer and SMB (server message block) applications. These are used for personal financial management, payments, online lending, insurance, investment services, cryptocurrencies, and P2P marketplaces. 
In this article, we'll go over what TrueLayer is and review its services and prices. 
Let's dive right into it. 
TrueLayer Overview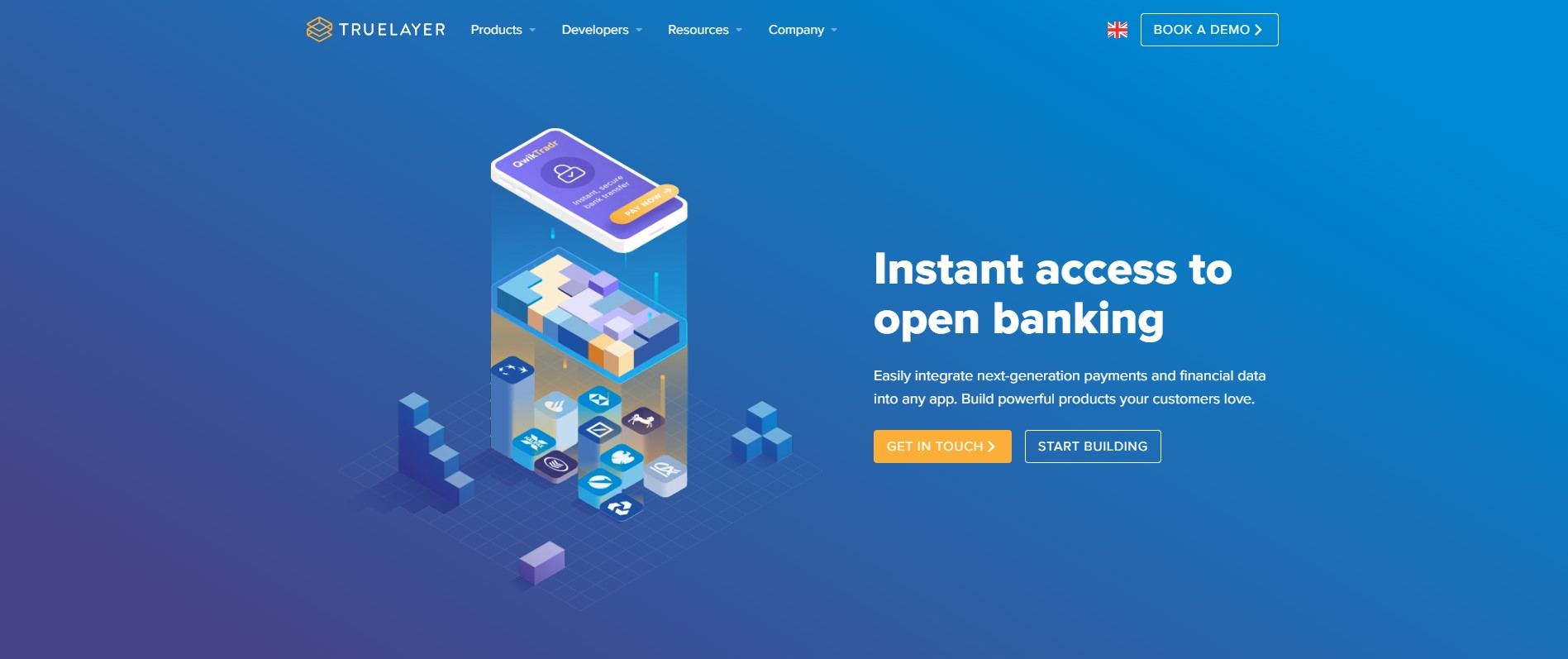 TrueLayer is a fintech platform that aims to expand and scale the open banking economy. Their solution is to provide a platform where companies can develop and scale financial products and services with ease. 
The company was founded in 2016 in London and it now has offices in five cities across the world, including Dublin, Sydney, Milan, and Hong Kong. 
It's backed by major investors, including Stripe, Tiger Global, and Tencent. They have collectively raised almost £214M in funding since the company's inception and are currently on a Series E funding round. 
That Series E funding round was led by Tiger Global Management in September 2021 and provided the company with an influx of £95M at the time. It also received a valuation of £1B. 
On top of that, TrueLayer has won several awards over time, including the Top Fintech Companies 2020 award by CB Insights. Another notable award by FData awards in 2019 was for the Best Innovation in Payments. 
Moving on, the following are TrueLayer's product offerings. 
Payments –

TrueLayer's platform allows for streamlined payment experiences as it works on the open banking system. That allows instant bank payments on all websites and apps. These include instant pay-ins, variable recurring payments, withdrawals, and refunds. 
Payouts –

The platform also allows you to automate your payouts, including fund withdrawals, refund payments, and recipient payments. These can be programmed easily and reduce manual processes. 
Data –

This allows you to connect your app with any bank account to get real-time access to your accounts, transactions, balances, and identity data. 
Verification –

Businesses can use this to quickly verify customer account details, verify their ownership, and start onboarding. 
It's one of the few companies that claim to be able to have their apps connect to any bank account. 
What Differentiates TrueLayer from Others? 
Compared to other open banking platforms, TrueLayer is focusing on providing a single platform where businesses can create their own financial products, services, and apps. 
Using TrueLayer's architecture, systems, and foundation, businesses can establish complete payment systems. Here's how it works for the businesses: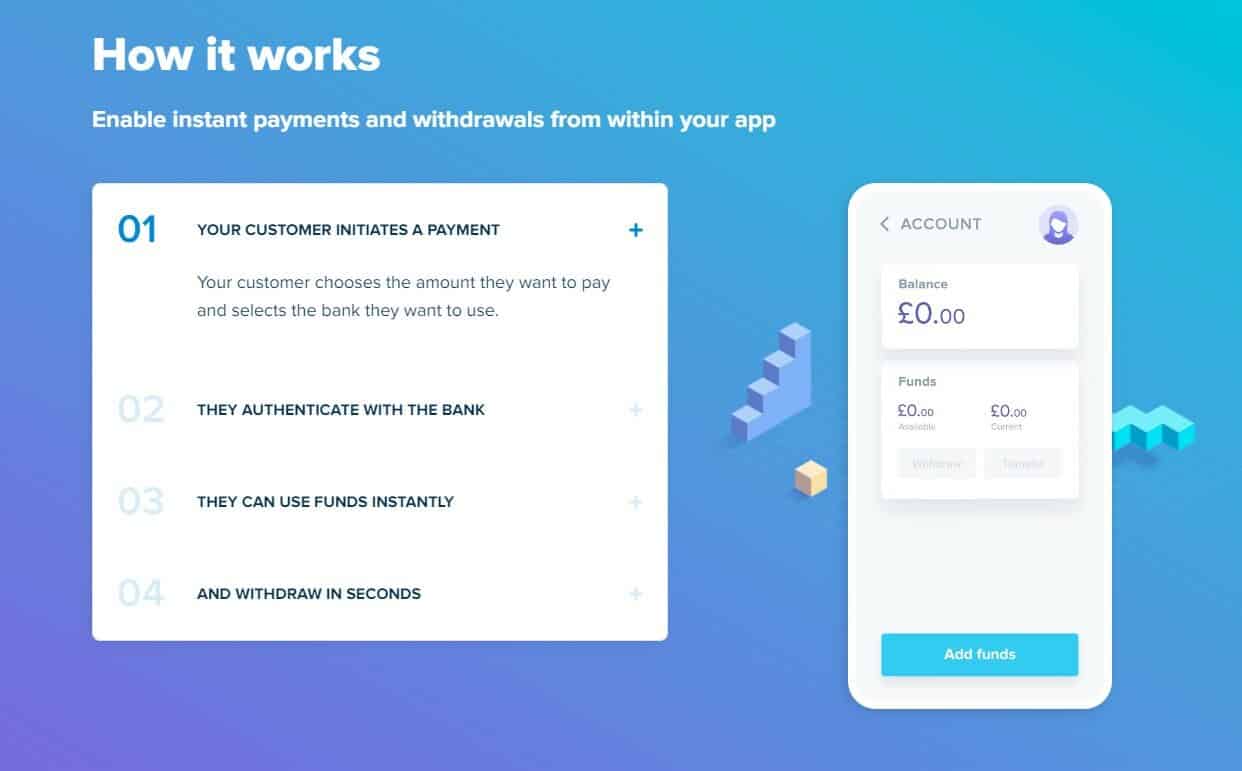 Furthermore, TrueLayer doesn't target every single industry. In fact, they have a few use cases where they focus most of their efforts, including: 
Financial Services –

Allowing financial institutions to allow faster transactions, lower costs, and better security. 
Crypto –

Helping improve trading experiences through instant deposits, conversions, and withdrawals. 
Ecommerce –

Allowing digital businesses to create better checkout experiences, eliminate chargebacks, and weed out fraud. 
iGaming –

Offering better compliance to provide better player experiences. 
Furthermore, here are a few key features of TrueLayer. 
Global Connectivity  
TrueLayer has a wider network than most open banking platforms. They're currently established in the UK, Europe, and Australia. 
They have thousands of banks, digital wallets, and other financial institutions connected to their systems. 
Instant Verification  
TrueLayer's systems work in real time, allowing for instant verification of accounts and transactions. 
According to their website, 9 out of 10 of all accounts are verified in three clicks in a matter of seconds. 
Users can quickly verify their account ownership using faceID or their fingerprints. Businesses can set up these checks using a single APU and automate the process. 
Complete Integration Toolkit  
The company provides a complete integration toolkit ot customers so they can build their products and services. 
That includes a hosted payment page that utilises a low-code integration, allowing quicker bank payments. 
Furthermore, you can build better mobile experiences using mobile SDKs for Android and iOS. 
Lastly, you get access to backend libraries in several programming languages to allow for faster setups. 
Customisable Platform  
The platform allows you to combat fraud, reduce costs, and boost conversion rates. It also provides excellent security since the APIs are PSD2 compliant. 
More importantly, the platform is completely customisable so you can design your own customer journey from the start to the end. 
Account Aggregation 
This allows users to view and manage each one of their accounts from a single screen. This provides a unified view of their finances. 
That support accounts include retail, checking, savings, business accounts and also credit cards. 
TrueLayer Review 
TrueLayer is an open banking solution for a lot of businesses that are looking to make payments easier for themselves and their customers. 
However, what makes them different is that they allow businesses to design their own systems, product, services, and apps on their platform. 
This level of customisation is hard to find in other open banking platforms. It also allows businesses to offer financial services to their users through TrueLayer systems. 
Therefore, the company also acts as a catalyst for the scalability of certain financial service providers. 
As for their product, it offers a wide range of options for businesses. However, what's more impressive is how big their network is. 
Currently, their network spans two continents with thousands of banks and financial institutions. This gives end-users a lot of options when connecting their banks or digital wallets. 
Furthermore, since the platform also works for trading platforms, it allows for quicker Forex and crypto trading. Coupled with quick security verifications through fingerprint and face IDs makes it a great addition to digital businesses. 
Pros 
The following are some major pros of using TrueLayer.
Instant verification through biometric security 

You can automate withdrawals, refunds, payouts, etc. 

A massive network of banks and financial institutions 

Geared towards specific industries and use cases 

A customisable platform allows businesses to design their own products 

Most processes are streamlined into 3-4 steps 
There are automation features for most forms of transactions. 
Cons 
The following are some of the drawbacks of TrueLayer. 
There is no information on TrueLayer's pricing on their website 

Automation features don't take unique cases into account 

There is no API sandbox for businesses to test their integrations and tools 

Limited use cases reduce the overall compatibility of other industries 
There is no mention of any live support on their website. 
User Reviews 
Currently, TrueLayer has a 4.2 rating on Trustpilot, with most reviews providing an excellent rating.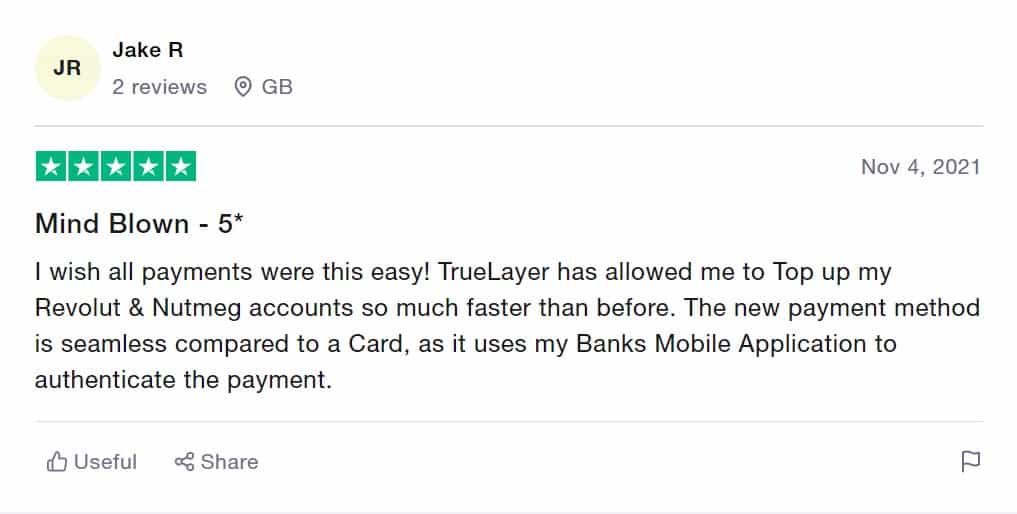 Furthermore, TrueLayer has a 4.5 rating on G2 with most reviews at 5 stars and some at 4 stars.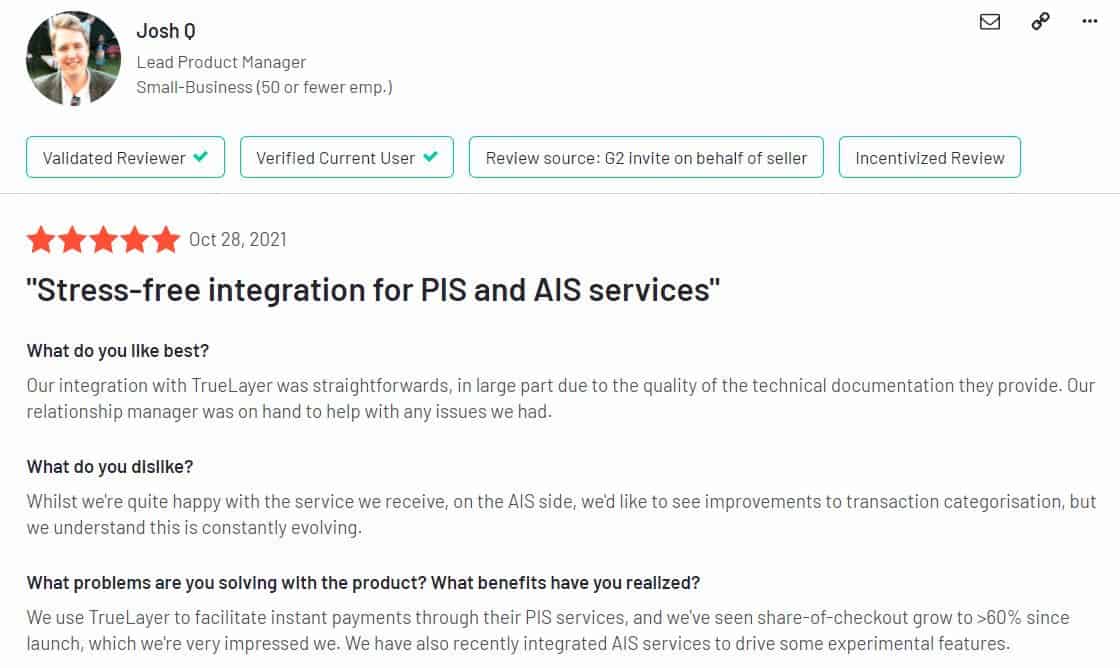 Moving on, TrueLayer has a 4.8 rating on Featured Customers with over 400 separate ratings.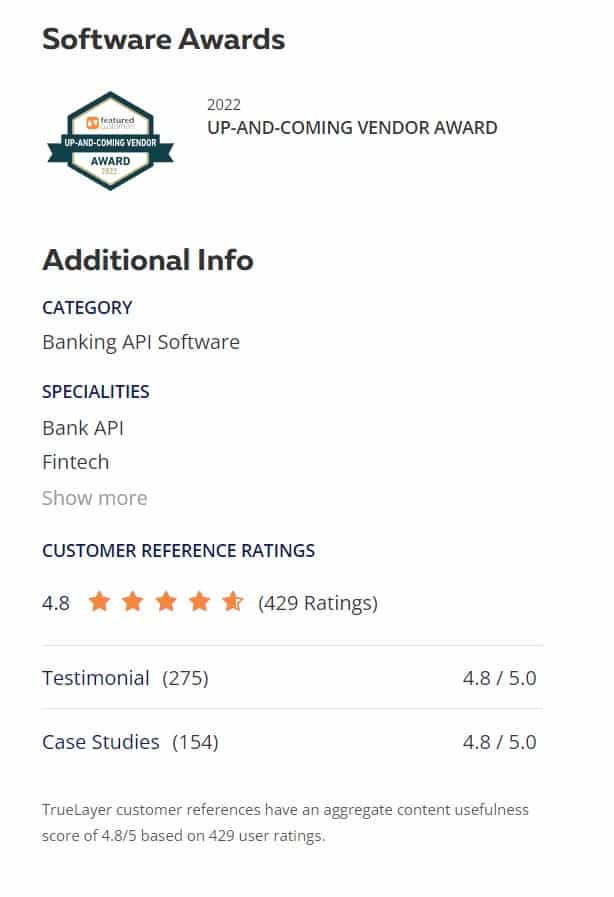 Most reviews of TrueLayer are positive with people praising the improvement of their payment services. 
However, a lot of businesses complain about the lack of adoption of open banking by a lot of banks. 
TrueLayer Pricing and Fees 
TrueLayer doesn't disclose its pricing system and fees on its website. However, they do offer a free demo that you can apply for by filling out their online form here. 
You'll be contacted by one of their open banking experts who'll provide you with a custom quote. 
What's the Verdict? 
All in all, TrueLayer is an excellent choice for businesses that exist in the industries targeted by TrueLayer. 
Since the platform allows you to build and manage financial products, services, and apps, it gives businesses a lot of room for customisation. 
Lastly, the platform also provides an excellent end-user experience, helping businesses improve customer experience. 
TrueLayer User Reviews
Review Summary
0.0 out of 5 stars (based on 0 reviews)
Recent Reviews
There are no reviews yet. Be the first one to write one.
Submit a Review