Token is an account-to-account open banking platform that aims to help users transition from card to bank payments. The company's vision is to provide Europe-wide coverage for open banking initiation, compliance, and data access. 
Token has been at the front line of data aggregation and payment initiation technology – they were the first to conduct an end-to-end payment using a public bank API in the United Kingdom. 
In this article, we'll go over what Token is and review its services and prices. 
Let's get started. 
Token Overview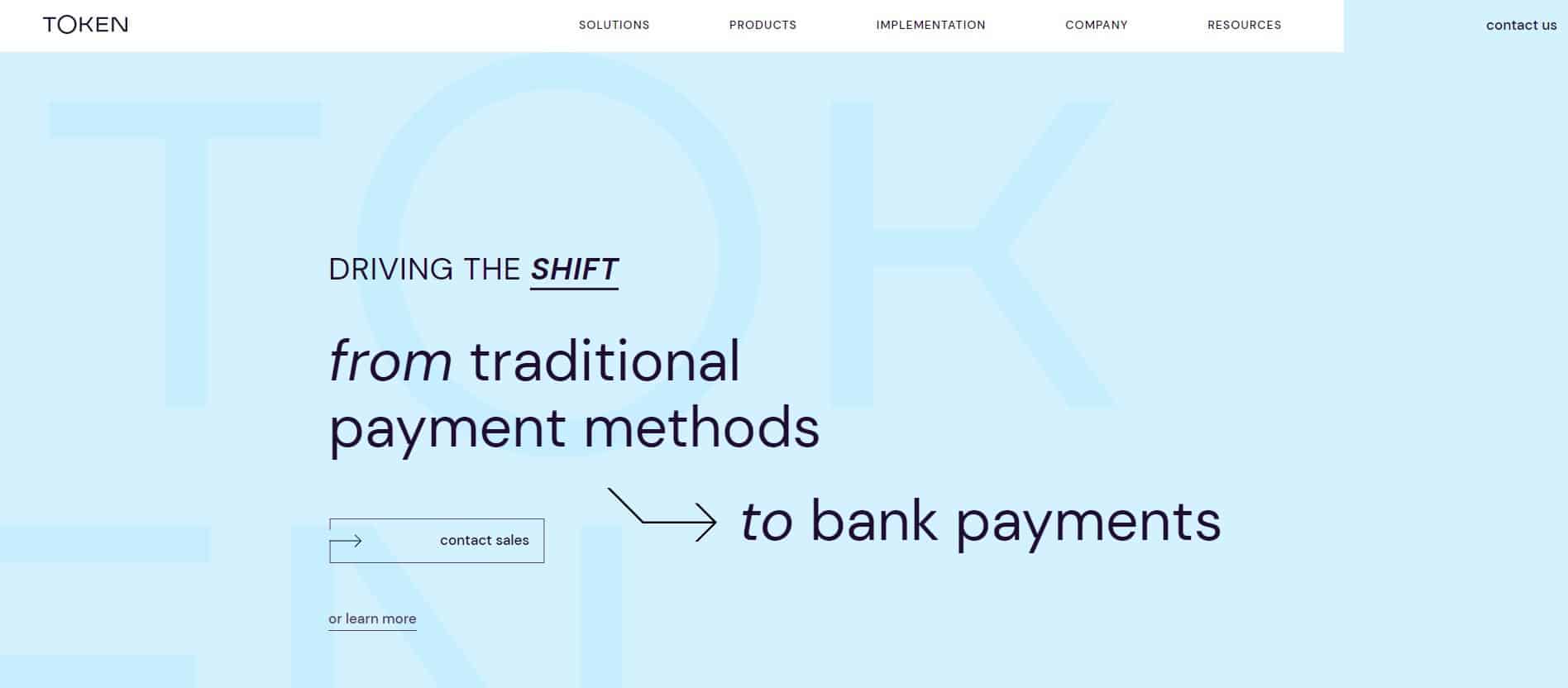 Token is an A2A payments company aiming to move customers and merchants from traditional payment methods to direct bank transfers. 
The company recently received $40M in funding to expand its operations across Europe. The funding comes from TempoCap and Cota Capital, with minor stakes by several other investors. 
According to CEO Todd Clyde, Token's account-to-account payments share in the UK is around 21%. That makes it one of the largest A2A payments platforms in the UK. 
Currently, the company estimates that around 1% of all payments in the UK are bank-to-bank transfers. However, Token's three-year plan aims to bring that percentage up to 10%. 
While Token provides various payment solutions, its top three solutions include: 
Payment Service Providers – Token provides an open banking platform for making bank payments and securely storing financial data. The company provides a complete toolkit of payment gateways, service providers, and acquirers. PSPs can quickly build value-added programmes and propositions for customers as they allow them to access aggregate account and transaction data. 
Merchants –

The company provides a quick way for merchants to accept bank-to-bank payments. With lower-cost payments, merchants can expect higher success rates. It works the same way for bill payments, recurring payments, and credit card issuers. On top of that, it allows you to find digital wallets and accounts instantly. 
Banks –

The company also provides solutions for banks, allowing them to easily set up A2A payment systems and new revenue streams. Token's own Compliance API, EMIs and banks can benefit from compliance-ready (for PSD2 regulations) services. 
One massive advantage that Token has over others is that they provide all services from a single API. That means you receive open banking access across the UK and Europe under a single interface. 
What Differentiates Token from Others? 
Among A2A payment providers, Token has the highest number and levels of security certifications. The company is PCI-DSS compliant and has the Cyber Essentials Certificate. 
On top of that, Token consistently upgrades its AIS/PIS connectivity network with banks and various financial institutions across Europe and the UK. 
Most importantly, it's one of the few open banking platforms that has expanded its operations into Europe. That gives merchants and customers the ability to make direct bank transfers across Europe, saving extensive transfer and intermediary fees. 
Currently, Token's operations are active in 14 countries and they have more than 80 enterprise partners. 
Furthermore, here are a few key features of Token. 
Token Payments/Transactions 
Token Payments is the company's solution for accepting low-cost bank payments directly from websites and apps. Since there are no cards involved, there aren't any chargeback costs or interchange fees. 
The 100% API-based system ensures added security and better connectivity, leading to higher success rates. 
Since it's fully embedded in your systems, you don't need to make any massive changes to existing payment systems. 
Token Data
Users have access to financial data from multiple European and English banks. It allows PSPs, developers, and merchants to improve engagement, onboarding, and eventually revenue. 
Access to transaction data and aggregate account details from banks in the UK and Europe allow for better targeting, services, and security. 
On top of that, it provides deeper data insights, allowing users to make real-time data backed decisions. Furthermore, it also ensures instant authentication because the system automatically retrieves relevant KYC information. 
Token Compliance  
Token provides a multitude of compliance benefits, acting as a one-in-all compliance solution. It satisfies all PSD2 obligations that are required by electronic money institutions and banks. 
The open API provides a warranty to the RTS, along with the lowest total cost of ownership. Furthermore, the platform offers efficient TTP onboarding for new users. 
Services Beyond the UK 
Unlike a lot of current open banking platforms, Token provides a much wider geographic service area. Currently, Token can be used in the UK and 13 European countries. 
On top of that, the company has partnerships with several financial institutions and enterprises for smoother services and onboarding. 
Token Review 
Token is a long-standing A2A payments company that laid the architecture for direct bank payments. In fact, other open banking platforms like Vyne, BNPP, and HSBC utilise Token technology to power their systems. 
The company won the Payments Tech of the Year award in 2022 at the UK Fintech Awards. On top of that, the company secured a $40M investment to scale its operations further into Europe. 
It's a fast-growing payments company that's scaling faster than its competitors. That means it'll have the first-mover advantage in new markets, securing the market share. 
That is bound to open new opportunities for users and it will allow Token to develop new partnerships with banks, institutions, and enterprises. 
Pros 
The following are some major pros of using Token.
One-in-all API that integrates seamlessly 

Provides complete compliance support on all ends 

Easy access to financial and transactional data across the UK and Europe 

Allows for easy funding of wallets and accounts 

Offers support for subscription-based businesses 

Provides Variable Recurring Payment (VRP) capabilities 
Like other open banking platforms, Token provides low-cost A2A payments with no intermediate fees. 
Cons 
The following are some of the drawbacks of Token. 
There isn't much detail about how the payments actually work for all parties 

While they are present in several European countries, not all banks support its systems. You can learn more about their coverage

here 

There is no information on their pricing 

The company doesn't target specific industries and markets 
Token's systems, servers, and architecture are shared by three other open banking platforms which can cause overloading issues. 
User Reviews 
Token doesn't have any direct reviews on sites like Trustpilot or G2. However, you can check out the reviews for their apps on the iOS App Store and Google's Play Store. 
Currently, Token's open banking app has a 4.0 rating on the iOS App Store and a 4.3 rating on the Google Play Store. 
Furthermore, the following are a couple of reviews from both stores.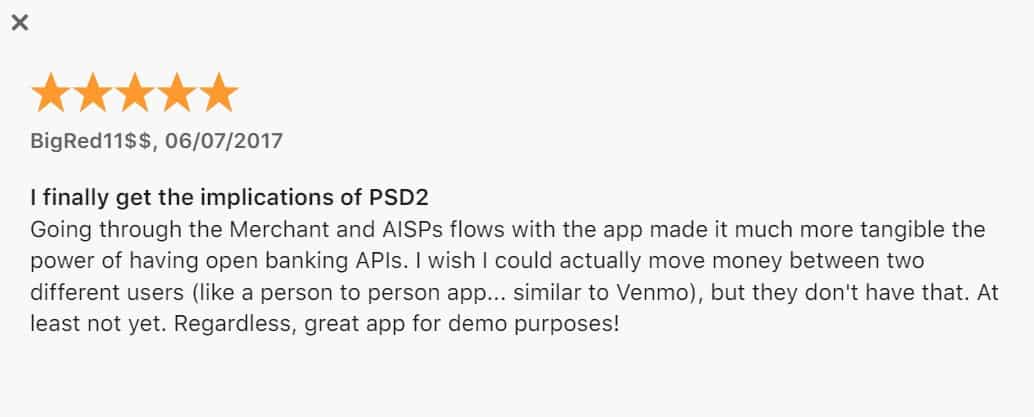 The review above is from 2017; however, a more recent 2019 review of the app isn't as good. 

However, it's safe to say that in the last three years, Token has improved a lot. 
Token Pricing and Fees 
Token doesn't provide any information on their pricing method or the fee they charge on transactions. 
However, you can contact their sales team here to get an idea about how much it'll charge you for your case. 
What's the Verdict? 
Token started out rough because it was among the first open banking platforms. At this point, it has expanded and grown into a veteran of the industry. 
It's to the point where other open banking platforms share Token's architecture and compliance systems. 
Its one-in-all API is developer-friendly and offers a quick and efficient integration. 
All in all, it's a great open banking service provider for established businesses and enterprise-level companies. 
Token User Reviews
Review Summary
0.0 out of 5 stars (based on 0 reviews)
Recent Reviews
There are no reviews yet. Be the first one to write one.
Submit a Review