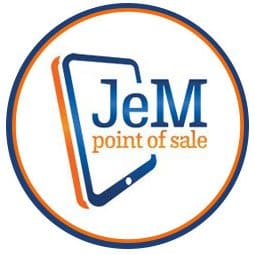 JeM point of sale is a complete POS solution for the hospitality industry.  It's an iPad based POS system which functions with or without internet access.  JeM say they have listened to what independent businesses need and incorporated their solutions in a 'super-fast and simple-to-use' system.
JeM Point of Sale/Epos Plans & Pricing
JeM have a range of POS plans to suit hospitality businesses of all sizes.
Starter EPOS Kit – £299 per annum + VAT
TSP 143 LAN receipt printer
iPad POS Stand
Cash drawer
1 month license
Free setup
Free 24/7 support
Advance EPOS Kit – £799 per annum + VAT
iPad
TSP receipt printer or mPOP
iPad POS stand and cash drawer
3 month license
Free setup
Free 24/7 support
Premium EPOS Kit – £1,159 per annum + VAT or £39 per month
iPad
TSP receipt printer of mPOP
iPad POS stand and cash drawer
24 month license
Free setup
Free 24/7 support
Source: Just e Menu (JeM) Pricing
To see how that compares have a look at: UK Merchant Account and Credit Card Processing Fee Comparison.
JeM Features
Easy login
Each employee can have unique passcode
Ability to designate roles to staff members and control access
Employee timesheet
Chip & Pin, credit card and contactless payments
Track inventory
Control stock
Work offline
Cloud based
Customer self ordering through JeM iPad terminals
Manage tables
Manage reservations
Manage takeaway
Orders display TV APP
Full reporting suite
Separate kitchen app
Track kitchen performance
Unlimited users' access
Generate customer vouchers
Company Background
JeM PoS was incorporated on the 26th August 2009 and has its head office in Slough.   However, the company has changed its name and direction several times since 2009.  The company was initially called Prime Idea Solutions Ltd., which changed to Business Outsourcing Solutions Ltd., followed by Biz Outsourcing Solutions Ltd. in February 2014.  In November 2016, the company became known as Just e Menu Ltd. and as of April 4th 2018, the company is now known as JeM Point of Sale Ltd.
JeM PoS has recently partnered with Paymentsense. Paymentsense was started in 2010 by two young entrepreneurs who realised that SMEs needed a way to overcome high machine fees and expensive merchant services.  Today, Paymentsense provides affordable merchant services to over 60,000 small and medium businesses in the UK and processes over £5 billion worth of credit card payments annually.
JeM's POS Reviews
Trustpilot: 2.4 out of 5 based on 39 reviews
Based on the reviews on the above sites, our Merchant Machine score is 2.4 out of 5.
Website: https://jempos.co.uk