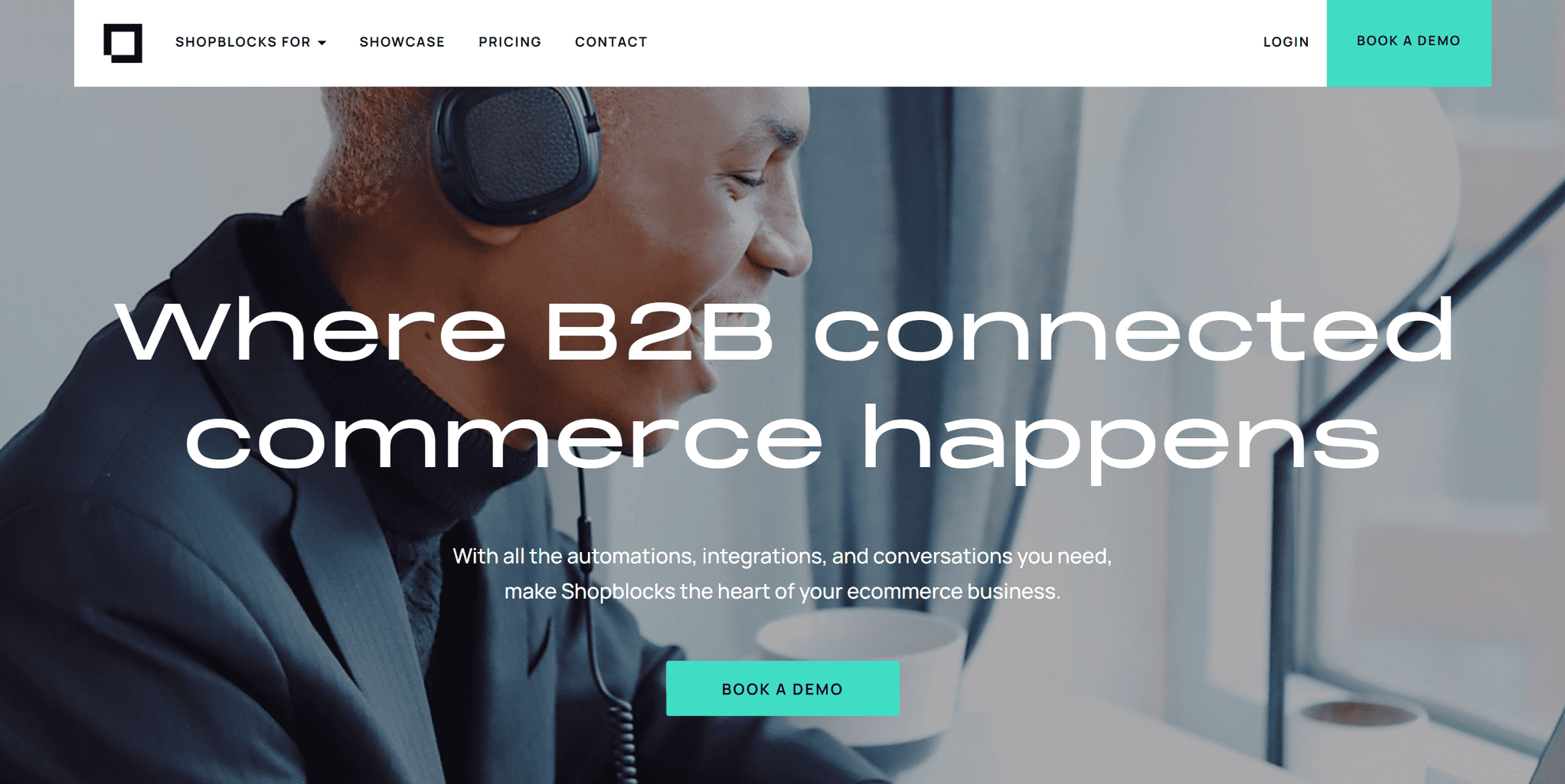 Shopblocks offers site creation tools that help businesses build and manage their online stores.
They offer three plans geared towards beginners starting their first shop, medium-sized businesses, and large enterprises. 
All of the plans are pretty steeply priced, considering that they provide what are (in our opinion at least) common features that can be found on many other platforms for a lot cheaper.
The final plan doesn't even have a price and you need to call in to get a quote to find out exactly how much it'll cost you.
However, despite these flaws, the platform is actually a decent option for anyone trying to get into the eCommerce business, and we'll tell you why.
Features
Let's cover the services Shopblocks offers and give you a short rundown of how they all work.
Design
API Keys – Application programming interface keys allow you to go into the code and change certain elements of the site to your preference. You can modify the themes to better fit the dimensions of the site, adjust values in the tabs, modify the menus and the drop-down menus, and do plenty more.
Of course, all of this is only possible if you have experience in programming or hire a professional to do it for you.
BlockLab Tool – If you're unable to make changes to the site code on your own and don't want to spend money hiring a programmer, use this tool to grab and drop various elements to your pages in the position that you want them to be displayed.
Multimedia – You can add as many images, videos, sound files, and any other types of files to your site. This also includes PDF documents and as many text descriptions as you'd like.
Versions and Updates – Shopblocks provides regular updates to existing features, so the tools you're using are always improving. However, if you don't like the newest changes that were implemented, you can roll back to an older version of the service at any time and stick to what you know and like.
Admin Users – You'll be given admin accounts that you can give to your employees so they have as much control over the site as you. 
This is a particularly useful feature if you have a member on your team that's responsible for site maintenance, or if someone is in charge of this when you're unavailable.
50+ Apps – Shopblocks has more than 50 apps that you can add to your site. These include various shipping apps, marketing tools, SEO assistance, finance transaction tools, and so on.
Unlimited Pages – You can add as many pages as you want to your site. Aside from the standard product pages and different category sub-pages, you can also add an "About Us" page, a landing page, and maybe even a "Meet the Team" page.
Mobile-Friendly Themes and Menus – All of the elements on the site will automatically adapt to fit into the dimensions of the screen that they're being viewed on. 
You can also make modifications and change the size of the text or slightly modify the positioning of the theme on certain screens, or restrict some pages to specific devices.
Social Media Accounts – You can link all of your social media accounts to your site, and vice-versa. 
Products
Unlimited Products – You can add as many products as you want to your site. 
Product Variability – You can add as many images and descriptions to your products as you want. This is especially important for products like clothing articles that come in many different sizes and colours.
However, aside from clothes, these variations can be added to any items that you have in stock that come in different shapes and sizes.
SKU – To easily organise your product in both your warehouse and online database, you can use as many stock-keeping units as you want to give all of your products their own unique numeric designation. 
Inventory Management – The same SKUs that we just went over can be used to divide the products you're selling into various categories. 
You can create as many categories as you want and split the items into however many groups you need to make things easier to sort through.
Shipping – You can set your own shipping tariffs by considering a customer's location, the weight of a package, and the price of the product, in addition to other factors.
Manual Orders – If you're selling very specific fit-to-order products, then you'll need to get in touch with your customers directly. This option allows you to set up a direct phone line, a messaging app, or a live chat function.
POS Integrations – If you're operating out of a physical location, you can use the POS function to send the sales figures from both your online and your physical store to the same dashboard.
This will simplify bill and transaction management, but more importantly, it'll keep track of any and all sales that you make so that all of your products and sales are accounted for.
Subscriptions – If you're selling digital products, you'll definitely need to provide your customers with a subscription service that they can sign up for.
The monthly or weekly charge will automatically be taken out of their account without you having to constantly send in invoices, and the customers will automatically be granted access to the products that they're paying for.
Regardless if you're selling online courses or your own digital creations, you can designate which subscribers get access to which products. You can also create different tiers and pricing plans, and adjust the prices of these services however you like.
You'll also be able to create customer groups and offer each group individual prices and deals.
Pre-orders are also possible, customers can order a product that isn't in stock yet, and the order will automatically be placed once it's in your store.
Reorders – Your customers can resend their orders with just a simple click to make sure that the purchase goes through. Since all of their info is saved on the site, they simply need to click the submit button and you'll get a second notice about an order that was placed.
Marketing
Abandoned Cart Recovery – You can add an abandoned cart feature to your site that allows you to notify your customers of any items they might have left in their carts. They'll be given a visual clue on the site to remind them that their cart is not empty, or an email if they've already left the site.
SSL Certificate – An SSL certificate provides a few benefits for your shop. For one, the padlock that appears at the beginning of the address bar will tell your site visitors that your site and their personal information are safe, which might encourage them to make an account.
Another benefit of the SSL certificate is that the HTTPS connection gets a better ranking on search engines than standard HTTP connections. This will give your site a bit of an edge so it reaches more potential customers.
SEO Friendly – Your site will have built-in SEO tools that further boost your discoverability and visitor engagement. These SEO tools include social media plugins, the option to add Whats App to your site, a live chat functionality, and so on. 
Deals and Discount Codes – Generating discount codes is as easy as specifying a number and clicking the confirm button. You'll be able to make custom discounts by setting your own percentages and changing the style or font of the discounts.
You'll be able to send special codes to any subscribers you select or set up universal discounts on your store that any site visitor can take advantage of. In addition to that, there are several restrictions you can choose from as well, like "this code only applies for this and that".
Fraud Analysis – The platform uses fraud identification software, like Stripe Radar and 3D Secure, to help prevent the likelihood of a scam payment being processed through your site. These security measures use various methods to determine the reliability of any account that uses your site, and while no system is perfect, it's definitely better to have these systems than not.
Other Features
Guides and Tutorials – All of the plans that we'll go over down below come with complementary tutorials on how to use Shopblocks in order to design a great-looking and properly optimized site. The number of lessons that you get depends on the plan you choose, but even a single 30-minute tutorial will likely give you a lot of useful information that you can use to improve your site.
Specialized Tools – Some businesses, like restaurants or clothing shops, can take advantage of specialized features.
For example, the scan-to-launch menus allow customers to simply scan in a meal QR code from the menu they want to get which alerts the business immediately. On the other hand, If you're in the clothing field, you can set multiple different tax rates for your products.
There are several other features like this which only certain businesses can take advantage of.
Prices/Fees
Shopblocks comes with 3 pricing plans called Launch, Orbit and Enterprise. The first and the third plan pretty much tell you that they're aimed towards new shops and established shops respectfully, while the Orbit plan is a middle ground between the two that's ideal for medium-sized businesses.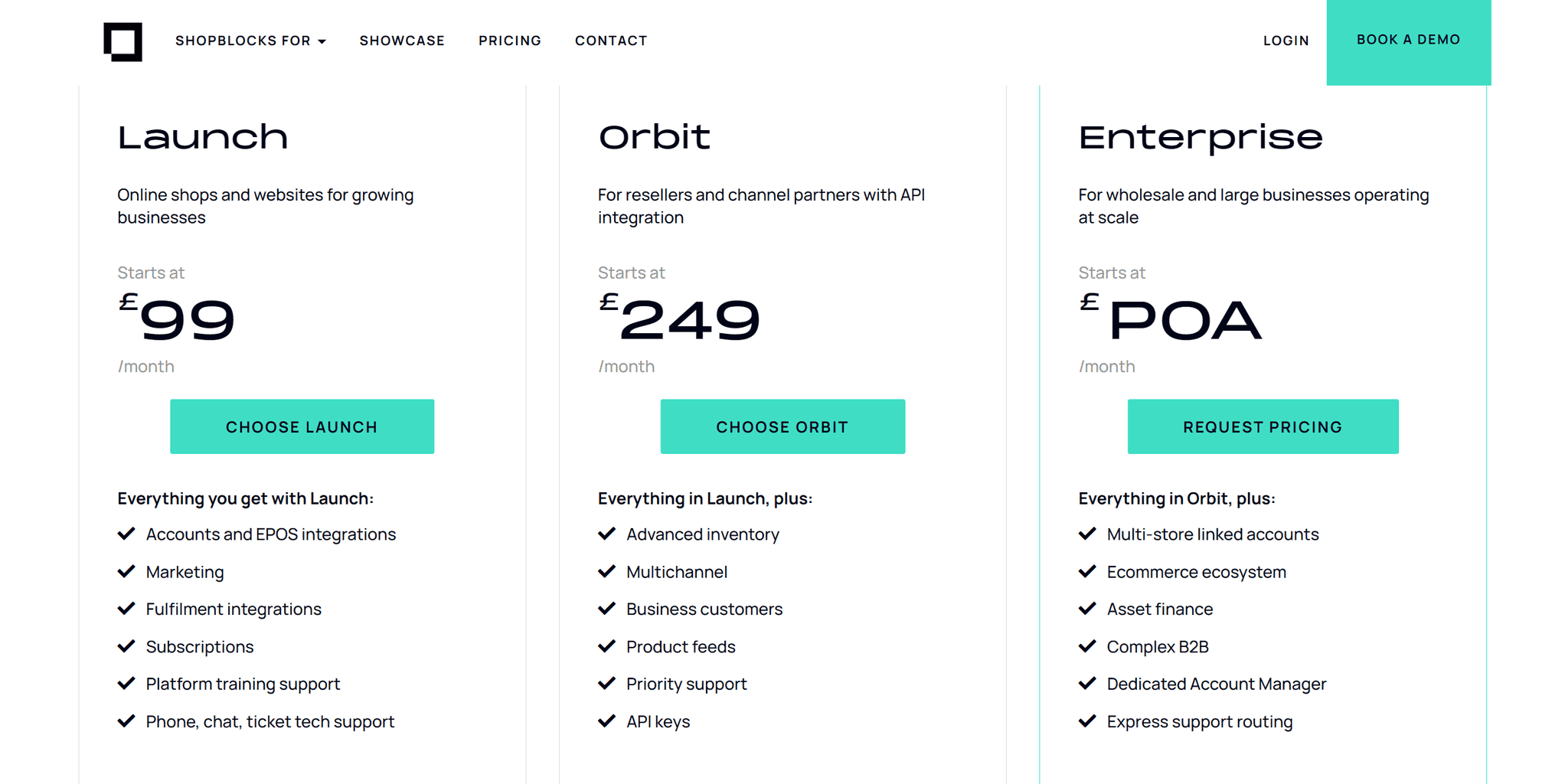 Launch
The Launch plan will set you back £99 a month on a monthly billing schedule, and £82.50 a month if you have a year-long contract.
This plan comes with all of the marketing tools that we mentioned above and most of the features. The one exception is that it doesn't offer API access or support. This essentially means that you can't go into the code and directly change elements on your site.
You can still choose from several pre-built templates and add any features that you want using the drag-and-drop functionality, however, you won't be able to make more detailed changes to the themes or the other aspects of the site.
This plan gives you 5 admin accounts that the members of your team can use. You'll also get 2 training sessions from a Shopblock site designer. The sessions last for 30 minutes and they're meant to give you a brief rundown of the most important aspects of the eCommerce business.
These training sessions are a great way to learn how to design your page layout, how to use the marketing tools properly, what features to pay special attention to, and so on.
Orbit
The Orbit plan will cost you £249 a month if you're billed on a monthly basis, and £207.50 if you're billed on an annual basis. 
The orbit plan comes with all of the features in the Launch plan, with a few upgrades. You now have 10 admin accounts instead of 5, you can make changes to the site code itself, and you get priority support.
The priority support simply means that you'll automatically be moved up the queue on any calls, emails, or live chats, and your grievances will be addressed before any complaints from Launch plan users.
You'll also get multichannel functionality which will allow you to link all of your different stores together. This way, you can simultaneously sell your products on Amazon, eBay, your own shop, and any other online outlet that you have an account with.
The advanced inventory options allow you to separate your products into as many categories as you want for easier management and give all of the items in the store their own code and designation so that they're easy to track both electronically and in the warehouse.
B2B (business to business) features are also included in this plan. These features will allow you to sell your products in bulk, as well as create special discounts for anyone looking to buy the products in large quantities.
The size of the bundles and the discounts will entirely be up to you, as will any shipping discounts that you might want to add on top of that as well.
Additionally, this plan also comes with 4 30-minute training sessions on how to use the site builder. The fact that you get twice as many lessons means that you can cover more features, ask questions, and absorb the information better.
Enterprise
The final plan that Shopblocks offers doesn't actually have a monthly or an annual rate. The only way to learn the price of this plan is to call a member of the support team and get a quote from them.
On the one hand, this is very convenient since you can negotiate the features that you want and the exact price you'll need to pay for each one. On the other hand, this method does require you to spend some time answering questions and filling out documents, so it's a bit of a pain.
The negotiable features in question are the user accounts and the training sessions. You'll be able to get as many as you want of both, and the price of the plan will largely vary depending on this choice.
Aside from that, this plan also comes with your own dedicated account manager that can handle the day-to-day tasks on your site. Additionally, you can again sell your products through several online stores, but this time you'll be able to link all of the accounts together. All of the sales and products will be sent to a single dashboard so that you can manage them more easily.
You also get features like the eCommerce ecosystem, asset finance, and complex B2B features. Unfortunately, none of these are explained, so while they're mentioned as features in the plan, we can't really say what benefits they provide. 
Payment Options
You can add several payment options to your site, including credit and debit cards, international cards, and third-party online payment gateways.
UK debit cards and credit cards will charge 1.4% + 20p on every transaction done on your site. International and corporate credit cards will charge 2.9% + 20p on a transaction. American Express will charge 3.9% + 20p on a transaction.
As for third-party payment options, gateways like PayPal will charge their own transaction fees, but Shopblocks also charges a certain percentage based on the plan that you're using.
Anyone who's using the launch plan will be charged an additional 2% on each transaction, users of the Orbit plan will be charged an additional 1% on each transaction, and users of the Enterprise plan will be charged 0.5% on each transaction.
However, if you use Shopblocks Pay, you won't have the additional charge on transaction fees that you get from the third-party gateways, and your customers will get able to pay on your site using Stripe, Apple Pay, Google Pay, and other popular electronic wallets.
Just keep in mind that the card transaction fees remain the same even when you use the custom Shopblocks payment gateway.
Company Background
The platform was created in 2011 by Kevin Jones and Stewart Reynolds. Prior to starting Shopblocks, they worked in the eCommerce field for years and developed their skills by creating hundreds or maybe thousands of websites both in the UK and throughout the world. Eventually, they decided to create a platform that would provide merchants with the necessary tools to create their own sites from scratch.
To their credit, they must have known what they were doing since Shopblocks does have all the essentials anyone would need to create their first eCommerce shop, and more!
User Reviews
Shopblocks has a 4.5 out of 5 stars on Trustpilot, which is an aggregate gathered from over 180 customer comments, most of which are very positive.
Ecommerce Gold gives Shopblocks a slightly lower 4 out of 5 stars, with the pricing, the features, and the customer support all being rated very highly.
User Reviews
Review Summary
0.0 out of 5 stars (based on 0 reviews)
Recent Reviews
There are no reviews yet. Be the first one to write one.
Submit a Review