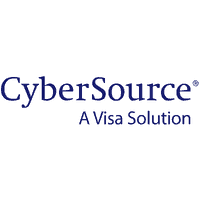 CyberSource provides merchants with a global gateway for accepting payments in more than 190 countries.  It's company headquarters are in Foster City, California and it has offices throughout Europe, Asia, the Middle East and Africa, Latin America and the United States.   CyberSource is part of Authorize.net, which is a Visa Inc company with over 400,000 active merchants.
CyberSource Credit Card Processing & Payment Services
CyberSource Payments
CyberSource has a range of payment solutions for accepting payments over the phone, online, via a call centre or in person.  CyberSource accepts a range of payments types in over 40 currencies:
Visa
Mastercard
American Express
JCB
Diners
Discover cards
Cartes Bancaires
CartaSi
Alipay
Android Pay
Apple Pay
Other CyberSource Products and Services
CyberSource Pricing & Fees
CyberSource hasn't published its fee online.  Contact the company directly for further information on fees.
CyberSource does list the following Merchant Solutions but there are no fees listed: –
Enterprise Retail
Accept payments across multiple sales channels
Manage fraud risk
Streamline payment security
Enterprise Travel
Sell via multiple channels
Reduce risk
Improve operations
Scale quickly in response to travellers demands
Enterprise
Manufacturers, service businesses, education and e-government
Small Business
net solutions
To see how they compare have a look at: UK Merchant Account and Credit Card Processing Fee Comparison.
CyberSource Features
Advanced fraud protection
Customised online and mobile checkout
Streamlined checkout
Multiple languages
Cross-Channel payments
Connection to 100 processors worldwide
Accept a wide range of payment cards
Accept popular online digital payments
Accept direct debits and bank transfers
Reconciliation reports
Global tax calculation
Recurring billing
Tokenisation
PCI DSS compliance
Delivery address verification
Company Background
CyberSource was founded in 1994 and describes itself as one of the pioneers in online payment and fraud management services.  In 2007, CyberSource acquired Authorize.net.  Up until then, CyberSource had concentrated on medium to large businesses, now with Authorize.net's small business expertise, CyberSource could supply solutions to companies of all sizes.
In 2010, Visa Inc., bought CyberSource for $2 billion.  Visa kept CyberSource and Authorize.Net as two separate entities, the plan being that Authorize.net concentrated on SME's and CyberSource dealt with larger companies and corporates.
CyberSource Pros & Cons
Pros:
Reliable product
Secure payment solution
Great tool for managing an e-Commerce site
Low cost
24/7 support
Cons:
Large volumes of payment can incur high fees
Transaction information only available for 6 months
Interface of Virtual Terminal
Long contract – hard to get out of
Accounting errors
CyberSource Reviews
There are minimal online reviews for GoCardless and its direct debit portal, it's therefore not possible at the moment to give a fair Merchant Machines score.
Website:  www.cybersource.com