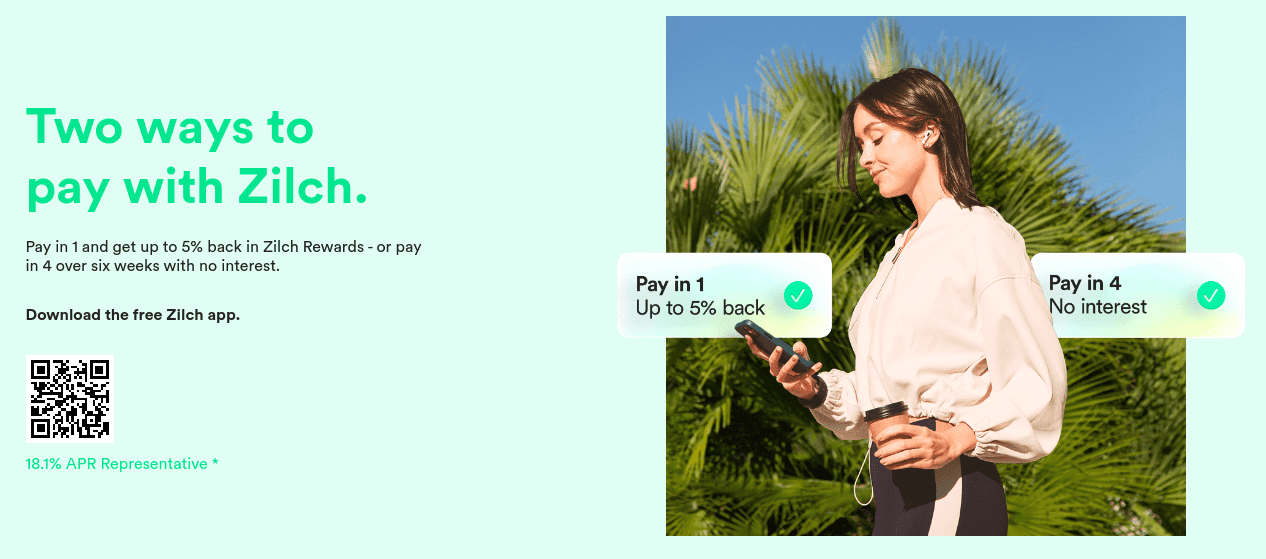 Zilch is a prominent UK-based fin-tech company providing consumers with a Buy Now Pay Later solution. Besides London, the company also has offices in Tel Aviv. Founded in 2018, Zilch quickly gained traction and became a leader in the alternative finance industry.
Zilch's core offer is an interest-free payment platform that allows users to make upfront purchases and spread their costs over a number of manageable instalments.
After partnering up with a wide network of retailers, such as JD Sports, Amazon, and H&M, Zilch enabled consumers to enjoy the convenience of shopping without limits, both online and offline, by deferring their payments without paying any interest fees.
With its commitment to transparency and responsible lending, Zilch has garnered praise for its user-friendly approach to providing BNPL services. They ensure that customers have a full understanding of the repayment terms, promote financial well-being, and provide tools designed to help their users remain in control of their spending habits.
Price/Fees
Creating a Zilch account is completely free of charge, and there are no upfront costs or hidden fees. There are, however, terms and conditions related to late payment fees or other charges that users should be aware of before opting in for the service.
Compared to other BNPL service providers, Zilch doesn't charge users fees for missed payments. If the user is unable to make the payment on time, they won't accrue any financial charges. However, it might negatively affect their credit score.
However, Zilch advises all their users to let them know if they're experiencing financial difficulties and plan to be late with their payments as soon as possible. Zilch's team might be able to assist you in this situation by formulating a new payment plan, changing the way they make payments, or changing their due dates.
If only a few days will suffice, users can simply tap the "Snooze" button in the app and earn four extra days to make a payment of their next instalment.
The only fee that Zilch charges their users is the Zilch Anywhere service fee in cases when they pay using Samsung, Google, or Apple Pay and if they are shopping in stores other than Amazon and eBay. This fee is £2.50, and it's fixed regardless of the payment amount.
Product/Service Overview
Zilch is a BNPL platform that makes shopping more convenient for a variety of consumer profiles, while also helping retailers gain access to a larger customer pool than they would be able to attract by other means.
Zilch for Consumers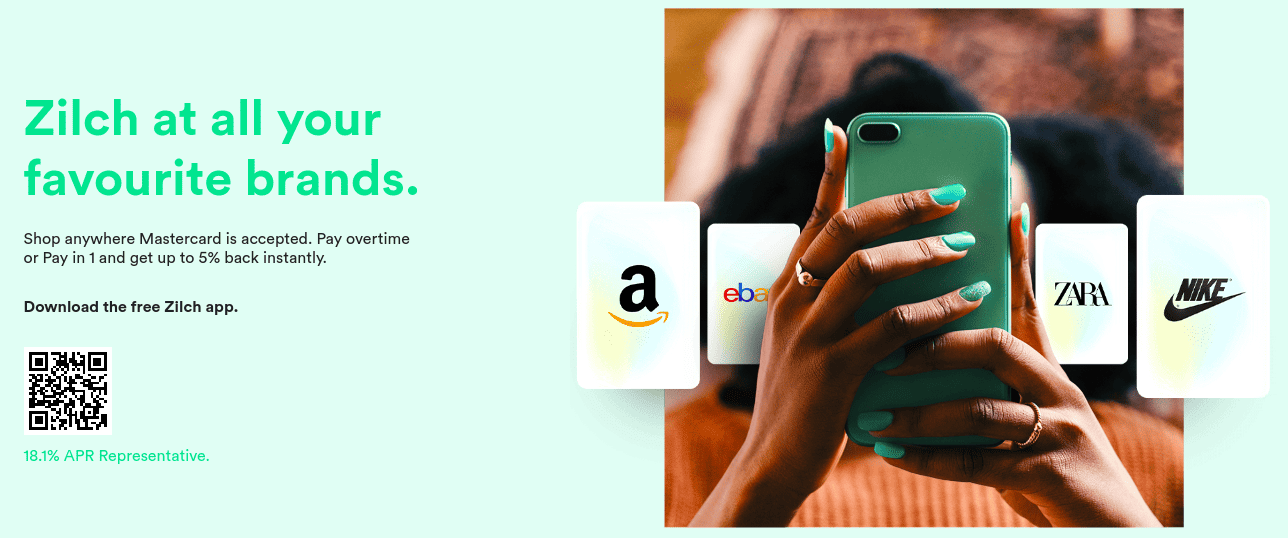 Zilch offers consumers two ways to make payments and several useful features through their app. Let's see how Zilch works for consumers and what it offers.
How Zilch Works
One payment option with Zilch is the Pay-in-4 solution. This option allows users to split their purchase amount into four equal instalments. All this is completely free of any interest.
The first instalment is due at the time of purchase and the remaining three payments are charged automatically from the customer's bank account over the next six weeks, every two weeks.
With Zilch's Pay-in-4 solution, the need for traditional checks is completely eliminated, making shopping accessible to a wide range of consumers. It is an alternative to credit cards that allows individuals to spread their payments over a short period and reduces the financial strain associated with large purchases.
The second option is Zilch's Pay-in-1 solution. This option not only incurs zero fees but also earns the consumer 2.5% in Zilch Rewards. Users who pay in full can then put those earnings towards their next order or save for a future large purchase.
By utilising Zilch voucher codes, users can save money at their favourite stores and make larger purchase deals.
Zilch Anywhere
If the Zilch app doesn't offer the consumer's favourite store, that's where Zilch Anywhere can come in handy. This option lets users pay in absolutely any online and offline store as long as Mastercard is an acceptable payment option.
When Can't Zilch Card Be Used?
As we've explained by now, users can use the Zilch card in virtually any shop, as long as Mastercard is an accepted payment method. However, there are some limitations to this. Here's an overview of items users can't purchase with the Zilch card:
Alcohol

Gambling

Gaming

Illegal activities and items

Weapons, weapon accessories, and weapon parts

Drugs and equipment for drug consumption

Cryptocurrency and any virtual currency

Coin and precious metals purchases

Money transferring

Cash advances

Foreign currency

Credit card payments

Loan payments

Vouchers
In cases when the consumer wants to use the money for the purpose of money remittance, transfer, or transfer within the electronic wallet, Zilch won't provide the funds.
How Does Zilch Affect the User's Credit Score?
A credit score is a natural number between 350 and 800 which represents the user's total financial health. Multiple agencies generate credit references, such as TransUnion, Equifax, and Experian based on several factors. Those factors are the user's income, expenses, and bill payment history.
Since Zilch shares their users' transaction histories with these agencies, missed payments can reduce users' credit scores. The longer the overdue, the lower the score.
Furthermore, once users join Zilch, the company will run an affordability check as part of the pre-approvement procedure. If approval is not possible, Zilch will only run a soft search, and this will not affect the user's credit score.
However, if approval is possible, Zilch will inform credit reference agencies once their team runs a hard search. The hard search will appear on users' credit reports.
There is also a possibility of a positive effect of using Zilch on users' credit scores. By using Zilch responsibly and repaying on time, users can also improve their scores.
Zilch for Retailers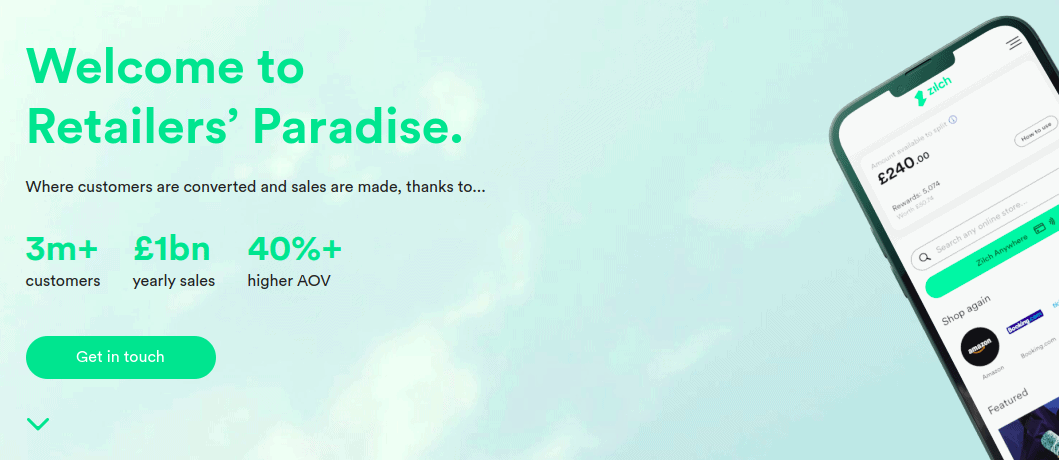 Retailers who decide to partner with Zilch have an opportunity to improve their conversion rates and gain access to an additional customer pool.
Currently, more than five thousand retailers have partnered with Zilch, some of which are top-tier brands, such as Superdry, Addidas, Amazon, Hello Fresh, eBay, goPuff, and many others.
A great thing about partnering with Zilch is that there is no interaction process. Retailers simply need to contact Zilch and they will receive information on how to add Zilch as a payment option without any technical hassle or modifications to their existing website.
So far, retailers who have partnered with Zilch are reporting a 55% increase in sales conversions. Zilch appears to be thirty times more effective than search. Customers who shop with Zilch make one hundred or more annual purchases on average.
Zilch's strategy is to eliminate competition for sales at checkout. They simply connect retailers with their customer base, which counts more than three million active, ready-to-spend consumers.
Unless consumers make a purchase, retailers don't need to pay anything for using Zilch's services. However, the amount retailers need to pay upon making a sale is not clearly outlined on the website.
Business Operations
Every successful business needs to build a top-notch product and/or service to succeed in its respective market. However, this would not be possible without business operations that support the delivery of excellence.
The Resources
Zilch is an absolute champ in providing its users (consumers and businesses) with useful information. By regularly publishing on their blog, they keep their audience informed about the latest trends in different markets: from laptops and PCs to furniture, outdoor living, fitness, and entertainment.
They also have an up-to-date, comprehensive FAQ section which contains everything users need to know about using Zilch, managing their accounts, rewards, making payments, or the sign-up process.
Company Background
Founded in 2018, Zilch has rapidly emerged as a prominent player in alternative finance. The company was founded in London by Philip Belamant.
Zilch's main aim is to revolutionise the BNPL service and help different consumer categories gain access to shopping. In just a few years, they've seen huge growth and expanded to Israel by opening offices in Tel Aviv.
The company is highly committed to transparency, responsible lending, and providing users with a seamless payment experience. At any given step of the process, users are fully and comprehensively informed about the possible consequences of irresponsible financial behaviour.
User Reviews from Around the Web
Taking a look into how users have rated Zilch can help form a complete image of this company's operations and services. However, we were only able to find two resources of user reviews on the web.
User Reviews
…