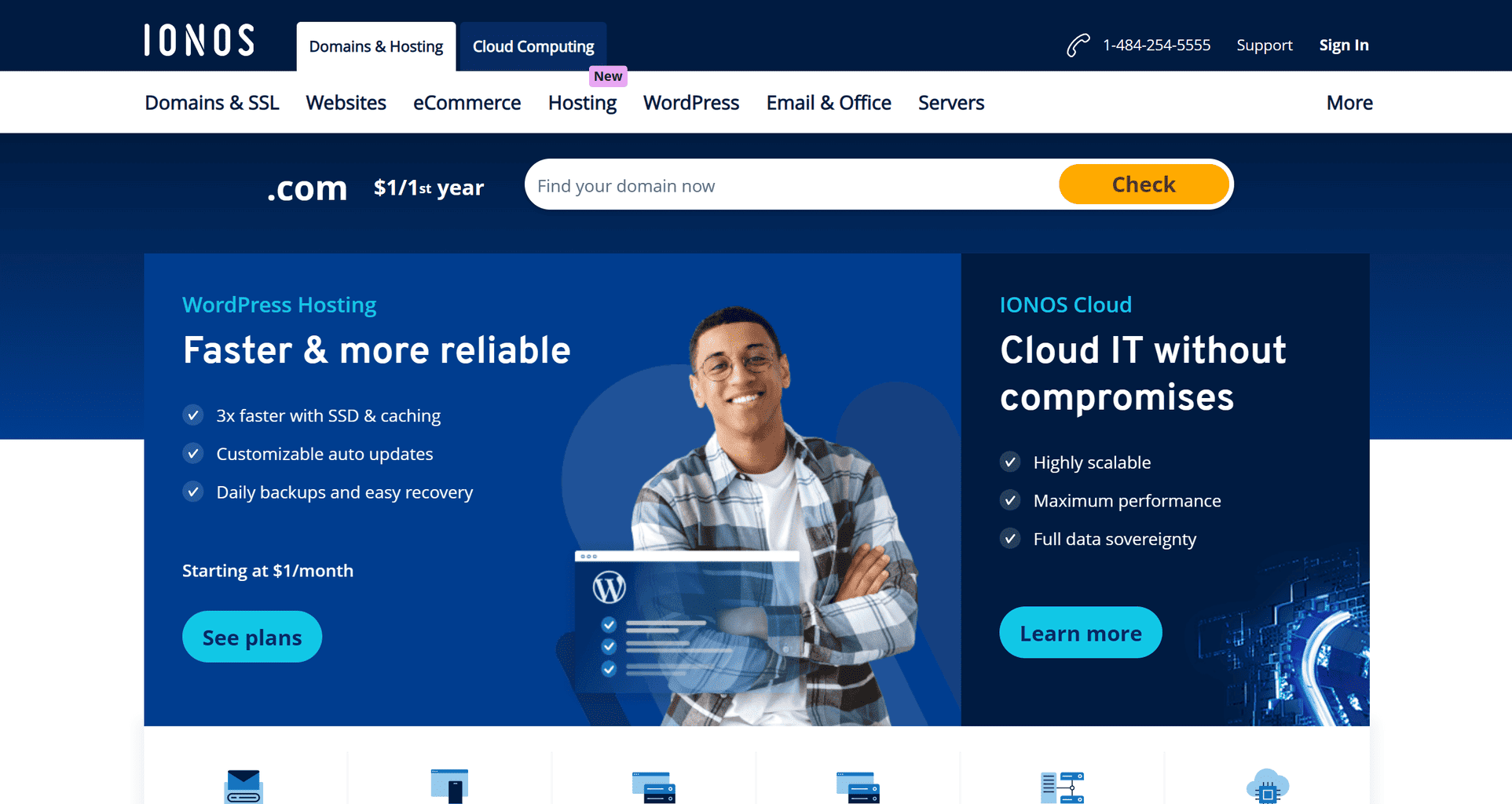 IONOS is a web hosting and cloud services provider that also offers website building, domain registration, and email services, among others.
The wide range of services on offer complement each other and can be combined to provide a comprehensive solution to businesses of all sizes. That being said, each service can be used separately to accommodate specific needs.
For example, if you want to get a professional email for your business, you can simply get that on its own. On the other hand, buying a domain entitles you to a free professional email address, which you can combine with their website builder to create your site.
Let's go through all of the services on offer.
Domain and SSL
The first step to building a website that attracts visitors is getting a domain that's catchy and memorable. 
The second step is ensuring that this domain and your site and customer data are as safe and secure as possible, which can be done by getting an. An SSL certificate.
Domains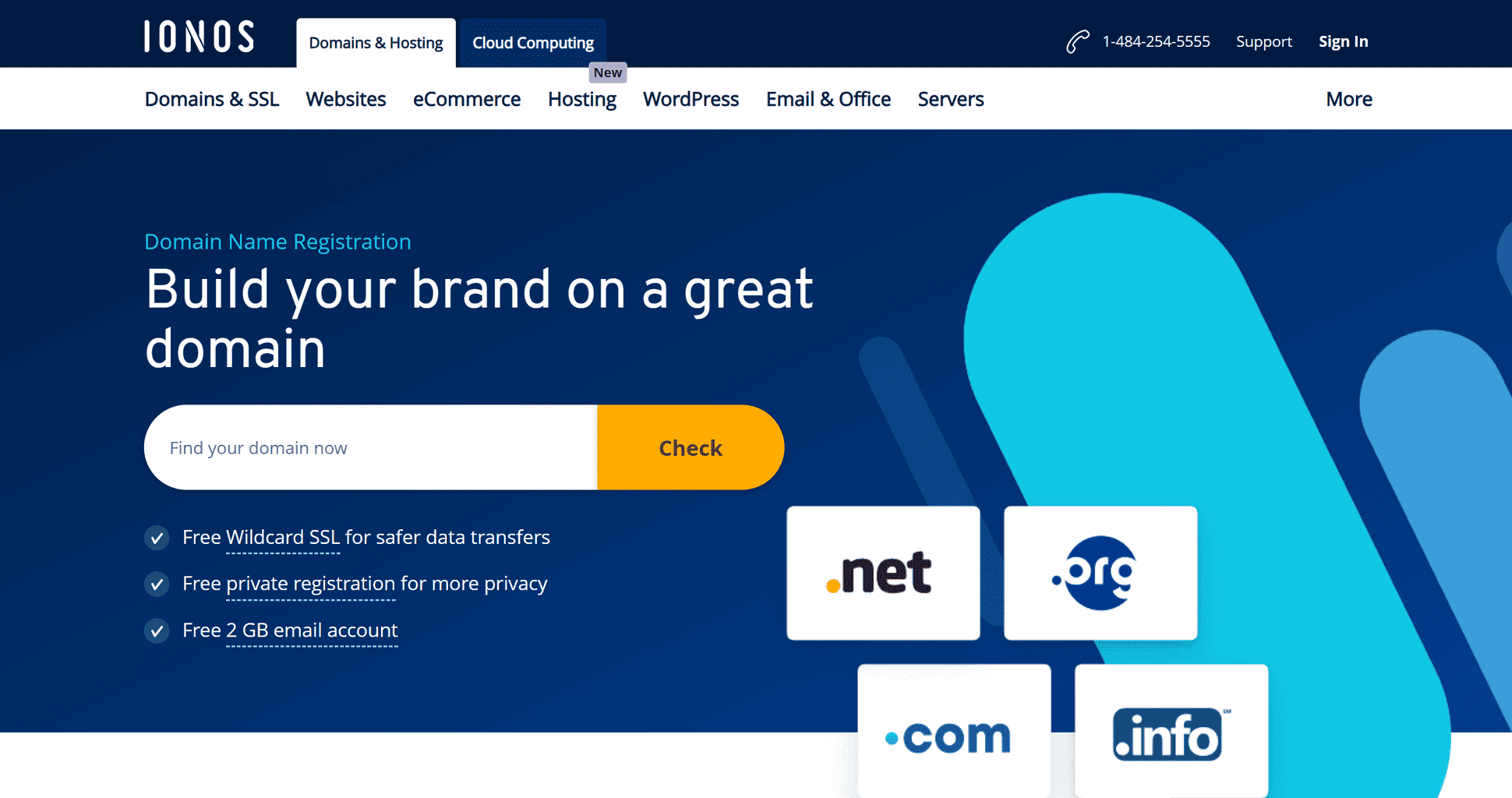 IONOS domains come with a few perks.
The first perk is private registration. While domain registrations require you to make your contact info public, IONOS offers you to substitute your private details with contact info from IONOS.
The second perk is the free professional email that you can use for any business-related contacts. It comes with up to 2 GB of online storage, which is more than enough for standard document transfers.
The final perk is the free Wildcard SSL. We'll go a bit more in-depth on these services further in the article, but for now, all you need to know is that they help keep your site data secure by using encryptions.
Extension Prices
The prices of the domains vary quite a bit, depending on the extension that you get. You'll be able to get some of the most popular extensions like ".net", ".org" or ".info" for $1 during the first year. However, the prices vary pretty wildly.
If you want your domain to end in a ".ai", you'll need to pay $77 for the first year and then $110 for every subsequent year. If you want to keep using a ".info" domain, then you'll need to pay $25 a year after the first year. And if you want to use the ".net" and ".org" extensions, they'll cost you $20 from the second year onward.
As you can see, the first-year prices also don't reflect the repeat-year prices. For example, the ".site" domain will cost you $0.80 for the first year, and $40 for every year after that. 
The only way that you can tell the accurate price of the domain extension that you're trying to get is to go to the site, enter the domain you're interested in purchasing in the provided search bar, and see how much it would cost you.
Domain Name Prices
If you thought that extension prices varied a lot, you haven't seen anything yet. Depending on the exact domain name that you want, you might need to pay anything between $1 and $20,000.
Here's how getting a domain name works:
Go to the

domain name search bar

on the IONOS site

Enter the domain name you'd like to buy or reserve

Find the domain you're interested in

Reserve or buy the domain
If you have a very specific domain name that uses initials or a domain name that uses unconventional words or phrases, there are high chances it's available, plus it'll only cost you as much as the extension price.
On the other hand, if you have your heart set on a specific domain name that's already taken, you're either going to have to reserve it and wait for it to free up, or offer to buy it from the current holder.
Domain purchases are one-time payments, but you'll still need to pay the additional yearly extension price, so the first year is usually going to be the most costly.
If you find a domain name holder that's too unreasonable and you simply can't afford to pay the requested price, you can simply use a different extension. For example, instead of "sportsstore.org", you can go for "sportsstore.net" instead.
This method is usually the best compromise since you get the domain name that you were interested in, but it might come at a slightly less exorbitant cost.
IONOS has hundreds of domains and tens of thousands of subdomains that you can pick from, so you can customise your site address however you want. Even if your original idea didn't work out, you'll still be able to come up with something creative and catchy that'll stick in the minds of your site visitors.
SSL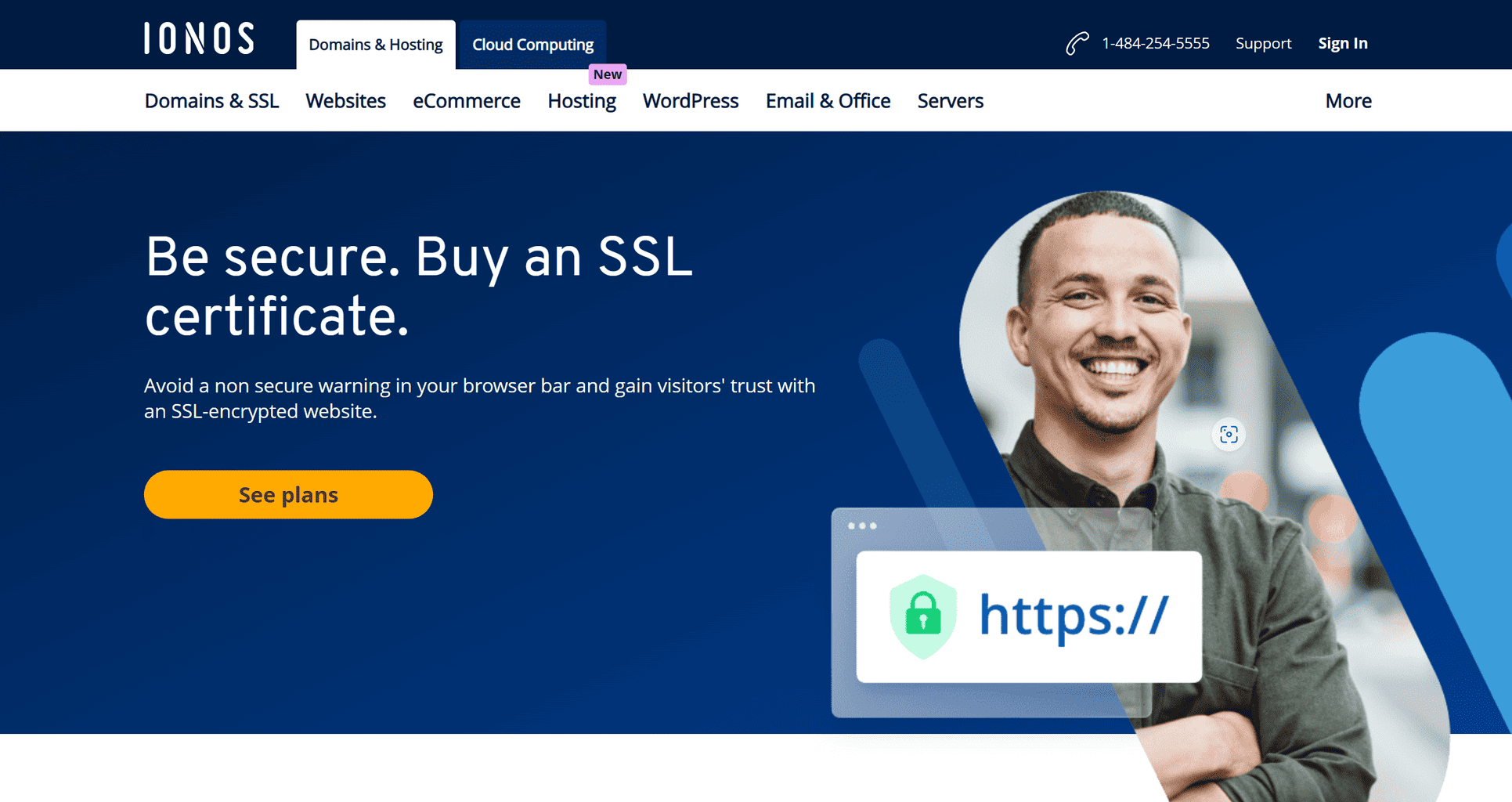 An SSL certificate essentially proves that your site is properly protected and that you've taken all of the necessary steps to minimise the risk of malicious attacks doing any damage. It also improves your Google ranking.
SSL (secure socket layer) certificates allow you to use HTTPS website links, which are significantly more secure than standard HTTP links. All of your site data will now be encrypted and harder to crack, and you also get a little padlock in the left corner of the address bar.
This padlock tells people what kind of site they're logged onto without them having to check the beginning of the domain name to see if it starts in HTTP or HTTPS.
Even though it seems like a relatively insignificant feature, knowing that the site connection is secure will put a lot of people's fears to rest. If your customers can trust the security on your site, they won't feel as hesitant about entering their card and payment details, so they'll be much more likely to make a purchase.
TLS
TLS or Transport Layer Security is often used in the same sentence as SSL, and that's mostly because they do the same thing. Both SSL and TSL connections encrypt your site data and make things more secure. The difference between the two is that TSL is a more recent version of SSL protection.
All of the secured connections on IONOS are TLS, however, they're referred to as SSL because that's just a universal short-hand for secure connections. We don't understand the decision to refer to the TLS connections as such, but just keep that in mind when we go over the pricing plans.
Standard SSL Prices
The more expensive plans that we go over in the following section will have features that aren't present in the cheaper options, but all of the plans also have a few features that they all share.
The common features in question are the following:
Protection for a single domain name

Up to 256-bit encryption for your site

A padlock display that appears on the far left side of the address bar
SSL Starter
The starter pack comes at a ridiculously low $20 a year, and for that price, you get the Geo Trust Quick SSL Premium plan and all of its perks.
The Starter plan is a DV (domain validated) SSL. The company (DigiCert in this case) can issue these certificates in a matter of minutes and only the domain ownership is verified before a certificate is issued.
This plan offers decent protection if you're running blogs, personal websites, and simple one-page websites. However, they're not a good option for eCommerce or large shop sites since the protection they provide is minimal.
You also get encryptions for payment options, like cards and electronic wallets, and a $500K USD assurance warranty. 
If there's ever a data breach on your site that results in customers losing money, those same customers can file for compensation and they will be paid out from the $500K assurance pot.
SSL Business
The Business plan will set you back $70 a year, which is more than triple the price of the previous plan, but still pretty cheap in the long run.
The OV (organisation-validated) SSL runs an authentication check on both the domain ownership and the authenticity of the business in question. This leaves a smaller margin for error when it comes to verifying the nature of the website and whether or not it's a scam.
The extra authentication level gives your customers a bit more peace of mind and goes a long way in ensuring that your site is legit. This also helps alleviate any potential fears about phishing scams or anything of the sort.
This plan also comes with end-to-end encryptions for customer passwords and usernames in case you use forums or customer accounts, and not just payment details like the previous plan.
Additionally, the GeoTrust True BusinessID option that comes with this plan gives you $1.25 million USD in warranty assurance.
SSL Premium
The final plan in the standard SSL category costs $200 a year, which is a big step up in price, but an equally big step up in security.
GeoTrust True BusinessID EV offers a $1.5 million USD assurance warranty, as well as an EV (extended validation) SSL certificate, which is the highest level of authentication that you can get.
This authentication checks everything from the domain ownership to the authenticity of the business, and several other aspects of the site as well. It takes a few days to issue these certificates due to the number of checks that need to be conducted.
However, if your site passes all of the authentication steps and you get a certificate, then any company or customer that works with you will know that you've taken all of the possible steps to ensure the highest level of site security.
Wildcard SSL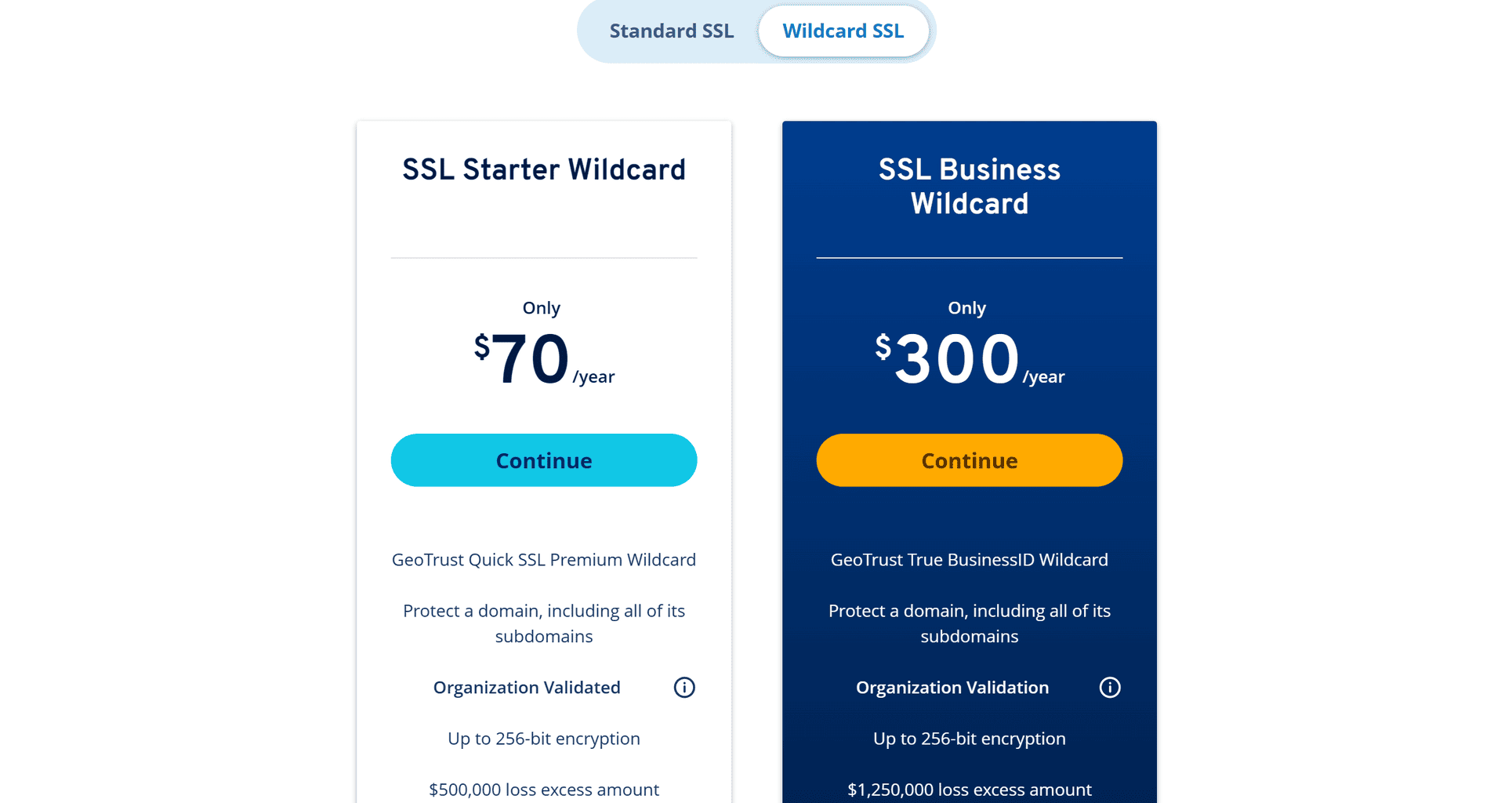 Wildcard is another subsidiary of DigiCert and it uses GeoTrust plans that are similar to the ones that we've already mentioned, with one major exception.
Rather than single-site protection, the SSL certificates these plans offer provide coverage for a domain and all of the subdomains connected to it.
Additionally, both of these plans come with the same features as the previous three, including the 256-bit inscription and the padlock display.
SSL Starter Wildcard
The first plan in this category will set you back $70 a year, and for that money, you'll get an OV SSL and an assurance warranty for up to $500K USD.
SSL Business WIldcard
The second plan in this category is priced at $300 a year, and that'll provide you with an OV SSL and a $1,25 million USD assurance warranty.
Bulk Registration
If you want to get several different domains, then you can always send several requests to any current domain name holder.
If the domains are available, you can buy them immediately. If they're taken, you'll need to either pay the price or slightly alter the domain names as we mentioned above.
The bulk registration feature is also very useful when it comes to finding a specific domain name. If you send requests for several domain extensions like ".com", ".net", ".org" and so on, you'll have a better chance of getting at least one domain that you're interested in.
Once a reserved or unavailable site goes on sale or expires, you'll immediately get a notification telling you that you can either make a bid for the domain or outright buy it.
Websites
The website-building tools that IONOS offers are a bit more straightforward than the domain names.
There are several website creation plans that you can pick from, so let's cover each and see their tools, prices, and benefits.
MyWebsite Now Plans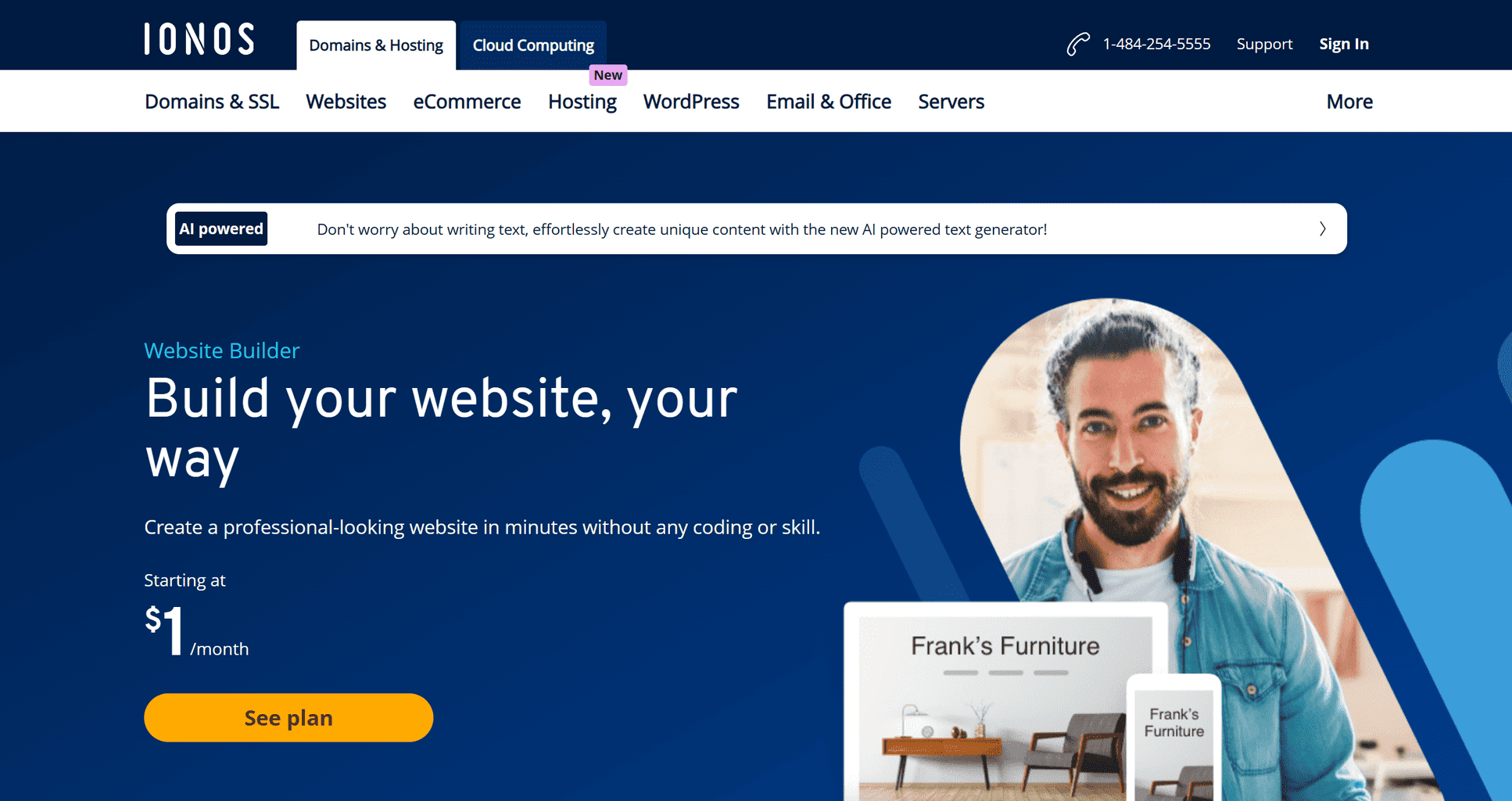 This service has 3 plans you can choose from to design the ideal site for your purposes. While there are differences between all 3, they also share many features.
These shared features include:
Drag and Drop Editing

– You'll be able to adjust the location of your site elements by simply clicking on them and dragging them around on your page. The layout automatically adjusts based on how you move things around, and all of the elements automatically move to fill out any empty space that was left by the icon or product description that you adjusted.

Sectioned Layout

– Sectioning parts of your page allow you to edit only certain elements while leaving everything else intact. This also allows you to import or delete large sections of the layout to your liking without moving around the other elements on the page. You can also copy and duplicate sections however you want.

Page Duplication

– The element duplication feature applies to pages as well. You can copy all of the page elements onto another page and customise it however you want to.

Themes

– You have

a dozen or so themes

that you can pick from, from classic business or real estate backgrounds to travel and restaurant themes. There's only one theme per business type, so you won't be drowning in choices, but you can still find something that's suitable.

Fonts

– You have a choice of more than 100 different font styles that you can add to your site, which include both classic and more stylized options.

Stock Photos

– You have a gallery of more than 17k stock photos that you can sort through and add to your site. All of the images can be clipped, resized, and edited in various ways using the on-site editing tool.
Upload Photos

– You're able to add as many images as you want to your site (within the realms of the site data limit), and include descriptions, animations, hover effects, and other elements to them.

Upload Videos

– You can link and embed YouTube, Dailymotion and Vimeo videos to your site.
Code Editing

– You can go directly into the site code and make changes to the templates, the layout, images, and any other aspect of your pages. Editing the code directly gives you more control over the site elements than the drag-and-drop feature, but it does require a bit of programming knowledge.

Automatic Screen Adjustment

– The images, fonts, and most of the other elements on your site will automatically adjust to fit the specs of the screen that they're being viewed on. This will allow your site to run just as quickly and efficiently on phones and tablets as it does on desktops.

UI Optimisation

– Similarly to the site elements, the UI is also optimized to load quickly on any server that the site is being viewed on.

Sell Online

– These plans also come with a built-in store that you can add to your site where your customers can make on-site transactions and shop.

IONOS eCommerce App

– The mobile app allows you to track and manage your site transactions from just about anywhere through your phone or tablet. 

Tracking

– You'll be able to access your site data whenever you want to see the number of transactions that have been processed in a certain time frame. You'll also be able to see the total number of sales and the revenue you've generated in a day, week, or month.

Tax Calculations

– Manual tax calculation is possible, but you also get an automatic tax calculator that does all of the math for you.

Facebook and Google Ads

– You can promote your site through Google or Facebook ads. Alternatively, you can link your site to a FB account and advertise on Google at the same time for double the effectiveness.

Ad Free

– Your site won't include any ads from IONOS. The only ads or product placements that will appear on your pages are the ones that you add or approve yourself.

Colour Overlays

– You can change the overall colour theme of your site however you like by adding a colour overlay to any images or videos.

Security Measures

– You have the option to add a fraudulent order detection feature that will minimise the risk of any funny business on your site. The advanced data centres also ensure that the data storage complies with the latest privacy standards.

Bonuses

– Each plan comes with its own free email address, domain, and SSL certificate. In other words, you get all of the tools that you need to get your site off the ground free of charge.
Starter Plan
The first plan on the list will cost you $5 a month for the first 6 months, and $9 for every month after that.
You'll get a professional email address with a 2 GB inbox and a domain that's free of charge only for the first year. After the 12 months have passed, you'll need to register your domain through the regular channels that we've outlined in the domain section above.
This plan also allows you to have 10 pages on your site, with a collective online storage space of up to 10 GB.
Plus Plan
The Plus plan starts at $1 a month for the first 12 months, after which it'll cost you $15 for every subsequent month.
Again, the domain is only free for the first year, but the professional email now has up to 12 GB of storage, which is significantly more than the previous plan.
Similarly, you also get a lot more pages and online storage space for them. You can now add up to 200 pages to your site, and they all have a collective storage space of 200 GB.
You also have access to a BETA version of an AI text generator that can help you create unique descriptions for your items.
Pro Plan
The final plan starts at $15 a month for the first 6 months, and then the price jumps to $25 a month.
The domain is, once again, only free for a single year, but the email storage space has been expanded once more, now being able to hold up to 50 GB of data before it's at full capacity.
Additionally, you no longer have a limit to the number of pages that you can add to your site, and their storage data is infinite.
You still get access to the AI text generator, but now you also have analytics and SEO optimisation tools at your disposal as well.
SiteAnalytics Plus will tell you the overall ranking of your site on a monthly or weekly basis, and the SEO optimisation tool will give you tips on how you can improve the number of visitors that you get on average. Both are very useful features that can help you grow your business.
Website Design Service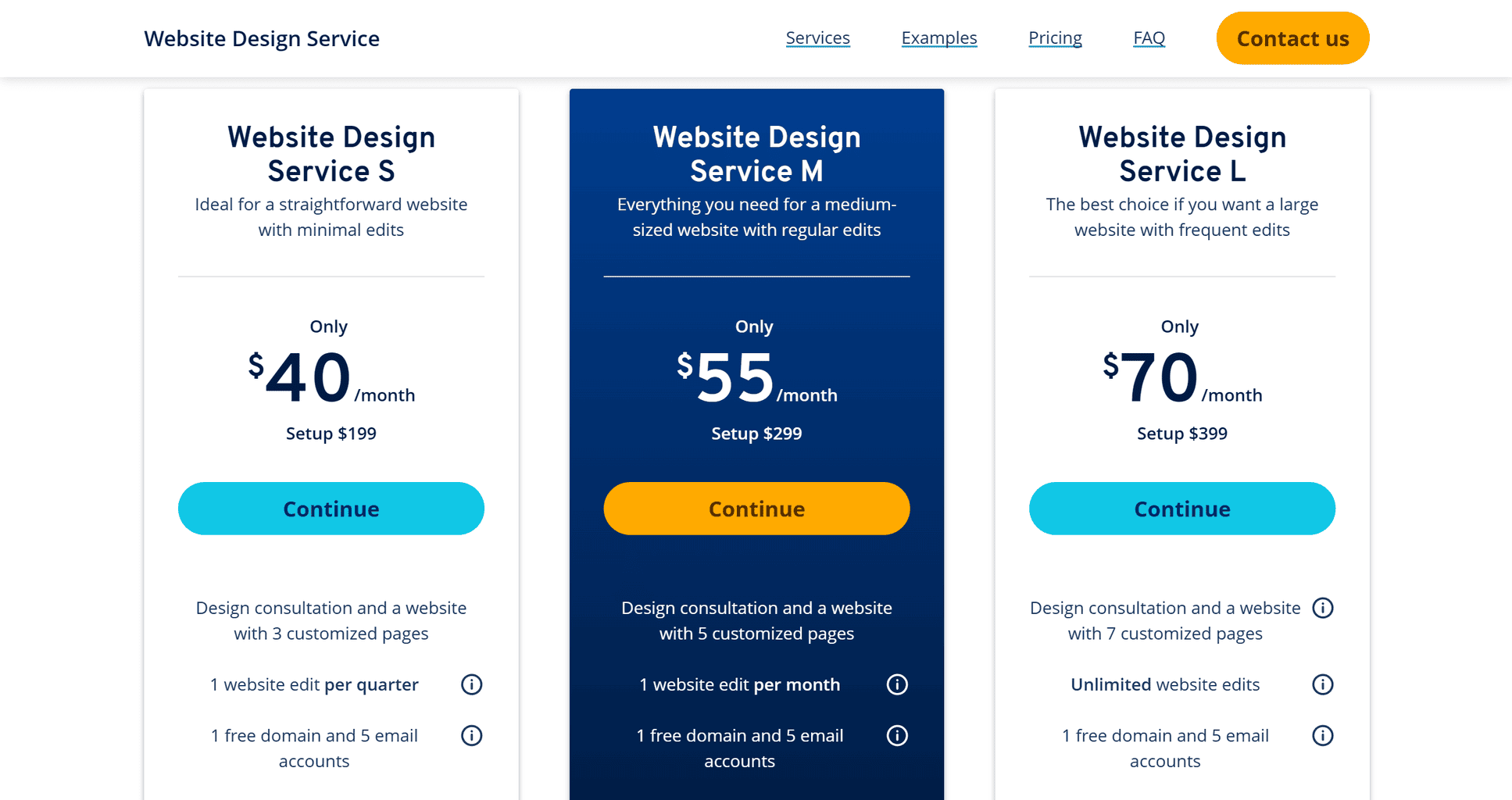 If it's your first time creating a website, or if you're simply not confident in your skills to design a final product that works well, then you can always leave the heavy lifting to the professionals.
IONOS comes with 3 different plans that you can pick from where in-company site designers will help you create the ideal site for your purposes.
You get all of the same features that we already covered, but now the site optimisation and layout will be handled by someone with more experience in the field. This will almost definitely improve the site performance right off the bat and have all of the page elements play off of each other more fluidly.
Your plans and preferences are obviously the most important aspect of the site design process, so you'll be working closely with the design team. After the initial consultation, they'll carry on with the design and implement as many of your specifications as they can.
Website Design Service S
The first plan comes with a one-time setup cost of $199, as well as an ongoing charge of $40 a month.
If you're willing to pay the price, you'll get design consultations and a site with 3 fully customised pages.
You're also entitled to one free site edit every 3 months, wherein the site designers will make adjustments to your site according to your specifications. The plan also comes with a domain and 5 business emails that you can use.
Website Design Service M
The second plan will set you back $299 for the setup cost, and then $55 a month as an ongoing cost.
This will buy you one site edit per month, 1 domain, and 5 email accounts. You'll also get design consultations and 5 fully customised pages for your site.
Website Design Service L
The final plan has a $399 single charge and an ongoing fee of $70 a month. This will buy you 7 fully customized pages, 1 domain, and 5 email accounts.
You also get an unlimited number of site edits whenever you want.
eCommerce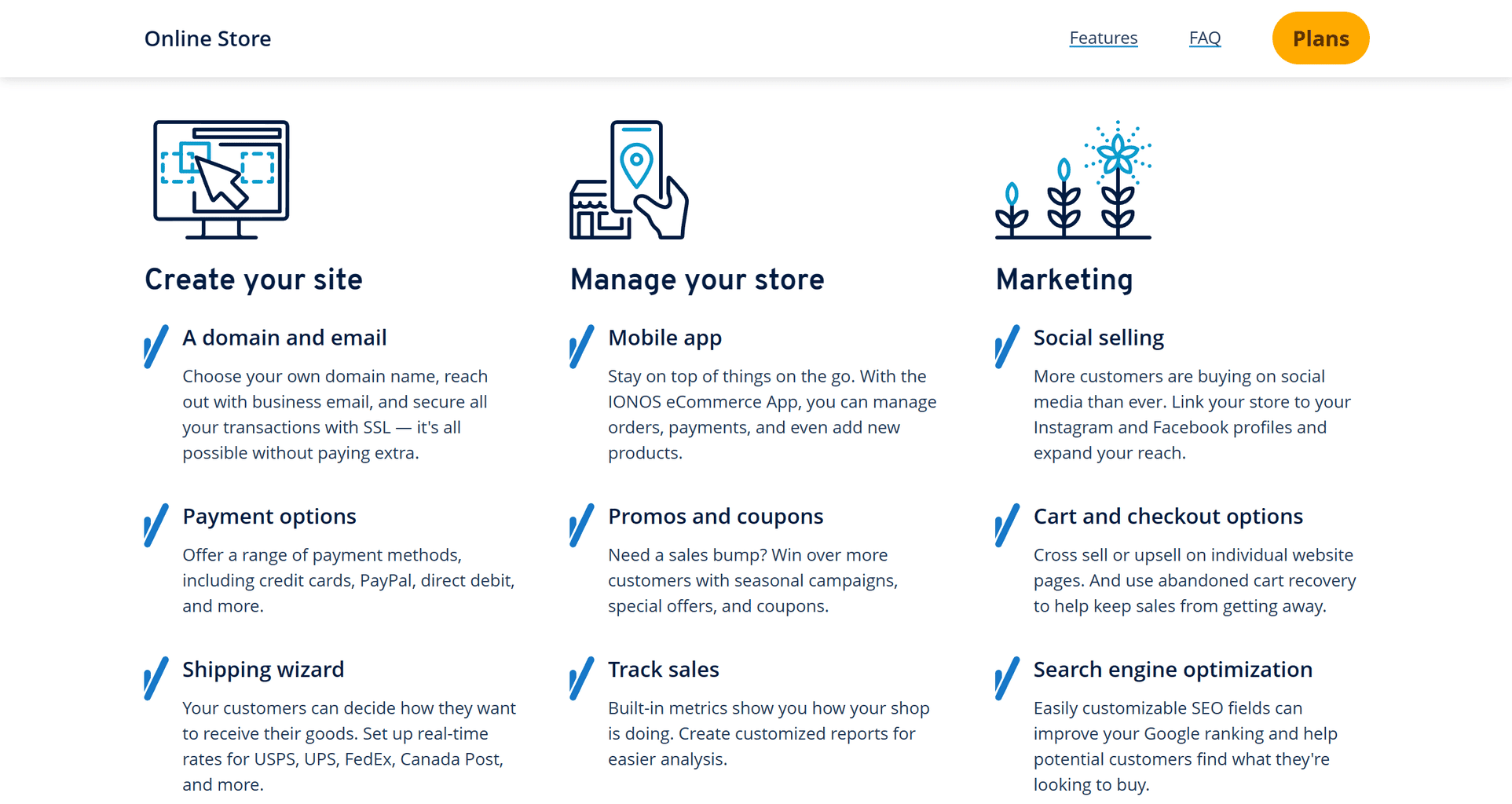 The eCommerce plans come with some of the same features as we already mentioned in the Website Creation plans, like adjustable site elements, drag-and-drop customisation, code modification capabilities, a multitude of themes and stock images, mobile app, and so on, only now you also have a lot of online store-focused features.
These additional features make these plans a lot more convenient for online stores thanks to the product management and transaction tracking tools that you get access to.
Some of these new features include the following:
Payment Options – Your site visitors can pay through various gateways. The most popular choices that are available include PayPal, direct debit, credit cards, and others.
Social Media Integration

– You can link your site with any of your Instagram, Facebook, Amazon, or Google Shopping accounts. 

Built-in Metrics

– Your site will come with automatic transaction tracking features that have a lot more specialised databases than the transaction tracker we mentioned before. Now you'll be able to sort the transactions by date, product, price, and so on.

Coupons

– Gaining return customers will become a lot easier if you can offer them special discounts and give them coupons for certain products. You can also create seasonal campaigns, one-time promos, and any other incentive that you might like to implement.

Shipping

– You'll be able to set up real-time shipping rates for your products and offer your customers a number of choices when it comes to the shipping method. You'll be able to integrate USPS< UPS< FedEx, Canada Post, and other shipping options.

Customer Accounts

– Your site visitors will be able to create their own accounts on your site. Not only does this save them a lot of time by allowing them to skip entering their payment info every time, but it also allows you to learn their email address. You can then send any special offers or coupons to your site visitors through their email, and hopefully win yourself a return customer.

Abandoned Cart

– You can use the same emails to send your customers automated messages that remind them of any products that they still might have in the cart. 

Support

– As with all of the other plans on the site, the eCommerce plans also have 24/7 support coverage. If you have any issues with your site, you can immediately get in contact with a representative that can help you out.
eCommerce Plans
Starter
The Starter plan will cost you $5 a month for the first 6 months, and then $19 for every month after that.
You'll be able to add up to 500 physical products to your site, advertise those same products on TikTok, and the domain will be free for the first year.
Additionally, you'll get access to a feature called MarketingRadar that allows you to track the Google and social media activity of your competitors so you know what they're doing.
And finally, you also get a professional email address with a 2 GB inbox.
Plus
The second plan on the list will cost you $1 a month for the first year, and $25 for every month after that. 
You get all of the perks of the previous plan, you can add 5k physical products to your site, and your email address now has a 12 GB inbox.
Google Ads, Google Ads Remarketing, and Google Shopping can all now be integrated into the site, in addition to the SiteAnalytics tool and the AI text generator.
Pro
The Pro plan is $25 for the first 6 months and then jumps to $50 a month after that.
It allows you to add up to 10,000 physical and digital products to your site, your email now has a 50 GB inbox, and all of the perks from the previous plans also come as standard.
One feature that's included in this plan that wasn't in the previous two plans is the SEO tool. You'll now be able to optimise both your products and your whole website to get a better ranking on Google by using the rankingCoach feature.
More specifically, you get the ranking Coach Essential plan for free, which would otherwise cost you $8 a month for the first 12 months, and $10 for every month after that. 
Expert
The final eCommerce plan comes in at $35 a month in the first 6 months and $75 a month after that, and it'll allow you to upload an unlimited number of physical or digital products to your site.
Aside from the unlimited number of products, everything else is exactly the same as the previous plan. This is a great option if you have a large company with a huge inventory of items, but otherwise, we'd recommend saving your money and going for the Pro plan instead.
Professional eCommerce Design
Similarly to the website builder section, you also have the option to hire a professional to help you build your eCommerce site instead of doing it by yourself.
Unfortunately, the one-time setup cost for this service is a staggering $999, and then you still have to pay $70 a month to retain the site designer. 
The good news is that this service comes with an unlimited number of edits, free maintenance and updates, and full training on how you can properly use your online store and features.
The expert will also set up your social media integration, set up the payment gateways, and do basically everything else that you need to do before you can get the site off the ground.
But the final nail in the coffin for this plan comes with this: you only get 3 pages, 10 products, and 10 product detail pages with this plan. This means that large stores won't be able to use this service since the inventory is so limited, and small stores won't be able to buy it unless they have a big budget to work with.
ConnectaStore Plans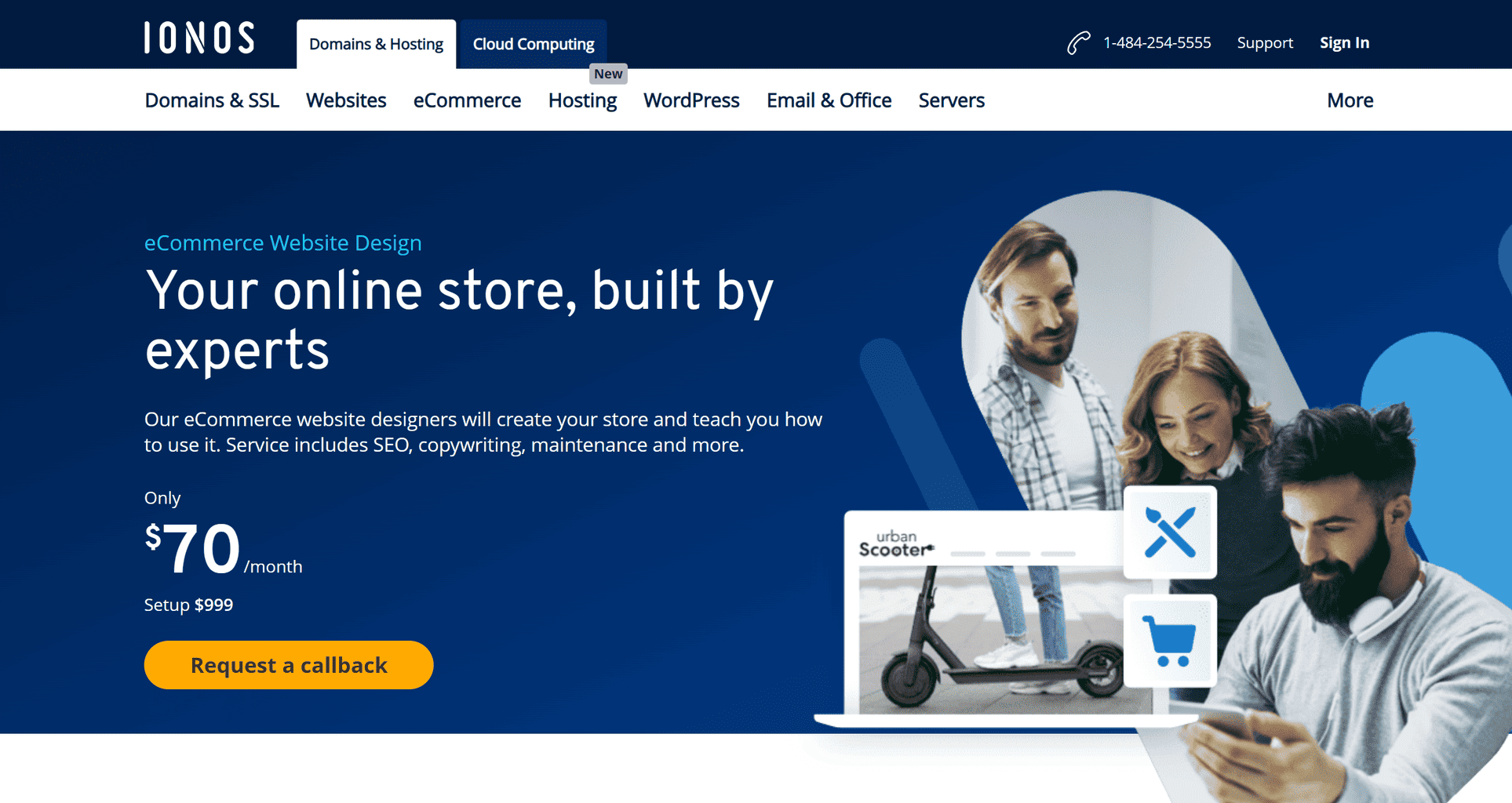 The ConnectaStore plans are pretty similar to the eCommerce plans that we just covered, but they have a few features not included in the other ones that we'll go over.
We should also mention that all of these plans are free for the first month, so you'll be able to try them out and see if you'd like to continue using the service based on the performance.
Common features that all of these plans share include the following:
B2B

– You'll be able to create bulk sales for business-to-business transactions. This feature will also allow you to set up a permanent discount for specific customers that you might do business with on a regular basis if they buy your products in bulk.

CSV Files

– You can import and export product data in the form of CSV files. This system allows you to more easily manage your transactions, and even remove or sort the data in several categories.

Checkout Page Customisation

– You can go into the code and change the specifics of the checkout fields. You can either add specific fields or remove personal info fields that you think aren't necessary.

Product Labels

– You'll be able to add a little label or sticker to the product image that tells the customer if something is on sale, sold out, in limited stock, and so on.

Store Management App

– This app allows you to do everything from your phone that you would be able to do through your desktop. This includes site modifications, inventory management, report generation, and so on.

Multi-Currency

– You're given a choice of several different currencies that you can accept through your site, and you can include or exclude any currency that you want.

Product tags

– You can sort your products into several categories. This will make it easier for the on-site search feature to find the exact type of product that the customer was searching for.

Recommendations

– The same tags that we just mentioned can also be used to point customers towards products that they might be interested in. Once a customer searches for a specific type of product, the site will then automatically recommend other products that were tagged in the same category.

Price Adjustment

– The price of the products will change depending on their size, colour, and other determining factors. However, you'll need to input the variable prices by hand since they can't be automatically generated.
ConnectaStore
This plan will cost you $15 a month and you can add up to 5,000 physical or digital products to your site.
It allows Facebook Shops, Instagram Shopping, Google Shopping, Snapchat Pixel, and Pinterest Tag Integration. You can also add PayPal, credit cards, Stripe, Apple Pay, 2Checkout, and 17 other payment gateways to your site as payment options that your customers can use.
You're also able to provide quotes for customisable and real-time shipping costs, and you'll get access to various email templates. These templates will allow you to send out automated emails about any relevant reports, transactions, or the lifecycle of the site and products.
This plan also comes with the abandoned cart feature that automatically sends emails to your customers reminding them of products they've left in their shopping carts.
ConnectaStore Advanced
The Advanced plan will cost you $25 a month and you can add up to 10,000 physical or digital products to your site. 
It comes with all of the features from the standard ConnectaStore plan that we just covered, in addition to SEO tools, customer wishlist creation tools, and model variations that allow you to switch between different colours, sizes and other variable factors in your products.
ConnectaStore Expert
The final plan will allow you to add an unlimited number of physical or digital products to your site for the price of $40 a month.
You get all of the features that we mentioned before, with the addition of the ability to create volume discounts and tiered pricing for your products.
You can also create custom customer groups and give special discounts to whichever group you want.
Company Background
IONOS started as 1&1 all the way back in 1988. Since eCommerce wasn't a thing in the 80s, the company originally focused on making information technology easy for everyone to understand and use.
The company gained a good reputation in Europe before finally opening its first American office in 2003 in Chesterbrook, Pennsylvania.
It continued to grow steadily for a decade until 2018, when 1&1 combined its web hosting, applications, and server product lines with ProfitBricks' cloud infrastructure solutions, which is how IONOS was created.
Today the company is one of the largest eCommerce and site domain providers, having more than 8 million customers and hosting more than 12 million sites throughout the US and Europe.
User Reviews
IONOS gets 4 out of 5 stars from Techradar, with the ease of use, the templates, and the ability for customisation being mentioned as the strongest points.
Forbes gives IONOS a 4.6 out of 5 stars and mentions the small number of emails per plan and the inconsistent support quality as two of the biggest negative points of the service.
The final score for IONOS comes from TrustPilot and it's 4.1 out of 5 stars. While this might not be as flattering as the previous score, the comments on the site seem to be mostly positive.
User Reviews
Review Summary
5.0 out of 5 stars (based on 1 review)
Recent Reviews
Very happy customer
No complaints about them at all.
Submit a Review