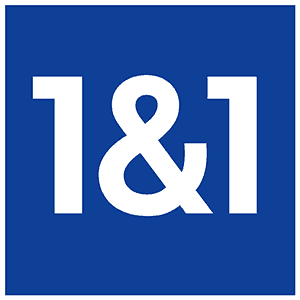 1 & 1 eShop is part of the German 1 & 1 Group which is one of the world's leading Web hosting providers.  Its products are available in the UK, the United States, Germany, Austria, Spain, France, Poland, Canada, Italy and Mexico.  The company has over 7,000 employees working around the globe and over 15 million customer contracts.
1 & 1 eShop eCommerce Plans and Pricing
1 & 1 eShop has three plans designed for different types and sizes of businesses.
Ecommerce – £1 per month for 6 months, then £25 per month
Designed for first time online sellers
Unlimited items
Shop editor
Professional design templates
Optimised for mobile devices
Step-by-step guidelines
SSL Certificate
3 payment methods – invoice, direct debit and PayPal Express Checkout
Manual shipping – self-organised shipping process
Ecommerce Advance – £25 per month for 12 months, then £50 per month
Includes everything in the Special Plan, plus
10 payment methods
Integrated shipping method – Shippo
Newsletter tool
Google Analytics
Comparison websites – Idealo, Google Shopping and Shopping.com
Ecommerce Expert – £50 per month for 12 months, then £75 per month
Includes all the above, plus
Sell on Amazon, eBay and others
Source: 1 & 1 eShop Pricing
To see how they compare, have a look at: UK Merchant Account and Debit Card Processing Fee Comparison
1 & 1 eShop Features
Simple layouts with professional design templates
Seamless ordering process
Selection of payment methods
Connection to online marketplaces, e.g. eBay and Amazon
Intuitive shop editor
Optimised for all devices
Connect to price comparison portals
Offer coupons
Viral marketing through social media channels
SEO
Google analytics
Inventory
Automated emails
Symantec SSL certificates
DDos Protection
Geo-redundancy
ISO/IEC 27001-2013 Certified
Other 1 & 1 Products and Services
Website building and hosting
Domains
Email and office solutions
Online marketing
Company Background
I & I was founded by Ralph Dommermuth in Germany in 1988.  The company's headquarters are still located in Germany, but they now have 10 offices around the world, including the UK, the US, Canada, Spain, Poland, Italy, Austria, France and Mexico.  I & I entered the UK market in June 2000 and, after its acquisition of Fasthosts Internet Ltd in 2006, it became the top hosting provider in the UK.  It launched in the States in 2003 and opened a data centre in Kansas.
1 & 1 started offering their eShop product in 2008.  The company was determined to offer an affordable, flexible eCommerce solution.  One that companies wouldn't outgrow and therefore need to move onto another supplier.   United Internet is 1 & 1's parent company.
1 & 1 eShop Reviews
Merchant Machine score: 7.6 out of 10
Review Summary
5 out of 5 stars (based on 1 review)
Recent Reviews
Very happy customer
No complaints about them at all.
Submit a Review
Website: https://www.1and1.co.uk