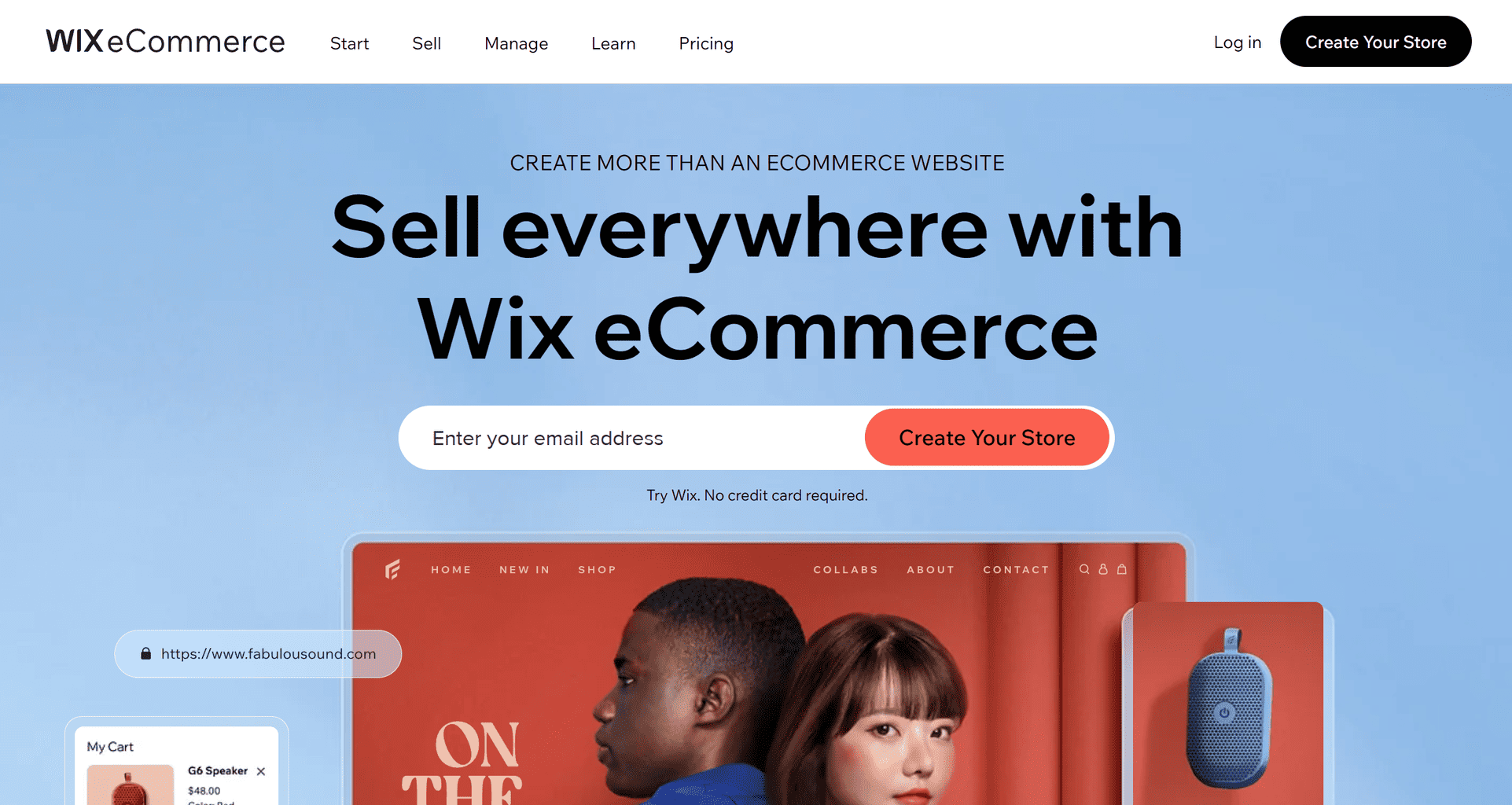 Wix is a very flexible platform that can be used for everything from building basic website frameworks to creating a multi-page intricately layered and laid-out website for a large company.
The platform gives you the option to get a free site with limited bandwidth and storage space if you're just starting out, but it also provides you with all of the tools that you might need to grow your business and expand your inventory of items.
You have several small-scale plans that are meant for very small sites that don't deal in eCommerce, but the more appealing plans are the ones in the middle that give you the tools you need to properly run an online business.
There are features that are ideal for sites that run everything from food services and hotel reservations to sites that deal with event organization and ticket sales.
There are also plans that are primarily geared towards large enterprises so that they can grow their business even further and gain the tools that are necessary to run a successful large-scale site with thousands of daily visitors.
Features
Wix has several features that are mentioned both on the site and in the pricing plans themselves. We'll go over most of these features when discussing the plans in their dedicated section below, but for now, we'd like to focus more on the general perks that Wix has to offer.
Free Hosting – All of the Wix plans come with free hosting. You can even create a free website that comes with 500 MB of bandwidth and cloud storage, although you'll soon find this is pretty limiting. Luckily, the other plans come with 20, 35 and 50 gigs of storage and unlimited bandwidth, so they're an ideal option for small to average-sized businesses.
SEO Tools – the built-in SEO tools can assist you in optimizing your site for search engines. The tools are easy to use and understand and there's no programming knowledge that's required, so basically anyone can use them.
Email Marketing –  Any customer that's logged onto your site can choose to receive regular emails when they create their account. These emails can be used to notify people about special offers, discounts, or new items that might be in the store that your customers might want to check out.
Templates – Wix has more than 800 templates on offer that you can use to give your site a look that fits well with the style of your business. You can find everything from restaurants and hotels to specific products on these templates, which means that there's something ideal for any business.
Logo Design – The platform comes with a logo design feature that gives you several templates for dozens of different businesses. You can use these templates to create the ideal logo for your business.
Fonts – You can look through the dozens of different fonts that are available and pick one that best suits your preferences.
Mobile-Friendly – The template, font and layout of the site all automatically get scaled down and resized in order to match the dimensions of the screen that they're being displayed on. This means that your customers can look through all of the products that you offer either on their PC or on their phones.
Prices/Fees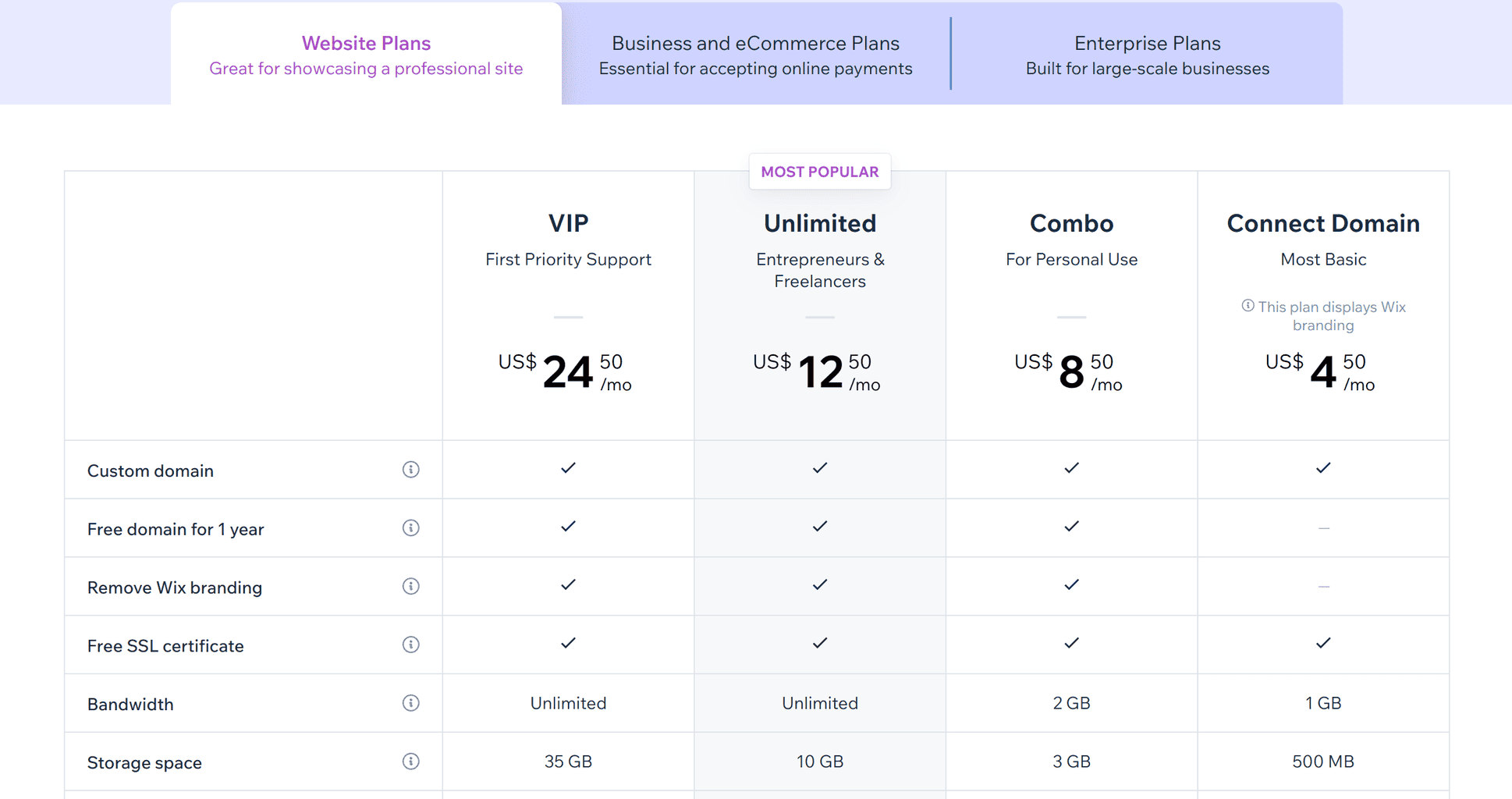 Wix actually has 3 separate categories for the pricing plans that it offers. There are the business and eCommerce plans, the basic website plans, and the enterprise plans.
We won't really go into much detail about the basic website plans and instead, we'll focus on the other two categories since they're much more useful for eCommerce businesses. However, if you're still interested in the basic website options that are on offer, you get a few useful features.  These features include a custom free domain for 1 year, a free SSL certificate, decent customer care, and other parks that you can check out on the site itself.
Business and eCommerce Plans
There are several features that are offered in every Wix plan, so instead of repeating the same things in each plan, we'll go ahead and outline all of the common perks in one section. We should also mention that each plan also includes the site design features that we mentioned just above as well.
The features that all of the business and eCommerce plans have in common are the following:
Accept payments – Without a doubt, the most vital feature of an eCommerce site is the ability to accept and process payments. The built-in payment extension for the dashboard that WIx offers can allow you to process secure payments very easily.
Custom Domain – You can create your own domain so that you can more easily promote your business, and so that people can more easily find the site. The domain can be anything you want, and it can be made suitable for a variety of different extensions like .com, .net, .org, .co.uk, and so on. 
The Domain is Free for a Year – The custom domain that you create for your site will be free of charge in the first year. While the domain prices aren't displayed on the site, the fact that you get a full 12 months for free is a pretty good deal.
No Branding – All Wix sites actually come with Wix branding, but luckily, you can entirely remove any traces of this branding with just a few button clicks. There haven't been any complaints about the branding being distracting and in your face, but it's still good to know that you can remove it at any time.
Customer Accounts – You can allow your customers to create their own accounts on your site. This will allow them to store their card info for quicker repeat purchases, save their home address for shipping purposes so that they don't need to enter it repeatedly, and much more.
Abandoned Cart – This feature goes hand in hand with the accounts that we just mentioned. Any customer that's logged onto your site will have all of their selected products remain in their cart until the customer either buys them or removes them from the list. The customers will also receive emails reminding them that they still have items in their carts in case they simply forgot about them.
Plans and Payment Options – You can offer your customers alternative payment plans and delayed payment options that can allow them to pay off their purchases in increments rather than all at once.
Social Media – You can link your site to all of your social media accounts and vice-versa. This will give you a few more platforms that you can sell your goods through, while also bringing in potential customers to the site from your social media platforms.
Product inventory – All of the plans give you the option to upload up to 50,000 products to your site. This includes multiple images, product descriptions, and any other sort of info that you might want to attach to your items. 50k is more than enough for even large companies, so you won't need to worry about running over the product publishing limit any time soon.
Service Booking – If your business is centred around selling services rather than physical products, then WIx has you covered. You can add tabs to your site that allow your customers to book appointments, classes, workshops or whatever services you're offering.
Calendar Sync – If you offer online services as we just mentioned, then you're going to need a way to keep all of your appointments organized. The built-in calendar will allow your customers to see exactly when they can set up an appointment. You'll also be able to schedule appointments yourself if you want, and the calendar even serves as a great planner that keeps track of your weekly itinerary for you.
Staff Calendars – If you run a larger business with several employees under you, then you can organize your team from the administrator site dashboard. You can set their hours, view and schedule their services or classes, and even directly view any video sessions that they might be hosting.
Staff Permission – You can assign different roles to your members of staff. Standard workers can be granted access to the part of the site that only concerns their job and the services that they need to perform. Senior members of staff on the other hand can for example be given access to the calendars so that they can assign employees to particular sessions or set their work times, if approved by the boss of course.
Memberships  – if you start selling memberships to your clients, you can offer them perks like discounts on certain products, special offers for repeat purchases, and so on. You can also send out emails on special sales that your members can take advantage of.
Subscriptions – You can easily register any customer that wants to take advantage of the services that you offer by adding them to your subscription service. They get access to all of the site membership bonuses that you have to offer and their payments are processed automatically on a monthly or weekly basis (depending on how you have the system set up).
Free Trial – Businesses that offer services rather than products can offer free trial periods for customers. If you have a video list or a workshop that the clients can view, the free trial can give them access to this information for a limited period of time. Alternatively, the free trial can display a single lesson or service example, with the rest being only available after the customer subscribes.
Service Analytics – You can track various statistics through this feature. For example, you'll be able to see how long the services run for, how many of the subscribers attend on average, exactly how many, and which customers attended each lecture, and so on.
Email and SMS Notifications – You can set automatic email and SMS notifications to be sent to your customers and subscribers. These messages can contain info on everything from special offers to reminders of upcoming sessions that the customer has scheduled. The emails are available in every country, but the SMS notifications are only available in the US, the UK, and Canada.
Unlimited Events and Tickets – Anyone that sells tickets on their site can organize as many events as they want and can sell as many tickets as they have available for those events. If you're reselling tickets rather than organizing your own events, then you receive a 2.5% sale commission on every ticket you sell. The commission is automatically calculated through the site.
Mobile Ticket App Feature  – You also get a feature on the Wix Owner App that allows you to scan and check the tickets of your attendees at the entrance of every event. This way it'll be easier to mark off the number of tickets that were submitted and compare them to the actual number that were sold.
Hotel Management – Sites that focus on the hospitality business can create detailed listings of the rentals that they offer online. These listings include room specifications, services included with the room, calendars with available dates, and so on.
Room Prices – Room rental sites can also offer flexible room rates for large customer groups that reserve several rooms, and they can offer special discounts for repeat visitors as well. Additionally, you can also add the prices of any additional services like breakfast services or clean-up fees so that your customers know all of the potential fees ahead of time.
Restaurant Features – Wix also offers features that are ideal for restaurant management. You have the option to take reservations and receive food orders online. You can also create and post custom menus on your site with all of the ingredients, prices, and any other details that you might want to include about the items that you have available.
Sell Your Original Content – You have the option to post your original content online and either sell, rent or offer subscriptions to people that want to gain access to it. This original content includes everything from artwork and paintings, videos, music, and any other creative endeavours that you might be interested in.
Wix Members App – Wix has an app that customers can use which will allow them to book classes, join events and do many other things from their phones or tablets. 
Wix Owner App – You can take advantage of all of the features that we just went over through the mobile app. The app will allow you to check your calendar, change product details, and even reorganize the layout of your site from your phone or tablet. It's a must-have addition for any business owner that's on the move more than they are behind a desk.
Unlimited Bandwidth – Your site will be able to deliver data to your users as fast as their internet will permit. The unlimited bandwidth will ensure that your site runs as fast as possible and that there's virtually no delay between when a site visitor clicks a tab and when that tab opens.
Business Basic
The Basic plan will cost you $17 a month, and for that price your get perks like the 24/7 customer care that's always there to take your messages and calls in case there's something wrong with your site.
You also get 20 gigs of storage space, which allows you to upload a decent number of image, audio and video files before you reach the limit. You'll also be able to upload up to 5 hours of video footage on your site, although the 20 GB of storage apply to those videos as well.
The storage limitation might not be an issue for smaller businesses or shops that mainly have images and text on their site. However, 20 gigs is quite limiting for larger businesses or services that specialize in video seminars, lectures, or something similar that requires a lot of videos to be posted.
Business Unlimited
The Unlimited plan will cost you $25 a month, and it also comes with the same 24/7 customer support services as the previous plan that we covered. You also get 35 GB of online storage, as well as the ability to post up to 10 hours of video footage on the site. 
This means that you get almost double as much space and video length as the previous plan, giving you a bit more freedom when it comes to the amount of content that you post
The Business Unlimited plan also comes with the following perks that weren't available in the Basic plan:
Automated Sales Tax – You get access to an automatic tax calculator that uses current conversion rates from the US, the UK, and all around the world to calculate the tax on the products and services that you offer. However, the tax calculator only processes 100 products or services per month, after which you'll need to manually process the rest.
Multiple Currencies – The customer will be able to see the price of the products on your site in their local currency. There are some restrictions since not every currency in the world is included in this feature, but you can use the more widely utilized ones like dollars, pounds, euros, francs and so on.
Dropship Marketing – Modalyst will allow you to source and ship up to 250 products per month through your website.
Online Marketplaces – You can connect to other online marketplaces and use them to sell your products. These marketplaces include Amazon, eBay, Etsy, and so on. You can also link all of the accounts together so that customers that visit one marketplace will get a link for your site, and vice-versa.
Customer Reviews – The KudoBuzz Reviews app allows you to add a review section to your site where customers can log on and leave their opinions on your products or services. The Business Unlimited plan allows you to post up to 1,000 such reviews on your site.
Business VIP
The Business VIP plan will cost you $35 a month, and for that price, you'll actually get priority customer support, which means your calls and messages will be answered first.
You'll also get 50 GB of storage space and the ability to add an unlimited number of videos to your site. Just keep in mind that even though you can add an "unlimited number", you still can't exceed the 50 GB limit.
However, despite this seeming limitation, this is still the best plan for anyone that's selling video classes, exercise courses or similar services.
This plan also comes with all of the features from the previous Unlimited plan, although with slight differences. The differences are as follows:
Automated Sales Tax – The automated tax calculator will now cover 500 transactions per month rather than 100.
Dropship Marketing – Modalyst will allow you to source and ship as many products as you want. 
Customer Reviews – The KudoBuzz Reviews app now allows you to post up to 3,000 customer reviews on the site rather than limiting you to 1k reviews.
Custom Reports – This feature isn't included in the other two plans and is exclusive to the VIP package. You can generate reports on the metrics of your site. This includes the average number of visitors per day, the most popular products and services, and so on.
Enterprise Plans
We, unfortunately, can't tell you much about the enterprise plans since the entire point of this service is to get custom service options that can fulfil the requirements of any company. However, the enterprise plan is for large companies, so it'll cost you significantly more than the VIP plan.
You'll need to go and fill out the little questionnaire in the Enterprise section of the pricing menu before you can get a price estimate for this service. The good news is that after you put in your private and company info, you'll get an appointment scheduled with a Wix representative.
You'll be able to talk to the representative in question and give them a detailed report on your company and the sort of services that you might be interested in. The representative will then offer you the plans that they think might fit your company the most, and you can get started on building your site immediately after the plan is accepted.
The Enterprise Plans also come with the following features:
Account Manager – You'll get an account manager for your site, and you'll be able to contact them for any issues that you might have with your site, or even any questions that you might have about boosting the site performance, ranking, and so on.
Tailored Solutions – If the features and apps that you're currently using don't meet your standards, then you'll be put in contact with product experts from the company. They'll help you optimize the tools at your disposal, or even make alterations to those tools so that they fit your requirements more precisely. The team of experts can also help you migrate your site if you need to change domains or transfer data from one location to another.
Security – The enterprise-level security that these plans come with ensures that all of your site data and customer private info is safe behind several layers of firewall protection.
Multi-Site Dashboard – This feature allows you to run multiple sites and organize all of the members of your team from a single dashboard. You can set schedules, reorganize product placements on the site, and you pretty much have full control over all of your sites from one central hub.
Content Editing – You'll get a custom API (application programming interface) that can help you more easily make edits and changes to your site and the layout of your pages.
Hosting – The multi-cloud hosting and the 99% uptime ensures that your site is always running optimally, regardless of the speed of your visitors interned.
Payment Options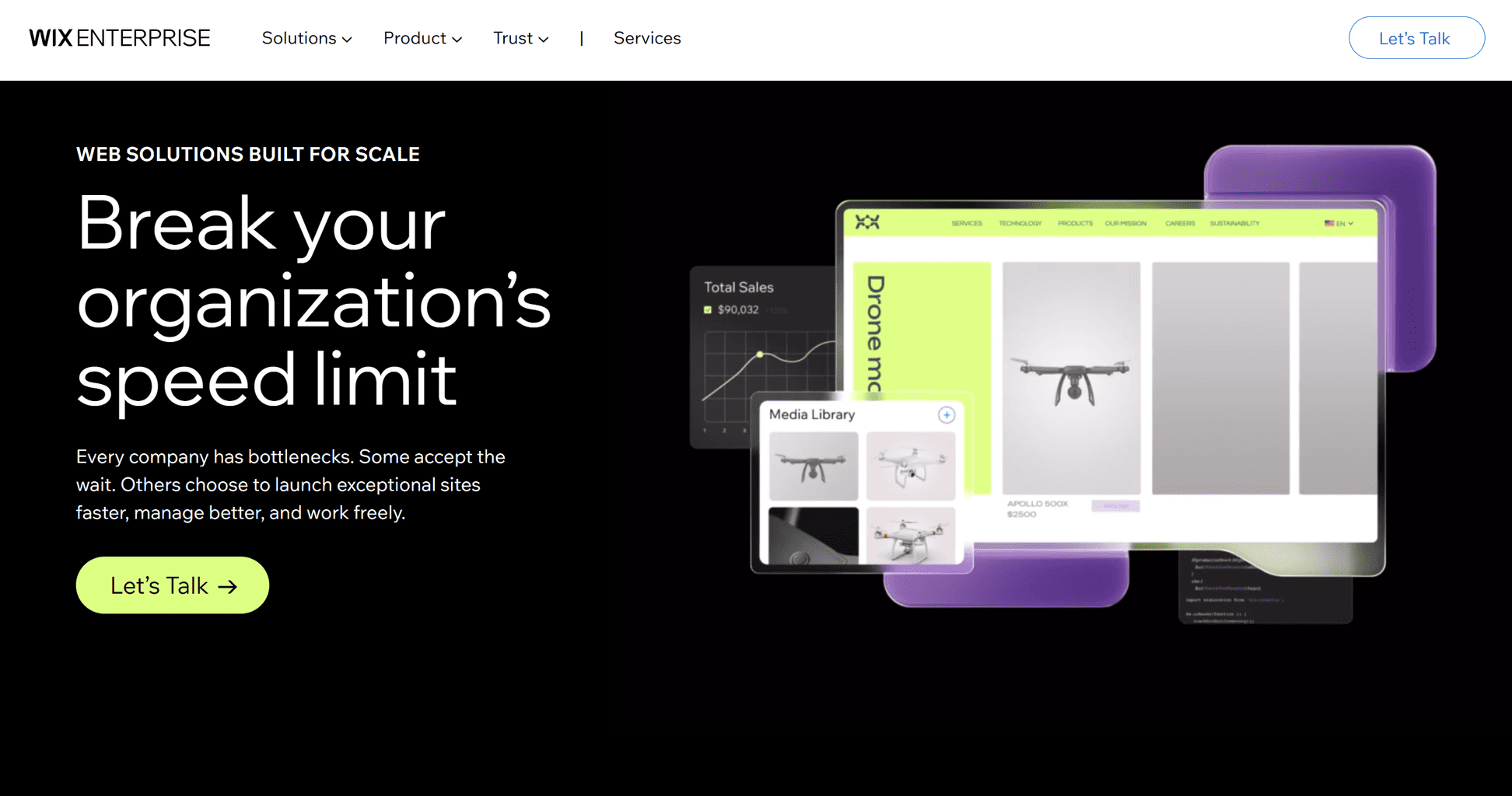 Wix is compatible with all of the major credit and debit card brands. This includes Visa, Master Card, Americal Express, Discover, JCB, and so on.
Additionally, Wix Payments also allows customers to pay through Apple Pay, Google Pay, Paypal, and several other online options.
You also get a POS (point of sale) feature that allows you to link the sales from your online and physical stores to one place. This way you'll more easily be able to do the daily calculations and figure out your profit margins from all of your sell points.
Company Background
Wix was founded in 2006 by Avishai Abrahami, Nadav Abrahami, and Giora Kaplan. It hit one million users just three years after that in 2009, with 50 million users following in 2014, and the platform has amassed over 200 million users by 2021.
Wix has been continually evolving and integrating new developers and tools into the company which has helped the platform development in many ways. For example, the company acquired Rise.ai for the gift card features, Modalyst for dropshipping features and Appixia for mobile commerce app development. It's safe to say that the platform will continue to grow and develop at a steady pace for many more years to come.
User Reviews
Wix has a positive review on Nerdwallet, although the site also mentions cons like the limited features for selling physical products and the limited storage space on certain plans.
Forbes gives Wix eCommerce a 4 out of 5 stars and points out positives like the easy-to-use drag-and-drop interface and the 200+ apps.
eCommerce Platforms gives Wix an overall positive review, mentioning both the real-time sale calculator and the plentiful customization options as pros of the platform.
Click here to visit the WIX website
User Reviews
Review Summary
0.0 out of 5 stars (based on 0 reviews)
Recent Reviews
There are no reviews yet. Be the first one to write one.
Submit a Review