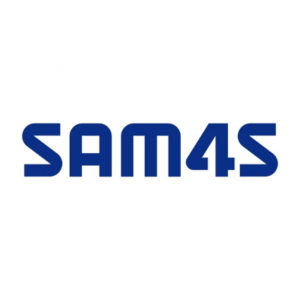 SAM4S has over 30 years of experience in the store automation field, supplying electronic cash registers, Epos systems and peripherals, such as printers and card terminals. The company's products can be found in over 60 countries around the globe.
SAM4S Point of Sale Pricing
SAM4S doesn't list its prices online.
SAM4S Features
Solutions for hospitality
Solutions for retail
Solutions for ticketing
Solutions for transportation
POS terminal
EFT POS terminal
Handheld computer
Contact SAM4S for details and pricing – http://www.sam4s.com/eng/asp/inquiry.asp
Other SAM4S Products and Services
Three ranges of electronic cash registers (ECR's)
Receipt printers
Cash drawers
Monitor
Pole displays
Bluetooth dongle
Company Background
SAM4S is a Korean company with its headquarters in Seoul.  The company is owned by Shin Heung Precision which bought Samsung Electronic ECR and POS business in 2001.  Shin Heung Precision was established in 1968 and has 25 offices and factories around the globe.  The company employs over 13,000 people and has an annual turnover of over $1 billion.
Shin Heung Precision launched the SAM4S brand in 2003.  It launched its first PC POS in 2008.  2013 saw SAM4S develop and produce android POS, credit card terminal and TABBY.  The following year they introduced the EFT POS terminal.
SAM4S Reviews
The only online reviews are for individual SAM4S products.
Website: www.sam4s.com