Nuapay is an open banking payments solution that provides direct account-to-account payment services. It's a subsidiary of Sentenial – a payment outsourcing provider to businesses and banks of various sizes. 
The company launched Nuapay as their open banking front, offering integrated payment solutions to remove traditional banking processes. Their aim is to get rid of unnecessary costs and banking inefficiencies. 
In this article, we'll go over what Nuapay is and review its services and prices. 
Let's get started. 
Nuapay Overview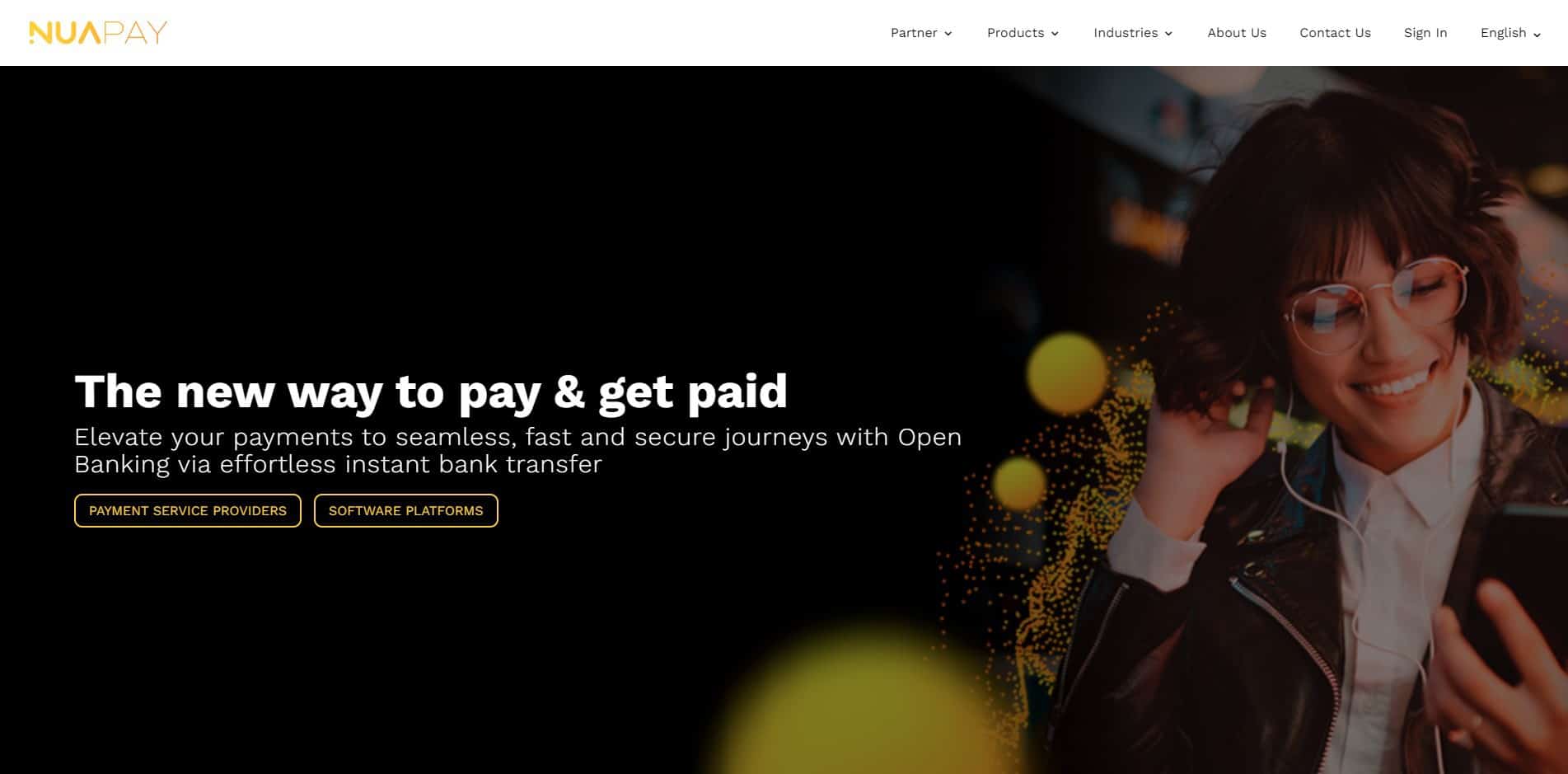 Nuapay is a complete subsidiary of Sentenial and a dual-licensed authorised payment institution. They're built on the Sentenial payments technology platform, offering regulated payment services. 
Since Nuapay uses Sentenial's technology, it's backed by a tried-and-tested system that caters to globally renowned banks. Adding cloud-based technology to the mix allows Nuapay to work seamlessly with multiple banks in the country. 
The company offers custom Nuapay payment accounts, along with IBANs. The accounts are integrated with the payment services. Therefore, users can manage, receive, and create direct payments in real time. 
The following is a list of services Nuapay provides. 
Open Banking –

The company provides open banking services as a low-cost alternative to using cards and other mediums for payment. Direct bank-to-bank transactions remove middlemen fees and make transactions faster. 
Payment Accounts Via API –

Nuapay provides custom payment accounts to create a one-step payment system for businesses. Integrated payment accounts help avoid unnecessary changes to existing software and systems. 
Enhanced Direct Debit –

For businesses that want to expand their direct debit system, Nuapay provides a management system and sponsorships. 
Nuapay also helps maintain pan-European eMandates, allowing companies to utilise one solution for all sales. 
What Differentiates Nuapay from Others? 
Nuapay doesn't only depend on its open banking capabilities but goes one step ahead. Offering payment accounts that can be directly integrated, along with direct debit assistance gives businesses a one-stop solution for their payments.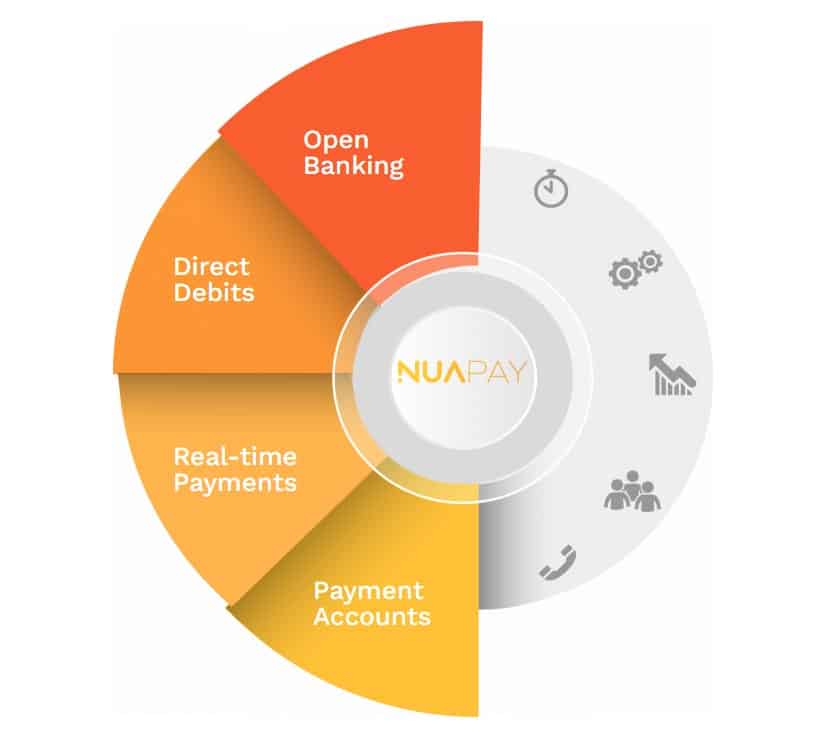 Furthermore, the cloud-based platform allows you to integrate specific data and payment services. You can choose what modules you need depending on your situation. That allows you to customise user flow, branding, and payments, streamlining all transactions. 
On top of that, Nuapay regularly partners with ISVs, PSPs, and other providers to offer new payment systems to clients. Customised propositions allow them to cater to a wider audience. 
The company also develops API solutions for payments – it allows them to provide innovative features and products, making payments more efficient. 
Moving on, the following are some key features of Nuapay. 
Real-Time Payments 
While real-time payments are the standard in open banking platforms, Nuapay has the option to automate payments. You can automate all outbound payments, including payments to suppliers, employees, and customers. 
NuaShield 
NuaShiled is Nuapay's fraud protection tool that assists each transaction. It's backed by machine learning algorithms and is designed to regularly do multiple checks in real time. 
The idea is to validate customer information before, during, and after the transaction. This keeps track of all data, improves financial risk protection, and adds confidence to all customer transactions. 
Furthermore, the system automatically flags and traps compromised accounts. For example, if someone tries to make a payment through direct debit using another person's account, it's automatically flagged and red-listed. 
Direct Debits 
Direct debit allows users to collect regular and recurring payments from customers. Nuapay has an API-based solution to automate this process, minimising friction in the payments. 
Industry-Specific Solutions 
Nuapay provides industry-specific solutions to provide tailored services to businesses. Some of the industries in their niche include: 
Insurance 

Fast-growing businesses/startups 

Fitness clubs 

Gaming 

Subscription economy 

Utilities 

PSP industry 
Locking in specific industries helps Nuapay provide customised payment services. 
Nuapay Review 
Nuapay isn't new to the payments industry since it's backed by an industry veteran parent company, Sentenial. That means it has already established financial systems in place that are tried, tested, and trusted. 
Backed by an existing architecture, the company has developed custom APIs to help bring their services to their customers. Furthermore, these custom APIs allow for easier platform integration into existing customer systems. 
This means users don't need a complete overhaul of their existing systems. They can add Nuapay to their tech stack to improve efficiency. 
Moreover, Nuapay offers streamlined onboarding where the company allows your clients to set up their own payment accounts. This helps avoid any duplication in the setup. 
Perhaps what differentiates Nuapay the most is that they offer additional revenue streams. Their partner models help users generate additional revenue using models like white-label and reseller arrangements. 
Pros 
The following are some major pros of using Nuapay.
Custom fraud protection tool – NuaShield. 

End-to-end payment functionality, allowing users to collect payments through open banking channels and direct debits. 

Custom API solutions allow for smoother platform integration. 

Easy pay-out system that can be automated. 

Client payment accounts can be created for easy reconciliation. 

Industry-based tailored services. 
Having the backing of an established payment system helps further improve efficiency. 
Cons 
The following are some of the drawbacks of Nuapay. 
No mobile app on Google Play Store or the iOS App Store. 

Prices are not mentioned on the website. 

Doesn't have dedicated support for ecommerce businesses. 

Targets a limited number of niches. 
Nuapay may not be the best option for businesses in industries that are not targeted by the company. 
User Reviews 
There aren't many online reviews for Nuapay. However, the company has been recognized for its payment services. In 2020, Nuapay received the Best Online Payments Solution Merchant award. 

In 2021, Nuapay received the Best Open Banking Solution for Merchants award. 
Furthermore, the company is certified by the FCA (Financial Conduct Authority) and the ACPR. It's also ISO27001 (information security standard) certified. 
Nuapay Pricing and Fees 
Nuapay doesn't provide any information on its pricing or fees on its website. They provide on-demand rates to each user after evaluating their business. 
This is also why they target specific niches and offer tailored payment solutions. 
What's the Verdict? 
Nuapay is an extremely niche-specific open banking platform that works really well for its targeted audiences. With anti fraud checks, SEPA direct debit payments, and custom API solutions, it proves to be a worthy alternative. 
It's ideal for businesses that receive recurring payments, such as fitness clubs and or subscription businesses. 
Overall, Nuapay provides well-rounded and integrated payment services for its target industries. 
Nuapay User Reviews
Review Summary
0.0 out of 5 stars (based on 0 reviews)
Recent Reviews
There are no reviews yet. Be the first one to write one.
Submit a Review