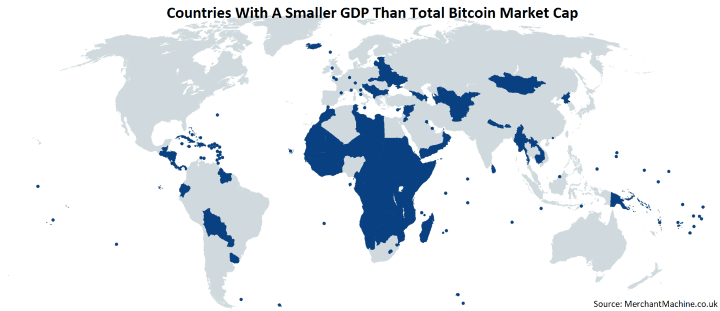 The map above shows which countries in the world have a smaller GDP (in terms of US dollars) than the total market cap of all bitcoins.
At the time of publishing, the total Bitcoin Market Cap was $116.5 billion USD according to blockchain.info.
Assuming this is accurate, it would place the market value as being greater than the GDP of Kuwait ($109.9 billion) but smaller than Hungary ($125.7 billion), which would make Bitcoin the world's 59th biggest economy.
To put it another way, the total value of all bitcoins is now around 0.6% of the US's GDP.
The map was made using mapchart.net.
Think bitcoins have become too expensive or are they still a great deal? Leave your comments below: