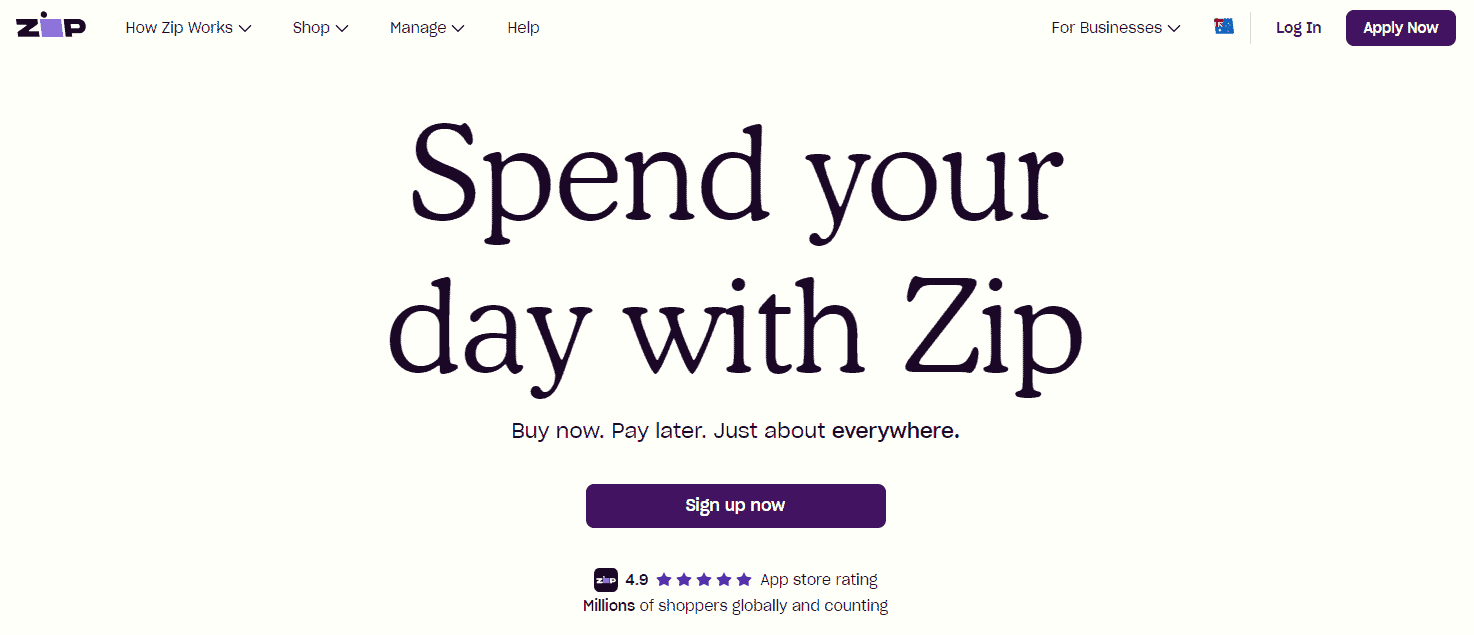 Founded in 2013 and incorporated in Sydney, Australia, Zip is a fin-tech company that has revolutionised the Buy Now Pay Later industry with its innovative solutions and responses to market needs.
Until recently, Zip has had active offices in the UK, however, they are currently closed. Since the company operates on a global scale, we will base this review on the information available on the Australian website.
Zip offers several flexible payment options that enhance the shopping experience for both consumers and merchants. The company's core offer is its main product, the BNPL platform through which consumers can split their payments into instalments with no interest. 
Thanks to its advanced APIs, Zip seamlessly integrates with any online and offline shop, making its services accessible to merchants from various industries and their customers.
Fees/Prices
Unlike many other BNPL service providers, Zip does charge fees for using its services. On the other hand, they don't perform a hard credit check nor do they contact credit reporting agencies. This means that being late to repay Zip may cost consumers some money, but it won't affect their credit scores in the eyes of the bank and the government.
Zip establishment fees can cost users anywhere between £0 and £99. This is a one-off fee and it's based on the consumer's approved credit limit. Once approved, consumers' credit limits can be anywhere between £1000 and £5000. Information about fees and credit limits is available in each user's personalised credit contract.
After using their accounts for a minimum of six months, users become eligible for a credit limit increase.
The first three months are interest-free for everyone. After this period, interest rates may apply. The size of the interest fee will depend on the length of the repayment period and the size of the loan, and will be stated clearly in the credit contract.
Credit repayment starts from £10 per week. The exact size of the instalment is determined by the user's credit limit.
In the case when a user has an unpaid credit balance, the monthly account maintenance fee is around £8. This fee is waived if the owing balance is £0 at the end of the month.
Product/Service Overview
Zip Pay

Zip Pay is Zip's service intended for everyday purchases. Consumers can apply for up to £1000 of interest-free spending money.
There are three main benefits of using this service:
Flexible repayment schedule

. Users can choose whether they want to repay Zip monthly, fortnightly, or weekly. If they change their mind along the way and decide to repay Zip early, there's no penalty involved.

Interest-free repayments.

With Zip Pay, every transaction made is completely free of interest.

Fast approval.

Zip Pay takes no more than minutes to approve. There are no establishment fees and nothing has to be paid on the day of purchase.
Repayments start at a minimum of £10 per week. Account maintenance fees apply as described in the section above.
Users can shop using Zip Pay wherever they see a Contactless Symbol after adding the Zip card to their Google or Apple wallet.
Digital Gift Cards
Zip offers another convenience to its users – digital gift cards. These cards range anywhere from £25 to £500 for shopping from any of the great brands offered by Zip. Gifters can add a personal note and send the card to the recipient immediately or schedule its arrival for a special day in question.
Zip Money

Zip Money is a £1000 to £5000 line of credit for users with regular accounts. For some merchants, this amount can go up to £50,000.
The first three months are free of interest and there are no payments on the day of purchase. With certain Zip partners, the interest-free period can be up to five years.
Users who wish to apply for Zip Money have two options when it comes to repayment. The custom schedule gives total flexibility regarding the amount, frequency, and date of repayments. The instalments system applies for purchases larger than £300 and requires users to make equal monthly repayments free of interest.
Shop Everywhere Card
Both Zip Pay and Zip Money service users are eligible for the Zip Everywhere Card, which is a versatile payment solution designed the same way as the regular credit card, but with interest-free instalments. This card can be used at millions of locations worldwide for both online and offline shopping, as long as they accept Visa payments.
Zip Rewards
Zip Pay and Zip Money both go beyond speed, flexibility, and an interest-free loaning system. Users who shop from Zip's rewards partners have a chance to earn instant cashback. Information about rewards is available on Zip's app.
Zip for Businesses
Using Zip can help businesses boost their growth. According to the company's reports, having access to Zip's customer base significantly increases sales and average order values, as the possibility to stretch their payments encourages customers to make purchases.
All calculations are completely transparent and settlements to the business's bank accounts are made on a daily level.
The pricing system for businesses is simple and ethical. There are no setup fees, hidden fees, minimums, or lock-in contracts.
How Zip for Businesses Works?
Businesses that apply for Zip take less than 48 hours to receive approval. The application is seamless and conducted fully online.
There is a set of assessment criteria that a business needs to meet in order to become a Zip Partner, such as trading time length, annual turnover, and the type of industry. The reason for this is that Zip wants to determine the best way to serve its business partners.
Before application, businesses should usually prepare the following information (the exact details may differ from one country to another):
Personal details of the business owner;

Business details (registration number, annual sales, website URL and eCommerce platform (if applicable), business address and contact number)

Director details (name, address, contact, and ID)
Upon approval, businesses should add Zip to their payment platform. The integration is completely free and they receive a step-by-step guide from the company for both the point-of-sale and eCommerce platforms.
Once they make a sale via Zip, customers are paid directly to their bank accounts via EFT every day.
Zip Business Capital/Prospa Offers
As of May 2, 2023, Zip Business Capital has been closed for new applicants. However, existing users of this service can still manage their accounts.
This is a service for small and mid-size businesses designed to provide them with quick and convenient access to capital. This helps businesses fund various aspects of their operations, such as purchasing inventory, expanding the business, or managing cash flow.
Luckily, an alternative exists: Prospa offers. This capital fund offers £5000 to £500,000 in funding solutions. The terms are quite flexible, with a 3 to 36 months repayment policy.
The decision is received on the same day upon the application.
Business Operations
The success of Zip's products and services can be attributed to a range of business operations that underpin its operations.
Merchant Partnerships
Zip collaborates with a wide range of merchants both online and offline. This way, they expand their BNPL services to customers. These partnerships involve integrating Zip's payment solutions into the merchant's checkout process and allowing customers to select Zip as their payment method.
Credit Risk Assessment
Zip uses sophisticated data analytics and risk assessment methods to evaluate its customers' creditworthiness. They analyse various data points, such as credit history, transaction patterns, and other relevant information to formulate a suitable credit limit for each customer.
Digital Wallet and Mobile App
Zip operates a digital wallet that serves as a centralised hub for customers where they can manage their accounts, track transactions, make payments, and obtain all the relevant information about Zip. The interface is user-friendly and intuitive and enables convenient financial management.
Company Background
Zip is a dynamic, international, innovative fin-tech company that, since its founding in 2013, has experienced significant growth. In 2015, the company rebranded to Zip Co, reflecting its broader range of financial solutions beyond credit services.
Today, Zip operates globally, with a strong presence in Australia, New Zealand, Canada, and the US. The company serves millions of customers and thousands of merchants worldwide.
Their success can be attributed to their customer-centred approach to business, high degree of transparency, and innovative approach to the BNPL business model.
User Reviews from Around the Web
To get a complete image of Zip's business operations, let's take a look at what its customers have to say.
Trust Pilot: 4.6/5 (based on 12,774 total reviews)
G2.com: 4.5/5 (based on 20 total reviews)

Capterra: 4.8/5 (based on 23 total reviews)
User Reviews
Review Summary
0.0 out of 5 stars (based on 0 reviews)
Recent Reviews
There are no reviews yet. Be the first one to write one.
Submit a Review