DivideBuy is a consumer lending platform based in the United Kingdom.
The company specialises in interest-free credit and instalment plans. Their Landtech solution is helping UK merchants increase conversions by giving consumers a seamless purchasing experience without the burden of immediate upfront payments.
DivideBuy's main goal is to make retail more accessible to a wide range of consumers. Their innovative approach to consumer finance has gained popularity across various industries, including furniture, electronics, appliances, and more.
Committed to exceptional customer service and transparent lending practices, DivideBuy has become a go-to option for individuals seeking convenient payment options. Their presence in the United Kingdom has made them a trusted partner for both retailers and customers alike, revolutionizing the way people shop and pay for goods.
Fees/Prices
DivideBuy doesn't have any prices or fees listed on its website.
What interested parties should know is that DivideBuy reserves the right to add late payment fees and interest to their users' accounts if they miss a payment. Missed payments can, in some cases, negatively affect the user's credit score. This, however, is outlined in detail in the credit agreement that users need to sign before checkout.
Upon placing an order, users are required to complete the payment of the first instalment and in some cases, also a deposit. If the user has to pay a deposit, the following instalments will be reduced accordingly.
If a consumer wishes to repay DivideBuy early, no fees will be charged.
Product/Service Overview
Half a million satisfied shoppers and more than three hundred businesses that have integrated DivideBuy's payment solution are a testament to the company's unprecedented service quality.
DivideBuy for Shoppers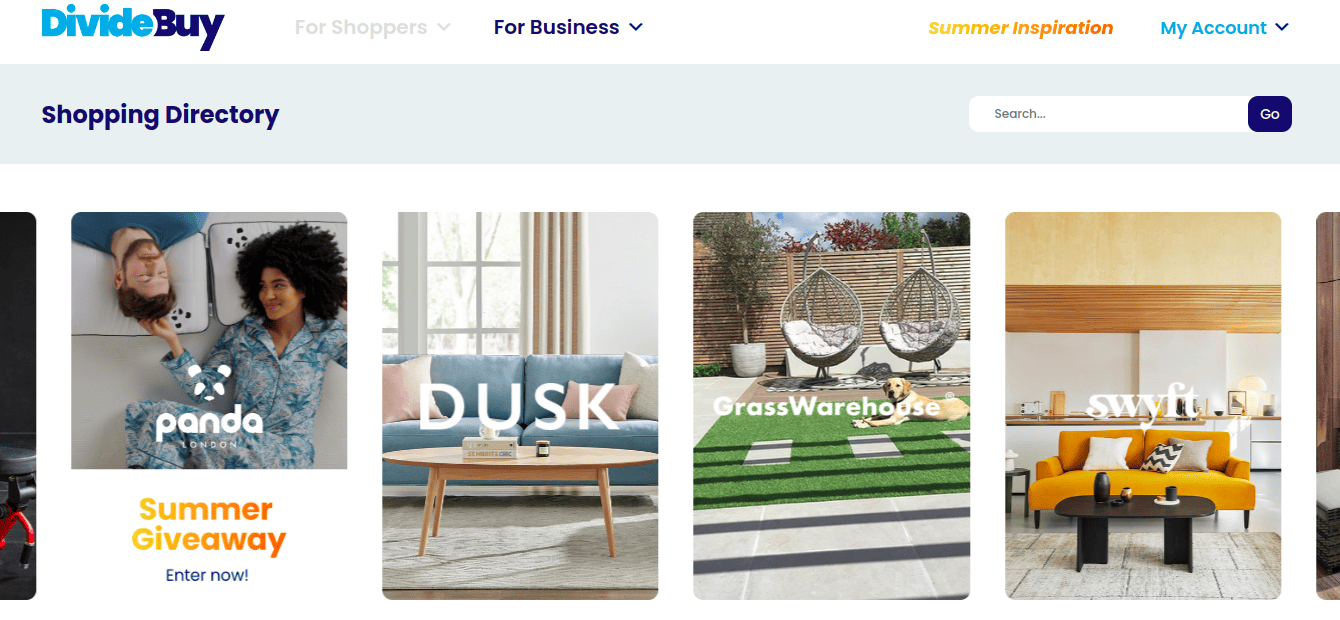 DivideBuy offers shoppers a convenient, interest-free way to spread the costs of their purchases over a number of monthly instalments.
Their website offers access to a wide variety of merchants selling everything from beds to hobby activities, beauty products, or clothes.
Making payments with DivideBuy is fairly simple. Shoppers need to pick a retailer from the directory, add their desired items to the basket, and choose DivideBuy as their payment method during checkout. The application process for DivideBuy takes less than one minute to finish. Upon submitting the form, shoppers will receive an email immediately, confirming the decision about their credit application.
Shoppers can distribute their credit repayment over a period of up to 12 months. How this will work exactly, mainly depends on the retailer's offer.
After paying the initial instalment and providing an electronic signature, the retailer will inform the consumer of the delivery times. From there on, monthly recurring payments will be collected until the balance is fully repaid.
DivideBuy offers their clients the possibility to manage their accounts online, make additional payments, and view their order status and account history.
The whole process is without APR or any hidden charges.
DivideBuy for Merchants

DivideBuy offers a compelling retail finance solution to merchants. Retail finance refers to a payment option that allows consumers to spread their purchase costs over a number of smaller instalments.
Merchants who decide to offer this type of perk to their customers have an opportunity to widen their customer database by gaining access to DivideBuy's customer base. The finance provider makes sure that the merchant is paid in total upon every purchase and then handles the collection of the upcoming instalments from the customer.
Other benefits include an increased average order value, margin protection, reduction in cart abandonment, and returning customers. The equation is simple: if people are given flexibility with their payments, they feel more confident to make larger purchases and are more likely to return to the same vendor.
An additional benefit that DivideBuy guarantees to vendors as their trusted Lendtech partner is tailored reporting. This type of reporting can play a crucial role in the process of business growth and development.
Given that almost 50% of UK consumers said that they only consider interest-free options for crediting at checkout, DivideBuy is an ideal option for retailers to integrate into their shop, as it guarantees a 0% interest solution for 3-12 months.
How Does Retail Finance Work for Merchants?
DivideBuy's point-of-sale finance solution offers merchants a simple model of collaboration.
Seamless integration: DivideBuy's solution easily integrates with many popular eCommerce platforms, such as Shopify, WooCommerce, and Magento. This allows for quick onboarding.
Customer purchase

: upon choosing DivideBuy as their payment option, the purchase will appear on the merchant's records just like any other sale.

Order fulfilment

: upon the verification of the customer's agreement with DivideBuy, the merchant will proceed with packaging and shipping the order as usual.

Payment upon delivery

: when the merchant confirms that the delivery of the goods has been successful, DivideBuy will promptly reimburse them with the purchase price.
Merchant Resources
To make merchants' lives easier, DivideBuy ensures them access to invaluable resources that can help them learn about retail finance, finance solutions, account management, and any other important feature or policy of DivideBuy.
Convert + Tool for Merchants
Convert+ is a feature designed to help online retailers increase their sales and shopping cart sizes.
It enables customers to view payment amounts over time for their total basket value, providing them with more flexibility and transparency in managing their purchases, thus increasing their trust and willingness to shop.
With Convert+, retailers can upsell by offering longer payment terms for higher order values.
This feature aims to encourage customers to add more items to their basket, as they can spread the cost over a longer period, making larger purchases more doable.
Integration of Convert+ with an existing online store is a straightforward process, allowing retailers to quickly activate this feature and start benefiting from increased sales. By utilising Convert+, retailers can generate more sales without needing any additional investments in generating online traffic.
DivideBuy's Convert+ has gained the trust of UK online retailers and is compatible with various shopping carts, making it a widely accepted solution in the industry.
Business Operations
Every amazing product and service that DivideBuy offers is backed up by a number of business operations that facilitate the success of the company's infrastructure.
Exceptional Customer Support
DivideBuy takes great pride in delivering exquisite customer support to both consumers and merchants. In case of need, both parties can simply log in to their accounts and get an overview of order details, instalment plans, and other ongoing account activities.
In case there's been a change in the customer's credit card details or address, there are quick links on the website that can take them to the right place to change the information in DivideBuy's system as well.
Finally, DivideBuy's UK-based customer service team is available throughout the entire week. Users can message the support team during the following working hours:
Workdays: 8 am – 8 pm

Saturday: 8 am – 4:30 pm

Sunday: 9 am – 4:30 pm.
Those who prefer email communication can send their query to hello@dividebuy.co.uk. The company's representatives usually respond within 48h.
Account Management
DivideBuy's Retailer Success team is much more than a group of account managers. This team is an invaluable extension of their dedicated merchant's business.
Account managers from the Retailer Success team are there to work with merchants and help them achieve success by deeply understanding their business, long and short-term goals, challenges, customers, etc. This team's main goal is to ensure that the merchant they work with always has the credit solution that will best drive their maximum growth.
Company Background
DivideBuy is a fin-tech company based in England that specialises in providing interest-free instalment payment solutions to consumers. Since its founding in 2014, the company's main aim has been to offer a convenient and flexible alternative to traditional credit options that will be attractive and accessible to a variety of customers.
Over the course of nine years, the company has seen significant growth and has become one of the leaders in providing point-of-sale credit in the UK.
The company's initial focus was on the e-Commerce sector, but it quickly expanded its customer base and established a strong presence in the UK market.
User Reviews From Around the Web
To get a complete picture of DivideBuy's services and operations, here's what their users had to say.
User Reviews
Review Summary
0.0 out of 5 stars (based on 0 reviews)
Recent Reviews
There are no reviews yet. Be the first one to write one.
Submit a Review