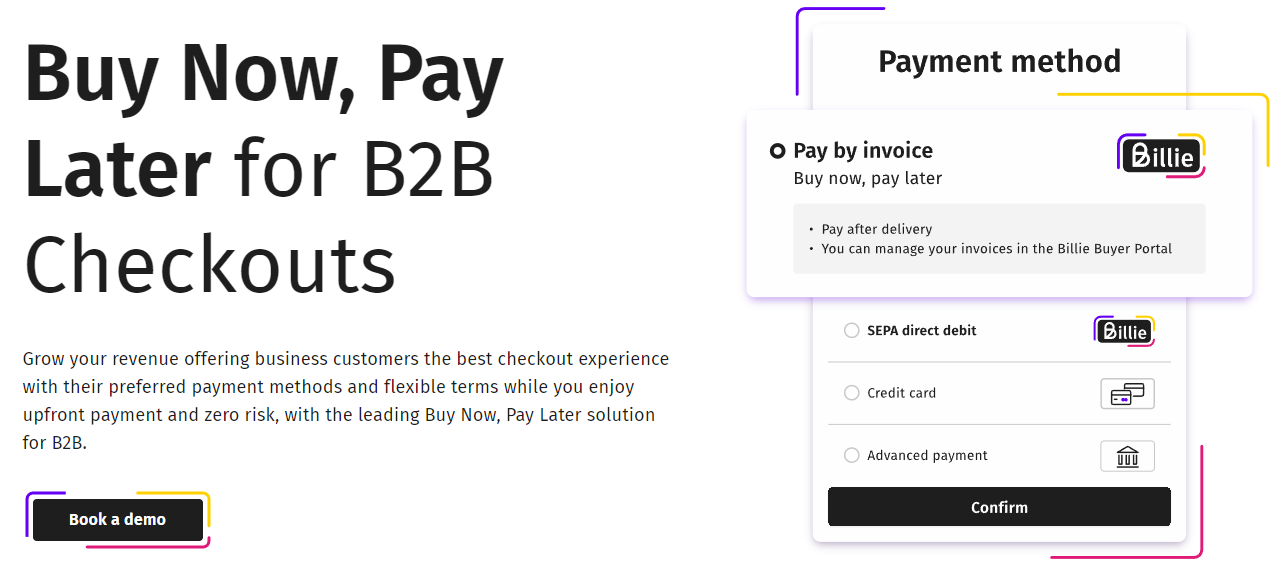 Billie was founded in Berlin in 2016 with the aim to simplify purchasing and empower businesses to buy, grow, expand, and thrive. Today, it's one of the leaders in the Buy Now Pay Later (BNPL) space and focuses on B2B digital payment solutions.
Billie's vision is centred around equal opportunities and giving businesses a chance to grow and pursue their goals at their own tempo and terms. This is why their services are tailored to streamline purchasing experiences and provide businesses with short-term liquidity and flexible payment options.
With more than 100,000 global users of their services, Billie is one of the largest BNPL service providers for businesses.
Price/Fees
The company doesn't offer a detailed outline of their fees and prices on the website. They do, however, mention that their purchasing limit is 100,000 euros, which is one of the highest limits that exist in the entire BNPL industry.
Product/Service Overview
Along with BNPL services for businesses, Billie also offers a number of products businesses can use to increase their conversion rates and improve their efficiency.
Checkout Widget

Billie offers a Checkout Widget tool that companies can add to their sites to simplify and streamline the purchasing process for their customers. The widget should be integrated into eCommerce platforms and ensure a seamless payment process.
With the Billie Checkout Widget, businesses can offer their customers the option to pay later for their purchases, utilising the Buy Now, Pay Later (BNPL) model. This flexible payment solution offers businesses increased liquidity and better cashflow management, thanks to which they can invest in growth and manage their expenses more effectively. It also helps businesses enhance their shopping experience, attract more customers, and drive higher conversion rates.
The widget boasts a user-friendly interface that can be customised to match the branding and design of the eCommerce platform. It supports various payment methods and features, such as real-time credit checks and instant approval decisions.
How Does Integration Work?
Businesses can add Billie to their existing B2B online stores thanks to API documentation that allows for seamless and quick implementation.

By leveraging existing integrated solutions with popular payment service providers like Klarna, businesses can easily offer their customers access to Billie's BNPL option.
If businesses use existing store systems plugins such as Shopware, WooCommerce, JTL, or Magento, Billie can offer specialised plugins for seamless integration with its services.
Buyer Portal
The Buyer Portal provided by Billie delivers an exceptionally streamlined user experience, extending beyond the completion of a purchase. This enhanced functionality fosters customer loyalty among business customers by providing them with a centralized platform to efficiently manage all their invoices with Billie.
A bad post-purchase experience can result in buyers misplacing or losing invoices, missing payment deadlines, and having a high need for support.
Billie's solution brings control and transparency that B2B sellers can offer their buyers by giving them automatic access to Billie Buyer Portal and the flexibility to manage their own accounts.
Companies that have implemented Billie's solutions have witnessed notable improvements in their operations, including a remarkable 64% decline in contact order rate, a reduction of 4.5% in returns rate, and a significant 4.4% boost in customer satisfaction (measured quantitatively).
Main Buyer Portal Functionalities
Why is Billie's Buyer Portal so good? The answer lies in its main functionalities.
All invoices are located in one place;

All invoices can be downloaded and saved as PDFs – there's no more need for paperwork;

The portal gives customers transparent and easy-to-access information about their payments and deadlines so they never miss a payment again;

Buyers can select to pay either via Bank transfer or SEPA direct debit. They can even change their minds within five days before the payment deadline.
Merchant Dashboard
Merchant Dashboard allows businesses to take control of their B2B payments designed to optimise operational efficiency and provide a comprehensive overview of both Billie-enabled eCommerce and omnichannel transactions.
Order management streamlining, transparency, and fostering buyer relationships, the Merchant Dashboard is an ideal all-in-one solution.
What Makes Billie Merchant Dashboard so Good?
Here are the dashboard's main functionalities:
Order and Invoice Management.

Merchants can view, manage, and manually create orders while gaining visibility into order attempts, rejection reasons, and customizable payment terms ranging from 14 to 120 days.

Customer and Buyer Limits.

Merchants can keep track of buyers and their orders, monitor purchase limits, and track open and late payments.

Automated Payment Processing.

Merchants can also easily access payment details, benefit from automatic payment allocation, and rely on Billie to handle chargebacks, overpayments, and debt collection.
Business Operations
Behind every successful business stand well-developed business operations that support ongoing success. Here's an overview of the business operations that have made Billie the fin-tech giant that it is today.
Automated Credit Check
To ensure that their partners are not facing any liquidity issues when offering BNPL services to their customers, Billie provides immediate payment to the business that is selling. Billie also takes on the risk of non-payment from the customers, which adds peace of mind and more security.
The company utilises an advanced scoring algorithm to verify the creditworthiness of its customers. The customer's company is validated against the seller's company database through an API interface. If the credit rating is positive, the customer can use Billie to make a purchase. If the credit rating reflects negative characteristics, Billie will suggest alternative payment methods.
While algorithms often leave an impression of rigidness and restriction, Billie's algorithm for creditworthiness is actually quite robust, with an impressive acceptance rate of around 90%.
Marketing Toolbox
Billie offers a whole toolbox designed to help businesses maximise the positive outcomes of their Billie integration.
The toolbox explains how to optimise the seller's website, how to optimise Billie on the website, announce Billie to customers, and offers a number of marketing assets, such as logos, templates, banners, etc.
Developer Portal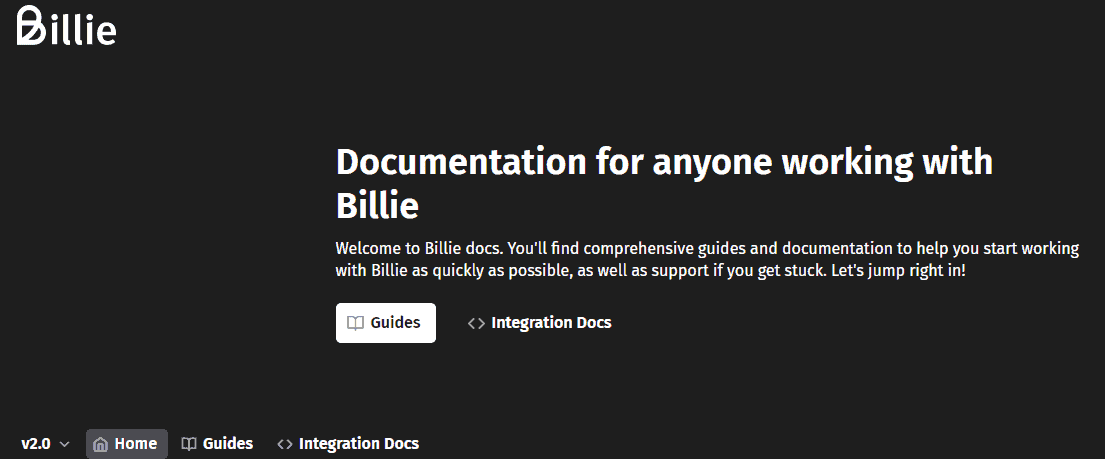 Billie's developer portal offers all the documentation necessary for anyone who starts working with Billie. This portal offers comprehensive guides, support in the process of integration, tutorials, and everything a developer could possibly need to get the job done.
Resource Hub
Billie's resource hub is a place where interested parties can find useful blog articles, case studies, white papers, customer stories, and so much more.
This hub is an amazing place to look for explanations (how something works) or instructions (how to make something work). It's also a great way to learn about others' success stories and get inspired.
Events
On the events page, Billie shares all upcoming events regarding the BNPL world. Given that they are leaders in their field, they are present at almost every fin-tech or eCommerce event, especially if it's taking place in Germany.
Parties interested in finding out about conferences, meetups, and seminars that top leaders from the industry attend can follow their webpage, they never seem to disappoint.
Company Background
Since its inception in December 2016, Billie doesn't seem to stop with innovations and revolutionising the business purchasing landscape. The company's three founders have had previous experience and success in the fintech startup Zencap. This experience gave them insight into how to transform B2B financing and empower businesses to thrive.
With a growing team of over 150 employees from more than 35 nations, Billie has cultivated a diverse and inclusive culture focused on pioneering new solutions. 
Their commitment to providing an effortless purchasing process and preferred payment methods has earned them partnerships with renowned companies such as Klarna, facilitating the global availability of Buy Now Pay Later for B2B customers.
User Reviews From Around the Web
Unfortunately, we have found no substantial information on user reviews for Billie.
User Reviews
Review Summary
0.0 out of 5 stars (based on 0 reviews)
Recent Reviews
There are no reviews yet. Be the first one to write one.
Submit a Review